On the B-Side of Modernity: An Interview with Iosu Aramburu
We visited the artist's studio to discuss his open-ended installation Atlas of Andean Modernism and other projects.
In his paintings, installations, and collaborations, Iosu Aramburu (b. 1986, Lima, Peru) draws inspiration from Andean modernity. His diverse practice is marked by a keen historical consciousness and an appreciation for the generative potential of partial archives and minor histories. In 2021, Aramburu received a Research Grant for Artists from the Cisneros Institute, which he used to develop Atlas of Andean Modernism, an ambitious archival project that maps the course of modernism in the Andes, a region long sidelined in Latin American art history.
Aramburu's studio in Lima is located in an imposing white-brick building that stands out in a block lined with colorful, single-story townhouses. Recalling the unornamented surfaces and straight lines of modernist architecture, the building struck me as a fitting place for the artist, whose recent work has immersed him in the art of the 20th century. We met there to talk about the Atlas, archaeology, the Peruvian avant-garde, and maintaining an open dialogue with the past.
This interview was translated from the original Spanish by Christopher Winks.
Este artículo está disponible en español
Elise Chagas: Part of the work you created with the support of the Cisneros Institute is here, taking up two walls of your studio. Could you talk about the creation of this artwork?
Iosu Aramburu: When I began the project, I knew the history of Peruvian art, but had little in-depth knowledge of the history of the art of the rest of the Andean region. The idea behind making the Atlas was to try to think of all of the region's histories, which have sometimes run parallel, and at other times intersected. There hasn't been much research that considers the art history of the Andes as a whole; instead, what we have are national histories. For the Atlas, I reassembled the images used to narrate these national art histories and organized them so that they could be considered together. I found a particular book, photographed or scanned all the images in it, recopied those images, and then organized them chronologically according to when the artworks were produced. Here in the studio, I've put together a small fragment that runs from 1930 to 1936.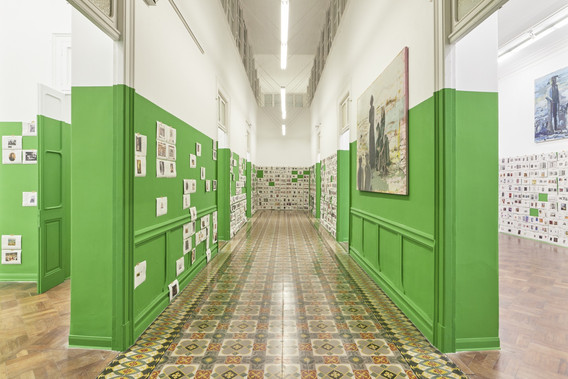 Installation view of Subterranean Atlas [1933 [1810 – 1983] 2020], Galería Livia Benavides, Lima, June, 2022
The Atlas has taken different forms in different exhibition spaces. How does the work interact with or respond to its location?
The piece is always affected by architecture. I am interested in thinking about how the idea of history relates to a concrete physical space. Seeing a fragment of the work is quite different from seeing the piece as a whole. I think the piece gains form when it has a certain dimension. Then you can almost walk through time and begin to see the shape of certain narratives, certain interests of the artists, and certain decisions by those who have chosen the images for publications. The biggest installation I've done was earlier this year at 80m2 Livia Benavides, the gallery that represents my work in Lima. There, the chronological scope of the work ran from 1810 to 1983, and took up 100 meters of wall space. The gallery has many small rooms that feed into a central corridor. One could follow the work chronologically and enter and exit the rooms, or once could jump from one gallery to another and have a more random experience.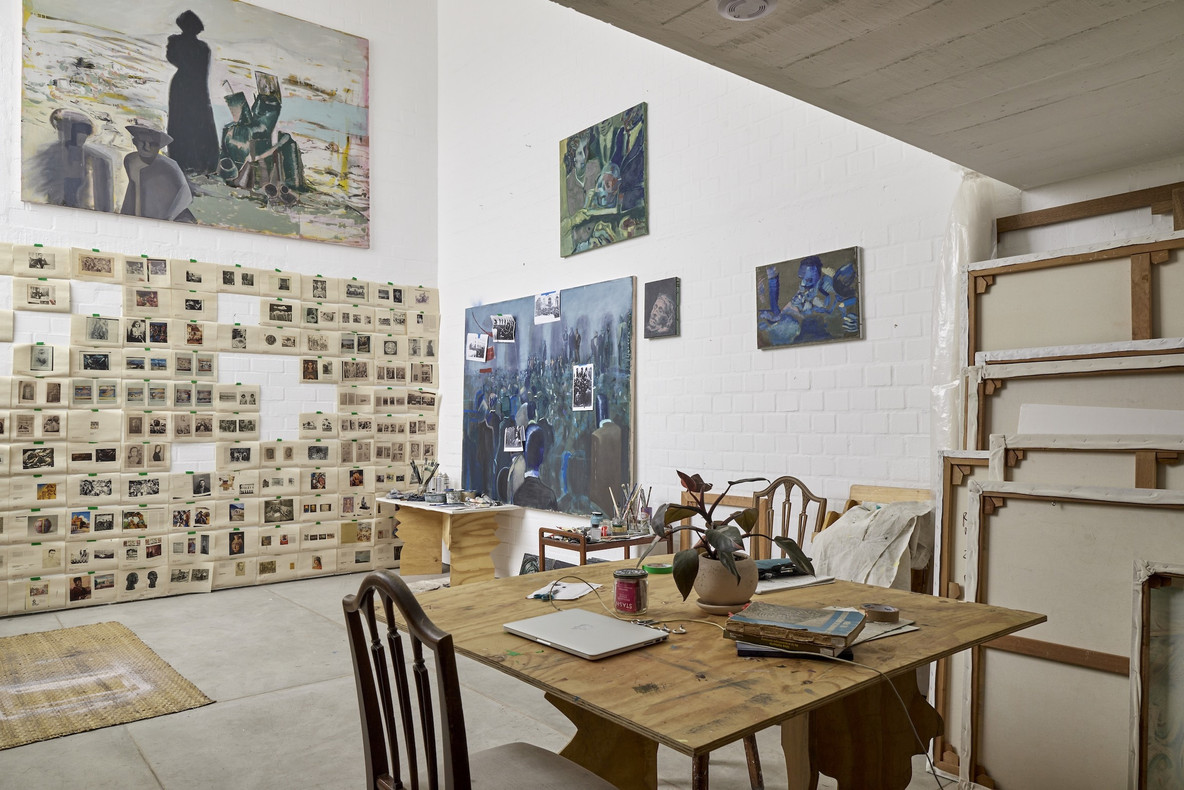 Iosu Aramburu's studio, 2022
The title of the exhibition at 80m2, Subterranean Atlas [1933 [1810-1983] 2020], implied the hidden or even buried quality of the work. What connections with archaeology do you see in this project?
When I prepared this show, I was conducting parallel investigations. On one hand, I was thinking about the historiography of the modern; on the other, I was working with images that came from some of the earliest archives of Peruvian archaeology. I began to see a clear relation between these two projects. I made a series of paintings based on images that showed a connection between a surface world and a buried past. In the installation at 80m2, I placed the paintings above the level of the atlas, so that when one entered the space, it was as if one was on a subterranean level below the paintings. The painting in the studio, above this fragment of the atlas, was inspired by a photo of an expedition of a German aristocratic woman to Ancón, a necropolis in the south of Lima that was an important archaeological site in the 19th century. In photographs like this one, or in engravings from that period, you see an arid landscape that almost looks like the lunar surface, with bones and ceramic shards scattered on the sand. I am fascinated by how the pre-Hispanic past has been seen from the vantage point of modernity. Prior to the formation of a "scientific" archaeology in the Andes, which took place in the first decades of the 20th century, the common idea of the past was as a totality, as a singular mass. I'm interested in how the separation of this past only occurred under the modern gaze, which divided a period spanning 5,000 years into distinct cultures, each with its own style. There is perhaps no project more modern than that of trying to classify the past and make it legible.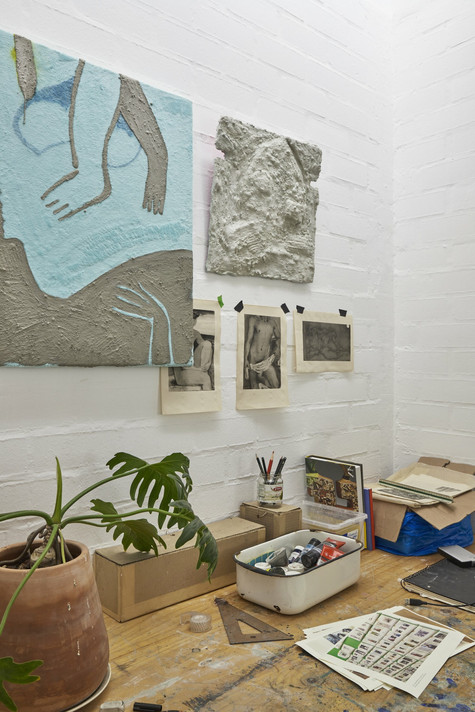 A work table in Iosu Aramburu's studio, 2022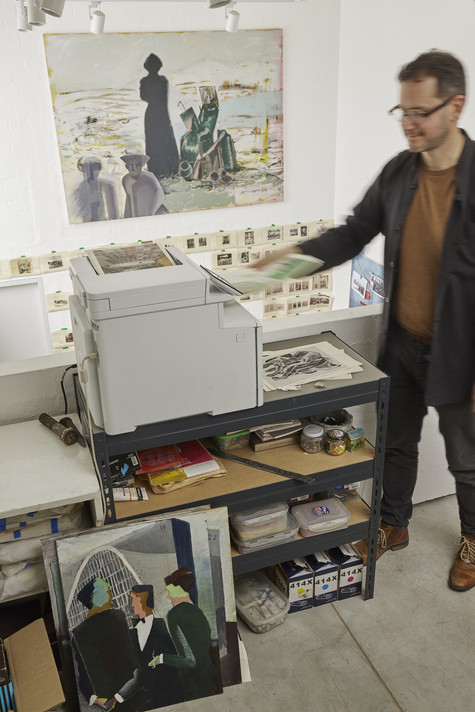 Iosu Aramburu's studio, 2022
In your work, there are fragments and ruins, but there are also new men, modular forms—glimmers of utopia in the vanished past. Besides these modern ideas, your installations sometimes incorporate other works of modern art. In your recontextualization, the ideas that these older works contain aren't exactly revived, but rather animated in ways that perhaps weren't possible in their particular moment.
It's always been important for me to approach the idea of modernity with open questions, looking for a dialogue rather than imposing a critical agenda. In this regard, I've always been interested in seeking a utopian potential in the work of artists who came before me. In 2018, I presented an exhibition at the Art Museum of the National University of San Marcos. It consisted of a painting on panels that zigzagged across the middle of the room, thereby subdividing the gallery into a series of smaller spaces. In each of these new spaces I placed an artwork selected from the museum's collection. There was a painting by Emilio Goyburu from the 1920s, a painting by Julia Codesido from the 1950s, and an engraving by the E.P.S. Huayco group from the 1980s. Circulating the installation produced a loop that connected the disparate moments during which these artists represented an avant-garde. My choice to paint panels was driven by convenience (I didn't have the space to paint or the ability to transport a single painting that could subdivide the gallery), but also by my longstanding interest in fragments and modules. I've made several series of artworks with elements that don't have a specific order, and therefore vary with each installation.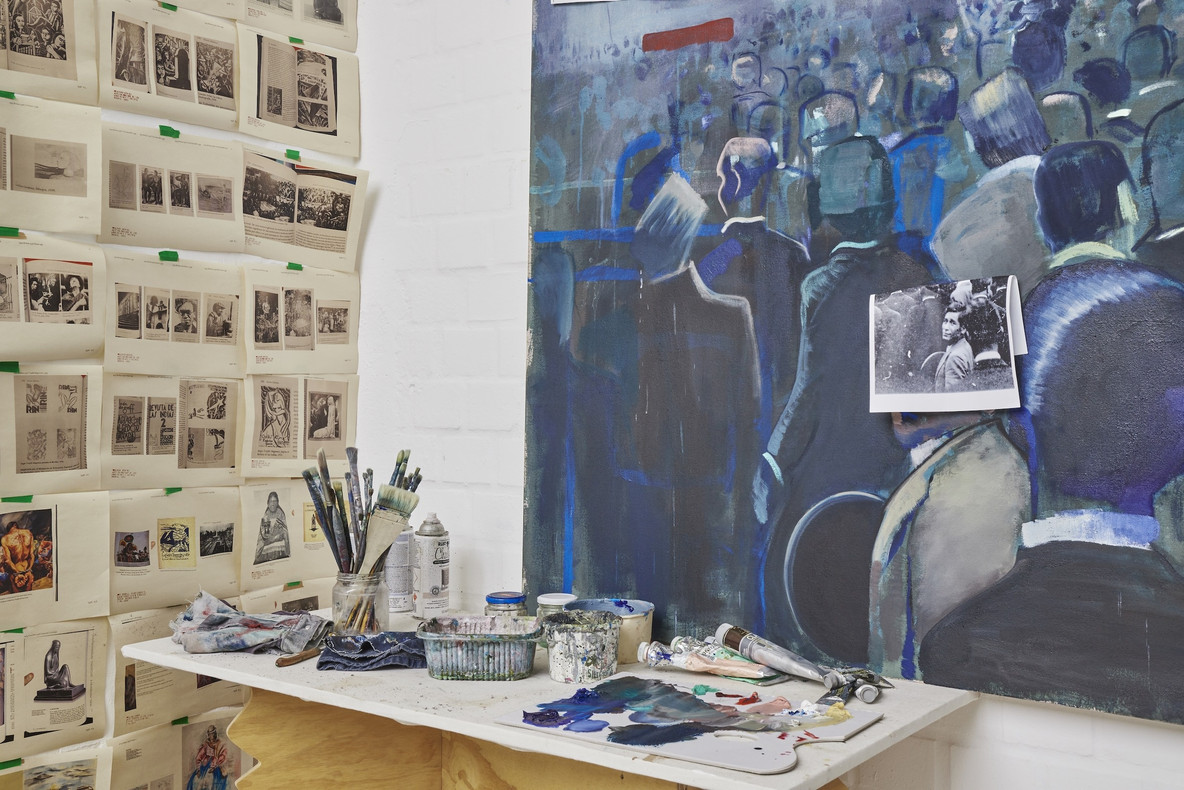 Work in progress in Iosu Aramburu's studio, 2022
Can you tell us about that large painting in progress on the wall next to the Atlas?
This is the third painting I've made about the funeral of José Carlos Maríategui. It's for a show I'm preparing at the Museo José Carlos Mariátegui, located in his old home. Mariátegui was a Peruvian socialist thinker who was active at the beginning of the 20th century. I'm interested in him because he formulated an idea of the avant-garde that was both very open and very specific. At a certain moment nearly a century ago, a variety of intellectuals, artists, and politicians gathered around Mariátegui without necessarily having a common political or artistic agenda. After Mariátegui's death, everyone went their own way. But I'm interested in that point in time when a space of encounter emerged around Mariátegui that enabled a high level of heterogeneity.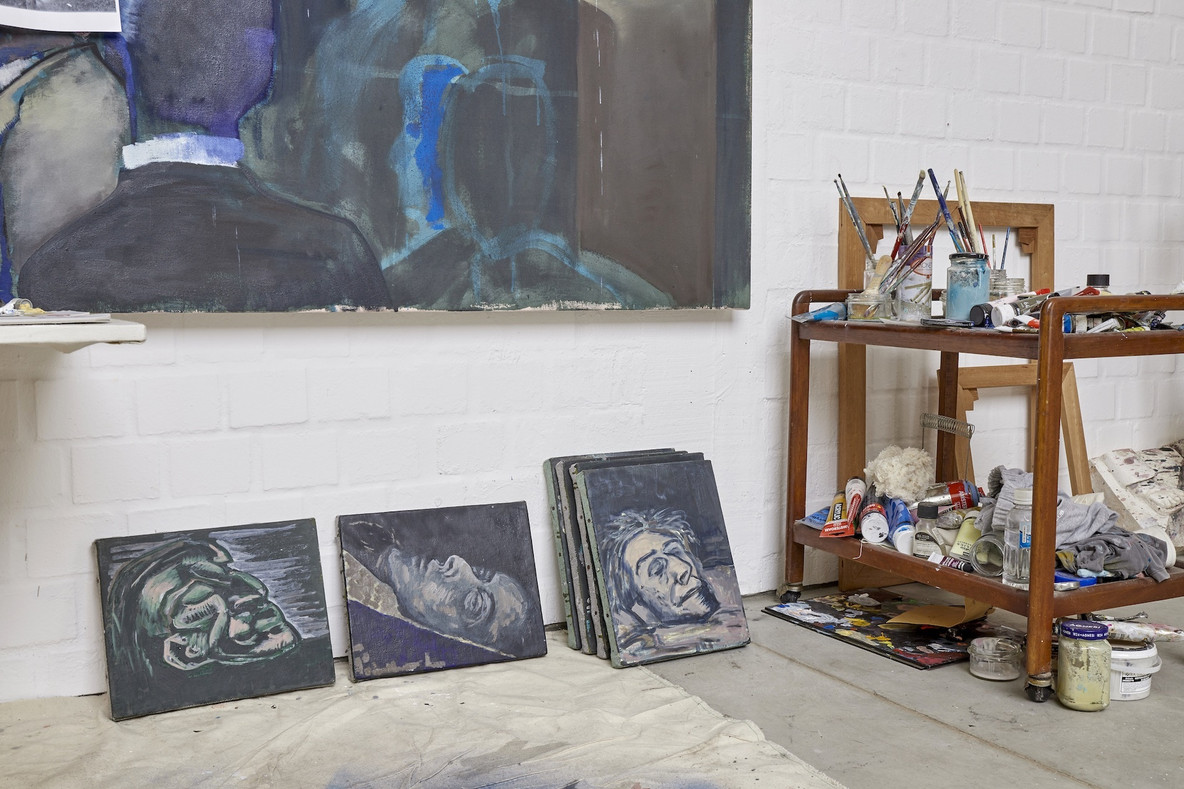 Portraits in progress in Iosu Aramburu's studio
Where does the image that you're interpreting come from?
It's a photograph of the funeral cortège in April 1930, in which you can see a massive crowd accompanying the coffin. The original photograph is small, but it was digitized in high resolution by the José Carlos Mariátegui archive. This allows us to see each character at a level of detail that is not necessarily legible in the original photograph. The cortège was a crowd, but one made up of specific individuals, historical figures, but also workers and lesser-known mourners. My painting is faithful to the photograph's composition, but each character is painted in a highly individual manner.
Iosu Aramburu. Thursday, April 17, 1930. 2021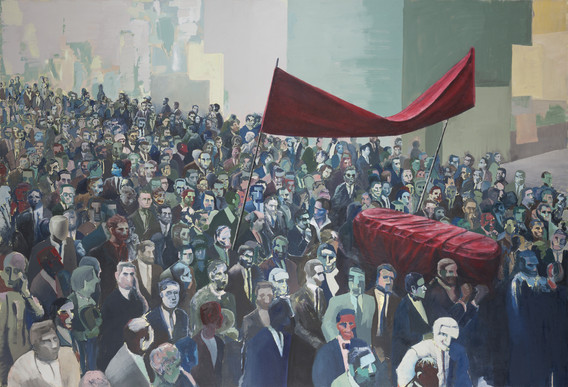 Iosu Aramburu. Funeral Cortège. 2019
And how is it linked to these small portraits?
These other paintings are made from drawings and an engraving that several artist friends of Mariátegui made after his death, either in the hospital or in his house as funerary portraits. It's unusual for a person to die and have seven artists doing his portrait. These quickly made works are by Carmen Saco, Camilo Blas, Julia Codesido, and others. I was interested in taking their sketches and finishing them. When I work from somebody else's photograph, drawing, or painting, I think of myself as establishing a dialogue with the artist that came before me. Often, I approach their work like a musical score. Somebody has started something and I'm just making a variation on it. In the end, the artists who interest me most are often on the B-side of modernity, so to speak. They are artists who made work that has more to do with the time they lived in than with the construction of an individual career. In this respect, I'm interested in artists who aren't at the center of global, or for that matter local, modernisms. I'm drawn to artworks that belong to moments in history that perhaps are less in the limelight. Artworks that pass us by in silence.
In addition to the connections through time that your work establishes with historical art and artists, how does collaboration in the present figure into your practice?
I'm part of Bisagra, a collective of artists and curators. We had a physical space for programs, meetings, and exhibitions between 2015 and 2018, and now we're dedicated to sporadic projects. The project I'm most focused on now is the Colección Cooperativa. We're a partnership of 16 artists and researchers—none with particularly high incomes. We've obtained many works by artists who were active from the beginning of the 20th century, and some contemporary artists. We collect, preserve, and digitize these works, and try to place them in exhibitions. It's a collection that isn't constructed with clear divisions between, for example, artwork and archival material, or categories like Indigenous or popular art, or between historical and contemporary artists. The collective makes decisions democratically and we've established that every year the number of members must increase. Our idea is that eventually the project won't be a group of 16 friends buying artworks, but a project by a large and more diverse collective.