Everyone, Everything Matters: The Brilliance of Everything Everywhere All at Once
The film screens on November 30 as part of The Contenders, MoMA's annual survey of the best in cinema.
Extreme absurdity and wackiness might make you scratch your head, but if you are brave enough to let yourself freefall wherever the film takes you, you'll find Everything Everywhere All at Once a work of daring creativity and brilliance. Writing and directing duo Daniel Kwan and Daniel Scheinert unleash their fearless imaginations to bring to the screen the multiverse—an infinity of alternate universes—into which an Asian American woman is thrust amid tax-filing mayhem and a domestic meltdown. Channeling Stephen Chow, Michel Gondry, a bit of Wong Kar Wai, and a mix of genres from absurdist comedy to martial arts, sci-fi, and adventure, the Daniels, as the directors are collectively known, whip up a wild sensory overload while simultaneously contemplating questions about all the possible iterations of life and how a person maintains their core regardless of celestial trajectory. Who would have thought that an everything bagel could take a film to its philosophical climax? A mind-boggling culinary invention that is both delightful and confounding, it symbolizes horror, joy, and an anything-goes—nothing and everything matters—spirit.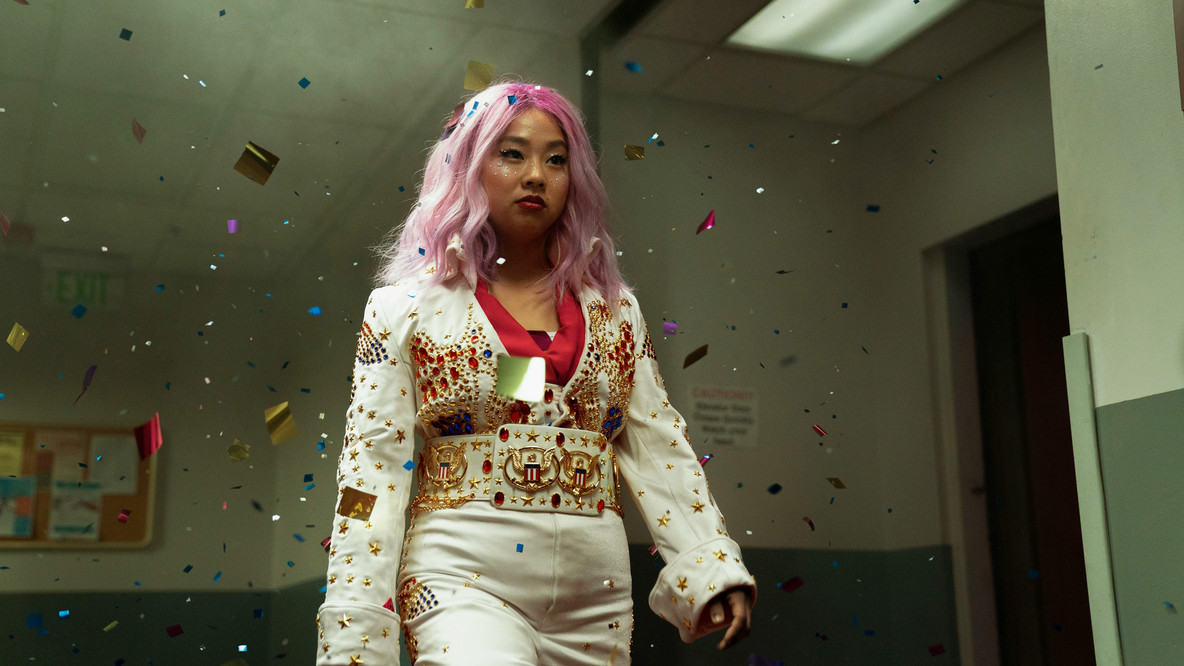 Stephanie Hsu in Everything Everywhere All at Once
This anything-goes spirit has also contributed to perhaps the most liberating Asian representation in a mainstream American film. A story about a Chinese American family running a laundromat could not have sounded more stereotypical, but the film subverts banal tropes by diving right into the context of the family itself—and then taking us far beyond it. Cultural specificity grounds who we are, but the film shows us how each member of the family is both extraordinary and just like everybody else; after all, don't we all fear the IRS and family feuds? Once they enter the multiverse, there is no cultural barrier. They, and we, are individual spirits who can be anyone, anything—even talking rocks!—part of an infinite continuum beyond space, time, and difference.
And Michelle Yeoh! How can you not be floored by her courageous performance? Of course we know her as an action icon who has risked the most jaw-dropping stunts: she narrowly escaped paralysis after jumping off a bridge—and landing badly—in The Stunt Woman (1996), and managed to outshine Jackie Chan when she hopped onto a moving train while riding a motorbike in Supercop (1992). But what separates Yeoh from most action stars is her rare aura of elegance; she exudes an inner grace with every move she makes. A ballet-trained, Malaysia-born Chinese, she has defied expectations to be anyone she wants: the Burmese political leader Aung San Suu Kyi in the biopic The Lady (2011), the Singaporean matriarch who fiercely guards her family's legacy in Crazy Rich Asians (2018), and now an icon of the Asian American breakthrough in mainstream cinema. In Everything Everywhere All at Once, Yeoh is undaunted by the film's total madness—her elegance is reduced not one bit by the flappy hotdog fingers that absurdly appear on her hands in one scene. Traversing the multiverse, she is at once a gorgeous opera singer, glamorous movie star, kung-fu master, diehard romantic, loving mother, dutiful daughter, and the embodiment of all of us mortals who can't ever seem to finish our taxes. Everyone, everything all at once, Yeoh is the ultimate all-around action hero.