Attack of the 50-Foot Horror Movie List!
Just in time for Halloween, MoMA staff (and a special guest) dig deep for some unexpected horror (and horror-adjacent) viewing tips.
Like Harry Styles hot-takes or think pieces about remote working, October horror-movie roundups are hard to avoid. Seems you can't swing a proverbial dead cat without hitting "The 20 Scariest Movies on Netflix," "Every Friday the 13th Movie, Ranked," or some parenting magazine's "Best Horror Movies for Infants" listicle. Well this list is different. Granted, we gave our contributors a not-terribly-imaginative assignment: write about a favorite or underappreciated horror film. But apparently the MoMA community can always be counted on to bring something a little...unexpected to the party, as the picks below will attest.
Exorcist II: The Heretic. 1977. Directed by John Boorman
Each of the entries in the Exorcist trilogy has its partisans, but for me the most original, indelible, and restlessly cinematic is the second. No, Exorcist II: The Heretic will not scratch the itch of anyone looking for the padding of linear narrative. Instead, the feature John Boorman directed between Zardoz and Excalibur takes us on a clammy sense journey that is at once visually dense, illegible, and impossible to forget, like the aftermath of chasing a good Chardonnay with half a bottle of Robitussin DM. Here's the premise: It's four years after the first installment and the exorcism didn't take. In the first 30 minutes alone, we encounter a luminous ESP machine, a pediatric psychiatry ward set in a sci-fi panopticon, a Cubist dovecote, sequences shot from the POV of a locust, an ecstatic ceremony in a cliffside cave temple in Ethiopia, and Linda Blair having a grand mal seizure while tap dancing in what appears to be a high-school stage production of Gold Diggers of 1935. Sadly, the summit of cinema art scaled by Boorman's vision proved too vertiginous for the nearsighted critics of the day. The BBC's Mark Kermode called it "demonstrably the worst film ever made," suggesting that the cast—which also includes Richard Burton, Louise Fletcher, James Earl Jones, Max von Sydow, Ned Beatty, and Paul Heinreid in his final role—"should be ashamed for all eternity." In El País, the Spanish critic Fernando Trueba described it as "a stupid and useless film, whose mere existence is difficult to justify." And in a lapse of empathy, Exorcist director William Friedkin insisted that it was "a stupid mess made by a dumb guy" and "a freakin' disgrace." Only Pauline Kael recognized the sequel's hallucinatory charge and formal ingenuity and preferred it to the original, writing in the New Yorker that Exorcist II: The Heretic "had more visual magic than a dozen movies." At least someone got it right.
—Alex Halberstadt, Senior Writer, Creative Team
Ganja & Hess. 1973. Directed by Bill Gunn
I first saw Ganja & Hess as a young student cramming for an exam late into the evening. I dozed off and woke up in the wee hours to find it playing on television. I couldn't believe my eyes, and watched with rapt attention, constantly snapping pictures of the screen with my bedazzled flip phone. This Black horror cult classic, directed by Bill Gunn, centers on the relationship between Ganja Meda (Marlene Clarke) and Dr. Hess Green (Duane Jones), who both become vampires. Hess is a successful doctor who turns into a vampire when his former assistant stabs him with a cursed dagger during a fight (that ends in his assistant's death). Ganja, the wife of the now-deceased assistant, shows up at Hess's house to inquire about her husband, falls in love with Hess, marries him, and becomes a vampire on their wedding night. Ganja & Hess focuses on the couple's intimacy, the ways they must survive, and their spiritual journey. This film is important to me because it employs experimental and expansive modes of Black storytelling on screen. It differs from films typical of the horror genre in that it is not overtly scary or gory, and portrays the protagonists not as monsters, but as aspirational, sexy, tender characters who eventually achieve redemptive ends. The film also boasts an impressive soundtrack of reworked negro spirituals and Black church music arranged and performed by Nina Simone's brother, Sam Waymon, who assisted with the production and also plays a character in the film. Made on a shoestring budget and featuring outstanding performances by an all-Black cast of mostly little-known and first-time actors, this film's impact lies in a highly visual quality—shimmering expressionistic shots, lavish interiors, beautiful bodies splashing across the screen in swirling double exposures, lots of pastoral imagery—that makes it a feast for the eyes.
—Kyla Gordon, Research Assistant, Department of Film
Climax. 2018. Directed by Gaspar Noé
Do you like psychedelic drugs and dancing? No? Well, this isn't about you. This is about me and the chaos-fueled orgy that is Gaspar Noé's Climax. I first watched this film as part of my "31 Nights of Halloween," a monthlong celebration stolen from my colleague Jason Persse (see below), in which each day of October is capped off with a horror film. On the day before Halloween, I decided to put on Noé's 2018 film, knowing nothing about it other than its connection to A24. And by the end of the night, I was speechless.
Loosely based on a true story, the film follows a group of 24 young dancers who gather at an abandoned school to rehearse for an upcoming performance. The dancing alone is reason enough to watch the film, but Noé pushed things a step further with unusual camerawork, bold editing (some shots last upwards of 40 minutes), and raw performances determined by the actors in the moment.
The "climax" evoked by the title is set into motion by an electrifying five-minute dance sequence. The performers—young, hopeful, and gorgeous—weave in and out of the frame, spinning around each other as their fluid movements melt into one intoxicating dance circle. Following this rehearsal, the group celebrates with music and a punchbowl of sangria that, unbeknownst to them, has been spiked with LSD. What begins as a playful gathering quickly deteriorates into frenzied violence as paranoia grips the characters. Noé makes us complicit in the hallucinatory nightmare, twisting his camera at odd angles and flooding the scenes with harsh neon lighting, so that we, too, feel as if we've taken a sip from the punchbowl.
—Arlette Hernandez, Assistant Educator, Interpretation, Research, and Digital Learning
The Hitcher. 1986. Directed by Robert Harmon
As a genre film setting, wide-open spaces are more commonly associated with Hollywood Westerns (think John Ford), and science fiction films (think Them in 1953 or NOPE in 2022) than with horror. There are notable exceptions—Wes Craven's The Hills Have Eyes (1977) for one—and doubtless you can come up with a handful more. Inspired by the Doors' 1971 serial-killer song "Riders on the Storm," The Hitcher (1986) is another. It's among the most impressive horror thrillers of its day, and a personal favorite. Rutger Hauer's performance as the relentless homicidal maniac Jack Ryder is arguably his most iconic role after the "combat model replicant" Roy Batty in Blade Runner (1982). His evil character is the film's major horror trope, powering it in the generative, late '70s-early '80s tradition of Michael Myers, Freddy Krueger, and Jason Voorhees, albeit with a provocative suggestion of gender instability. At least one of the film's original critics interpreted the unsettling gestures of intimacy between Hauer and C. Thomas Howell on their terrifying road trip across the desert as evidence of gay panic in the age of AIDS. Others complained that the film was an excessively gruesome copy of Steven Spielberg's Duel (1971). In retrospect, it seems that threats of unmotivated violence and bullying in the real world and the vicarious thrill of dismemberment on screen are just matters of fact.
—Ron Magliozzi, Curator, Department of Film, and co-organizer of Horror: Messaging the Monstrous
The Guest. 2004. Directed by Adam Wingard
An absolute favorite film of mine that just screams "Halloween" is the neon-lit, synth-drenched thriller The Guest, directed by Adam Wingard (Pop Skull, A Horrible Way to Die, You're Next, etc.) and written by Simon Barrett. The story goes like this: a mysterious soldier (Dan Stevens) shows up at a family's house claiming to be their dead son's friend. As he integrates himself into the family dynamic, they all start to realize something is up with this violent yet charming stranger...especially the daughter, Anna (Maika Monroe in one of her first films...I love her!). The film has horror leanings and is some tough stuff—obviously, since it's Wingard and Barrett—but it's the backdrop that makes it a seasonal must. The vibe they create is the ultimate mood board of a classic Halloween: haystacks, pumpkins, candy, and lighting, lighting, lighting. I love its look so much that it inspired the aesthetics of more than one Halloween film program I've curated. I watch it every spooky season, but I listen to the soundtrack daily—it's one of the best of all time. I heard a rumor they're doing a sequel to the soundtrack. Maybe a proper movie sequel is in the works too.
—Caryn Coleman, Founder, The Future of Film Is Female, and co-organizer of Horror: Messaging the Monstrous
The Twilight Zone, "The Monsters Are Due on Maple Street." 1960. Directed by Ronald Winston
As a kid, October meant Twilight Zone marathons with my dad. Episode 22 of season one, "The Monsters Are Due on Maple Street," could be the most terrifying 25 minutes of television. Ever. The premise is simple: A strange object is seen streaking in the sky over idyllic suburban Maple Street. After the sighting, all the electronics on the street stop working—lights, stoves, cars, radios, lawnmowers, etc. With no connection to the outside world, neighbors begin to turn on each other, one by one. Years-long relationships mean nothing as the fear of the unknown grows. The accidental shooting of a fellow neighbor can't quench a frightened mob's thirst for a scapegoat. As the neighborhood descends into chaos, the camera zooms out to reveal that aliens have been manipulating the electronics and watching the descent into madness from afar. Apparently this isn't their first experiment on Earth, and the conclusions are all the same. Fear and ignorance doom unequivocally. Sound familiar?? It's no secret that The Twilight Zone was ahead of its time, but this episode cuts incredibly deep given the current rifts in American culture, as fear of the unknown and the "other" have pushed us into the arms of tribalism and mob mentality. "The Monsters Are Due on Maple Street" provides terror that will follow you long after Halloween is over.
—Naeem Douglas, Content Producer, Creative Team
Otto; or, Up With Dead People. 2008. Directed by Bruce La Bruce
Is he a zombie, or just a low-budget movie star? In his sweet and sexy Otto; or, Up With Dead People, Bruce La Bruce deliciously queers a classic horror genre: the zombie flick. Part existential coming-of-age tale, part comedic treatise on underground filmmaking, La Bruce's film brings his signature sex-postive smarts to the story of poor lost Otto. Fourteen years ago, having just spent six years working as a foreigner in Berlin, I found myself identifying with this untethered gay boy trying to find himself in the German capital. Turns out zombies, just like the living, need heart as much as they need brains!!
—Rajendra Roy, The Celeste Bartos Chief Curator of Film
Basket Case. 1982. Directed by Frank Henenlotter
"This film is from the collections of The Museum of Modern Art" is the kind of message you expect to see before a 1929 French Surrealist short or a rediscovered epic from the Golden Era of silent cinema. It is emphatically not a phrase I would associate with a sleazoid cult film about a homicidal mutant who lives in a wicker basket. (Okay, maybe that does sound like a 1929 French Surrealist short.) Made for the princely sum of $35,000 in and around the worst parts of early-1980s Times Square, Basket Case tells the weirdly touching story of Duane Bradley, a seemingly naïve young Russel Mael lookalike who arrives at a squalid no-tell hotel with the aforementioned basket and a huge wad of cash, and his hideously deformed, formerly conjoined twin Belial, who lives in the basket when he isn't creeping around murdering Manhattanites. Turns out the Bradley brothers are in town exact bloody vengeance on the doctors who separated them, but their plan spirals out of control when Duane finds love and a jealous Belial leans into his talent for mutilation. The resulting mayhem is excessive, disgusting, and in the poorest of taste. It is, in other words, sublime.
I know, intellectually, that I am privileged to work at MoMA. But the fact that my learned and esteemed colleagues labored to restore this depraved, utterly hilarious Downtown-NYC gem from the filmmaker's original materials fills me with genuine admiration and pride.
—Jason Persse, Editorial Manager, Creative Team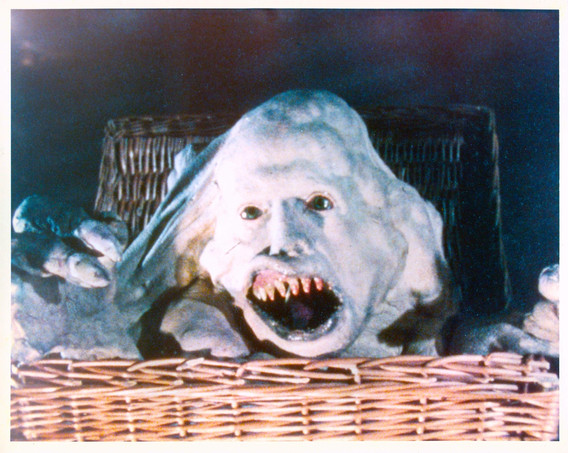 Basket Case. 1982. Directed by Frank Henenlotter
The Changeling. 1980. Directed by Peter Medak
Looking for a film that will force you to put down your phone and grip your blanky tight this Halloween? Submit yourself to Peter Medak's 1980 haunted house classic The Changeling. George C. Scott is brilliantly cast against type as a grieving composer, recently transplanted from New York City to Seattle, who makes the mistake of renting a long-vacant mansion from a local historical society. Watching the mighty Scott crumble as he faces an onslaught of haunted happenings is surprisingly powerful, and Medak skillfully juxtaposes his actor against the imposing Gothic home. The Changeling's seance scene, a trope of many a horror film, is one of the scariest of its kind. You won't want to watch this one alone!
—Sean Egan, Senior Producer, Film Exhibitions and Projects
The Black Beyond Trilogy. 1982–90. Directed by S. Torriano Berry
Maybe thanks to Bloody Disgusting's V/H/S anthology series, or to the 15-plus years spent in the shadow of Paranormal Activity, shot-on-video (or "SOV") horror is having a renaissance. My favorite SOV deep cut is The Black Beyond, a visionary trilogy of short films (Deathly Realities, The Coming of the Saturnites, and Money'll Eat You Up!) by S. Torriano Berry, a now-retired professor of film at Howard University. Made between 1982 and 1990, The Black Beyond positions itself as an African American Twilight Zone, borrowing heavily (and happily) from the genres of the slasher thriller, the 1950s alien-invasion drama, and the politically charged zombie parable. The Black Beyond is unafraid of camp, the opposite of the contemporary moment's humorless torture-thrillers; what makes it perfect for spooky season is its irrepressible DIY spirit, which sees Berry rigging up surprisingly effective jump-scares on a nonexistent budget. His follow-up feature was the bigger-budget Embalmer, a Candyman callback set in the Black suburbs of Washington, DC. Blessedly, both films are finally getting a blu-ray release in 2023 thanks to the fine folks at Bleeding Skull and the American Genre Film Archive. For now, The Black Beyond is free to watch on Berry's YouTube channel.
—Steve Macfarlane, Department Assistant, Department of Film