Ariel Guzik and Catalina Juárez's Bid for the Re-Enchantment of Life
Can artists' experiments in sound and harmonics help to (re)establish interspecies communication?
In June, the Cisneros Institute at MoMA—in collaboration with curators Michy Marxuach and Mauricio Marcín—organized El canto de la Yerba Bruja, a workshop for experimental research held in Mexico City and Valle de Bravo. Its purpose was to explore contemporary artistic practices focused on the environment, ecology, and the traditional Indigenous knowledges from the Americas. The artists Alia Farid, Jorge González, Ariel Guzik, and Bernardo Zabalaga were invited to participate.
I recently sat down with artist Ariel Guzik, founder, and Catalina Juárez, operations and logistics coordinator, from the Laboratory of Resonance and Expression of Nature Research. They spoke about the processes behind Ariel's work over the last 15 years, which include pieces such as the Cámara Lambdoma, the Cordiox and the Cápsula Nereida. Their words invite us to rekindle a fascination with the world around us, to develop mechanisms for communicating and learning from other species, and to think about sustainable ways to engage with the natural world.
Translated from Spanish by Carolina Fernandez Del Dago
Este artículo está disponible en español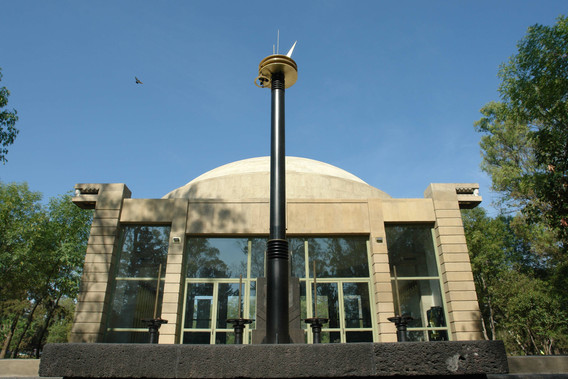 Ariel Guzik. Lambdoma Chamber (Cámara Lambdoma) (exterior). 2010.
Julián Sánchez González: The Laboratory of Resonance and Expression of Nature Research is located in a Mexican colonial style home in the Tizapán San Ángel neighborhood of Mexico City. Can you tell us about the history of the space and what is currently happening there?
Catalina Juárez: The Laboratory is more than a place; it is a project through which a collective imaginary is fostered and shared. This imaginary originates in Ariel's research and work, led by a close group of collaborators with a range of vocations and skills.
While doing our research here, we also aid in the construction and design of machines and instruments conceived by Ariel. We go on expeditions and conduct field work with an emphasis on the atmosphere, the cosmos, the ocean, and earthly signals. These practices and experiences often lead to manifestos and publications about what we do; to this end, we've designed and produced exhibits and collective listening events.
For instance, in 2012, the curator Itala Schmelz selected Ariel to represent Mexico at the 55th Venice Art Biennale. Not only did this involve the construction of the Cordiox—a complex piece—over a very short period of time, but also its installation in San Lorenzo Church, where the Mexican pavilion was hosted that year. As for collective listening experiences, I particularly remember the series we did in 2017 for the community of Gujarat Vidyapith University (founded by Mahatma Gandhi in 1920) in Ahmedabad, India, which included a series of soundscapes, lectures, and workshops on nonviolence (ahimsa) through the arts and sciences. It was an experience we treasure, as it coincided with our encounter with dolphins in the Ganges River.
JSG: What are the areas of expertise of the participating members, and what projects are you developing at this moment?
CJ: Those of us participating in the Lab come from a diversity of backgrounds and skills in fields such as the visual arts, music, classical physics, mechanical engineering, electronics, acoustics, lutherie, and cabinetmaking. We're also coming from biology, traditional medicine, ecology, botany, oceanography, cultural work, and even design strategies for self-reliance. We share a genuine interest in conservation and a belief in the right of all species to live on this planet. Some of us have been part of this group for over 20 years.
We are presently maintaining a special focus on a communication project with whales and dolphins. We're also working on a recent project with Melipona bees and the community sustaining them in Mani, Yucatán. These stingless bees are known as Xunankab, which means "honey woman" in Mayan. They are intimately related to this landscape, as many species in the jungle depend on the bees for pollination. A lack of conservation efforts has placed the Melipona bees in danger of extinction, so as an offering and gesture of gratitude, Ariel has designed a house for them to inhabit. His intention is to inspire the community and cultivate a love and respect for Earth's most important pollinators.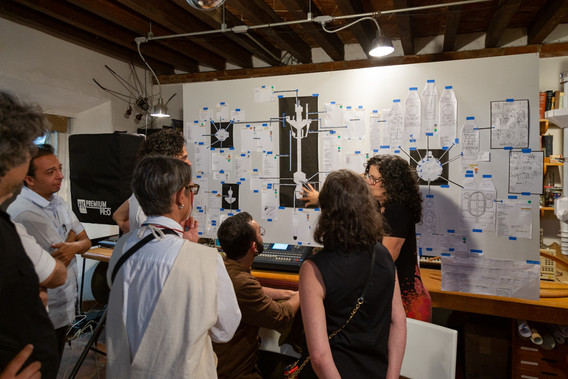 Laboratory of Resonance and Expression of Nature Research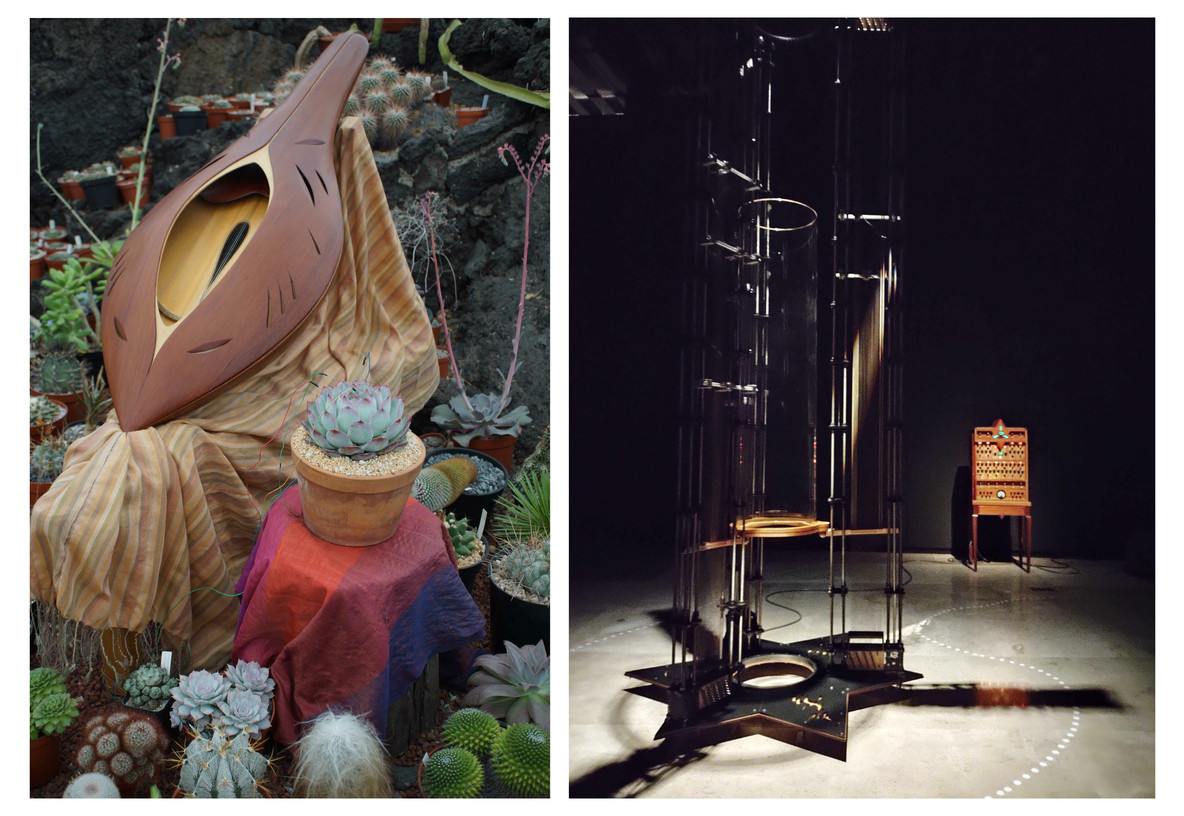 From left: Ariel Guzik. Plasmaht Lute (Plasmaht Laúd). 2004; Cordiox. 2013
JSG: Ariel's interest in the relationship between art and science is exemplified in the design of two instruments in particular: The Plasmaht Laúd and the Cordiox. The first was created as a conduit for plant-generated signals via a piece of woodwork reminiscent of a lute. The Cordiox is a monumental acoustic instrument that uses magnetic pulses to generate sounds through a central quartz cylinder, tensioned strings, and wood. Both of these works signal an interest for the mystery of the ineffable that you refer to as the re-enchantment of life. Where does this interest come from and why do you think it's important to explore that connection today?
CJ: During this critical moment in our civilization, we're seeing how infrequently the perverse link between science and technological corporations is being questioned. They are hard to tell apart, and the proposals and explanations offered by the scientific-technological discourse are embraced as the only possible path. This ominous link has brought about, among other things, a continuous, devastating destruction of nature. We have also lost our capacity for humility, awe, and gratitude for that which sustains the fabric of life.
"Our work aims to preserve mysteries rather than decipher them, emphasizing an understanding of natural events through our senses and feelings of fascination and fantasy."
Ariel Guzik
Ariel Guzik: Perhaps for this reason, our work aims to preserve mysteries rather than decipher them, emphasizing an understanding of natural events through our senses and feelings of fascination and fantasy. We also emphasize beauty, subtlety, and silence over spectacle, superficiality, and noise. In the face of Big Data's rising shrillness, we have chosen to work with direct signals, leaving behind the information overload. All my machines use resonance, or empathy, as an axis. They are analog instruments—creeping, organic, and subtle. They are not linked to the programmatic digital world.
We have said publicly that our vision as a collective responds to a pressing and intimate need for promoting the re-enchantment of the world through resonance mechanisms, which lead to a dreaminess and to a nurturing of the Earth and its creatures. Our mission is also centered around the search for languages and forms of expression that transcend barriers between species and encourage the restoration of the fabric that unites all living beings.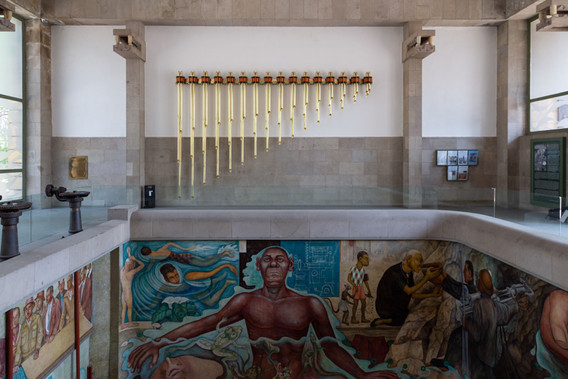 Ariel Guzik. Lambdoma Chamber (Cámara Lambdoma) (interior). 2010
JSG: As part of the workshop El canto de la Yerba Bruja, we had the opportunity to visit the Cárcamo de Dolores in Chapultepec, a hydraulic structure that feeds into Mexico City's aquifer. There we encountered a mural and a sculptural monument by Diego Rivera, originally created in conjunction with the construction of that space in 1951. Ariel, one of your works, the Cámara Lambdoma, was created in 2010, at a key moment in the conservation of Rivera's works. What reflections and challenges did this installation generate, and what was the link it sought to establish with water as a natural resource?
AG: When you visit the Cárcamo, one thing that immediately stands out is the building's construction; its format and acoustic behavior resemble that of a temple. Originally, the sonic language of flowing water could be experienced there thanks to a monumental work of hydraulic engineering—aside from Diego Rivera's visual statement about water and its various meanings as the origin of life and a fundamental element of human civilization.
Due to the water damage to Diego Rivera's underwater mural, the stream was diverted from the site several decades ago and this element permanently disappeared from the building. The Cámara Lambdoma is born as a sound intervention that seeks to once again evoke the presence of water via continuous sounds derived from the mighty currents that flow through the bowels of Mexico City. In addition, some meteorological variables give new life to the space's sonorous universe, originally designed with acoustics conducive to the sound of flowing water. This work was devised to preserve the original motifs of the chamber: contemplation and consciousness.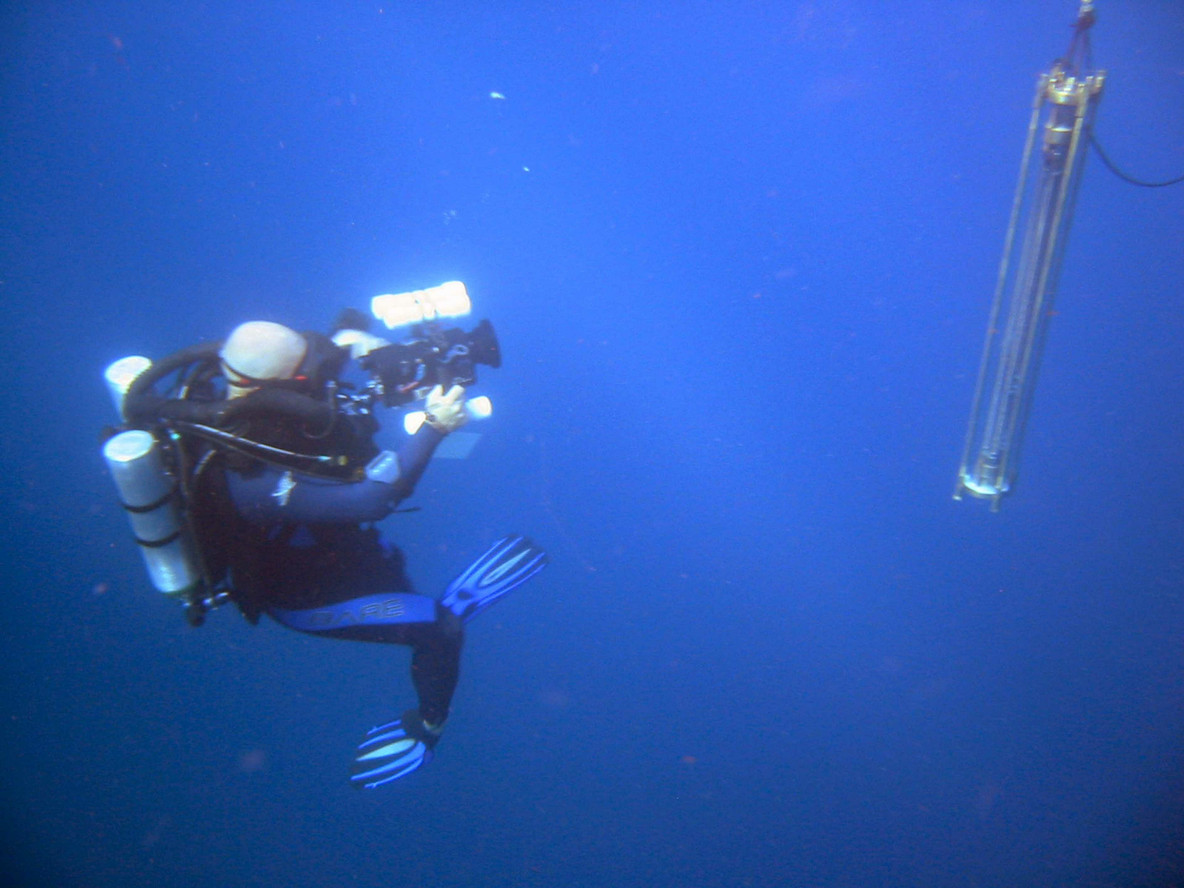 Ariel Guzik. Nereida Capsule (Cápsula Nereida). 2007
JSG: Creating interspecies communication has been a focus of the Lab for several years, in works such as the Cápsula Nereida. This piece has allowed you to build sound bridges with cetaceans—such as whales and dolphins—in the Sea of Cortez in Baja California. What lessons about our relationship with the natural world and ourselves have you learned from these experiences?
CJ: Ever since we began our relationship with Baja California Sur, we understood that we were dealing with complex territory. On the one hand, there's the desert and the terrestrial ecosystem. On the other hand, there's one of the most beautiful and diverse marine oases on the planet, home to a significant whale sanctuary where gray whales arrive year after year to mate, give birth, and nurse their calves among other communities of cetaceans inhabiting the Sea of Cortez.
AG: The Cápsula Nereida submersible was conceived as a physical container for a material language. It is a poem where statements and meanings are rooted in the responsive sound-visions of cetaceans.
The body of the capsule is a cast tube of pure quartz, and the crystalline property of quartz and its harmonic resonance are intended to represent the "brightness" of the cetacean sonic gaze. Inside the tube is a collection of highly tensioned, reverberating strings tuned to harmonic frequencies that create an echo inside the radiant quartz capsule. Thus, the echo of the strings articulate "space." And the strings are carefully tuned to chord progressions and harmonic resonances, which in the imaginary of that material language articulates "beauty." Thus, Nereida manifests something that could be described as "beauty emanating from the very gaze of the cetacean looking upon the radiant object."
When we are camping or sailing there, it seems evident to me that we are present in a universe that does not belong to us. But at the same time, we find ourselves in an increasingly invaded, violated, and devastated territory. Each attempt at communication and encounter brings us closer and contributes to the restoration of the delicate bond of coexistence.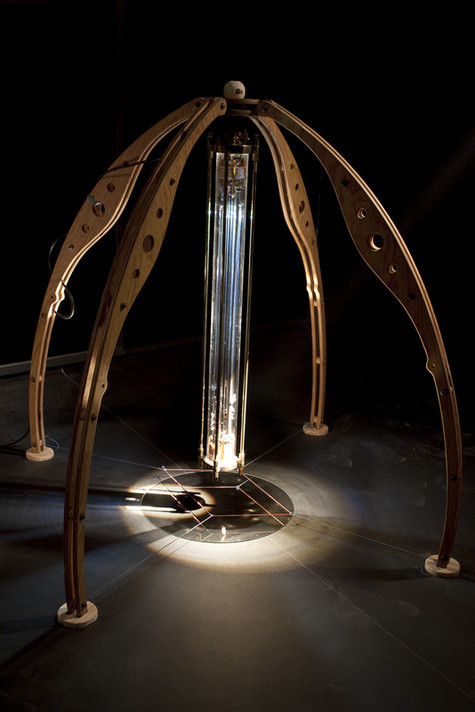 Ariel Guzik. Nereida Capsule (Cápsula Nereida). 2007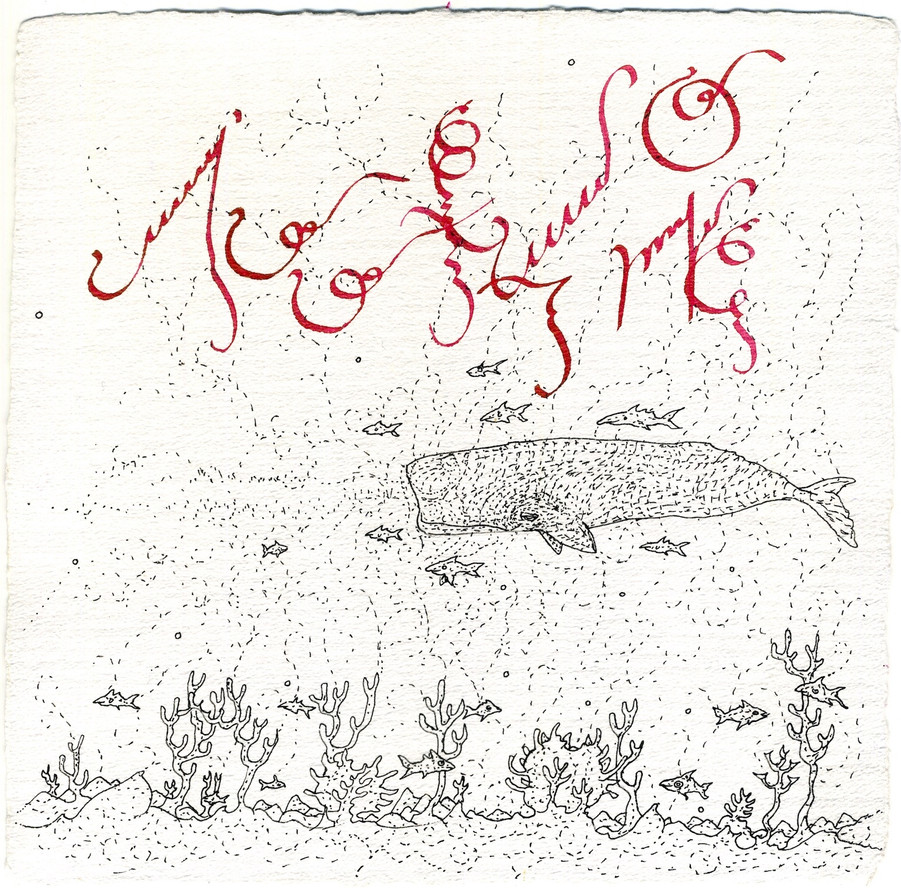 Ariel Guzik. Sperm Whale Garden and Cetacean Poem (Jardín del cachalote y poema cetáceo). 2019
JSG: Many of Ariel's works contain signs and ideograms called "cetacean calligraphy." What is this language about, what is its origin, and what kind of reactions has it evoked?
AG: Cetacean calligraphy is a language made up of signs, ideograms, and poems. Its characters appear in my dreams about cetaceans. You could say they are visions, but they are also a practice: a form of prayer that imagines and reiterates a search for an exchange with these beings that inhabit the sea.
To answer your question, I'll cite a quote of mine that was published in July 2019, originally in Spanish, in the Revista de la Universidad de México:
"Some of the ideograms are figurative, others show signal paths that unfold in time or represent the superposition or crossing of two harmonic waves or voices in perpendicular directions. Still others can change their shape or show repetitions according to the intensity, density, and rate of oscillation of elements such as electricity, magnetism, sound, chaos, and time, or according to the dynamics of atmospheric signals such as those of the wind, the tide, waves, clouds, and the sun. All symbols are underpinned by an affective background and an invitation to meet between markedly different forms of consciousness.
This poem that accompanies the drawing consists of a sequence of nine ideograms: whale, sea, sea, woman, land, song, time, strength, and sun."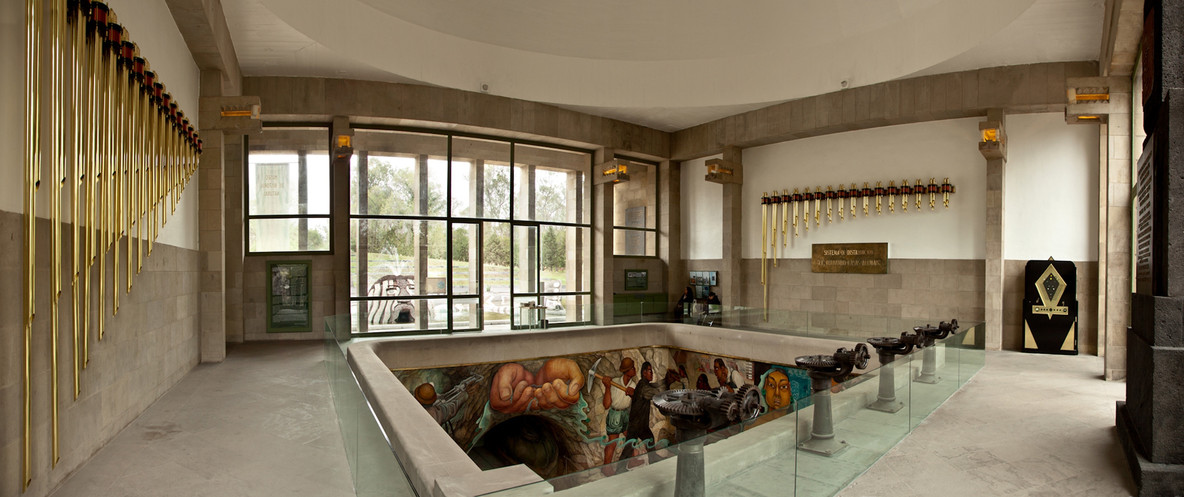 Ariel Guzik. Lambdoma Chamber (Cámara Lambdoma) (interior). 2010
JSG: Ariel and his nephew, Daniel Aspuru, performed a concert for us at the Lesteiro in Valle de Bravo. It was a synthesis of sounds from the natural world, a product of years of recording, accompanied by live saxophones. What was the creative process behind this piece?
AG: When we designed these landscapes, we asked ourselves to imagine a concert where the performers were sea animals, insects, birds, plants, cloud movements, stars, magnetic solar flares, wind shifts, and other natural phenomena. It is in this context that we propose to study the languages of nature, to recognize the animal songs that celebrate their existence, but are also expressions of pleading and lamentation.
The soundscapes are expressive forms that transcend interspecies barriers. We want to produce a musical form derived from the vital signs of plants, the songs of whales and dolphins, the chirping of birds and insects, and other excerpts from the sonorous universe of nature, in order to express them in a theatrical context.
CJ: The recordings that make up a soundscape include voices and songs from marine and terrestrial fauna from different places, as well as sounds generated by machines and instruments designed by Ariel and built in the Laboratory. This sound work is a compilation of field recordings made throughout marine and overland locations in Baja California, the arid regions of central and northern Mexico, Papagayo Gulf in Costa Rica, and Inverness in Scotland, among others.
Additionally, in the soundscape created at the Lesteiro for El canto de la Yerba Bruja, Ariel and Daniel decided to include a brief live performance at the end, incorporating their own musical interpretations as part of a new stage in the design and production of these soundscapes.