Perception That Opens Like a Memory: An Interview with Yeni & Nan
The artists discuss their early performances, art in Caracas in the 1980s, and opening up cellular memory.
From 1977 to 1986, the artist duo Yeni & Nan (Jennifer Hackshaw [Yeni, b. Caracas, 1948] and María Luisa González [Nan, b. Caracas, 1956]) worked in Venezuela and England, experimenting with performance and video. Their art deals with the body, the coexistence of humans with nature, and the limits of space, both imagined and real. Currently, Yeni Hackshaw lives and works in Salamanca, Spain; Nan González lives and works in Caracas, Venezuela.
In this interview, we spoke to the artists about two of their projects. Integrations in Water (Integraciones en agua) (1981), realized on multiple occasions, is an installation and live performance during which the artists remain inside a transparent bag filled with water. Autologous between Water and Air (Autólogica: Agua + Aire) (1981) is a two-channel video: one channel shows Nan submerged and swimming in water, while another shows Yeni standing in front of the ocean and moving her body. Both works also include Polaroid photographs of the actions. Discussing the durational and immanent aspects of their collaboration, Yeni and Nan share their perspectives on the multifaceted processes of their work and the importance of accessing the body's cellular memory.
This conversation is part of Giving a Body to Time, a series of interviews with Latin American artists whose work became part of MoMA's collection in 2017 as part of 90 contemporary artworks donated by Patricia Phelps de Cisneros. With a title that quotes the Brazilian artist Jac Leirner, the series focuses on work from the 1980s and 1990s that centers the body in experimental and conceptual practices, challenging the parameters of traditional artistic mediums. Giving a Body to Time is the third series of interviews that are part of a long-term investigation into the Cisneros gift to the museum.
This interview has been translated from the original Spanish by Madeline Ruiz.

Yeni & Nan. Integrations in Water I. 1981. Performance at the Galería de Arte Nacional, Caracas
Madeline Murphy Turner: Yeni and Nan, it's a pleasure to have this opportunity to speak with you. I would like to start by talking about Integrations in Water. Could you explain the basis of the project and the ideas that fed it?
Nan González: We began to make Integrations in Water looking for an analogy with birth, with the amniotic, with what water symbolizes for human beings. We began to investigate this topic and, talking with one another, we decided that it would be beautiful to represent a birth, a new beginning. That's how it started: the whole process of hanging the bags with the Polaroids inside them and doing research to get all the nuances. The creation of the Polaroids was always first in order to carry out the project later.
Elise Chagas: Integrations in Water has had a multitude of lives. Could you tell us about the different versions of this work?
Yeni Hackshaw: Integrations in Water is one of the longest projects we have worked on. We made the first version at the National Art Gallery in Caracas in 1981, and from that presentation came the second one, called Contemplative Integrations (Integraciones contemplativas).
In the first Integrations in Water, we put ourselves into a single transparent plastic bag. Then we made Contemplative Integrations, where each of us was in a different bag. We also presented Contemplative Integrations at the National Art Gallery in 1981, and later that year took it to the 16th São Paulo Biennial. At the Paris Biennale in 1982, we staged a second version of Integrations in Water—the two of us were in one giant bag. Even though it was the same performance, it was never exactly alike.

Yeni & Nan. Contemplative Integrations I. 1981. Performance at the Galería de Arte Nacional, Caracas
MMT: Research and experimentation seem to be central to your artistic practice. How did you prepare and do tests for Integrations in Water?
NG: During the research process, Yeni would contribute an idea, I would contribute another. Everything began to come together in a fluid, direct, and spiritual way. We did the first test and filmed it ourselves. We also prepared drawings of all of the projects.
I lived in a house in a small field that had an incredible garden, and there we assembled small plastic bags with Polaroid photos inside them and took photographs of the performance. We were doing very simple tests, and then we continued investigating what we were doing. Afterward we would look at details of each position of the body and hands in the photos.
The performance was extraordinary. When you are doing it live, you feel that the artist disappears and it is one's being, the energy of the soul, that begins to emerge and portrays an entire evolution. This involved a whole process which you can see in a video recording that we made of the performance.

Yeni & Nan. Integrations in Water. 1982. Umatic VHS transferred to digital video. Performed at GAN (Galeria de Arte Nacional), Caracas, 1982
EC: Could you tell us about the importance of the Polaroids in the performance?
YH: The Polaroid was one of the tools we always used, even for presentations and installations. The photographs themselves were part of the performance. When we did the performance of Integraciones, we also hung the individual Polaroids in little bags that were filled with water. At the São Paulo Biennial and at the National Art Gallery in Caracas, the public was also able to play with and manipulate these Polaroids.
NG: When the spectators opened the little bags the water came out, all that amniotic fluid, and they could take the Polaroids with them. After a long time we realized that many people had the photos at home.
Looking through the camera, we stopped down the aperture to see a very interesting sequence, from light to darkness, with the image appearing and disappearing. That interested us a lot, the permanence in the image. The Polaroid image is extraordinary. We have done a number of exercises: we have exposed it to heat, to cold, to water, and to ice to see what happens. In the end, we were able to confirm that the image holds up in all of these conditions. To modify a Polaroid, you have to create a small hole for air to enter the image, so it begins to darken and form a stain.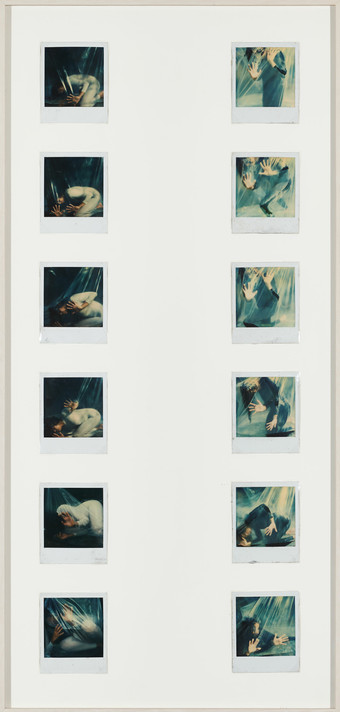 Yeni & Nan. Contemplative Integrations. 1982. Polaroid SX70. Installed at a performance at the Biennale de Paris, Grand Palais on October 1, 1982
MMT: Do you remember your first conversation about art?
NG: It was at the Cristóbal Rojas art school in Caracas in 1976, the year we met. From that moment on, the topic of our discussions was always creation. That same year, we went to London and did not return to Caracas until 1980. What we experienced, and our relationship with art, was more important than what we studied. That is the truth. We didn't use anything that we studied.
YH: When we met, we wanted the same thing. We were young and we went to London, with my three children and Nan. But everything flowed smoothly, life flowed, the children sharing everything with us. That's life, when you live in your truth, everything flows, everything comes out.
MMT: In some of our earlier conversations, you referenced your interaction with the art world in London in the late 1970s. You spoke about Nam June Paik, Bill Viola and Gary Hill, among others. I would like to know more about your experiences abroad. Also, I'm curious about the circulation of ideas between Western Europe and Venezuela in those years.
NG: We were in Europe and these were the artists whose work we investigated and whom we liked very much. Bill Viola was super important to us, Nam June Paik also because of the monitors, the image, the video. We found a world so extraordinary that we grabbed it, but we also shut ourselves in to produce. I can't tell you that we had a huge pool of artists to draw from. In fact, we began to nourish ourselves with experience, with the life we ​​were leading. In London, we began the works Birth 1 (Nacimiento 1) and Birth 2 (Nacimiento 2) (1979), we did work with Polaroids, we studied the body.

Yeni & Nan. Autologous between Water and Air. 1982. Umatic VHS transferred to digital video
EC: Continuing with the topic of Autologous between Water and Air, how did you come to the conception of the work and how is it linked to Integrations in Water?
YH: After Integrations in Water, we wanted to merge directly with the elements of nature. In Autologous between Water and Air, Nan is water and I am air. We felt the need to leave the museum, because in previous works we had always worked in institutions. For me it was like a poetic surrender, because it was about that need to go out into nature.
NG: Remember, Yeni, that all your life you have done T'ai chi ch'üan. You were moving in those spaces, engaging conceptually in that wonderful air, giving a twist to the structure that defines an area of ​​space. And there is another part, me, in the water. In a swimming pool at the Simón Bolívar University, a single chair appears, and then I sit on the chair and feel the space that is trapping me. Body language is the only way out, it's like a cosmic dance within the water, an acknowledgement.
EC: What is the meaning of the chair and the cube-formed structure in Autologous between Water and Air?
NG: The cube defines a space, it modifies an area. It creates an environment, a space that we are changing and breaking. It is a dance, a modification of the space.
We have taken that cube everywhere. We have placed it in the salt mines in Venezuela, it has been in open spaces, it has been on highways, in mountains. The chair is the point of departure, or you've already left and it doesn't matter anymore, it remains there alone. I make it disappear, Yeni leaves it, as you can see in the videos.
MMT: This idea of ​​using geometry to not only mark a space, but to break nature, is very strong. Why were you both interested in the subject of nature?
NG: Before we met, both of us were already working with nature. In fact, I was born on a mountain called Pipe. I was a child of nature.
YH: It is necessary to emphasize something very beautiful, and that is that Venezuela has incredible nature. So from a very young age, from when you are very little, you are completely attuned to that nature wherever you go. There is a very rich nature and you carry it inside of you.
MMT: At that time, were there many conversations among artists in the Caracas art scene about nature, or about relationships between nature and humans?
NG: There was a lot of talk about performance works, but not many of us worked with nature.
YH: That whole group of Venezuelan artists was very special because we were very united. Yet each one worked individually.
EC: What was the art scene like in Caracas in the 1980s?
NG: It was very open. There was a lot going on. We did collective exhibitions, performances at festivals and at the National Art Gallery, the Museum of Fine Arts, in the squares. Héctor Fuenmayor was generally a painter. Antonieta Sosa, who is an extraordinary artist, was very close to us. We met Pedro Terán, a very good Conceptual artist, in England. We also knew Diego Barboza, a great Conceptual artist. It was an artistic movement with different works, but we met, we talked, we discussed, we shared, we invented.
We have always gotten enormous help from institutions in Venezuela. The first people who opened their doors to us were Sofía Imber at the Museum of Contemporary Art and Manuel Espinoza at the National Art Gallery.
MMT: In our previous conversations, you emphasized that you did not declare yourself committed to the ideas of feminism. Could you tell us about the network of women artists in Caracas during this period? Was the Caracas art world accessible and open to women at that time?
NG: There weren't many of us female artists. And the truth is that the feminist movement in Venezuela was not important. We knew what it meant, but it was never important to us. Quite the opposite actually, we always had the support of all the institutions. Generally, there were more male artists. There were very few women who were doing work, but there was no difference. We had the opportunity to flow, to generate continuous work for 13 years.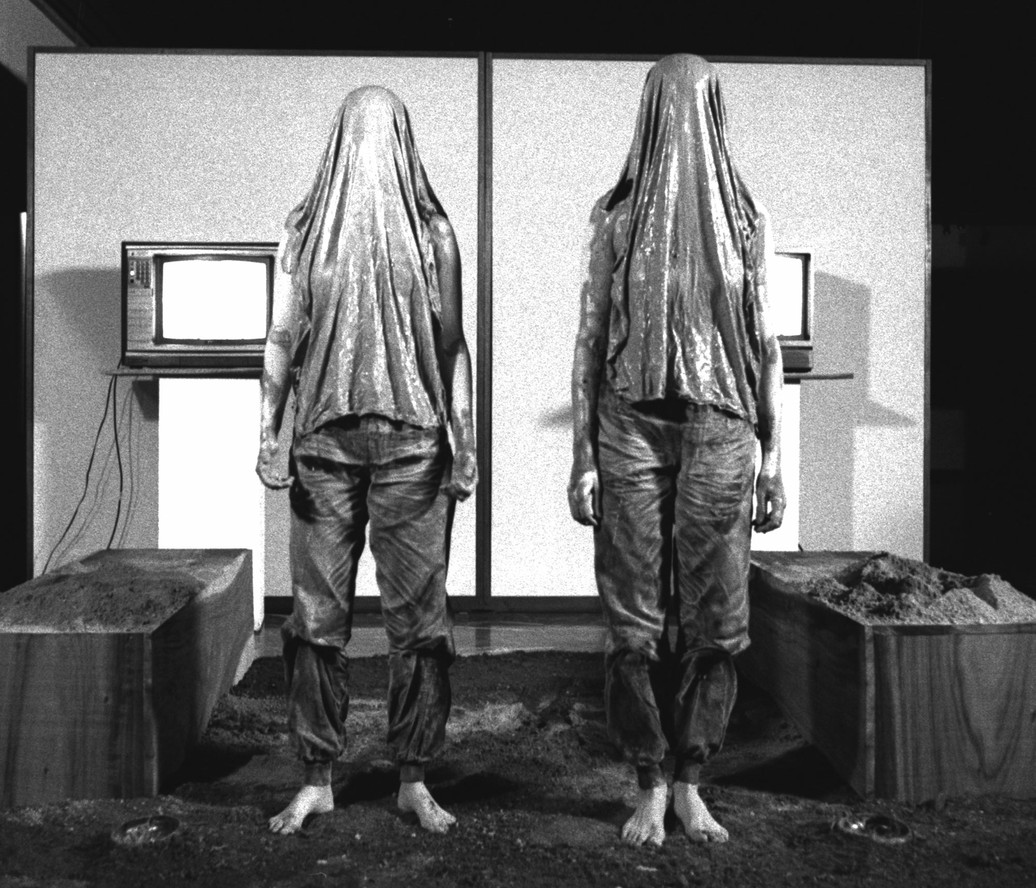 Yeni & Nan. Transfiguration Element Earth. 1983. Umatic VHS transferred to digital video. Performance at Sala Mendoza, Caracas
MMT: In projects such as Integrations in Water and Autologous between Water and Air, among others, you subjected yourselves to very harsh conditions—immersing yourself in water for a long time, covering your body with clay. It makes me think of the history of artists who subject their own bodies to extreme situations, from Marina Abramović to Regina José Galindo. But I see something different in your projects, as if the resistance of the body is not necessarily responding to violence. How do you understand this corporeal resistance in the context of your work?
NG: We endured things that would exhaust a normal body and a normal person. Even during the process for Transfiguration Element Earth (Transfiguración elemento tierra) (1983), we spent hours covered in clay without blinking, meanwhile our faces were transformed into this extraordinary thing. Besides this, there was everything else the process entailed: the smoke, the earth, the primal scream.
Everything we did was a forceful work of learning, of remembering, of opening cellular memory. I'd say that there came a time when cellular memory began to open up, and we began to understand everything we had to do, and all this departed from a classical academic background. No one was into Conceptual art or performance—at that time it didn't exist. We had to investigate ourselves, make intense studies of what we saw and what we felt, of nature, of the country we were stepping into, of what we were living, which is what we used to create those works.
EC: Speaking of cellular memory, how do you understand the relationship of your work from that period with your most recent work?
NG: I think it's absolutely a life project. Yeni & Nan's process lasted a number of years but the work is still valid because it was a project that follows the internal process of life. I have not stopped working, I was involved in searching for answers through cellular memory, and it has given me those answers. I have managed to find them in unusual places; the images and the answers that I think I've been looking for since I was born. Because everything we have studied and researched when doing our work individually continues to be something that is not in a study, is not in a book. It is in a perception that opens like a memory, it is the cellular memory.
MMT: In that sense, thinking of the Yeni & Nan project as a life project, thinking of cellular memory, the body is completely marked by the history you carry together.
NG: Absolutely. It is not a mystical thing. It is something that comes from beyond, that comes from the cosmos, from what we were, because here we are only transiting with a body, one in which we carry out the performance of life. The body is a performance in and of itself. Each wrinkle is a line on a map, each feeling marks a body that is part of a performance that will later free you. You can spend an hour watching a little worm crawl and you are not only seeing the worm, you are seeing the imprint that the worm leaves, you are seeing what that means, even visually: A macro work in a second of your life that you are breathing and that you have the possibility to see. This is what we have been talking about all these years.