Käthe Kollwitz's Self-Portrait en face
A curator explains why Kollwitz's assertive representation of herself is a game-changer for MoMA—and for early modern art.
MoMA's Department of Drawings and Prints, together with Neue Galerie New York, was fortunate to recently acquire a rare self-portrait by Käthe Kollwitz. The artist's legacy looms large over the 20th and 21st centuries, and her 1904 lithograph Self-portrait en face is a work that seems to speak as much to our time as its own. Curator Starr Figura, who recently included the work in one of our fifth-floor collection galleries, tells us more.
—Christophe Cherix, Chief Curator, Drawing and Prints
It's always exciting when a new acquisition goes on view right away, but when Self-Portrait en face (1904), a rare and extraordinary color lithograph by Käthe Kollwitz, went up in Gallery 504 last month, it felt like more than a refresh: it felt like a game-changer.
Like most museums today, MoMA has been actively working to improve the representation of women artists in its collection and galleries, a long overdue effort to redress an art-historical blindspot and present more inclusive—and truer—narratives about modern art. Following our 2019 expansion, there are more works by women artists than ever before in all of the Museum's collection galleries. The numbers on the fifth floor, which is devoted to art created between 1880 and 1945, have been the most challenging to augment. One reason for this is that women's opportunities were expanding very slowly during the early modern period, so it was almost impossible to manage being a woman and being an artist. Kollwitz, for example, was not allowed to study at the exclusively male art academies in Germany when she started out in the 1880s. It was not until 1918 or later that women in most countries began to gain some of the same rights and privileges as men, from the right to vote and own property to broader acceptance and support in the professional world.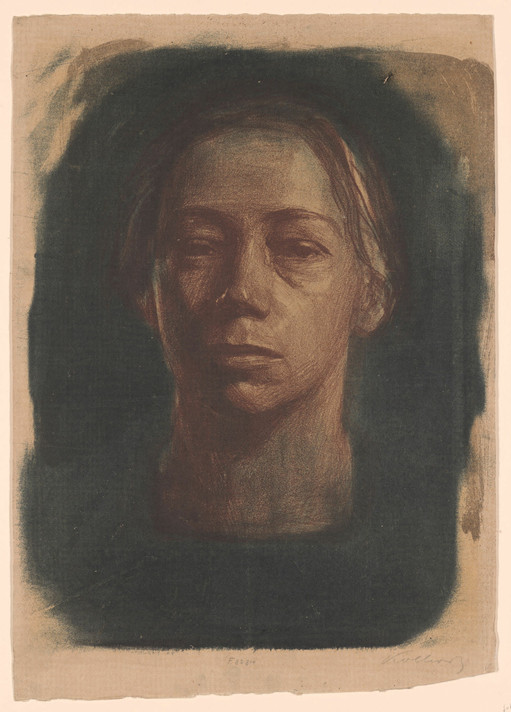 Käthe Kollwitz. Self-Portrait en face (Selbstbildnis en face). 1904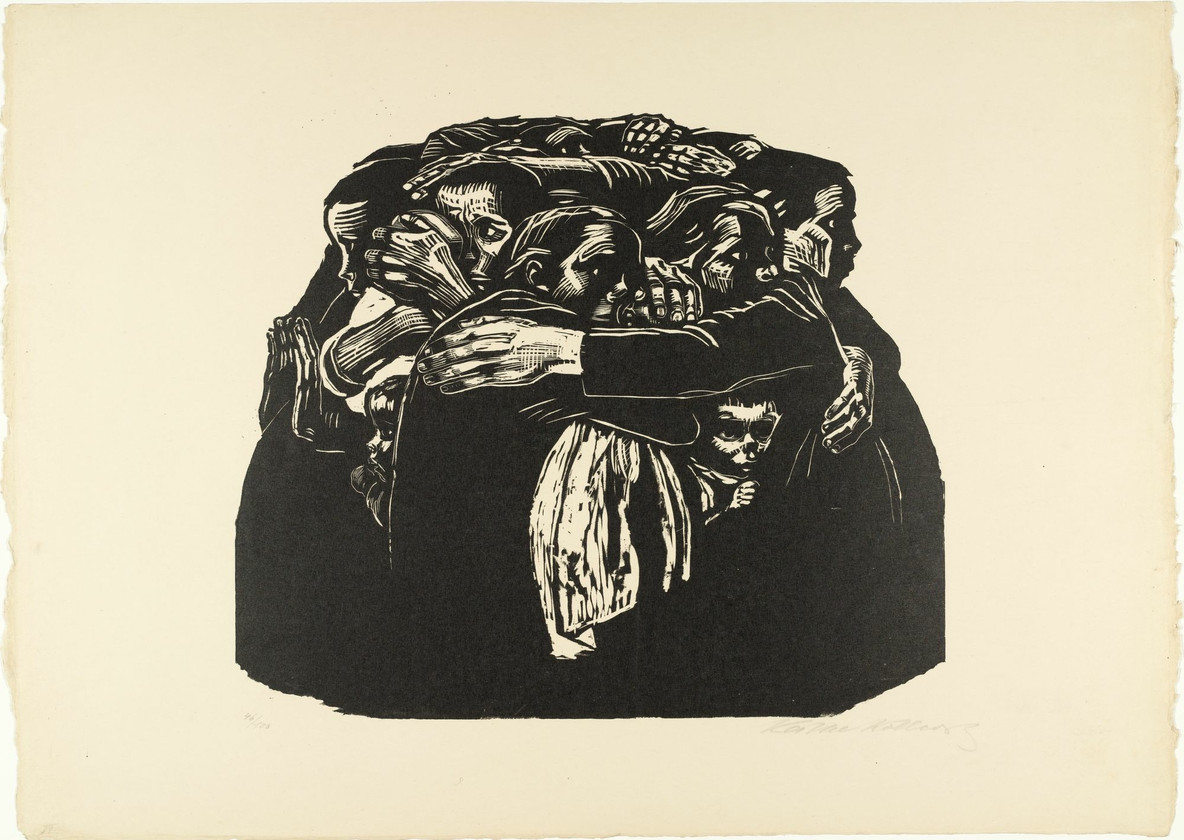 Käthe Kollwitz. The Mothers (Die Mütter) from War (Krieg) 1921–22, published 1923
By 1904, when she made Self-Portrait en face, Kollwitz was 37 years old and, against the odds, one of the most acclaimed artists in Germany. In an art world dominated by men and centered on painting, she forged her own path, developing a printmaking practice that focused on the plights of women and the working class. She underscored her artistic ambitions in Self-Portrait by taking a virtuoso approach to color lithography and by presenting herself in a powerfully assertive frontal pose. Banishing any ladylike accessories or ingratiating gestures, she allowed her face to emerge unadorned from a stark, black-blue background. Creating this self-portrait only a few years after the turn of a new century that held the promise—and, for some, the threat—of unprecedented advancements for women, Kollwitz announced herself as confident, candid, and unfettered by conventional notions of the feminine.
Gallery 504 is devoted to New Expression in Germany and Austria in the decade before World War I. Kollwitz shares the space with nine men—contemporaries like Ernst Ludwig Kirchner, Oskar Kokoschka, and Gustav Klimt—and just one other woman: her compatriot and fellow trailblazer Paula Modersohn-Becker, whose Self-Portrait with Two Flowers in her Raised Left Hand (1907) is a comparably emblematic self-portrait by another rare woman artist in the early modern period. The high-keyed, jarringly-angled, nervously brushed portraits by Kokoschka and other men in this gallery seem to express, to one degree or another, an anxiety about the rapid changes affecting society. Kollwitz's Self-Portrait, by contrast, projects determination rather than perturbation. Unabashedly asserting herself on behalf of women and dedicating her art to representing the underrepresented, she declared, "I want to be true, genuine, and undyed."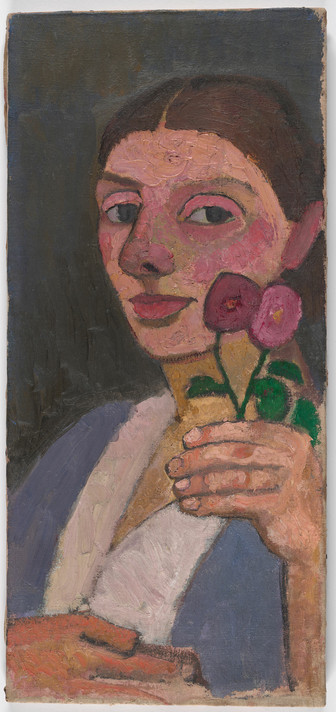 Paula Modersohn-Becker. Self-Portrait with Two Flowers in Her Raised Left Hand. 1907