Archibald Motley's Tongues (Holy Rollers)
Two members of the American artist's family discuss his legacy and his exuberant painting, newly on view at MoMA.
Archibald Motley's extraordinary Tongues (Holy Rollers), painted in 1929, is a vivid, joyful depiction of a Pentecostal church meeting. It is also the first work by Motley—and the first painting by an African American artist from the 1920s—to enter MoMA's collection. Motley devoted his career to depicting primarily Black subjects and is known for his raucous nightclub and street scenes on the Stroll, the commercial hub of Chicago's Bronzeville neighborhood. Born in New Orleans in 1891, the artist grew up in Chicago and attended the School of Art Institute in Chicago from 1912 to 1918. After finishing his studies—and surviving the Chicago race riots of 1919—he became an accomplished portraitist and won a Guggenheim fellowship that took him to Paris in 1929. But he is perhaps best known for scenes of communal experience and democratic possibility in the changing urban landscape of his beloved Chicago.
I recently spoke to Motley's daughter-in-law, Valerie Gerrard Browne, and his great grandnephew, Apostle K. (Kirkland) Sheldon Bailey, about their memories of Motley and their unique perspectives on this modern American painter's legacy and his exuberant painting.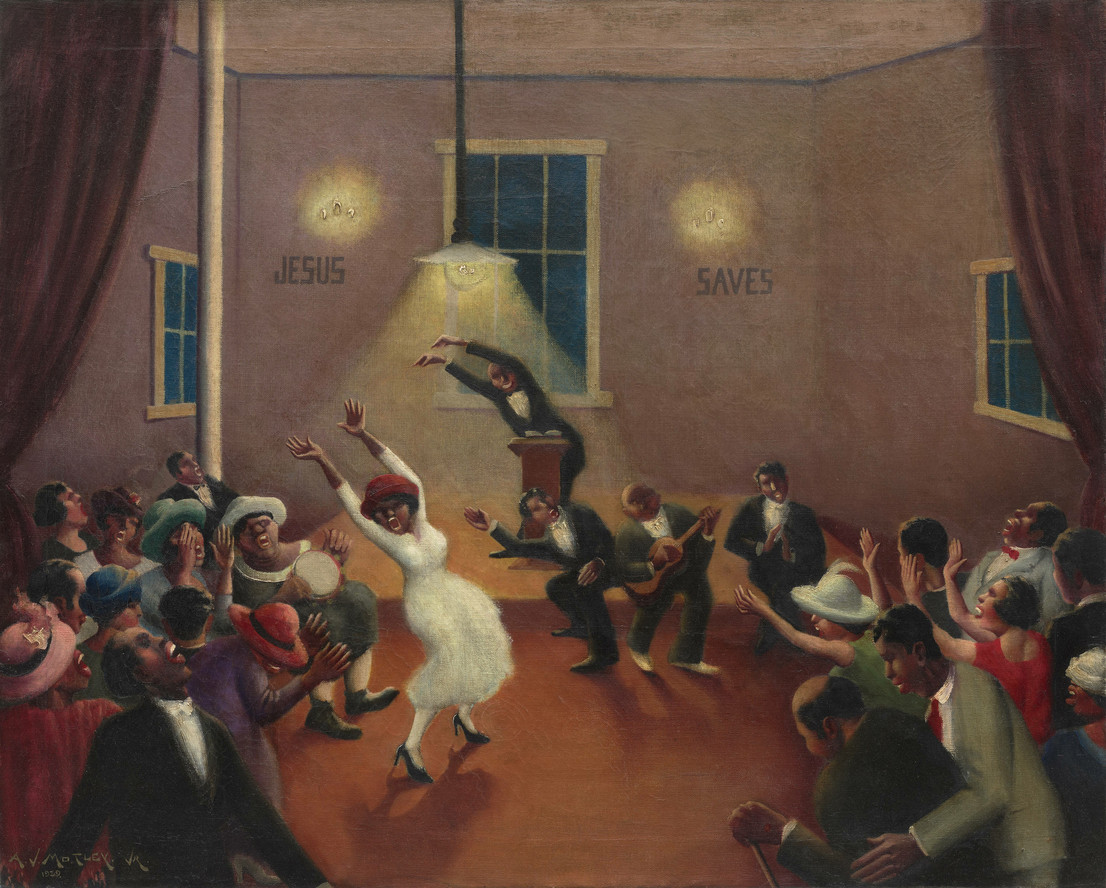 Archibald John Motley Jr. Tongues (Holy Rollers). 1929
Beverly Adams: Hi Valerie and Kirkland. Archibald Motley Jr.'s Tongues (Holy Rollers), from 1929, which was recently acquired by MoMA, is just extraordinary, and I want to start off by asking about your relationship with Motley and the picture.
Valerie Gerrard Browne: I'm the widow of Archie Motley, who was the only son of the artist Archibald Motley Jr. After Archie passed away, the stewardship of the Motley legacy fell to me. I met Archibald Motley just before he passed away. When I met him, it was in his studio apartment that was lined with his paintings. It was a wonderful little gallery. And Tongues (Holy Rollers) was one of the paintings that was hanging there.
Kirkland and I have been talking about the painting because he knows a great deal about what Tongues (Holy Rollers) is about. He's taught baptism in the Holy Spirit, he's written a book about it, and he has a different perspective on it than I do because I've never been in a Pentecostal church.
Motley was most likely in Arkansas when he painted it. He was visiting his uncle Bob there after having a major show in New York, and before that he went to Paris on the Guggenheim fellowship. So he had a chance to paint something that he hadn't painted before. He completed some landscapes while he was there, too, and he also painted a portrait of Uncle Bob, which is now on loan to the Metropolitan Museum of Art.
I remember going to the basement to pull out the lawnmower and seeing these paintings.... There were Motleys all over the place.
Apostle K. Sheldon Bailey
BA: Kirkland, can you tell us how you're connected to Motley?
Apostle K. Sheldon Bailey: He is my great grand-uncle, the brother of my great-grandmother. I spent a lot of time with my great-grandmother. She and my grandmother shared a duplex on the south side of Chicago in the Englewood neighborhood. At that time, we called Motley Uncle Arch. He lived down the street, but I don't ever recall conversing with him. I would go to my grandmother and great-grandmother's house during the summertime every other week to mow the lawn, and I remember going to the basement to pull out the lawnmower and seeing these paintings. I was about 14, 15 years old. I mean, they had no significance to me. But even in my great-grandmother's home, who of course was his sister, there were paintings. There were Motleys all over the place.
BA: Kirkland, you mentioned that this was one of your favorite Motley paintings. After you grew up and started to appreciate the artist in your family, what was it that drew you to Tongues (Holy Rollers)?
KSB: This is my absolute favorite because of the subject. I'm a born-again Christian, and tongues represent a part of Christianity that I became familiar with not long after I committed my life to Christ 34 years ago. I've traveled to other countries to lead congregations to be filled with the Holy Spirit and speak in tongues. In 2018, I finished a book about it as well.
Archibald John Motley Jr.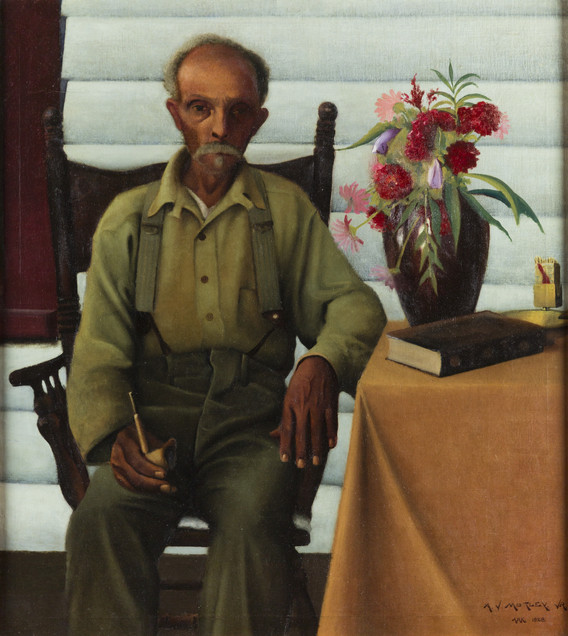 Archibald John Motley Jr. Uncle Bob. 1928
BA: What I love about this painting is the way it captures the joyous engagement of the crowd, but at the same time there's this tender, quiet moment between the young man and the older, balding man with the cane whom he's shepherding into the space, so you get both the collective and the individual. Can you tell us what you think might be going on with the female character in white at the center of the picture?
KSB: These are Spirit-filled believers. Speaking in tongues is evidence that someone is filled with the Spirit. One of the things that's widely misunderstood is that there are different types of tongues. You can have the gift of tongues, which we do not see there, and then you have speaking in tongues, which is a sign of being filled with the Holy Spirit. That form of tongues is a prayer language but also a praise language. So what we see taking place in this painting is a congregational setting where people are praising the Lord in tongues, through a legitimate language that they were supernaturally enabled to speak. It's an existing language from someplace in the world, but it's supernatural because the worshippers didn't learn it, but were able to use it to express praise to God in that setting.
BA: Valerie, why do you think this painting stayed in the family collection for so long? Why do you think Motley held on to so many of his works?
VGB: It was painted in 1929, just before he went to Paris. And when he returned from Paris, he came back to the Depression. There wasn't any market for art and he was hired by the Federal Artist Project, with which he did a lot of work during the '30s and I think maybe into the '40s. So that work took precedence over everything else during that time. And then in the '40s his wife, who had been a major support in his life, passed away. After that, Motley went into a little more obscurity for a while.
And eventually my late husband, Archie, felt that his father's work was really important and he wanted it to be honored, and he didn't want it to go someplace where it would never be seen again. Archie was a curator of archives and manuscripts at what is now the Chicago History Museum. He was a pioneer in documenting the African American community; I think that he was in some ways carrying on his father's tradition of documenting African Americans in this country.
I also want to point out the older man with the balding head in the painting. Some say that he's Motley's alter ego. I don't know for sure, but he does show up in a lot of Motley's paintings.
BA: He does. And images of Motley showed that he did have a receding hairline. When this figure does show up, it's often as an observer. Here he's part of this intimate moment between him and the young man, in the midst of this explosion of rapture and excitement and praise that Kirkland mentioned. And you have these curtains, which open up almost like a stage set, but I don't know if that would be a typical thing you might see in a space like this at the time.
KSB: Not typically. In churches you wouldn't see a curtain. But I was recently looking at a photo of the All Nations Pentecostal Church in Chicago having a revival, and there's a tent there. And it made me speculate about whether Motley was taking artistic license and combining something that he saw in that tent setting with the church. What we think are curtains could actually be a part of the tent that he's peering into. Because it certainly looks painted from the point of view of a person who's on the outside looking in. Perhaps the observer is not really comfortable with going in and getting too close to it.
BA: I think that's a great point. The famous Chicago preacher, Elder Lucy Smith, started the All Nations Pentecostal Church before she found an actual home for it. She started with tent revival meetings before they built a church on Langley Avenue in 1926. So it almost could be a conflation of these two things.
KSB: Exactly. And I also wonder whether at that time the African Americans in Pine Bluff, Arkansas, where Uncle Bob lived, would have had a church with windows, electricity, and an actual floor. My understanding is that during that time it would have been a dirt floor. And the church may not have had windows. Which would lend credibility to the scene taking place in Chicago.
I also want to make one last point about the balding gentleman in the picture. He seems to be helped by an usher, because in church it was common for ushers to help the elderly find a seat or to aid them in other ways. And I wonder whether the gentleman was already in church but was getting up to try to get involved with the other worshippers. Despite the fact that he had a cane, he was feeling something that made him want to engage. And he had a difficult time getting to his feet and participating, so perhaps the usher was helping him to his feet so that he could do the most with the limited mobility that he had.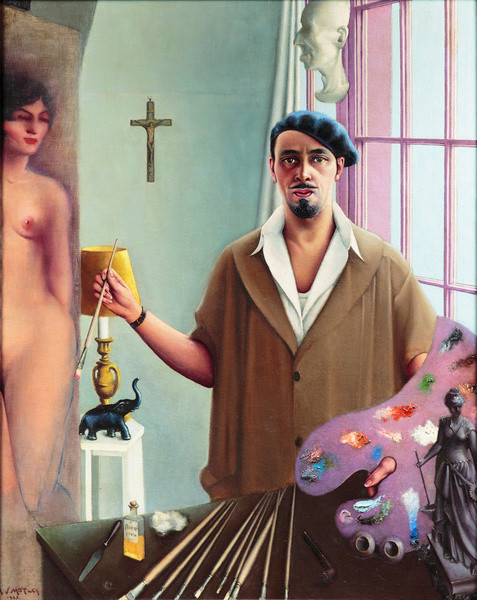 Archibald John Motley Jr. Self-Portrait (Myself at Work). 1933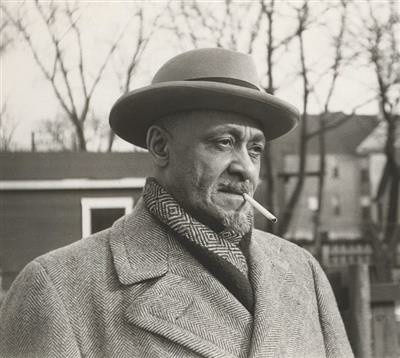 Archibald John Motley Jr.
BA: Valerie, how did you decide that this work would be one that you wanted to see in a museum collection? And what does it mean to have the work in a museum as opposed to in the family collection?
VGB: It has always been my aim to put Motley's work in a museum, where it can be seen and appreciated and maybe inspire others. I remember Kerry James Marshall saying how much Motley inspired him. So I don't want the paintings to go into private collections, where they'll never be seen again. I think that would be such a disservice to him and his legacy.
BA: And also to the history of the place where he grew up in, the place that he was so devoted to, his beloved Chicago. If I can ask you to speculate, what do you think Motley wanted viewers to take away from his work?
VGB: He didn't want to be pigeonholed as an African American artist. He wanted to be known and appreciated as a fine artist.
KSB: I certainly agree with Valerie—he wanted to be recognized as not just an African American artist but as a great artist. And I would imagine that he would be delighted for people to engage with his art. If you have people conversing about your piece and enamored by it, the way that we all are, that brings a sense of fulfillment and accomplishment.