Moké and Congolese Popular Painting
Artist Sammy Baloji, anthropologist Filip De Boeck, and curator Ugochukwu-Smooth C. Nzewi discuss Congolese painter Moké 's bright depictions of Kinshasa city life.
Ugochukwu-Smooth C. Nzewi: The basis of this conversation is an extraordinary gift of three paintings by Moké to MoMA from the Jean Pigozzi collection: Kinshasa at Noon (1980), Long Live Utex Africa (1989) and Mitterrand and Mobutu (1989).
Kinshasa at Noon and Long Live Utex Africa have a signature Moké style, the way he looks at daily activities and quotidian experiences, whereas Mitterrand and Mobutu is more of a historical painting. Filip, let's begin with your first encounter with Moké in Kinshasa. What was the context of that meeting?
Filip De Boeck: I don't know about the first meeting, but I very clearly remember the last one, in May 2001. He died in September of that year. I visited him together with Marie-Françoise Plissart, a Belgian photographer I was working with at the time. I wanted a portrait of him to include in a book I was working on, Kinshasa: Tales of the Invisible City. At that point, he was making very large canvases with strong colors, yellow, pink, blue—women with huge boobs: Moké in his last phase of pin-ups.
He was relentlessly painting. He was not a man of many words so it was kind of hard to have a sustained conversation with him. He was so busy painting and just wanted to work.
USCN: The general story we hear is that he was from the Bandundu Province and he moved to Kinshasa in the 1960s. The '60s was a very difficult but also exciting moment for the Congolese. It was the period they achieved political independence, but that was quickly followed by the assassination of [independence leader and first Prime Minister] Patrice Lumumba and the coming to power of Mobutu Sese Seko. It was in that moment that Moké arrives in Kinshasa. Do you think the political climate had any impact on Moké's move from the Bandundu Province to Kinshasa?
FDB: It was not just because of the political context or Mobutu that he moved to Kinshasa. In the 1960s, the city grew enormously. 400,000 inhabitants in 1960, one million in 1970.... So, there was an influx of rural people who were attracted to city life and the urban context. Kinshasa—Leopoldville at the time—was a huge ball of attraction for many, regardless of the political context.
USCN: And so he did a painting in 1965 of Mobutu during the Independence Day parade. Mobutu became a recurring character in his work, as in Mitterrand and Mobutu.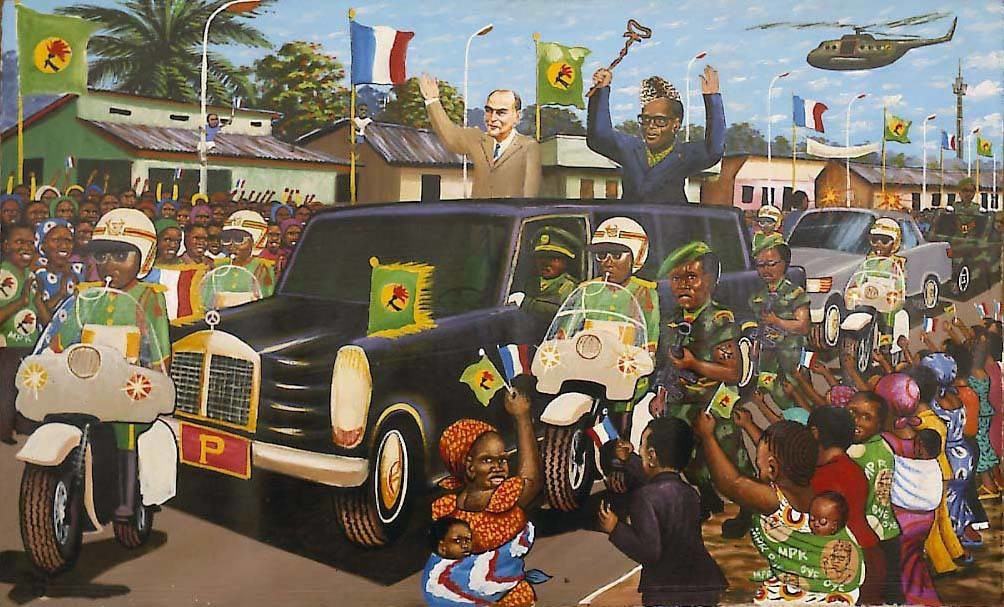 Moké. Mitterrand and Mobutu. 1989
In 1970, Moké came of age as an artist when he became part of a group with [the artist] Chéri Samba, who he sort of mentored. Can you provide a sense of why the genre of popular painting is so fundamental in the Congolese context and why Moké would want to be part of that?
FDB: I think Congolese painting predates the 1970s. It was already around in the 1920s and '30s, with Antoinette Lubaki and Djilatendo. And then the first moment arose in the genre of popular painting in the late '40s, late '50s, influenced by the more formal academic schools of Leopoldville and Elisabethville, and painters like Pilipili Mulongoy, who certainly had an influence on the scene of popular painting. From the late '60s and early '70s onwards, there was a boom. Moké, of course, is part of that wave.
In 1965, Mobutu had strong cultural politics that were state-sponsored, but in the '70s, with the rise of an informal economy, painting becomes a way to make a living. There had been mural paintings for a long time and that also became a genre that was popularized with the rise of the city itself.
In the '70s, you have Moké and Chéri Samba that represent two sides of the popular painting horizon. If you look at popular music, you see the same thing. You have Franco and OK Jazz on one hand, and Tabu Ley Rochereau on the other hand, who both played Congolese rumba but with different tonality. Tabu Ley is inspired by French chanson, whereas Franco Luambo uses more Latin influences and stays closer to local folkloric genres and the music of Leopoldville, where he grew up and emerged as a musician at a very young age.
In the 1970s, as soon as it becomes technologically possible to record longer songs, Franco becomes the chronicler of urban life. Every song becomes a small novella about nightlife, streets, women, fashion. Moké and Chéri Samba have their roots in that same popular culture.
But very quickly, Chéri Samba changes his style, partly due to his friendships with a local expat community. He is introduced to Cubism and formally becomes a different kind of painter than Moké, who stays much closer to a local world. People continued the older style of portraiture, whereas Moké tells more complex stories of urbanity. In the 1950s and '60s the city is still a relatively new environment and produces new labor divisions, gender relations, and notions of ethics and morality. New urban spaces emerge, like the bar and the Utex factory, that differentiate between types of time: working time, labor time, and leisure time. And that new time of leisure becomes the space of the dandies, and of a totally novel nightlife culture from which the Congolese rumba emerges.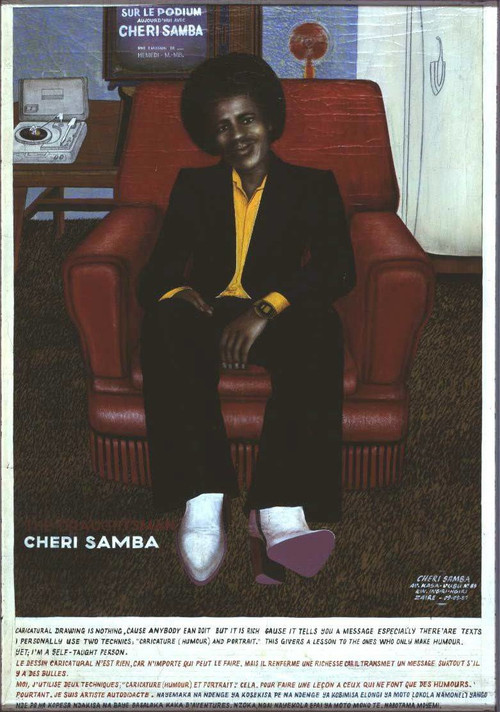 Chéri Samba. The Draughtsman, Chéri Samba. 1981
Chéri Samba. Hope Keeps You Going #2. 1997
That's why in Moké's paintings you so often see bars and dandies, because that was the new urban reality. He starts painting these new worlds that had not existed before in the city. Whereas Chéri Samba incorporates text and you see a kind of comic art, art that also makes critical commentaries.
They were both influenced by photography, by someone like Jean Depara, who was taking pictures of the musician Franco Luambo and nightlife in Kinshasa. The image that people for so long had of Kinshasa—even though perhaps today it's no longer true—was formed through that photography and also these paintings by Moké.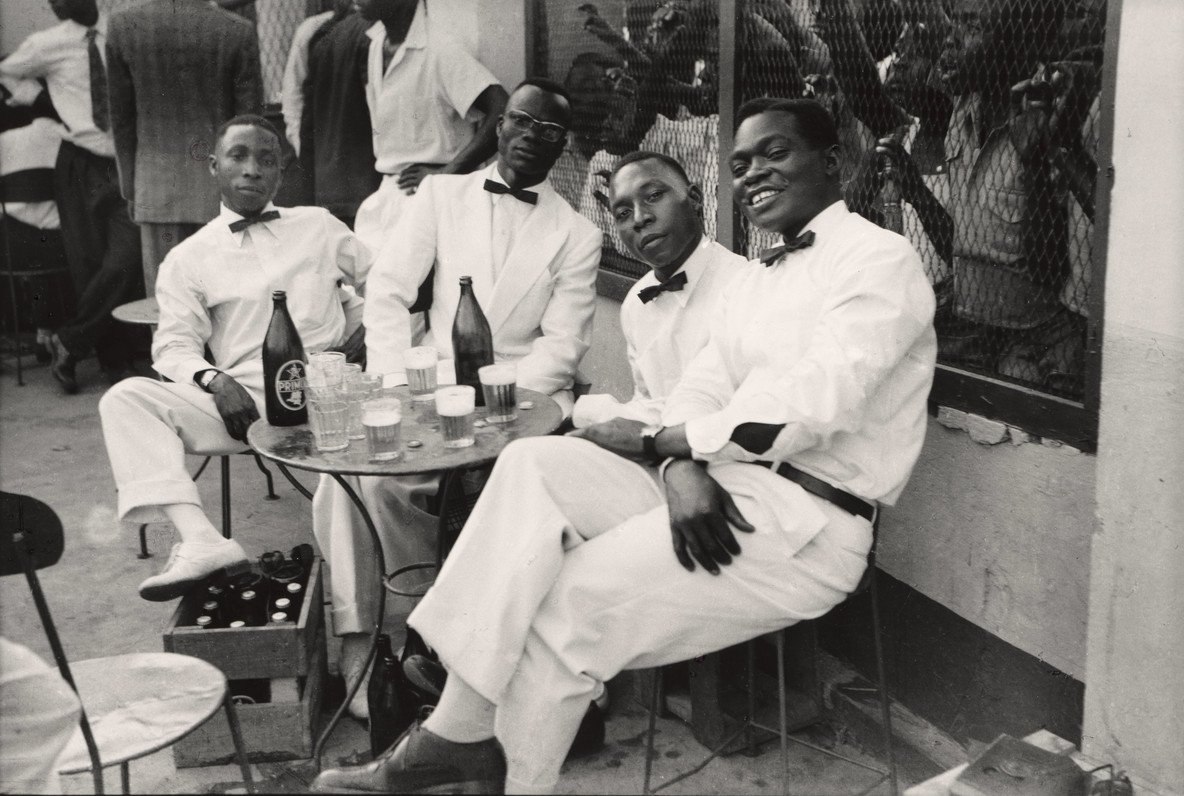 Jean Depara. Les musiciens (The Musicians). 1975
USCN: Sammy, Moké is a different artistic generation from your own, but how do you think he was received locally in Congo and when did you hear of him first?
Sammy Baloji: I grew up in Lubumbashi, which actually is 2,000 kilometers from Kinshasa. I came across Moké through different bodies of works and writings, like the one that Filip and I did on Kinshasa [Suturing the City: Living Together in Congo's Urban Worlds] and other texts by historians like Badi-Banga. Moké was like a mentor.
Popular paintings are about Kinshasa in different categories: politics, music, La Sape, which is a style of dress in the Congo. When I look at Moké's work, I first recognize the events, because they are a part of a social memory. The second thing I was drawn to was Moké's own style of painting, which is really humorous, and the way he used colors is really amazing.
USCN: Kinshasa at Noon depicts a major thoroughfare brimming with traffic congestion, where all kinds of daily economic activities recur. You look at that composition and you would think that it's an image he painted from life, but that's actually a fictive painting.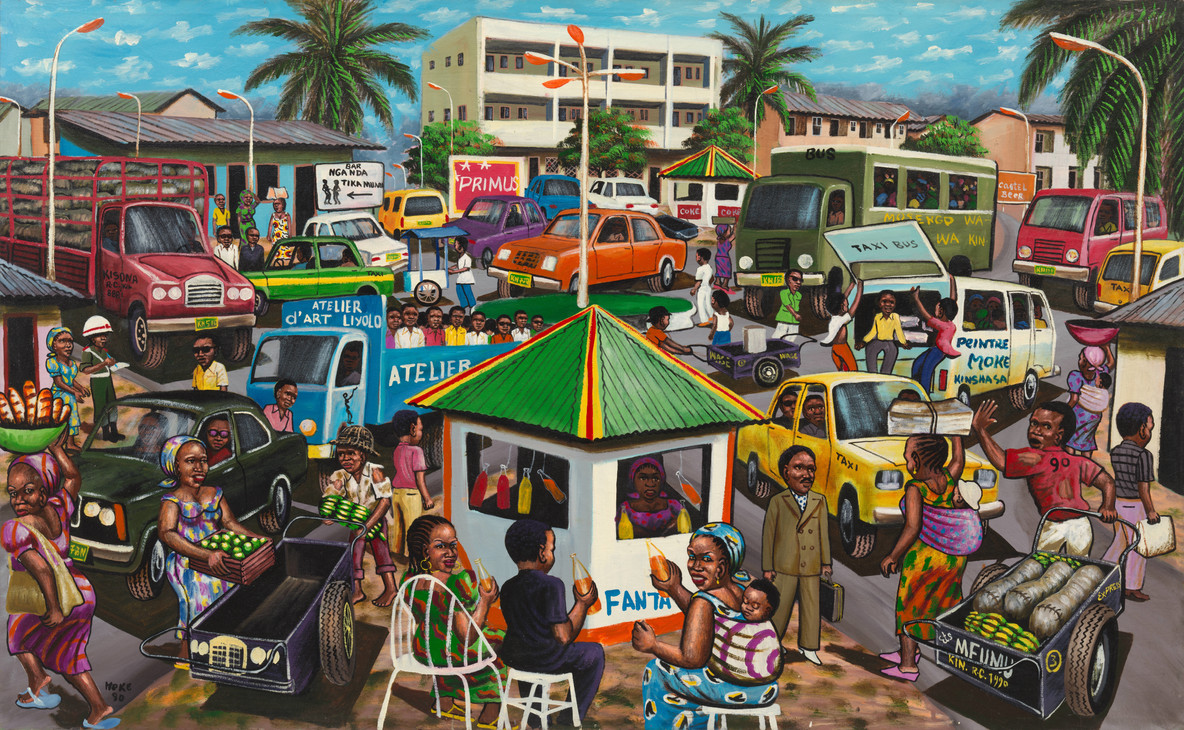 Moké. Kinshasa at Noon. 1980
FDB: Yeah, but referencing real places in the city, real people that exist in the city. Everybody in Kinshasa can read these paintings and understand these codes. They know who the paintings and songs talk about or what situation is addressed because it's part of what people in Congo call radio trottoir, radio sidewalk, the rumor mill of the city. It's a specific kind of a conversation between these artists and the whole city.
USCN: Interesting. Utex describes the nightlife in Kinshasa and then Kinshasa at Noon references the everyday hustle activities to get by. On the other hand, Mitterrand and Mobutu depicts a historical event that actually happened in 1984, when François Mitterrand made a state visit to Congo.
With the exception of that work and a few others, Moké's paintings aren't often drawn to the political as much as they try to chronicle everyday experiences. He's more interested in looking at human connections within Kinshasa. Would that be a fair way to describe his work?
FDB: Yes. You must understand the political context of the late '60s, '70s, and '80s, after Zaire's reorganization, and really the rise of the Mobutu empire, the one-party system under Mobutu, certainly the state's control became a bit weaker and more criticized toward the late '80s. But that was a kind of omnipresent political context that nobody in Zaire at the time could escape. Moké references Mobutu, the authoritarian, or the flag because those were the images that were on the radio and television...you couldn't escape it.
But Moké never openly makes political statements. The visit of Mitterrand would have been an event that the whole town talked about in the same way that Moké made paintings about Muhammad Ali's visit to Congo and the Rumble in the Jungle. But there's not really an overt political commentary.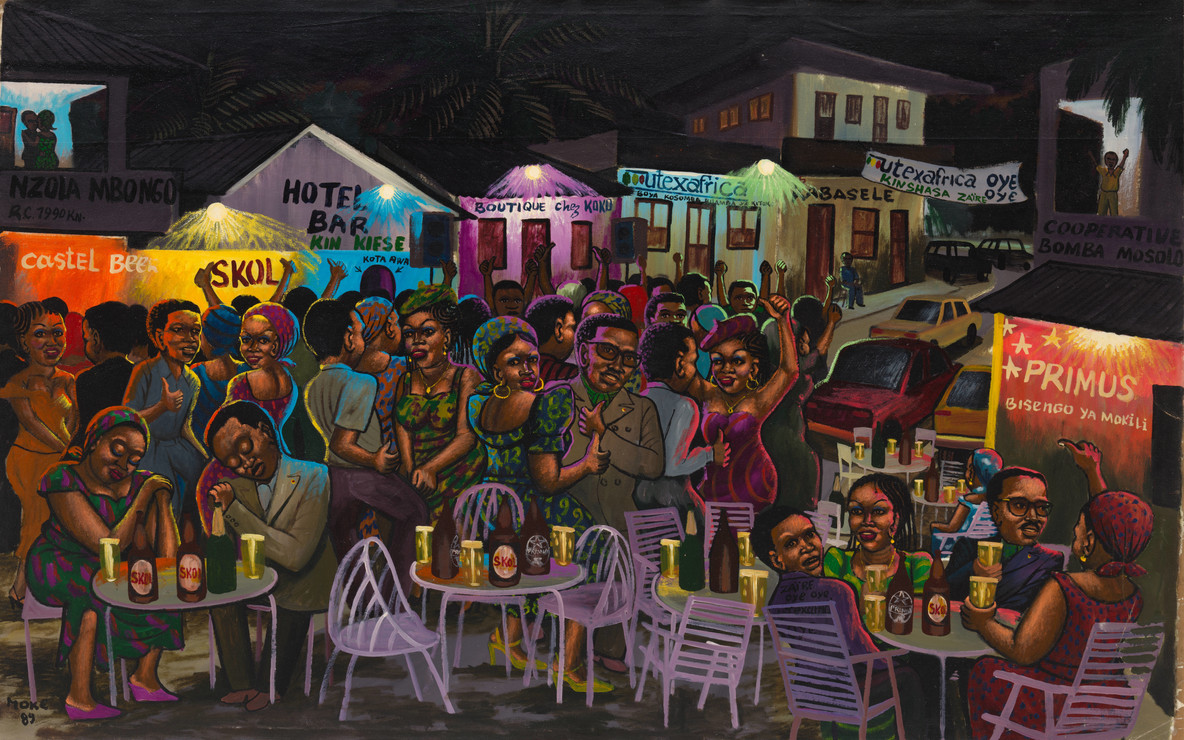 Moké. Long Live Utex Africa. 1989
USCN: In some of Chéri Samba's works, you see real cutting-edge political commentaries that you don't find with Moké. Moké is all about celebrating life, enjoying life.
One thing that ties Kinshasa at Noon, Utex Africa, and Mitterrand and Mobutu together is the setting of the three works in the city. Why is the urban environment so central to the genre of popular painting? Chéri Samba, Maître Syms, even [Bodys Isek] Kingelez and others all depicted the city. When you begin to think about contemporary works by Sammy and the younger generation, they are often more historical in the way they now analyze the country's past and present conditions.
SB: It's quite normal, because you find that the popular paintings were mostly made in the cities, in Lubumbashi or Kinshasa, because these were where modern memory was produced, and modern memory is a colonial one. So, it's those towns that were actually created for white people. Black people were living on the peripheries of the cities.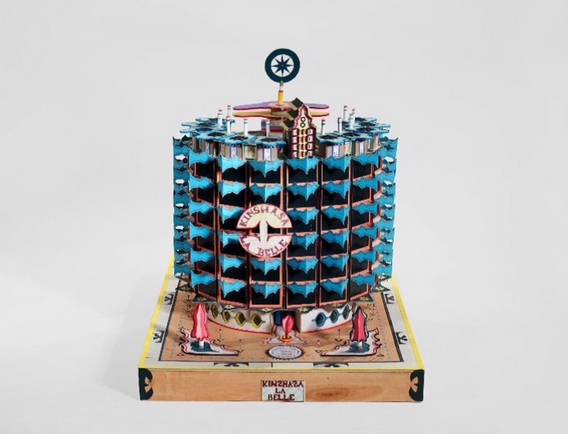 Bodys Isek Kingelez. Kinshasa la Belle. 1991
Most of the Black people who were going into the city were in contact with this modern life and went to those bars. They started to reproduce this way of painting. It's a reappropriation of these towns that were built by the colonial system, to reimagine a new life where you actually have local Congolese living in the city center.
But there are also writers, like the philosopher V. Y. Mudimbe, who saw the missionaries' influence on popular paintings. You have this morality that you find in popular painting that has a background within evangelizations coming from the missionaries.
USCN: So, how would you assess the position of Moké in the art history of Congo? Where would you place his work?
SB: It's a generation that started to create their own work with this interest of relating the history and events, depicting what is going on in their life without any restrictions of what was imposed by the West into fine art schools. It's not only personal but also a reappropriation of the space and stories of how to create modern forms of writing, painting, and talking about the history of the city.
USCN: The first time I saw Moké's work I was doing preparatory research for the exhibition Feedback: Art, Africa and the 1980s, and what struck me about his work was the way he molded the human form with paint, which is totally different from Chéri Samba's approach. Moké's forms are almost sculptural. That was something that really, really spoke to me.
That and his emphasis on the celebration of life. I realized that he made no moralistic commitments in the way other popular painters did. What he did was provide snapshots of life in the city that you encounter that were so visceral. There's a certain intensity about his painting, but there's also a certain kind of truth to the way he depicted city life that I found quite fascinating.
FDB: And in a very unpretentious way.
USCN: One could say that part of the charm of Moké's work, and by extension other popular painters, is that the average Congolese person can easily see themselves in those paintings.
It's interesting that Moké, as well as his contemporaries, were able to actually achieve some of those ideas that Mobutu had of engendering a modernist milieu, without being very ideological about it. I think that's one, if not the most, brilliant takeaway one gets when you're looking at Moké's work. You're seeing the story of postcolonial DR Congo, of urban Kinshasa, warts and all, unfolding right in front of you in the painting.