A journalist discovers why Pavel Tchelitchew's enigmatic painting really might be worthy of cult worship.
In the winter of 2018, I was interviewing a former member of a now-defunct psychedelic religion (or cult, depending on who you ask) called The Native American Church of New York about what rituals, if any, surrounded their use of peyote. The Church didn't really have a church—they were headquartered in an East Village storefront—and they weren't really Native American either. [1] Their peyote worship seemed so unstructured that I struggled to understand how they were a religion at all. Yet many of the members were sincere in their belief that peyote and other psychedelics were God. And so I wondered, if not the storefront or a tipi, what was their place of worship, their sanctum sanctorum? The answer, for this former member, was New York City as a whole. He would eat peyote, traverse the city, and worship heuristically.
"But was there anything in particular you'd do while using psychedelics?" I asked.
The former cult member thought for a moment. "There was a painting called Hide-and-Seek. That's what we'd do, we'd look at *Hide-and-Seek*…. We'd spend the whole day just looking at it, watching it transform."
I confessed that I hadn't heard of Hide-and-Seek, and with a sense of urgency he told me I had to see it. I typed a note, "hide and seek painting," and absentmindedly googled it on my phone while walking home.
"Wow," I thought, "This really is a painting worthy of worship by a cult."
Hide-and-Seek is Pavel Tchelitchew's magnum opus; his largest, greatest, and most compositionally complex work, rivaled only by Phenomena (1936), which he considered a failed experiment. It was created over exactly two years, between June 1940 and June 1942, but the original idea came from sketches Tchelitchew made of an anthropomorphic pollarded willow he observed in Sussex in 1934. Over the following six years, he refined different components of the piece in dozens of studies before he formally began the painting. Hide-and-Seek was meticulously planned and combines the panoplied microenvironments of Hieronymus Bosch with the synecdochic visual metaphors of Arcimboldo. There are optical illusions and ambiguous double and triple images that send the eye in endless pursuit of its shifting detail. It could also be compared to a Where's Waldo book.
Producing a written inventory of the painting's contents would be impossible, partly because it's not always clear exactly what it is you're looking at. There is a young girl with hypertrophied calves grasping the Tree of Life, a tree whose branches develop into the dorsal surface of a right hand that is fused directly to a left foot planted in the earth. Prolonged viewing of the central girl casts shades of ambiguity on her age; the highlights in her youthful hair transform into streaks of gray, now the hair of an old woman who straddles a large, erect, and dendrified phallus. The tree-hand's interdigital spaces each contain a new world; a malachite cave filled with haycocks, children fighting with spears of wheat, children cloaked in autumn maple leaves, children blowing off into the sky like embers driven by the convection of a fire. A young boy pees onto the stoic face of an old man and the mottled spathe of a skunk cabbage heralds the screaming life of spring beside the tree-hand-foot's neonatal hallux.
I decided I had to view Hide-and-Seek in person, but was disappointed to learn that the painting wasn't currently on view. The more I looked into the painting, the more I felt convinced it was a masterpiece. What painting was more deserving of public display? I used my press credentials in an attempt to arrange a private viewing as research for the article I was writing about the defunct psychedelic cult; it didn't work.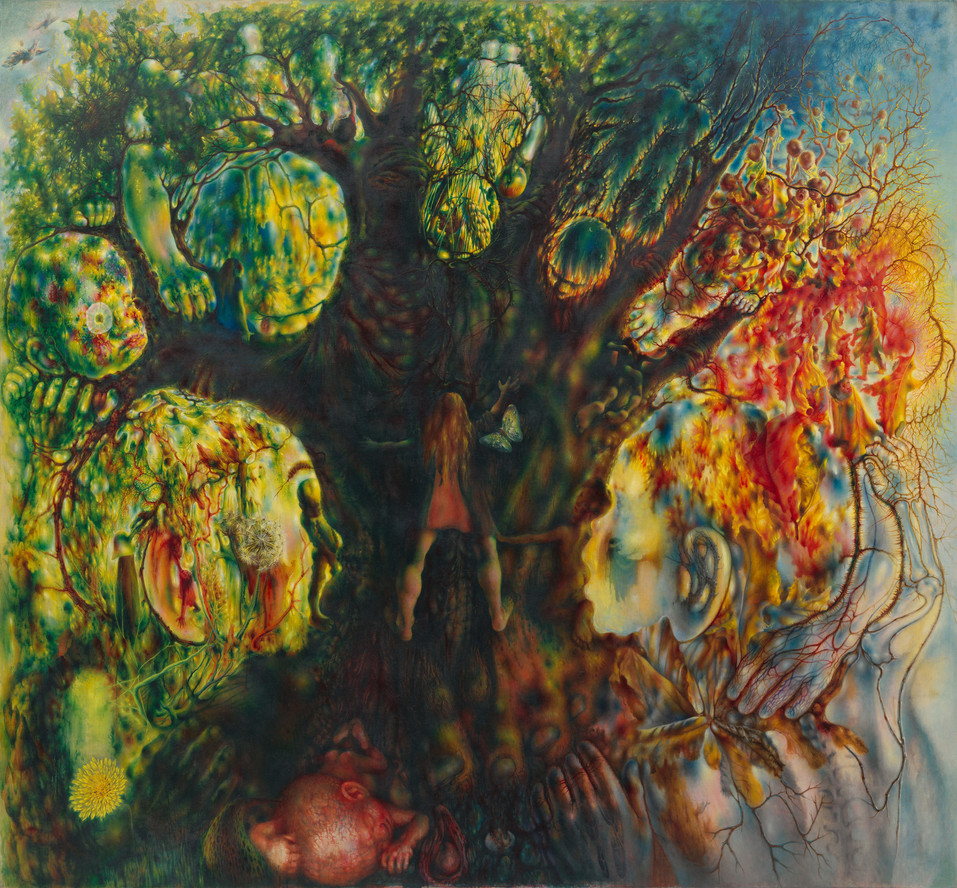 Pavel Tchelitchew. Hide-and-Seek. 1940–42
I scrutinized the largest JPEG I could find online. The painting really was amazing, the sort of amazing that makes you wish the word amazing hadn't been devalued by indiscriminate, hyperbolic use. I started asking friends about it, and was surprised to find that many, among them professional artists, hadn't heard of it, and those that had regarded it with cool ambivalence. I was looking for someone to corroborate my awe, someone else to say, "Yes, this painting is an extraordinary masterpiece. In fact, it's one of the greatest paintings ever made." When a friend in an MFA program quipped, "It's actually one of my least favorite Tchelitchew paintings," I interpreted the statement as both dishonest and a personal attack. An argument ensued and I realized that not only would I be unable to view the painting in person, I'd have to abandon whatever external validation I was seeking.
Then I found out Hide-and-Seek would be returned to public display at MoMA as part of the exhibition Lincoln Kirstein's Modern. I started researching it as if I were cramming for a test the painting would proctor. I read Tchelitchew biographies, historical criticism, and scholarly exegeses. Quite a bit has been written, but I don't think what I read did much to augment my appreciation of the painting. Someone might require historical context to appreciate why Kazimir Malevich's Suprematist Composition: White on White is important, but no explanation is required for Hide-and-Seek. The painting tells its own story. Does it help to know that it was created by a bisexual Russian in Vermont during World War II? Not all that much.
During its time on display, Hide-and-Seek has been repeatedly called MoMA's "most popular" and "most visited" painting and reproductions were reportedly the bestselling item at the Museum's gift shop, second only to reproductions of Picasso's Guernica. It is a perennial favorite among children, elementary school art teachers, and other lay viewers outside the artistic and curatorial elite. Professional critics have had less enthusiasm for the painting. A reviewer for the New Yorker wrote, "It would be hard to find a painting more conscientiously hideous than Pavel Tchelitchew's pus-and-ketchup colored Hide-and-Seek."
In *Hide-and-Seek*'s game of hide-and-seek, the viewer is "it," searching the painting for hidden children and, in so doing, recalling the terrifying exhilaration of that game's pursuit, the fear of being found, and the greater fear of not being found. (Tales of people dying undiscovered, trapped in their hiding places, have been a fixture of horror stories since the early 19th century). And so, in Tchelitchew's never-ending Hide-and-Seek, the viewer continues to find children and then, hiding in those children, metaphors of whatever sort one wishes to impose, whether coded references to the divinity of psychedelics, the holy trinity, ancient Greek humorism, the horrors of World War II, a Native American's curse placed in the wake of European colonization, or parables of growing old. Tchelitchew's own symbolism remains something of a mystery. The poet William Carlos Williams once said, "Tchelitchew does not treat lightly the tenets of magic and necromancy." Hide-and-Seek itself will soon be hidden again from public display when the Museum closes for reinstallation this summer, whatever undiscovered secrets it contains left waiting to be found.
[1]The Native American Church of New York existed for a little over three years in the late 1970s. It had no affiliation with the federally recognized Native American Church of America and was not founded by Native Americans. Additionally, it counted no Native Americans among its members. After the arrest of its leader in 1979, the The Native American Church of New York changed their name to The Temple of the True Inner Light.
Hamilton Morris is a writer, filmmaker, and chemist living in New York.
Hide-and-Seek is on view in Lincoln Kirstein's Modern through June 15, 2019, organized by Jodi Hauptman, Senior Curator, and Samantha Friedman, Associate Curator, Department of Drawings and Prints. Get your tickets today.