A Digital Platform Activates Frédéric Bruly Bouabré's Universal Alphabet
In this member exclusive, learn more about how Digital Bété lets museumgoers interact with the artist's universal language.
When you enter the first gallery of Frédéric Bruly Bouabré: World Unbound, you may hear a voice speaking in short clips. The sounds are the artist Frédéric Bruly Bouabré uttering the syllabary he invented for his native Bété language. In the 1950s Bouabré was working a government job in Dakar, the capital of what was then French West Africa, when he decided to devise a way to write Bété, a predominantly oral culture, using the phonetic structure of the language. It was a project astonishing in scope, leading to over 400 characters, each schematically depicting activities and things from everyday life. Decades later, once he returned to his home country of Côte d'Ivoire, Bouabré further developed the imagery in those glyphs into the monumental artwork Alphabet Bété, which comprises detailed drawings of the subject matter referenced in each of the glyphs. Image, text, and sound are equally important components of Bouabré's project. That's why we were so excited to feature an interactive digital platform in World Unbound that allows visitors to "write" their name or other words using the artist's system, hear him pronounce each syllable included in the drawings, and then see its corresponding glyph.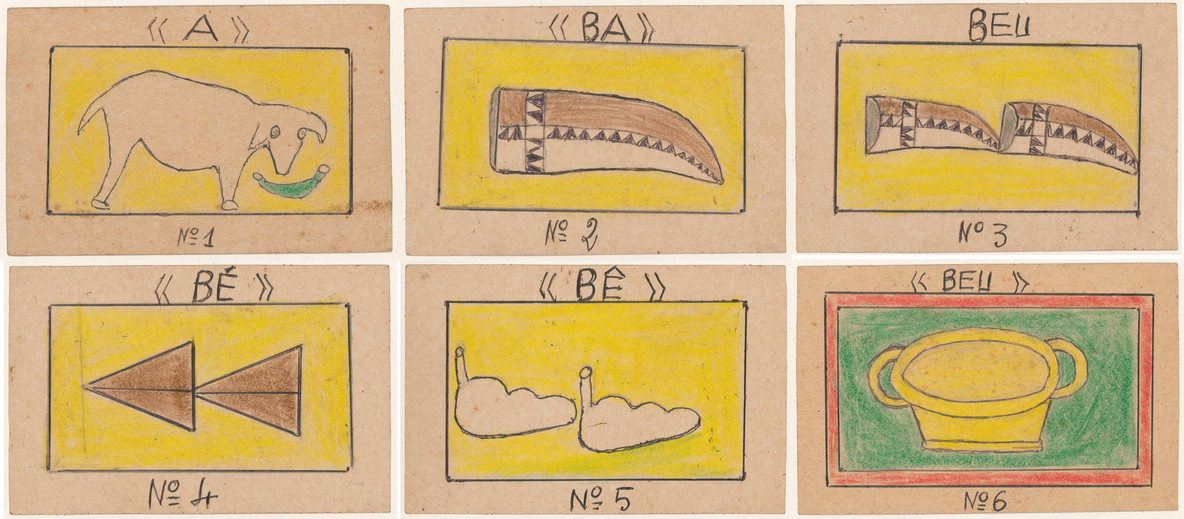 Frédéric Bruly Bouabré. Alphabet Bété. 1990–91. Six of 449 drawings
Because language is so ingrained in many of us, it can be easy to take its organizing principles, such as the order and forms of its characters, for granted. Although Bouabré spent his earliest childhood years immersed in Bété culture, he was sent to elementary schools where students were taught to read, write, and speak French. Had Bouabré wanted to try writing in Bété before he invented his script, his primary option would have been matching the letters of the Latin alphabet to Bété sounds. That, however, was an imperfect solution. The colonial administration of French West Africa had imposed the Latin alphabet, without regard for the more ineffable qualities of how language gives structure to thought or conveys subtleties in meaning. Bouabré understood those aspects, which is why he designed his glyphs with imagery related to Bété culture. But he also selected content that would elicit recognition from non-Bété speakers, too, such as fauna, flora, tools, and weapons. Bouabré envisioned that this new script could be used by anyone, whether to write in Bété or in other languages.
In line with Bouabré's vision for the universal application of his syllabary, the World Unbound team at MoMA collaborated with Adam Squires and Dan Shields of the design and development studio CHIPS to build an interactive feature that allows visitors to transliterate Bété into English and other languages that use the Latin alphabet. "Digital Bété" pairs the drawings from Alphabet Bété with audio of Bouabré pronouncing syllables from his system. Using a touchscreen, visitors can pick individual cards, either to spell words or just to explore, and then see their selections both written out in the artist's glyphs and sounded out in his voice. A QR code allows users to then save the results on their personal devices. Those who want to better understand the order of the characters and the rationale for aspects like accent marks can also swipe through one of Bouabré's manuscripts, available as a page-turner on the device.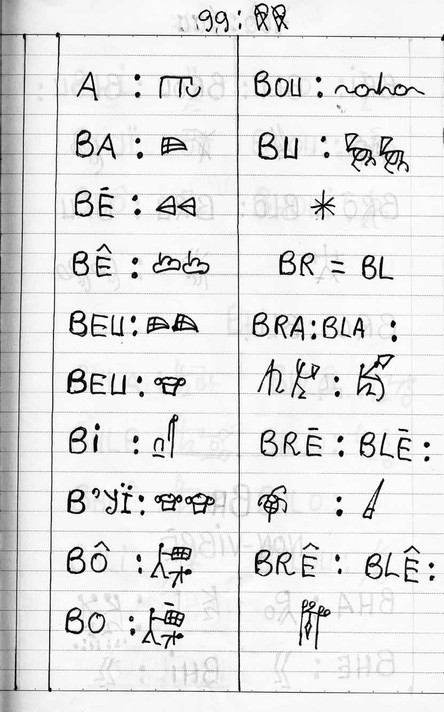 Frédéric Bruly Bouabré. Page from La méthodologie de la nouvelle écriture africaine "bété," suivi de L'alphabet de l'Ouest Africain. 2003
Even though the Alphabet was never widely adopted as a way to write Bété, Bouabré still managed to inspire global interest among typographers, publishers, and linguists.
Digital Bété was in part possible because Bouabré's script had already attracted a far-flung group of researchers and people interested in its potential broader usage. The full recording of Bouabré reciting his alphabet comes from Charles L. Riley, a librarian of African languages at Yale University, who traveled to Côte d'Ivoire in 2009 to interview the artist. CHIPS could easily incorporate the glyphs into Digital Bété because a font was already obtainable online. Independently, several graphic designers, based at the time in China, investigated the possibilities for typefaces derived from Bouabré's model.1 The manuscript pages available for scrolling were first published as a facsimile by the French publishing house onestar press/Three Star Books in 2003.2 Even though the Alphabet was never widely adopted as a way to write Bété, Bouabré still managed to inspire global interest among typographers, publishers, and linguists.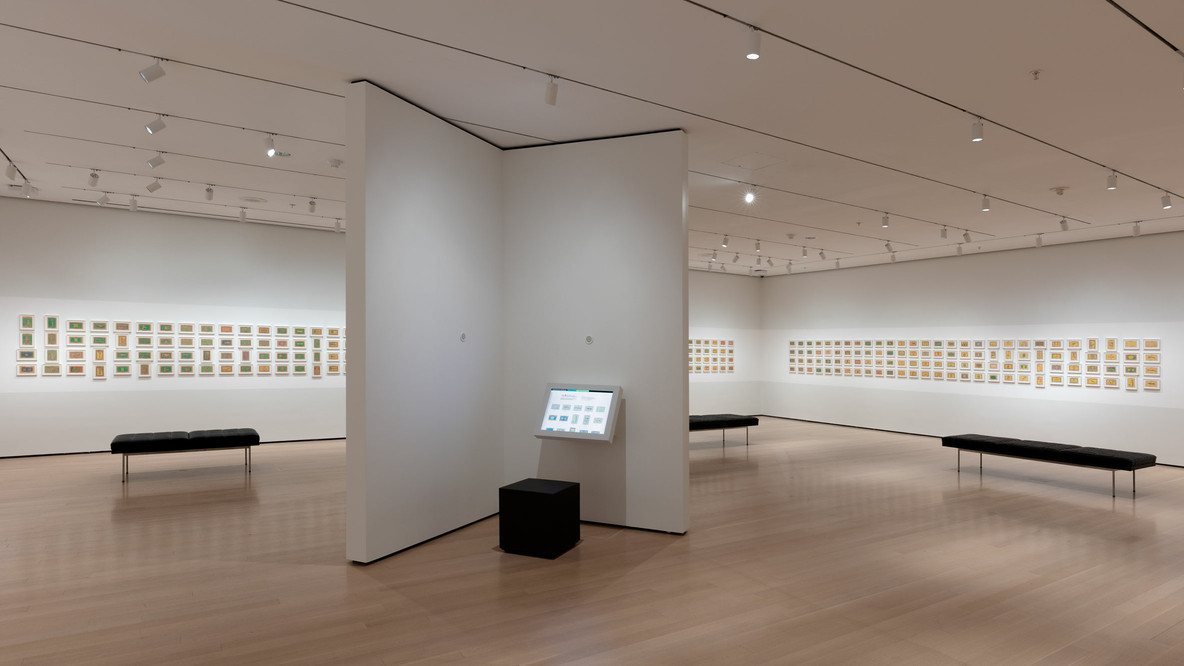 A view of Frédéric Bruly Bouabré: World Unbound, with the Digital Bété kiosk at center
As visitors can experience for themselves, translating or transliterating one language into another is a richly complex process, which makes Bouabré's undertaking all the more impressive. Some names or words may be easy to pair with the sounds and images available on the screen, and others may have to be approximations. The variety of possible outcomes is helpful for understanding how his system reveals the cultural politics of language. Teaching others how to write with his script was a way for Bouabré to share and spread Bété forms of knowledge around the world.
On April 19, my colleague Ugochukwu-Smooth C. Nzewi and I will be joined by Adam Squires and Dan Shields from CHIPS for a live online conversation about the Digital Bété project. Members at the Explore category and above are invited to participate.
Frédéric Bruly Bouabré: World Unbound, organized by Ugochukwu-Smooth C. Nzewi, The Steven and Lisa Tananbaum Curator, with Erica DiBenedetto, Curatorial Assistant, and with support from Damasia Lacroze, Department Assistant, Department of Painting and Sculpture, in on view at MoMA through August 13, 2022.
Adam Yeo and Fang Cao, "Study on the Application of the Bété Script in Modern Graphic Design," Art and Design Review 9, no. 2 (May 2021): 156-179.