The organizer of MoMA PS1's Simone Fattal retrospective talks about discovering Fattal's work and a curator's responsibilities.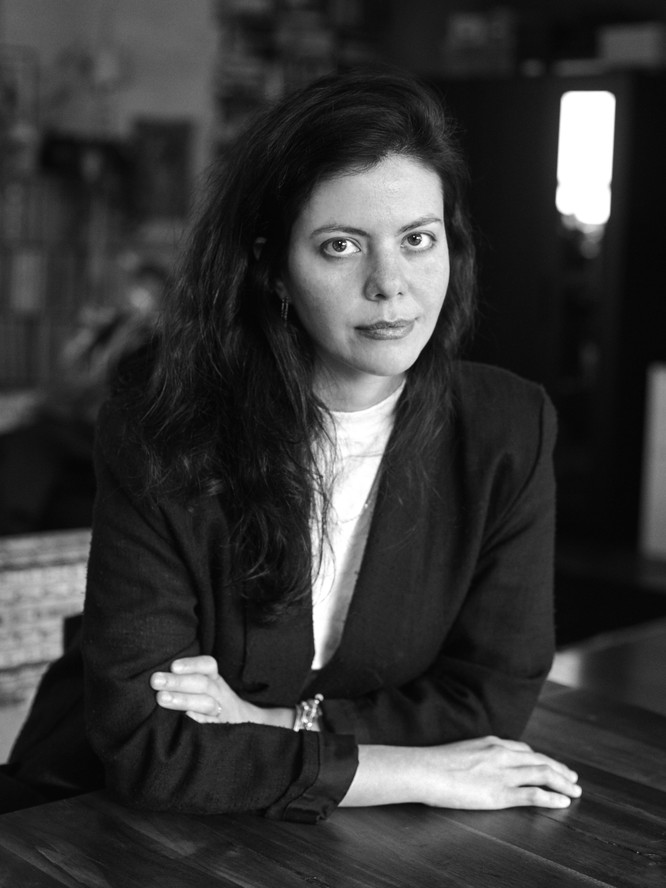 MoMA PS1 curator Ruba Katrib organized the exhibition Simone Fattal: Works and Days (on view through September 2). We asked her to tell us about her job, the importance of Fattal's work, and more.
When did you first encounter Simone Fattal's work?
While she has been prolific, Simone Fattal hasn't exhibited that widely. I had seen some images of her work and a few small shows that included her. Her sculptural forms were so intriguing and seemed out of time in a way that I was eager to know more. I followed her for a few years, but I didn't really understand the scope of her practice until discussing a possible exhibition. It quickly became clear that she has an enormous oeuvre, and much of it has been in tucked away in storage and in her studio for years. It was quite exciting to realize that the world had really only seen a small fraction of her output. This exhibition became a major opportunity to really dig into and reveal her practice over the past 50 years.
Is there one thing you'd like visitors to take away from the exhibition?
There is a deep complexity to Simone's work. It takes time to notice the details. And there is a rich history behind each subject she invokes, from Gilgamesh to Adam and Eve to Mount Saninne, an important and impressive mountain in Lebanon. Going through her work is like traveling through a range of ancient civilizations, archeology, the history of poetry, and into persistent archetypes.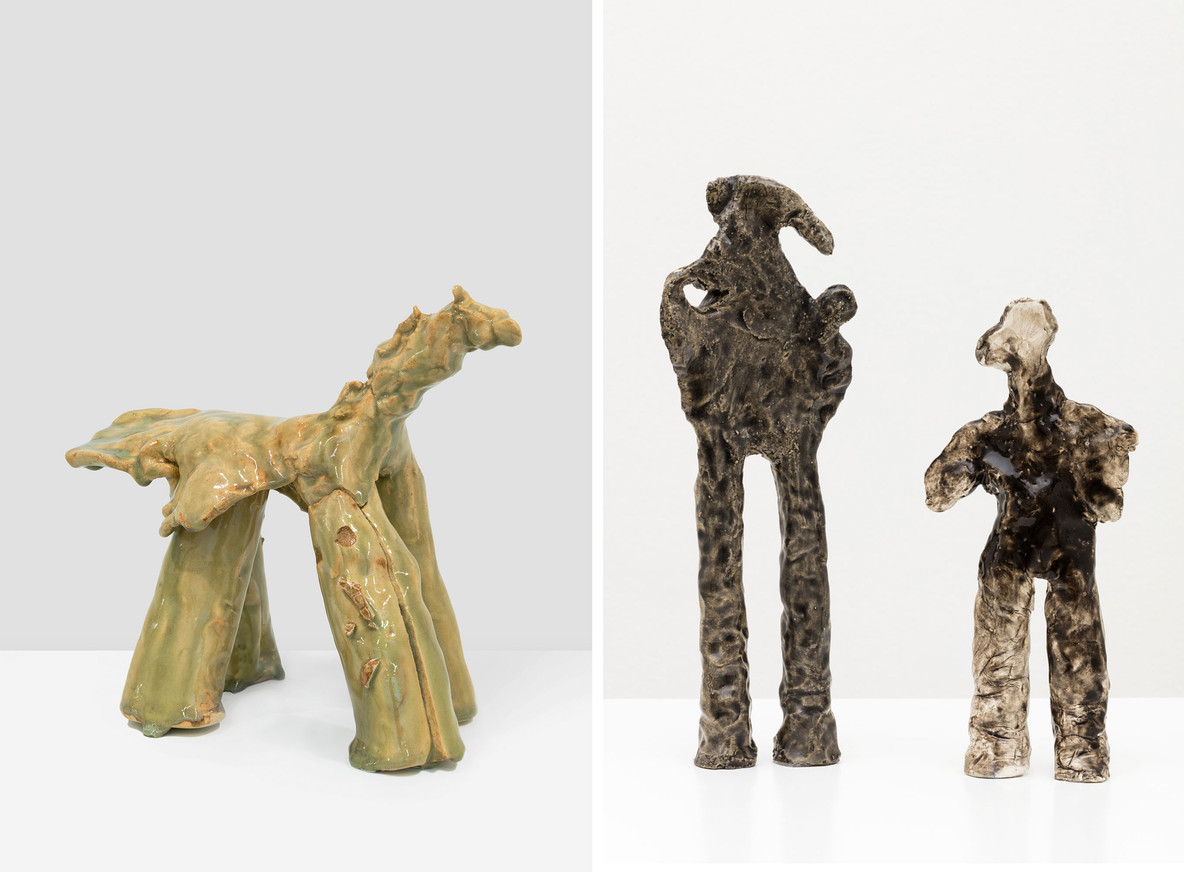 From left: Simone Fattal's Horse (2009) and Man and His Shadow (2009)
Why is now the time for a Simone Fattal retrospective?
Simone has been working as an artist since the 1960s, so it is certainly time for her to have a retrospective. But I also think we need to see her work now more than ever because of the subjects she embarks on, the ancient human stories she tells through her works help situate the present moment; they can become new again and take on different meanings.
Do you have a favorite work or series of works in the exhibition?
Of course it is impossible to single one work out. However, I really appreciate the relationships between Simone's works. This is something that Simone and I were able to do with this exhibition: we could emphasize how the works generate meaning and narrative through their groupings.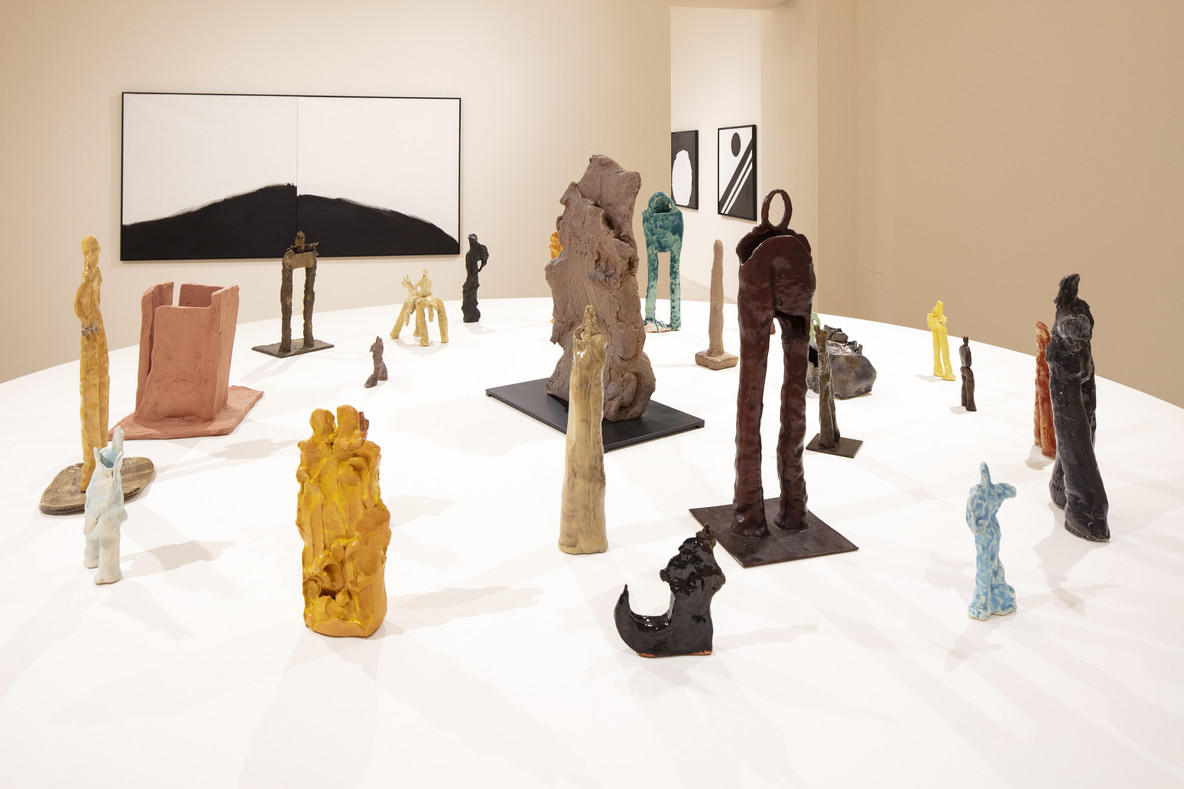 Installation view of Simone Fattal: Works and Days, MoMA PS1, March 31–September 2, 2019
Artists can take you to so many fascinating places and it is always an exciting challenge for me to understand...where they are coming from.
Ruba Katrib
What's your favorite part of putting together an exhibition?
I am very invested in research as well as exhibition installation, and how these modes connect. Artists can take you to so many fascinating places and it is always an exciting challenge for me to understand what they are working on, where they are coming from, and sorting out the best way to convey this to audiences. Putting all the conversation, reading, watching, energy, history, and thought into space marks the point of convergence between the artist and the viewer. This moment of bringing it all together is extremely difficult as well as exhilarating—I find it very motivating.
What's one of the most surprising things about your job?
Perhaps that it is always surprising. Or maybe that I am rarely surprised now. It is safer to expect that every day is going to demand something different and that I will have to adjust accordingly. As curators, we are switching gears all day, every day. We have many responsibilities—to artists, to our institutions, and to the public—and we have to navigate and consider these aspects at all times. You really have to be able to look at things from many angles.
Who was the first artist whose work interested you, and why?
As a student in Chicago, I visited the Roger Brown Study Collection fairly regularly and it had a huge impact on me. The mixture of Brown's work with other contemporaneous artists, as well as various artifacts displayed together in his preserved home and studio, allowed me to see not only how an artist worked and lived, but also networks of affinities and interests in once place.
Simone Fattal: Works and Days, on view at MoMA PS1 through September 2, 2019, is organized by Ruba Katrib, Curator, with Josephine Graf, Curatorial Assistant, MoMA PS1.