Ron Magliozzi and Brittany Shaw
The What Price Hollywood curators on organizing the exhibition and getting to watch movies at work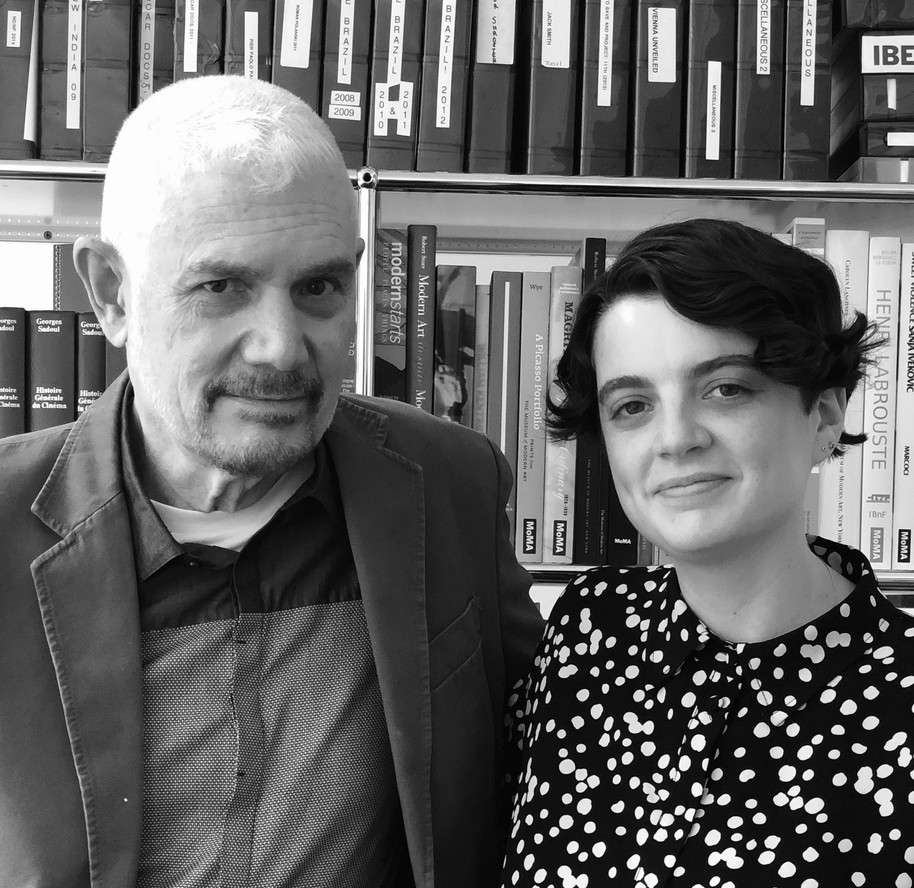 Ron Magliozzi and Brittany Shaw are co-organizers of the poster exhibition What Price Hollywood (on view through June 15). We asked them to tell us about their jobs and some of the notable film posters on view.
Is there a particular poster that distills the ideas behind the exhibition?
Ron Magliozzi: That would have to be the exhibition's signature poster, for What Price Hollywood? The studio artist who designed it is unnamed but the unconventional use of text in the design suggests they may have been influenced by the avant-garde posters of Russian Constructivists in the 1920s. The rude, gossipy collage of words across the image of a glamorous movie star resembles the barrage of online Twitter commentary that commonly follows celebrities today.
Brittany Shaw: It's not a poster, but our exhibition includes a letter written by Louise Brooks in 1965, a few decades after she left the film industry for good. It expresses so many contemporary feelings about Hollywood as manipulative and ruthless, while also showcasing the biting wit that I imagine helped her survive.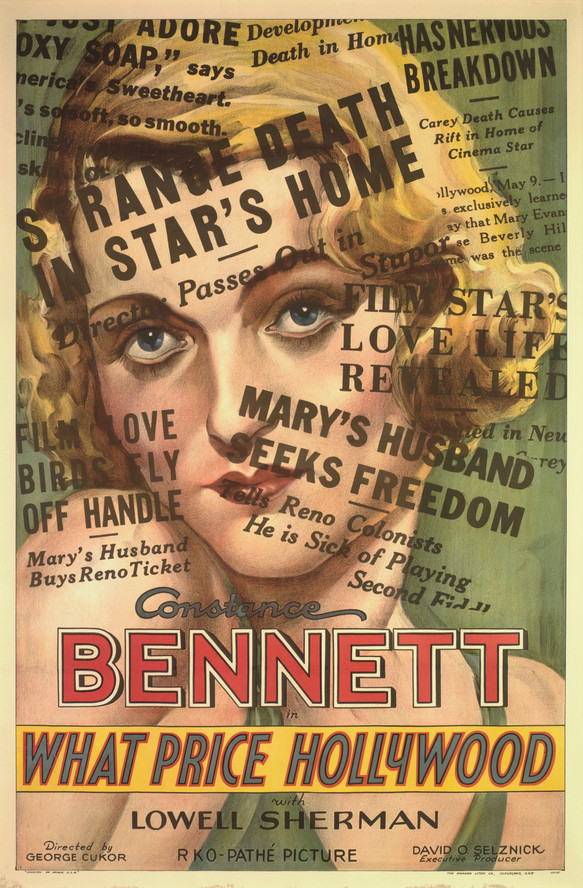 Poster for What Price Hollywood? 1932
What do you think visitors will find most surprising about the exhibition?
RM: Posters aren't relied on today as they once were, when a single film was promoted with half a dozen different-sized posters hung outside movie theaters and around town. This exhibition, for example, features many 11 × 14" "lobby cards," which visitors may never have seen before. These were issued in sets of eight or more, and since they typically pictured the most provocative scenes from a film in color, they turned out to be very useful for us in making points about Hollywood gender politics.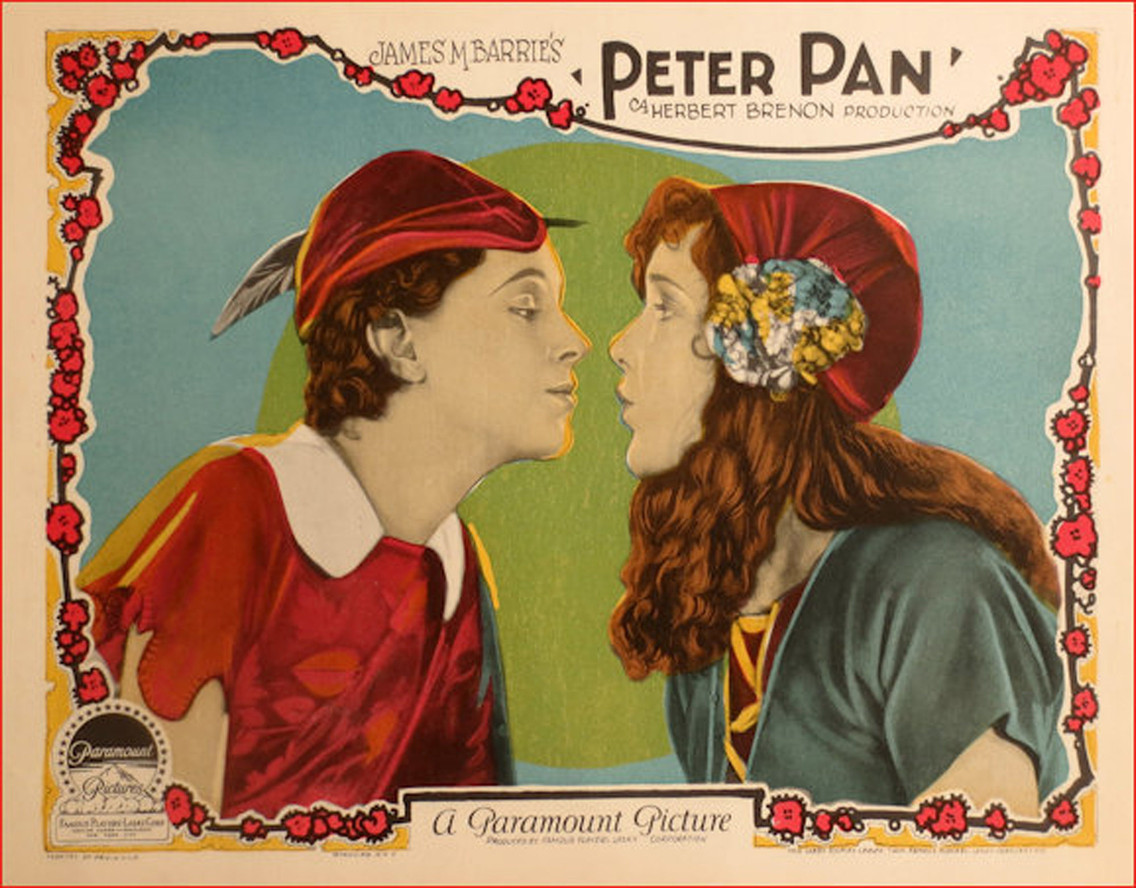 Lobby card for Peter Pan. 1924
Has working on this exhibition changed how you look at film posters in general?
RM: I've given in to the fact that a mix of sensation, sentiment, and interesting design gets me every time.
What's your favorite part of putting together an exhibition?
RM: As a film curator, I like to compare producing a gallery show to making a movie: the subject of the exhibition is my "script," the galleries are my "sets," and the Museum's in-house exhibition staff, graphic designers, frame shop and lighting teams, audiovisual specialists, and art handlers are collaborators and "crew." Many of these folks are artists in their own right and they bring that sensibility to the work they do in support of a curator's vision. Working with them is a gift.
BS: Organizing gallery exhibitions is a new and thrilling experience for me. I used to work professionally as a researcher, so being able to deep-dive into a subject in a similar way is so rewarding. I feel incredibly lucky to be learning from Ron, who has been at this for decades, and constantly surprises and excites me with his thinking and his ability to view familiar works in such contemporary, urgent ways.
What's one of the most surprising things about your job?
RM: How frequently and relentlessly the history of film and the other art forms needs to be retold and repeatedly displayed for new generations and for increasingly diverse audiences. It's a curator's job to find fresh ways of demonstrating the relevancy of the art represented in the Museum's collection. Having started life as a single-focused, old-school film buff, it surprises me how rewarding the process of expanding my interests has been over time. There has to be an ongoing dialogue between older work and current work, both the celebrated and the lesser known, across the different mediums.
BS: It is still an unbelievable joy for me to be able to watch movies at work.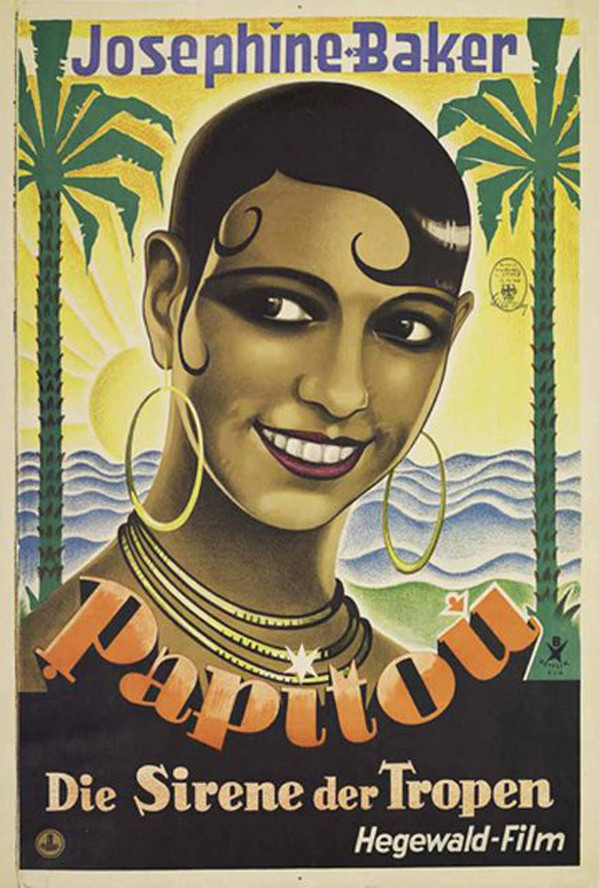 German poster for Siren of the Tropics. 1927
Who was the first filmmaker whose work interested you, and why?
RM: My dad, who was a critical-injury insurance adjustor for Liberty Mutual and anything but a filmmaker, except for a fateful winter day in Massachusetts when I was around nine years old. Inspired by a massive snowstorm, he borrowed a neighbor's 16mm movie camera and shot 10 minutes of my younger brothers and I outside our home. Later, on screen in black and white, in the one and only home movie my father ever made, the sight of us struggling to forge a path through shoulder-high, freshly fallen snow sparked in me a permanent fascination with the moving image, and a critical interest in its effect on me and others.
BS: Like many, I was raised on art primarily created by men. Seeing the work of Maya Deren for the first time as a young woman exploded the ideas I held of cinema itself. I responded to her films in a primal, visceral way, and the world never looked quite the same again.
Is there a film or filmmaker in MoMA's collection you'd like to bring to a wider audience?
RM: I've been talking recently with retired filmmaker Ken Resnick about a little-known independent documentary he codirected with the late Gordon Hitchens in 1961, titled Sunday on the River. Running about 30 minutes, their film is a record of gatherings by Harlem churchgoers who regularly escaped their segregated city neighborhoods for chartered excursions up the Hudson River to Bear Mountain. It's a reminder of the peace, freedom, and family values that civil rights activists were fighting to protect and expand during an otherwise tumultuous period in America's racial history.
BS: The visionary Barbara Hammer passed away in March, and I'm comforted by the knowledge that generations of queer kids to come will discover her films and hopefully feel more at home in their bodies and hearts. To me, Barbara's films are a beautiful celebration of being alive. We have a number of her films in our collection, and I wish I could travel around the country right now with a little mobile cinema, sharing her joy.
If you weren't a curator what do you think you'd be doing?
RM: Perhaps I'd be an archeological conservator digging into the past to recover and restore long-lost cultural objects to view, or simply prospecting for treasure on far-flung countrysides with a dog or two in tow.
BS: As a curatorial assistant, I am still working towards being a curator! Still, I would love to work in costumes for films, creating physical manifestations of characters and moods.
What Price Hollywood is on view through June 15, 2019, and is organized by Ron Magliozzi, Curator, and Brittany Shaw, Curatorial Assistant, Department of film. Get your tickets today.