Celebrating the Greats: Peter Bogdanovich's Movie Love at MoMA
The late filmmaker got his start—and refined his own artistic vision—by paying tribute to great directors of the past.
For two decades, from 1972 to 1992, filmmaker Peter Bogdanovich lived and worked in a spectacular, stately home on Copa de Oro Road in the Los Angeles suburb of Bel Air. In the screening room where Bogdanovich crafted a number of his own classic films and viewed those of others, he was reminded, each and every day, of whence he came. All he had to do was look on the wall.
In that room hung posters for The Museum of Modern Art's groundbreaking retrospectives of the films of Orson Welles, Howard Hawks, and Alfred Hitchcock, each of which Bogdanovich programmed in the early 1960s, when he was juggling several careers—including theater director, magazine journalist, film historian, and repertory programmer—on the way to becoming the celebrated director of The Last Picture Show, Paper Moon, and Mask.
Bogdanovich, who died January 6 at age 82, is the subject of MoMA's Peter Bogdanovich: American Filmmaker, launching this week, with screenings of films by Bogdanovich and several of the directors he loved most (including Welles, Hawks, and Hitchcock).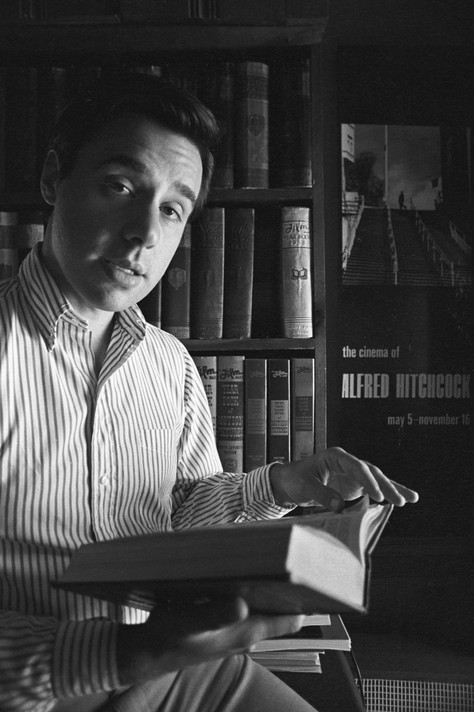 Peter Bogdanovich at home, 1968 (with a poster for his MoMA Alfred Hitchcock retrospective in the background). © Bruce McBroom/mptvimages.com
Louise Stratten, Bogdanovich's second wife, closest collaborator, and best friend, remembers the special significance of those MoMA posters. "He had this great screening room on Copa de Oro," Stratten says. "He had them mounted, and they were so cool—big, big, big mounts. He always looked at them. That's where he edited his films, too.... It was so cool to see these on the wall, and he would look at them and marvel on his beginnings."
His beginnings are worth marveling at: born in Kingston, New York, in 1939, Bogdanovich grew up in Manhattan, where his future taste in film was formed, in part, at MoMA, where he was taken by his father, painter Borislav Bogdanovich, to showings of silent masterpieces.
"My father would take me to afternoon screenings of silent films at The Museum of Modern Art, where I loved the comedies (and occasional dramas) with which he himself had grown up—having been born, like Hitchcock and [George] Cukor, in 1899, just four years after the first exhibited films," Bogdanovich recalled in his book of interviews with Golden Age directors, Who the Devil Made It.
Those MoMA screenings were a kind of cinematic bedrock for Bogdanovich, who became not only an enthusiast of great films of the past but an eager student and, soon, a junior expositor of them: In 1952—less than a decade before he programmed his first series at MoMA, 1961's The Cinema of Orson Welles—he began amassing a card file in which he set down his impressions of each film he saw, a habit he kept up for close to two decades. And, contributing to his high-school newspaper at the Collegiate School, Bogdanovich had become informed (and self-confident) enough to pen a movie and theater review column called "As We See It," in which he expressed his preternatural enthusiasm for the original cut of George Cukor's A Star Is Born and anticipation at the pending release of Frank Tashlin's Artists and Models.
Cinephilia was no passing fancy for Bogdanovich, who, barely out of his teens, was recruited by MoMA to program a pioneering retrospective devoted to Welles, then known in his home country more as a notorious flop than a great artist. Bogdanovich was already helping change that impression. "I had written a program note about Othello for the New Yorker Theatre in which I'd said that it was the best Shakespeare film ever made," Bogdanovich told me in 2005. "Now this was a very controversial opinion in 1960, hardly the general consensus. In fact, it was just the opposite. So it attracted the attention of Richard Griffith, the curator of The Museum of Modern Art, who called me out of the blue and said he wanted to know if I'd like to curate or put together the first Orson Welles retrospective in the United States at The Museum of Modern Art, and write the accompanying monograph."
Bogdanovich, who had by then already directed a show off-Broadway and was eyeing a film career of his own, agreed. His motivations were both altruistic (his compensation for the Welles series amounted to $50) and mildly—defensibly—self-serving: After the series wrapped, Bogdanovich attempted to get in touch with Welles, enclosing a copy of his monograph along with a five-paragraph, single-spaced letter. "I have directed for the stage here in New York and my primary ambition (I am twenty-two) is to make movies only a fraction as good as yours," wrote Bogdanovich, who, six years later, heard back from Welles. Thus commenced a tumultuous though enduring friendship and collaboration: Bogdanovich interviewed Welles for the book that became This Is Orson Welles, and was given a leading role in one of his final films, The Other Side of the Wind.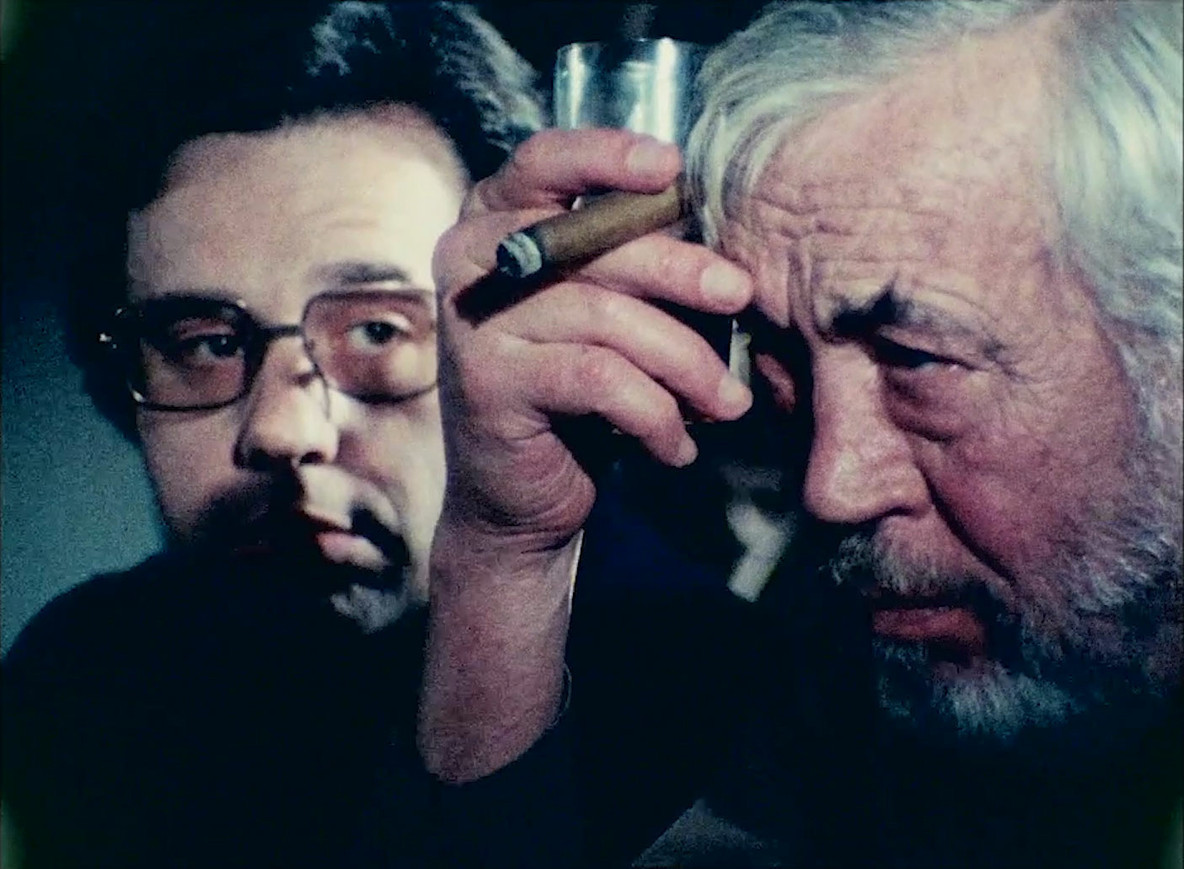 Bogdanovich, at left, with John Huston in Orson Welles's The Other Side of the Wind (2018). Image courtesy of Netflix
"I don't mean to be disrespectful, but the film Rope itself was not as good as talking to Peter about Rope."
Robert Benton
Bogdanovich was next tapped by MoMA to program and write monographs for The Cinema of Howard Hawks, in 1962, and The Cinema of Alfred Hitchcock, in 1963—retrospectives that rocked the American film landscape, which, until then, had generally regarded both directors as pedestrian if popular entertainers.
"I had never paid attention to Howard Hawks until Peter's retrospective," says Robert Benton, the Academy Award–winning director of Kramer vs. Kramer and Places in the Heart, who met Bogdanovich in the early '60s, when both were working at Esquire magazine. "I still have somewhere here Peter's introduction to that, or the bulletin the museum put out on that. And the same was true of [Bogdanovich's interview with] Hitchcock, which I must say is in its way as good as the [François] Truffaut interview with Hitchcock."
Benton remembers being invited by Bogdanovich to a screening of Hitchcock's Rope at MoMA. "I don't mean to be disrespectful, but the film Rope itself was not as good as talking to Peter about Rope," Benton says. "The fact that he could disassemble it and put it back together, both having his own voice and being respectful of Hitchcock's voice."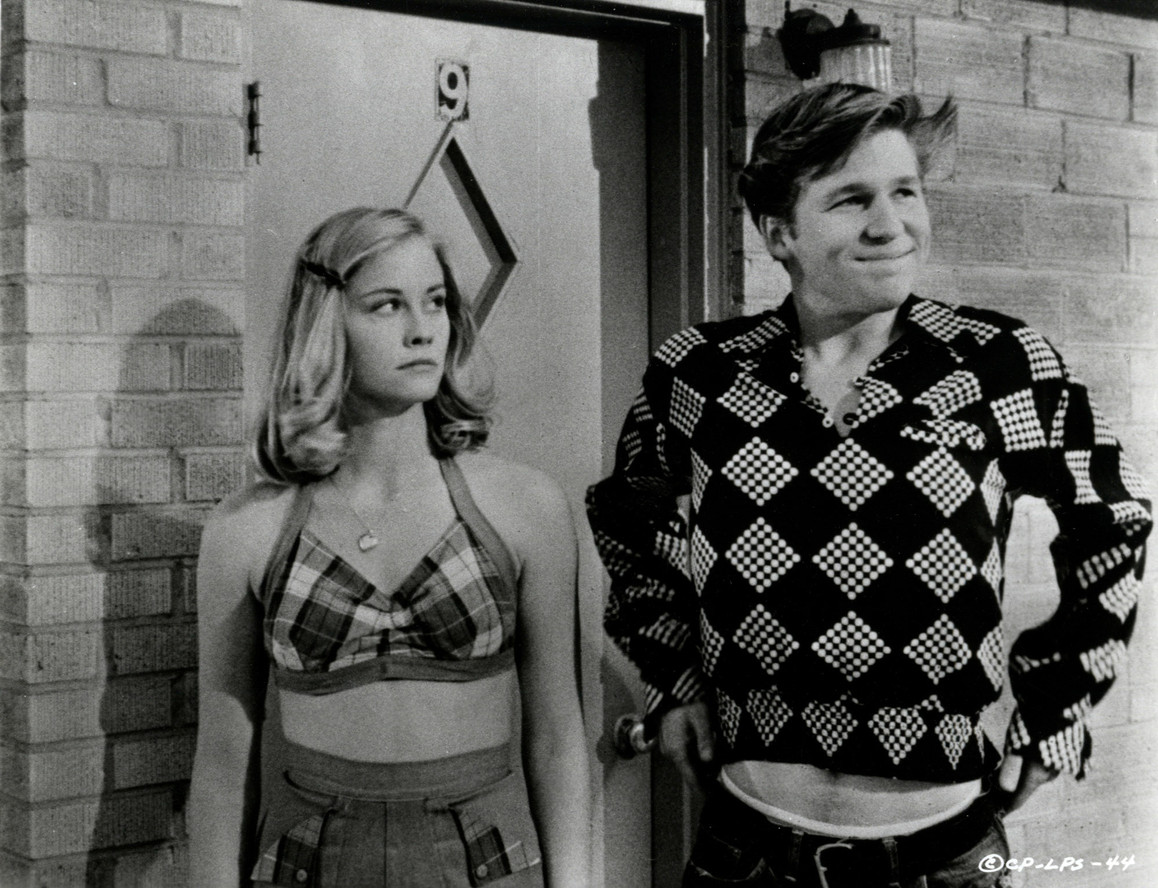 The Last Picture Show. 1971. USA. Directed by Peter Bogdanovich
Indeed, Bogdanovich's ability to respect the voices of the directors who preceded him while also developing his own voice is key to understanding the way his career eventually unfolded: he sought to preserve all that was good in American film while also adding to the story. The Last Picture Show is shot, staged, and edited by someone who had absorbed the fundamentals of film grammar, but its content was harsher, bleaker, and more candid than anything ever imagined by, say, Hawks or John Ford. By the same token, What's Up, Doc? proved that the old screwball formula could, with just a little tweaking, still be relevant to contemporary audiences.
What's Up, Doc? 1972. USA. Directed by Peter Bogdanovich
In fact, Bogdanovich must be understood to have been doing double-duty during his years at MoMA: with his right hand, he was doing the admirable and much-needed work of improving the standing of directors he admired, but with his left hand he was setting the stage for a directorial career of his own. As he explained in a 1975 interview with Betty Jeffries Denby, "I didn't write about movies I didn't like; I wrote about ones I liked—so, if anything, I was trying to create a climate, an atmosphere in which people would like my movies."
In a 2007 article in the New York Observer, Bogdanovich—surely half-kiddingly—framed the entire Hawks retrospective as something of an excuse to watch the director's entire filmography. When Bogdanovich wrote in his Hawks monograph, "The cinema of Howard Hawks is peopled with heroes. There are few villains (even those few are given their own kind of nobility) and almost no cowards. In a world of chaos, man must do the best he can, and if he can do that with honor, it is all the better," he was being true to his impressions of Hawks, but he was also telegraphing the tone of his own films: As surely as the films of Hawks, Saint Jack, Mask, and Texasville are films that forgive their characters' sins and honor their plain gallantry. What could be more Hawksian than Bogdanovich's own description, in his book The Killing of the Unicorn, of the tone he sought in his masterpiece, They All Laughed: "If They All Laughed was going to be the way I wanted it to be, its characters would behave with politeness and good humor, there would be grace in their sadness, and stoicism in their dealings with life."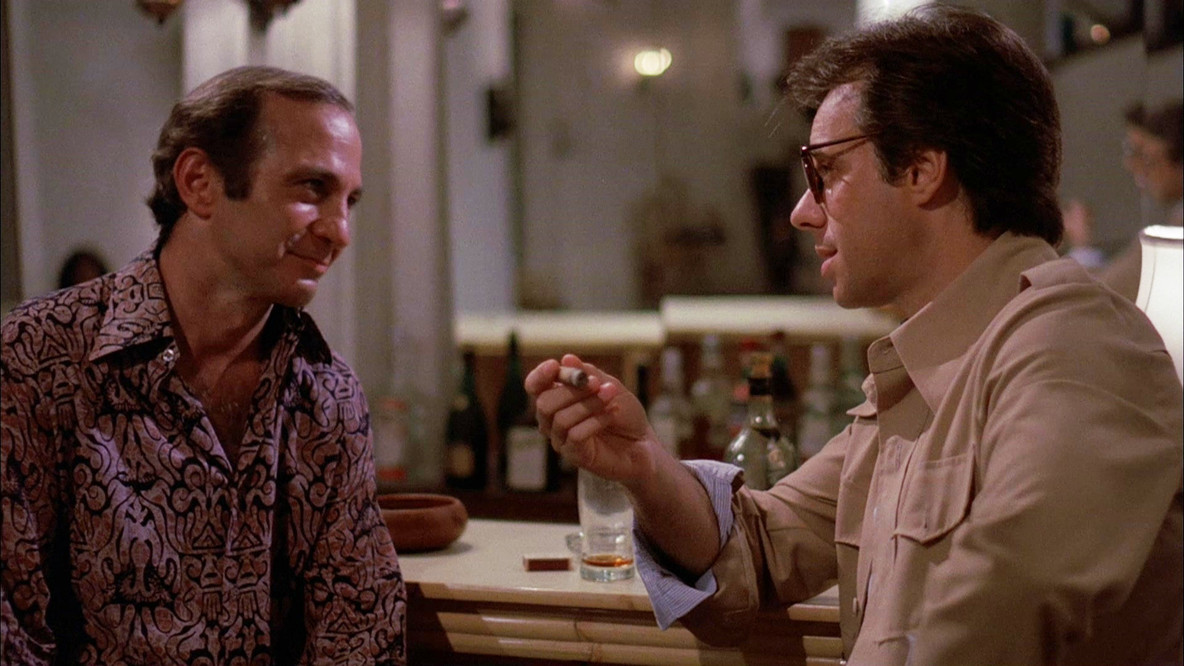 Bogdanovich (at right) with Ben Gazzara in Saint Jack (1979)
MoMA remained a touchstone for Bogdanovich. In 1997, about a quarter century after he moved to Los Angeles with his first wife, production designer Polly Platt, Bogdanovich, by then married to Stratten, returned to New York. That year, MoMA began presenting an ambitious, multi-month series of films by directors featured in Who the Devil Made It, each introduced by Bogdanovich—from Josef von Sternberg's Morocco to Don Siegel's Invasion of the Body Snatchers to Chuck Jones's cartoons for Warner Bros. "If there was a Nobel Peace Prize for the movies, I would have given it to Peter," Benton says.
The third act of Bogdanovich's lifelong involvement with MoMA may be the most momentous: Following Peter Bogdanovich: American Filmmaker, the museum will present the premiere of Squirrels to the Nuts, the director's cut of Bogdanovich's final feature film, She's Funny That Way.
Since Bogdanovich had long since perfected the art of cutting in the camera, the original cut of the film, starring Owen Wilson as a theater director and Imogen Poots as the prostitute whose stage career he helps subsidize, fell together in the editing room. "The script was amazingly tight, and the characters were all connected," says Stratten, who cowrote and coproduced the film. "It was like a puzzle that just fit perfectly."
But, following a preview that failed to meet producers' expectations, the film was subjected to a torturous postproduction process that included numerous re-edits, some of which were radical in how they reordered the structure of the film; the introduction of new material that Bogdanovich shot but did not conceive (including a wraparound featuring Poots's character being interviewed by Illeana Douglas); and the extreme simplification of what had been a multi-character comic extravaganza on the order of The Palm Beach Story.
"In that final cut, they really just abandoned the idea of there being spinning plates of all these different characters and all these things coming together," says film editor Pax Wassermann, who worked with Bogdanovich on the original cut before leaving the film; two additional editors worked on what became She's Funny That Way.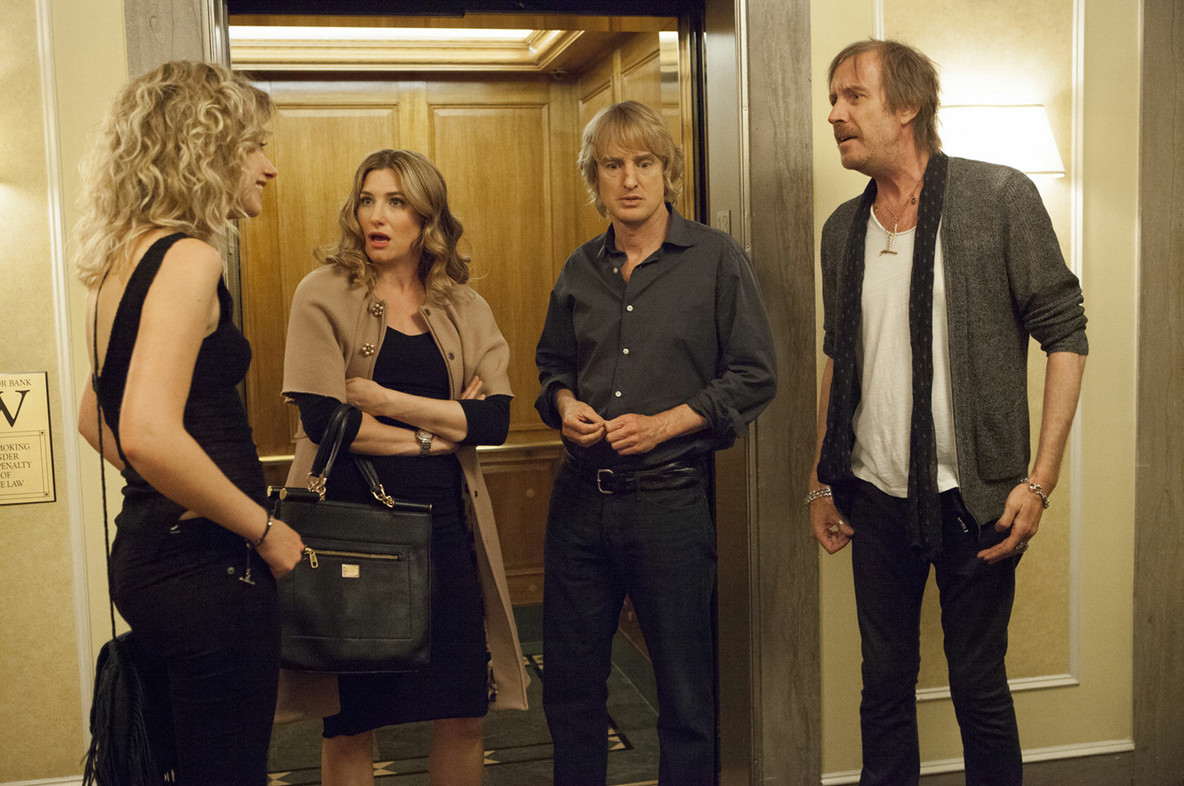 Squirrels to the Nuts. 2014/2022. USA. Directed by Peter Bogdanovich
As Wassermann sees it, the changes imposed on Bogdanovich reflected an unease with the director's warm, romantic sensibility. "There was actually a sense of shame about what I think is at the core of the film, which is an unabashed romanticism, which is very Peter," Wassermann says. "He's sad and romantic, and those two things were actually in the cut."
Bogdanovich became aware that the preview cut had survived after a Bogdanovich fan and expert named James Kenney fortuitously found a high-definition video master on eBay. "It came together like an incredible gift," Stratten says.
You might say that the upcoming debut of Squirrels to the Nuts, then, is MoMA's last gift to Bogdanovich. And if you have any doubt that he was appreciative, just remember those posters hanging in the house on Copa de Oro. Says Stratten: "I'd ask him what that poster meant to him, and he'd tell me the story of that's how he started and MoMA gave him the opportunity to celebrate these greats, which gave him the opportunity to not only celebrate them but also meet them and learn about film."
Peter Bogdanovich: American Filmmaker is on view at MoMA March 10–23, and Squirrels to the Nuts is presented in a special weeklong screening March 28–April 5.
Peter Tonguette, who has written for the New York Times, the Wall Street Journal, Sight & Sound, and many other publications, is the author of Picturing Peter Bogdanovich: My Conversations with the New Hollywood Director.