Man Ray's Champs Délicieux Turns 100
A photography conservator and a research assistant uncover new findings around the photographer's 1922 portfolio.
In 1922, a limited-edition album containing 12 photographs by Man Ray was published in Paris by a little-known printer, the Société Générale d'Imprimerie et d'Edition. The photographs presented in this exquisite album, titled Champs Délicieux, were deftly tipped onto high-quality artist paper, enclosed in an eye-popping red-orange1 cover and offered for sale by subscription for 200 French francs (just a little over $15).2 Notably, the album opened to a preface by Tristan Tzara, one of the central figures in the Dada movement. Man Ray and Tzara were neighbors and cohorts living in the same hotel at the time, and Tzara was a presence when Man Ray began making his first "Rayographs," a cameraless photographic process he rediscovered and named after himself.3 The Rayograph compositions reproduced in Champs Délicieux were made with a variety of personal effects, including a comb, a gyroscope, a gun, a skeleton key, a pipe, a stemmed glass, and a kitchen grater.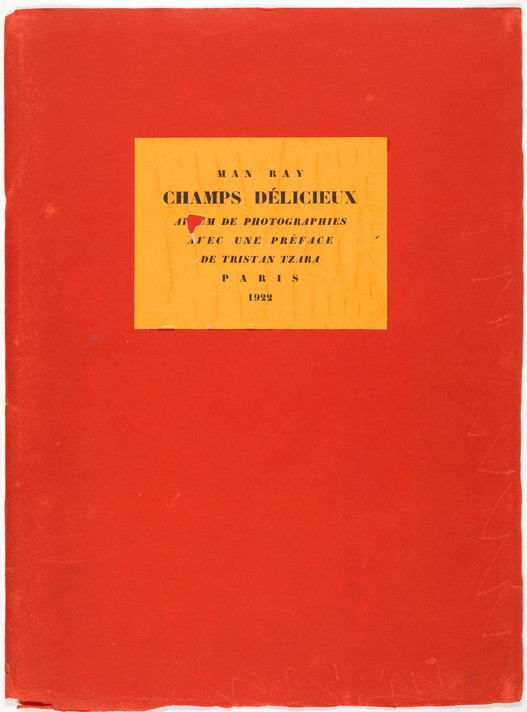 Cover of Champs Délicieux, 1922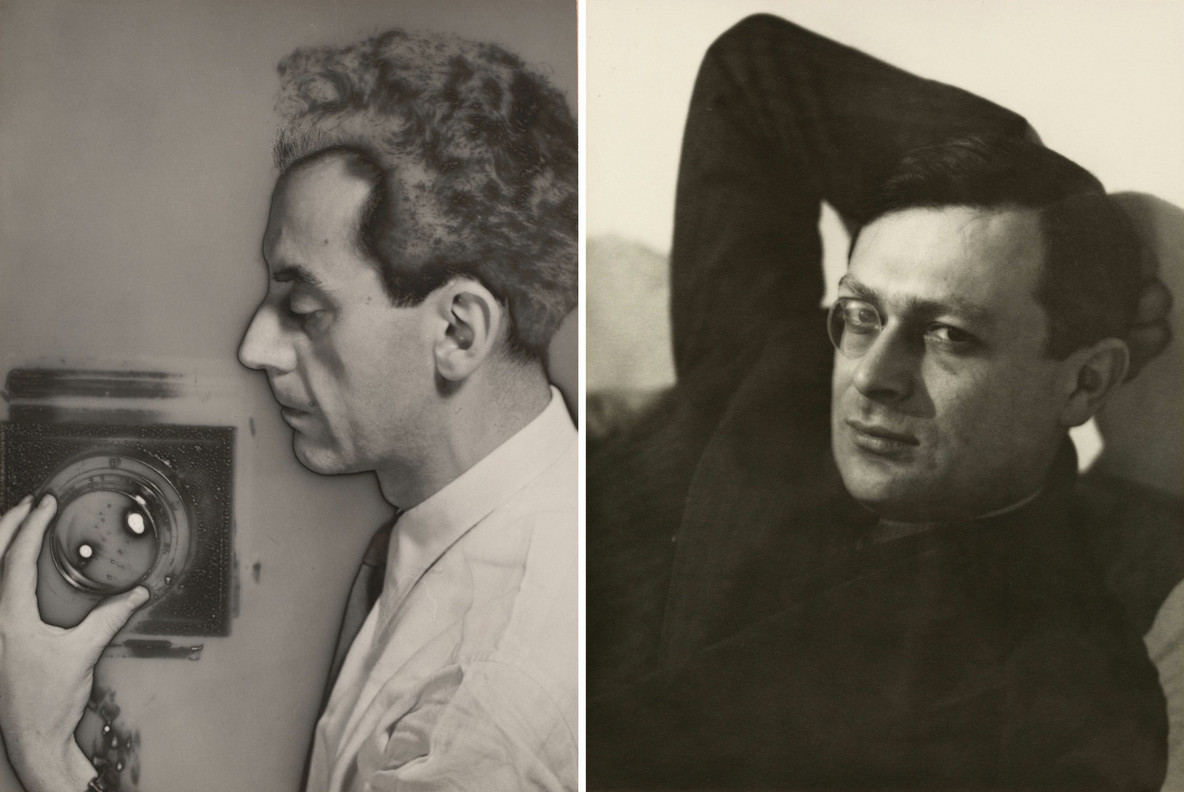 From left: Man Ray. Self-Portrait with Camera. 1931; Man Ray. Tristan Tzara. 1931
One hundred years later, we began looking into MoMA's Champs Délicieux album, which, significantly, is number one out of the edition of 40. After frequent inquiries from outside scholars, it was clear this important work warranted extra attention. We began to assemble a dossier of archival and conservation research. Man Ray's photographs have been studied and written about at length, and we were surprised that there were still so many unanswered questions: What was the full story behind the album joining MoMA's collection? What happened to the album once it was acquired? Why and when was one of the photographs mysteriously removed? What could be learned from comparing original Rayographs to the reproductions in MoMA's album? Where are the other 39 editions, and who were they originally owned by? Our search for answers led to a number of new discoveries along the way.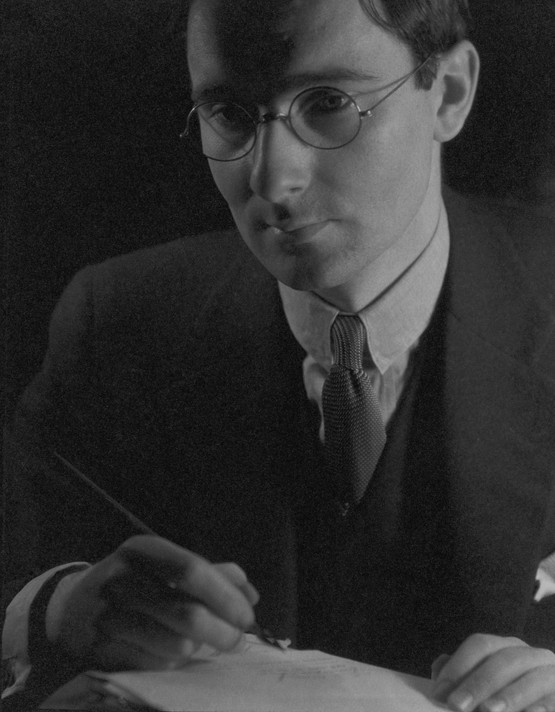 Jay Leyda. Alfred Barr. 1931–33
Jane Pierce: The discoveries did not come easy. There were a number of research hurdles due to the album's early acquisition date: 1935, just six years after the Museum was founded, and a full five years before the Department of Photography was established. Though the album was later transferred to the Department of Photography, no early acquisition or cataloging notes migrated with it. Combing through the Museum's archives, I unearthed documentation that the album had been purchased in Paris by the Museum's first director, Alfred H. Barr Jr. Barr visited Paris with his wife, Margaret "Marga" Scolari Barr, in the summer of 1935 to prepare for two upcoming exhibitions, for which he made numerous acquisitions. Marga noted in her travel chronicle that Barr had visited Man Ray's studio that summer: "For the Photography section of the abstract show [Cubism and Abstract Art], A. wants to borrow some of Man Ray's Rayographs, which, even in 1935, seem highly original and novel in technique."4 I found a folder of handwritten financial records that show Barr bought three original Rayographs and a "folio" by Man Ray on this trip, and I was able to prove that the "folio" was in fact Champs Délicieux.5 Barr paid 300 French francs, about $20, for the album in 1935. (In 2019 another edition of the album sold at auction for €346,000.)6 Barr's 1935 purchases were made possible thanks to the Museum's very first fund: $1,000 from one of the Museum's founders, Abby Aldrich Rockefeller. Though he made no specific mention of the album in their correspondence, he did add in a postscript to Rockefeller that summer: "P.S. I brought back what I think are some very interesting things purchased with the $1,000."7
To understand MoMA's album in a broader sense, it was also helpful to research where the other 39 editions of the album are located, and who originally owned them. I tracked down information on 23 editions of Champs Délicieux; several more are likely in private collections and others may have been disassembled and dispersed. Identifying the first owners shed light on the circle of people interested in Man Ray's Rayographs: it includes Sylvia Beach, publisher and founder of the iconic Parisian bookstore Shakespeare and Company, the Surrealist poet Robert Desnos, the novelist and avant-garde filmmaker Kenneth Macpherson, the prominent art dealer and gallerist Julien Levy, and Lee Miller, an accomplished photographer who was also Man Ray's studio assistant, model, and romantic partner.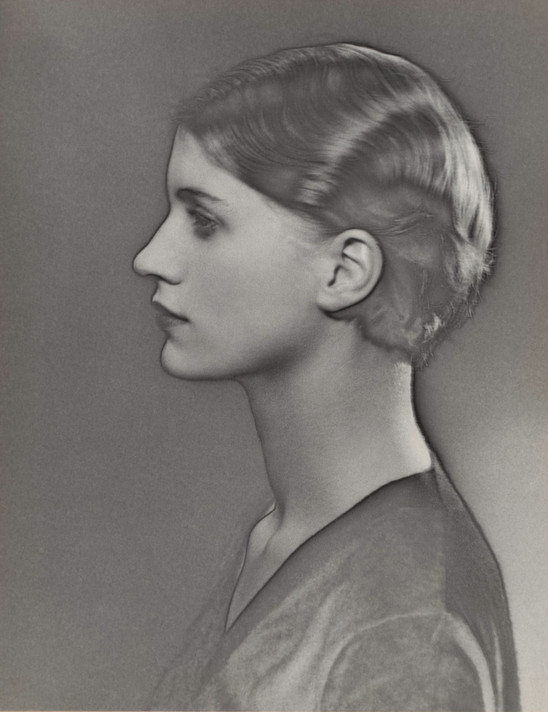 Man Ray. Lee Miller. 1929
Lee Ann Daffner: Armed with this history and a list of unresolved questions, we turned to the album itself. At our first viewing in the conservation lab, we noted numerous inscriptions and labels that hadn't been previously cataloged. On the album's outer portfolio case, there was evidence of an old label, now gone, perhaps where a library call number had been placed. On the interior of the portfolio case, we found two layers of paper labels. The top one noted that the work was part of the "Photography Department Library" and then, attached directly below, and only visible by carefully lifting with a microspatula tool, was a general Library collection label, further supporting the notion that the album had been transferred to the Department of Photography. This piece of institutional history was of particular interest because, when the album was acquired, Beaumont Newhall had just been hired as librarian, and in 1940 he became a founder of the Department of Photography—and its first curator.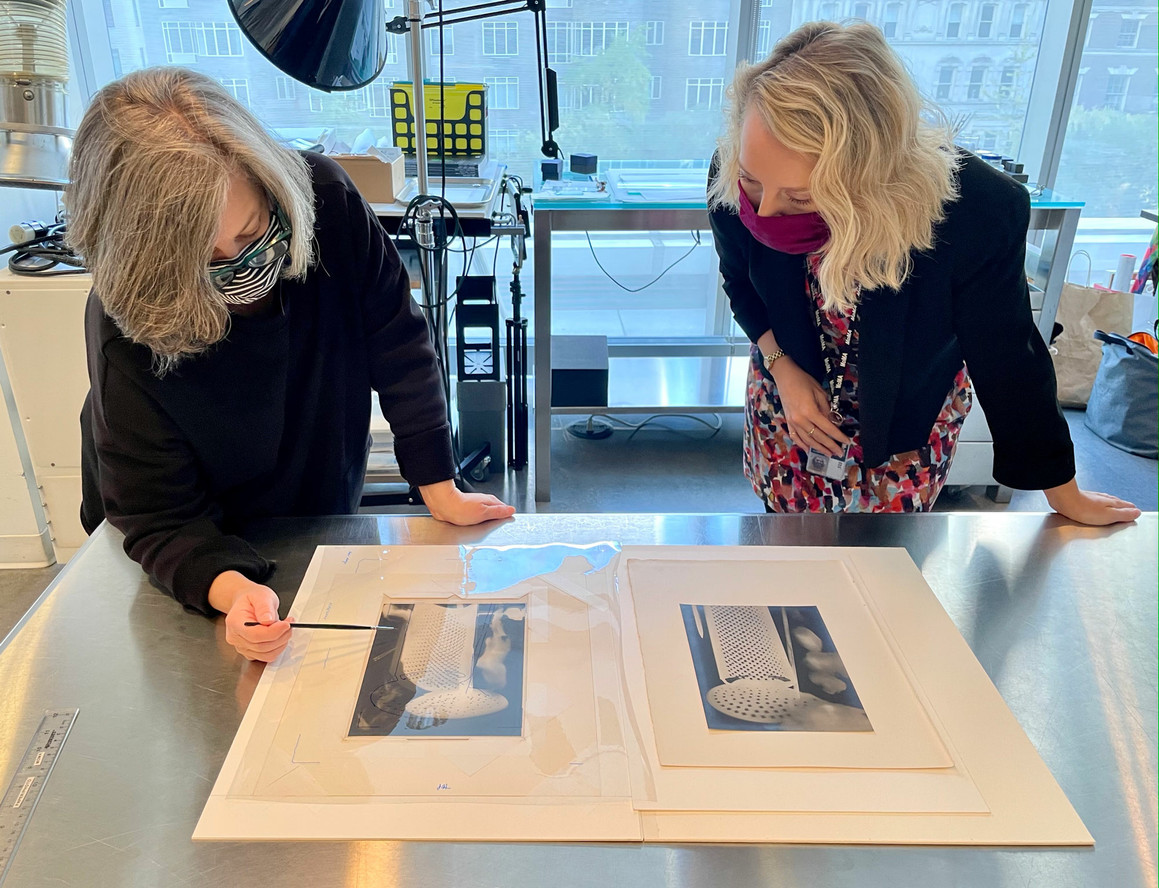 Lee Ann Daffner and Jane Pierce comparing a plate from Champs Délicieux to an original Rayograph
JP: We also wanted to determine why one of the photographs in the album had been removed from its mount. Handwritten graphite inscriptions on the album page for plate four noted that the photograph had been taken out in 1943. I pored through exhibition and loan records to track down the reason. I found records from a 1943 exhibition at the Cincinnati Modern Art Society, and was able to prove that plate four had traveled on loan to Ohio for the exhibition Form and Formula before returning to MoMA. Today the integrity of the album would be preserved, but in 1943 the approach to collection materials was more flexible...and made for some very lucky Cincinnatians.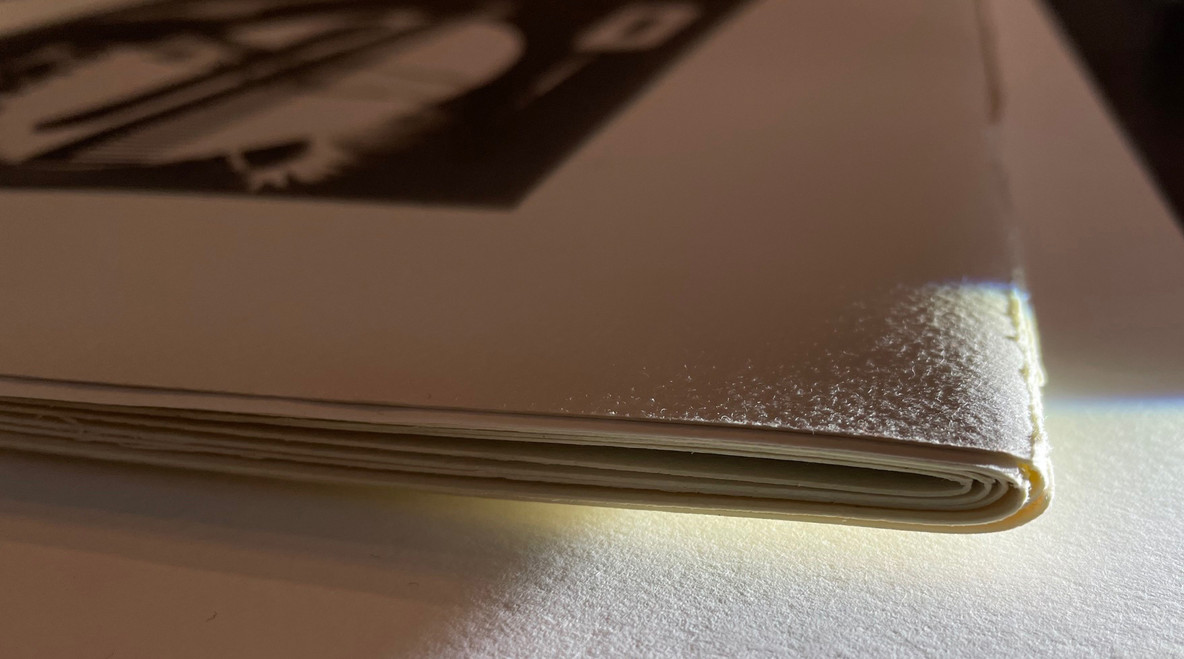 View from the top edge showing sheets of paper folded to make the album pages. A thread (not visible in this image) is sewn through the sheets to bind the album together.
LD: The structure of the album is simple, yet elegant: The photographs are matte-surface gelatin silver prints on double-weight, off-white fiber-based photographic paper and each is precisely placed and tipped to an album page. The portfolio cover is a single sheet of thick, intensely pigmented red-orange paper with a bold yellow printed label. The album was made by folding six sheets of heavy-weight Fabriano paper and the cover in half, then binding the sheets together by sewing a thread through the center. The text folio is a single sheet of calendered, cream-colored paper, folded in half to create four pages, printed in letterpress and signed in ink on the last page by the artist. One of the many curious and exciting observations we made was that the text folio, now separate, was originally attached to the first page of the album. This was determined by lining up and comparing the folio paper losses to the paper fragments on the first mount: they were perfect matches!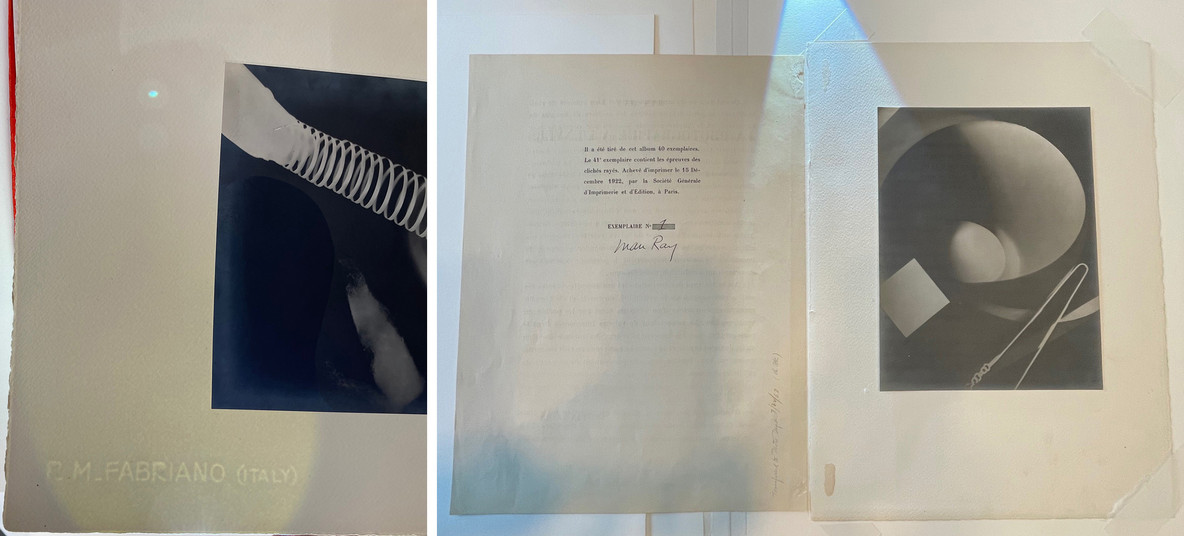 From left: The "C. M. Fabriano (Italy)" watermark is visible through transmitted light on the album page for plate 7; The colophon page from the text folio shows paper losses near the fold at top right and bottom right that correspond to the paper fragments on the album page of plate 1.
The prints in MoMA's edition of Champs Délicieux have long been considered photographic reproductions of original Rayographs, yet the original prints or copy negatives have never been found.8 To better understand the context and challenges of producing this work, we brought a group of true Rayographs from MoMA's collection, all made around the same time as Champs Délicieux, to the conservation lab for comparison. One feature that is consistent in all photograms is the point-of-contact where the object touches the photographic paper during the exposure: this will create a razor-sharp shadow, but this is only true for the objects touching the photographic paper. The farther the object is from the surface, the less defined that shape will be in the final Rayograph. That object will also shield the paper from light, to more or less degree, depending on its distance from the surface.
Lee Ann Daffner looking at a plate from Champs Délicieux under the microscope
The original Rayographs exhibited all of these features: they have sharp lines from points of contact and a tremendous gradation of tone from the fall-off of light around the objects. Under the conservation lab's microscope, we observed a striking feature in the bright white highlights and delicate shaded mid-tone areas—they are nearly pristine—and where there might have been a bit of dust or debris on the paper (resulting in white spots on the Rayograph), Man Ray had carefully retouched the spot.
After inspecting the original Rayographs and then comparing them to the prints in the album, we noted the Champs Délicieux prints were not as crisp and sharp as the original Rayographs; the gradation of tones was less fine and less continuous, with more contrast than the originals. Furthermore, the reproductions exhibited quite a lot of dust and debris that had been captured in the copy negative. The dark dust and fibers that appeared in the Champs Délicieux plates could never be possible in an original photogram. From our examinations, it was clear that the prints in MoMA's album are meticulously made reproductions, meaning Man Ray re-photographed the original Rayographs and then carefully printed the 40 sets needed for the edition.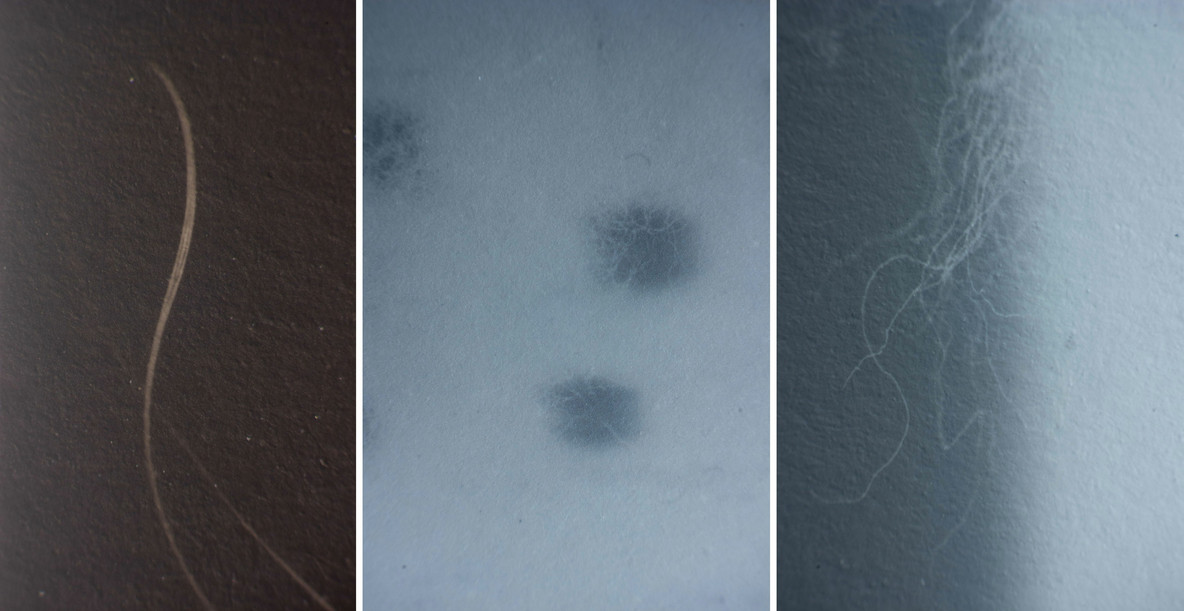 These three images compare the degree of resolution to be seen in first generation photograms and the photographs in Champs Délicieux. At left, a detail of Rayograph 117.1941, taken at 180× magnification, showing a single strand of hair. At the right, a detail of Rayograph 111.1941 taken at 120× magnification, showing fine detail of cotton wool; and at center, detail of plate 12 (253.1935.12) taken at 120× magnification showing similar cotton wool, with much less resolution and detail
LD/JP: So why were these reproductions necessary, and how did Man Ray make them so convincing? Because all photograms are unique (in the same way Polaroid instant prints are one of a kind), a new negative was necessary to produce more prints. The photographs in Champs Délicieux were made with such technical expertise that they resemble original Rayographs. Man Ray first started practicing photography around 1915, because he couldn't find someone to make high-quality photographic reproductions of his paintings. So, he decided to make his own, and he later got work photographing paintings by other artists as well. These technical skills would have served him well when he copied his own Rayographs.9 For Champs Délicieux, Man Ray used a large-format camera with 18 × 24 cm glass-plate negatives to reproduce his Rayographs, very likely the same "large secondhand camera" he used for the reproduction of paintings.10 From these negatives, he made contact prints, which have a high degree of fidelity to the originals. After printing and retouching, the prints were trimmed to remove the extraneous details.

Two views of plate 6 from Champs Délicieux. At left, an overall view of the plate and album page, and at right, a detail of the lower right quadrant. Silver mirroring is clearly visible along its edges under normal light.
MoMA's album exhibits signs of natural aging that are material specific: Man Ray chose a beautiful matte-surface paper, which unfortunately is prone to silver mirroring. Other factors, such as fingerprints and detached album sheets, were the result of years of handling. The album is very fragile and must be treated with utmost care, yet even in its delicate state it is a fine example of a small-edition portfolio from the early 1920s. Champs Délicieux helped to reinvent photograms as a modern art form and, as Tzara poetically wrote of Man Ray in the album's preface, "With a fresh and delicate flash of light, he invented a force that surpassed in importance all the constellations intended for our visual pleasure."11
Throughout our research, we marveled at the discoveries that were made at each stage. With support from our expert MoMA colleagues in the library, archives, curatorial, and conservation departments, and from sister institutions, we pieced together new ways of understanding this album's significance, just in time to celebrate its centenary.