Discover the extraordinary story of how one woman, Margaret Scolari Barr, helped MoMA save artist refugees during World War II.
The Museum of Modern Art's first director, Alfred H. Barr Jr., spent his summer months in the 1930s traveling around Europe, planning exhibitions for the year ahead. Barr went on these research trips, which he called "campaigns," with his wife, art historian Margaret "Marga" Scolari Barr. She was his sole translator of French, German, and Italian, and interpreted all of his communications with artists, collectors, and dealers. By the end of the decade, with the rise of Fascism, many people they met during these summer trips would be exiles, and the Museum, under the efforts of Marga Barr, would play a central role in getting them to safety.
During their 1933 European campaign, the Barrs witnessed the appointment of Adolf Hitler as German Chancellor. Seeing firsthand the sweeping anti-Semitic policies that directly victimized many of the artists he admired, and the censorship of modern paintings, Alfred wanted to make the American public aware of what was happening abroad. He was so disturbed that he penned nine articles under the title "Hitler and the Nine Muses," describing the immediate threat faced by artists and intellectuals. Though he was certain that the press would immediately publish his work, he received countless rejections and struggled to get the word out. In a 1974 interview with Marga, she stated, "Nobody would believe that Hitler was the kind of person that he ultimately turned out to be. Nobody would believe it. Nobody would believe the content of what Alfred wrote."[1]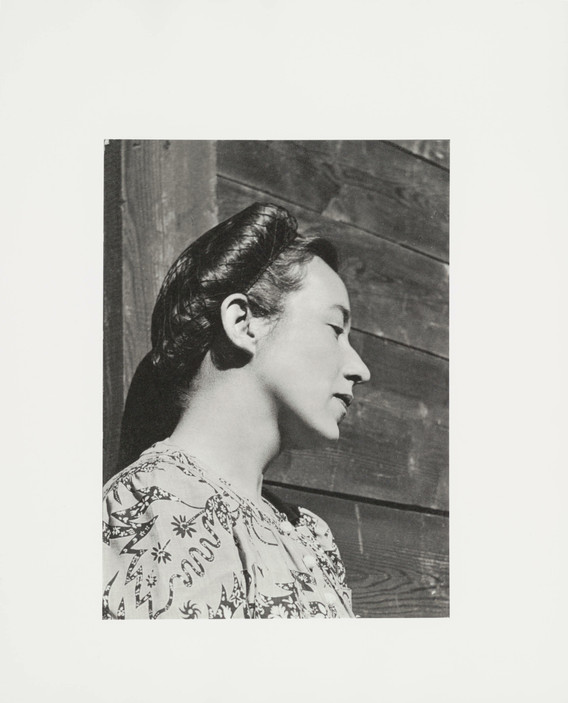 Photograph of Margaret Scolari Barr in Entrèves, Italy, 1938.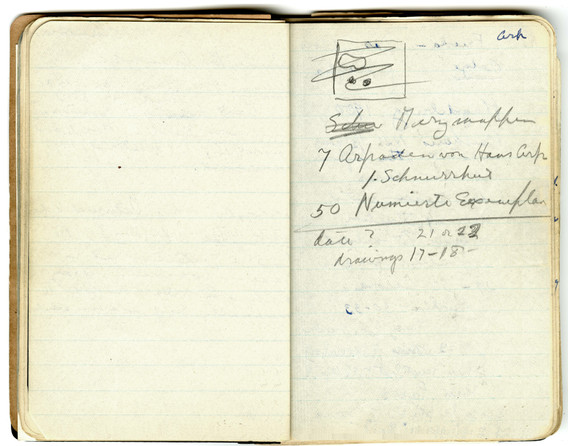 Page spread from Barr's travel notebook about visit to Hans Arp, Meudon, France, May 18–August 1, 1936 trip, regarding works of art to borrow for the exhibition Fantastic Art, Dada, Surrealism
Alfred Barr was committed to showing the type of art endangered by the Nazis overseas, so he devoted his 1935 and 1936 summer campaigns to preparing exhibitions that introduced the American public to certain principles of modern art "in a comprehensive, objective, and historical manner."[2] The results would be the Museum's landmark exhibitions Cubism and Abstract Art and Fantastic Art, Dada, Surrealism, featuring the very same art that was being labeled "degenerate" abroad. Barr dedicated his Cubism and Abstract Art catalogue essay and exhibition "to those painters of squares and circles (and the architects influenced by them) who have suffered at the hands of the philistines with political power."
The couple's travels in Europe in preparation for these shows put them into contact with many of those politically and racially persecuted poets and artists they would later try to help save. Specifically, for their Fantastic Art, Dada, Surrealism campaign in Paris, Marga recalled meeting Surrealist founders André Breton and Paul Èluard, poet Georges Hugnet, and artist Marcel Duchamp. She also remembered making lengthy visits to the studios of Jean Arp, Leonor Fini, and Max Ernst, who was living with Leonora Carrington at the time.
The centuries-spanning scope of Fantastic Art made an ambitious argument for the contemporary work it introduced. Though it opened to much controversy, the exhibition (and MoMA's acquisition of works from the show) was vital in legitimizing the featured artists and would ultimately save many of their lives. After the fall of Paris to the Germans in June 1940, the Museum began to receive numerous pleas from these artists for help in fleeing to the US. Looking back to this time, Marga commented that "Alfred and the Museum were the only American people of any kind of caliber that they knew. They didn't have connections with collectors…. It just had to be the Museum and nobody else."[3]
In early July 1940, Barr heard from a collector that Salvador Dalí had been arrested by Spanish authorities while trying to cross the Portuguese border, and that his life was in imminent danger. Barr immediately urged MoMA trustee Nelson Rockefeller to send a telegram to the American ambassador in Spain, asking him to intercede on the artist's behalf. This ultimately proved to be unnecessary, as Dalí had only been temporarily detained in Spain, and had already made it to Lisbon. But shortly after arriving safely with his wife Gala in New York, Dalí sent a letter to Barr personally thanking him for all the Museum had done for them.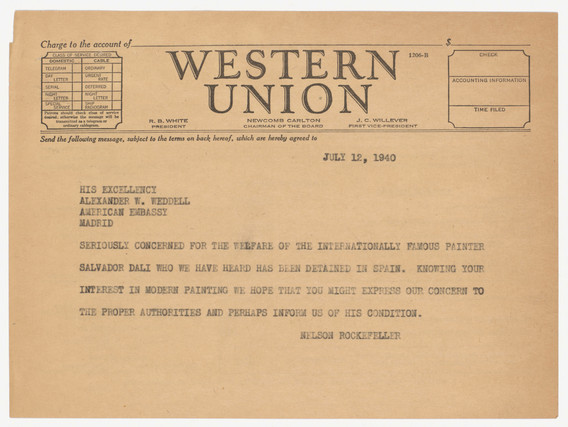 Telegram from Nelson Rockefeller to Alexander W. Weddell, the American ambassador in Spain, regarding Salvador Dalí's alleged arrest, July 12, 1940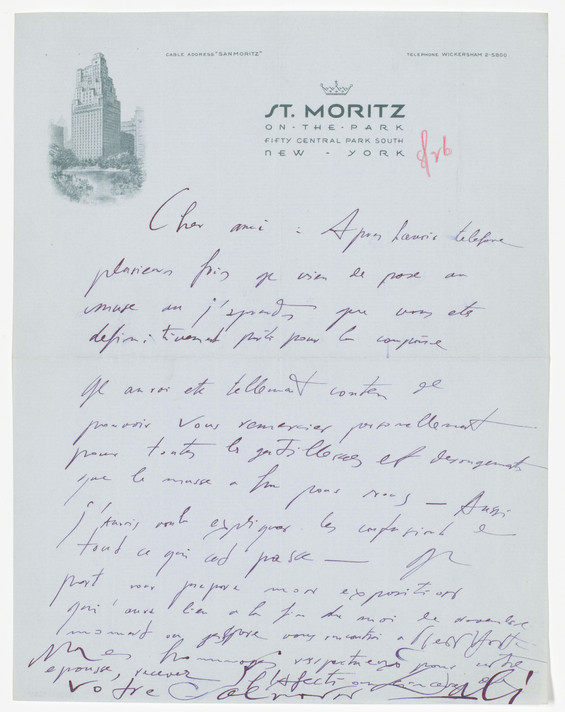 Letter from Salvador DalÍ to Alfred H. Barr Jr. thanking him for his assistance, received August 26, 1940
A few months after Dalí's case, Barr reported to MoMA's Board of Trustees that the Museum had received more requests for help—so many that he and his assistant were "unable to cope with it." Marga officially took over this project on October 1, 1940. She worked extensively, "spending five or six hours a day" on it. As she stated in her memoir, "I would do the work, and [Barr] would sign the letters that I would write on his official Museum stationary."[4] Working on these cases was a full-time job: each individual seeking refuge in the US required a visa from the State Department; an affidavit of financial support vouching that he or she would not become a burden to the state; an affidavit of moral and political sponsorship vouching that the person is in imminent danger and would not pose a threat to the US; biographical sketches and letters of reference proving the above; and at least $400 for each individual's ocean passage.
Marga worked closely with the Emergency Rescue Committee (the present day International Rescue Committee) and the leader of the Committee in Marseilles, Varian Fry (whom Barr had known since his Harvard days in the mid-1920s), to communicate with refugees and make sure all their documents were in order. Fry, who would ultimately be responsible for saving the lives of approximately 2,000 individuals, had been sent by the ERC to France in August 1940 on a mission to rescue Europe's cultural and intellectual refugees. Barr supplied Fry with a list of prominent artists who were in danger, including Marc Chagall, who Breton claimed as a forefather of Surrealism, and Max Ernst. (Though many assume it was Ernst's future wife, art collector Peggy Guggenheim, who primarily assisted him in his refugee case, it was Marga who secured his affidavit through Scottish writer and filmmaker Kenneth MacPherson.)
Marga also worked with American artist Kay Sage to help several of the artists's Surrealist colleagues reach the US. Sage was in Paris when the war broke out, so she immediately began working with the French Minister of Education to plan a series of art exhibitions in New York that could be used as an impetus for emigration. With these exhibitions, she helped bring over her future husband Yves Tanguy, Gordon Onslow Ford, and Roberto Matta. She also worked with Marga on the case of André Masson and his family.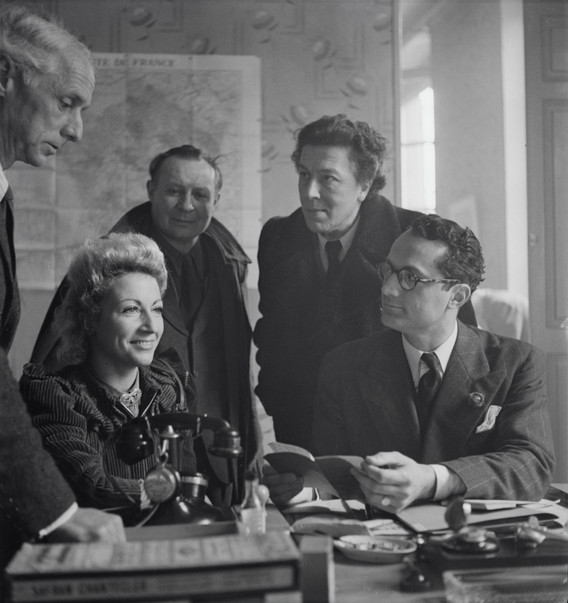 From left: Max Ernst, Jacqueline Lamba, André Masson, André Breton, and Varian Fry in Marseilles, France, 1941. Photo: Ylla (Camilla Koffler)
Sage had important connections in government that helped to expedite the visa process for many artists. Her cousin, artist David Hare, was married to Susanna Wilson, daughter of Secretary of Labor Mrs. Frances Perkins, whose department had been in charge of immigration cases until 1941. While Sage secured passages for André Breton, his daughter, and his wife, artist Jacqueline Lamba, Susanna signed their affidavits and Barr wrote two letters of reference. Marcel Duchamp, whose case was sponsored by The Museum of Modern Art, was also backed by Mrs. Perkins herself.
Not every artist wanted help. Though Pablo Picasso and Henri Matisse were approached by Fry and MoMA, both artists felt reluctant about leaving, concerned that if they left France, who would remain? Hugnet and Éluard also declined assistance offered by MoMA, choosing to actively fight in the Resistance. Sometimes the delays from the State Department were so long that artists ultimately changed their minds or were forced to find other solutions. Though green cards were prepared for Jean and Sophie Tauber-Arp, correspondence with Sophie's sister reveals that they were afraid of traveling to the US. Instead, they fled to Switzerland, where Sophie tragically died in January 1943 from accidental carbon monoxide poisoning. The Museum managed to secure a second affidavit for Fini, but instead she went to Monte Carlo to meet up with her lover. She spent the rest of the war years with him in Rome.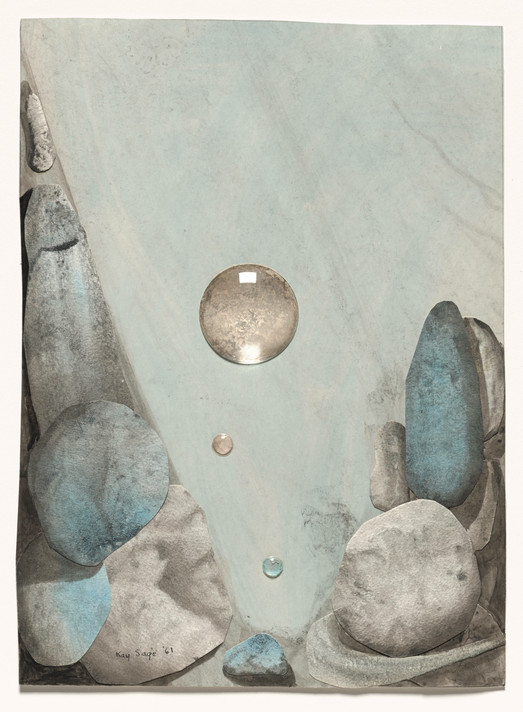 Kay Sage. The Great Impossible. 1961
The US was not every refugee's ideal destination. Some artists, such as the painter Oscar Domínguez, poet Benjamin Péret, and painter Remedios Varo, Péret's partner at the time, felt that they would be better off in Latin America due to language and politics. Though these artists were not "personal friends of Alfred's or mine," Marga nonetheless felt compelled to act on their behalf.[5] Using her resources, she wrote a letter to art historian Stanton L. Catlin, who was residing in Mexico and working for MoMA on a circulating exhibition series of contemporary American art throughout Latin America.
When you are being dined and wined by officials...you can start the subject by saying, "We in N.Y. try to do our best for refugees."
Margaret Scolari Barr, in a letter regarding the refugee cases of Oscar Domínguez, Benjamin Péret, and Remedios Varo
As this job would put him into contact with many political dignitaries, he was the perfect candidate to help Domínguez, Péret, and Varo. In her letter, Marga states, "Neither Mme. Tanguy nor I have any personal contacts in high official places in any of these republics and this is where you come in. What I would like from you would be that one day when you are being dined and wined by officials and are thinking what to say you should talk up these two people and see whether you could prevail upon the hosts to have a favorable cable sent for them to Marseille." She then goes on to explain how Catlin could even bring up such a topic in casual conversation: "You can start the subject by saying: 'Have you many refugees here?' or 'We in N.Y. try to do our best for refugees,' or 'We in the U.S. have been awfully lucky to get such swell and renowned refugees.'… It might be possible to make them realize that these two good and charming artists would be desirable. I trust your diplomatic talents and put my faith in you." Ultimately, Domínguez was unable to leave Europe and spent the war years in Paris, but Péret and Varo did eventually find refuge in Mexico City.
The Surrealist artists mentioned here—many of whose works are currently on view in MoMA's The Surrealist Object gallery—are only some of the refugees the Museum actively helped. Through the principal efforts of Marga Barr, The Museum of Modern Art would aid the cases of more than 40 political refugees during World War II, including artists Jacques Lipchitz, Bernard Reder, Teresa Żarnower, Ylla, Konrad Wachsman, Werner Graeff, Kurt Schwitters, Vasily Kandinsky, and Antoine Pevsner; critics and art historians John Rewald, Alois Schardt, and Siegfried Kracauer; and dealers Pierre Loeb, Hugo Perls, and Alfred Gold.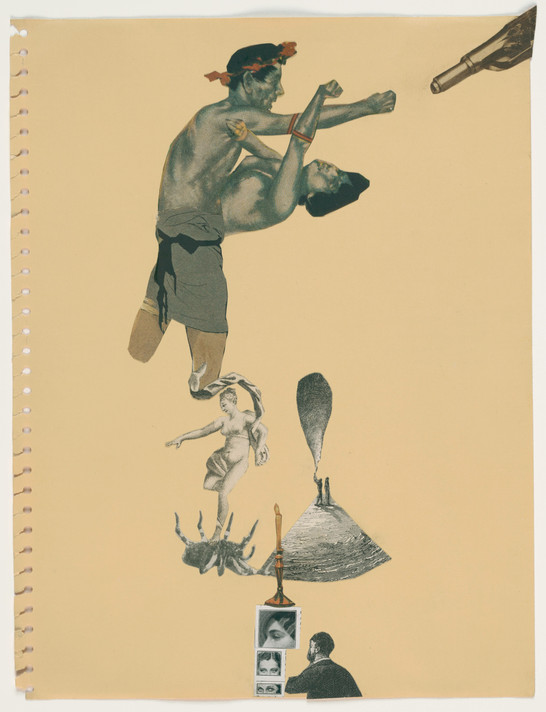 Cadavre Exquis with Esteban Francés, Remedios Varo, Oscar Domínguez, Marcel Jean. Untitled. 1935
For a more detailed presentation of this research and its relation to migration issues today, watch the Dedalus Fouondation discussion "Displacement Past and Present: Migration in the Arts." For additional readings on MoMA's rescue efforts and exiled artists, Los Angeles County Museum of Art's exhibition catalogue Exiles + Emigrés: The Flight of European Artists from Hitler and Martica Sawin's Surrealism in Exile and the Beginning of the New York School are great resources on the subject. Interesting, rich memoirs of these events include Margaret Scolari Barr's "Our Campaigns: 1930–1944," published in The New Criterion; Peggy Guggenheim's Out of this Century: Confessions of an Art Addict; and Varian Fry's Surrender on Demand.

Notes
1. Oral history interview with Margaret Scolari Barr relating to Alfred H. Barr, 1974 February 22–May 13. Archives of American Art (AAA), Smithsonian Institution.
2. Alfred H. Barr Jr., "Preface," Fantastic Art, Dada, Surrealism (New York: The Museum of Modern Art, 1936), p. 7.
3. Oral history interview with Margaret Scolari Barr, AAA.
4. Margaret Scolari Barr Papers, III.A.22. The Museum of Modern Art Archives, New York.
5. Photocopy of a letter from Marga Barr to Stanton L. Catlin, June 27, 1941. Margaret Scolari Barr Papers, II.86. The Museum of Modern Art Archives, New York.