Explore the ways artists from the past century have challenged gender roles and expectations.
In 1978, Argentine artist Lea Lublin marched to the Seine River in Paris alongside artists in the collective Femmes/Art. She carried a banner stenciled with 25 questions calling attention to stereotypes about women, including, "Is woman an inferior being?" and "Is woman a sexual object?" To conclude this day of feminist action, she threw the banner into the river. Lublin's work and its public procession and destruction joined a growing movement of artists, theorists, and writers advancing the rights and voices of women around the world.
While the 1960s and '70s are often considered the beginning of feminist art, artists were challenging male dominance in art and society and expectations about womanhood long before then. As feminism continues to evolve, both it and feminist art have expanded to include more voices and perspectives.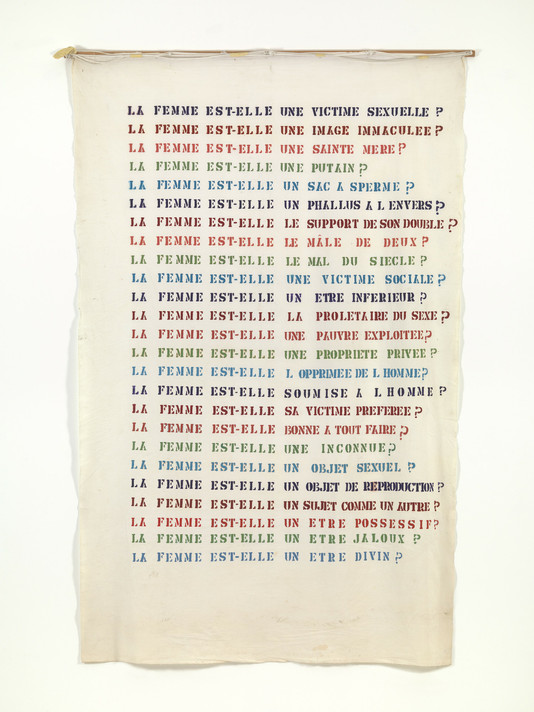 Lea Lublin. Interrogations sur la Femme (Interrogations about Woman). 1978
For International Women's Day, join us as we explore how six artists working across a century used feminist strategies: empowering themselves and advocating for others, taking charge of their self-expression, fostering bonds through collaboration, and pushing the boundaries of artistic mediums.
Masculine? Feminine? It depends on the situation. Neuter is the only gender that always suits me.
Claude Cahun
Claude Cahun used photography and writing to explore multiple facets of their identity. They began making self-portraits as a young adult. In the 1920s, Cahun settled in Paris with their stepsister Marcel Moore, who became their artistic collaborator and life partner. The images they made together mostly depict Cahun in a variety of costumes and settings used to create different personas.
This is a closely cropped, black-and-white portrait of Cahun donning a shaved head and suit jacket. Posing with no hair—hair was a mainstream symbol of femininity—and wearing clothing traditionally understood as masculine, Cahun undercut the notion of a fixed identity and challenged the gender binary of male and female. They considered their self-imaging project to be never-ending, writing in their 1930 book Aveux non avenus (Disavowals), in which this photograph was published, "Under this mask, another mask; I will never finish removing all these faces."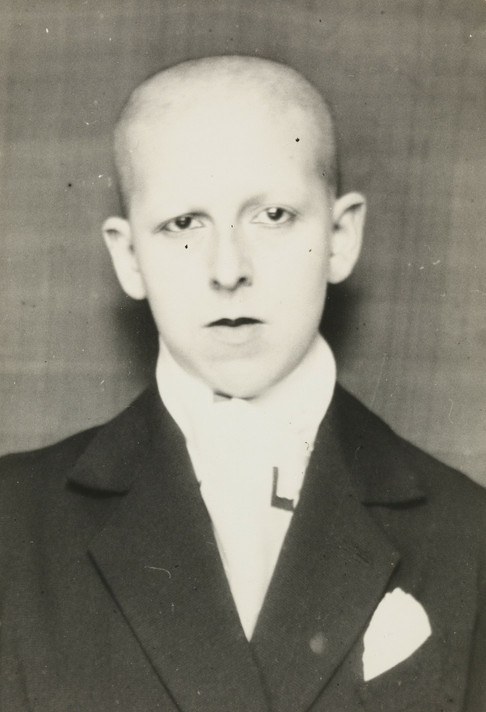 Claude Cahun, Marcel Moore. Untitled. 1921–22
Go further
Consider the word "identity." What does it bring to mind? Cahun used the word "mask" to talk about their identity. What words would you use to describe yours?
Hear from British author and filmmaker Juliet Jacques about the legacy of Claude Cahun's creativity and resistance.
I painted my own reality.
Frida Kahlo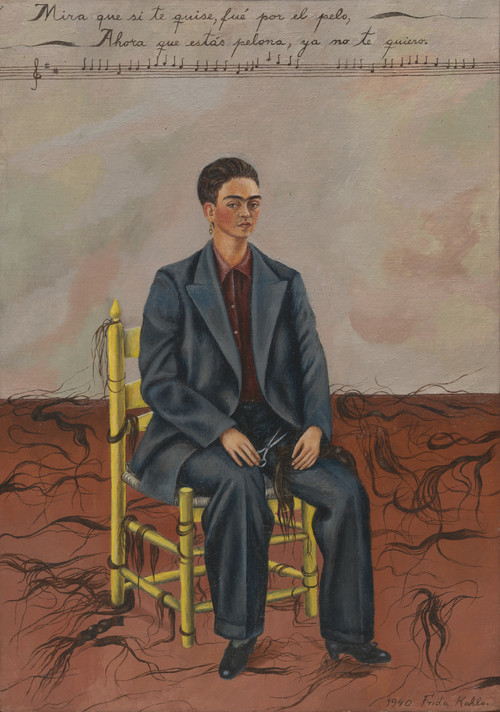 Frida Kahlo. Self-Portrait with Cropped Hair. 1940
Frida Kahlo portrayed herself again and again, simultaneously exploring, questioning, and staging herself and her identity. "I paint self-portraits because I am so often alone," she explained, "because I am the person I know best."1 In 1939, Kahlo divorced her husband, the artist Diego Rivera. Soon after, she cut her hair and made this painting. Kahlo depicts herself wearing an oversized men's suit and a crimson shirt—possibly Rivera's—as well as high-heeled shoes and a dangling earring. She holds a pair of scissors in one hand and a braid of hair in the other, and her shorn tresses seem to slither and writhe around her feet.
Above the scene, and accompanied by musical notes, are lyrics from a Mexican folk song: Mira que si te quise, fué por el pelo, Ahora que estás pelona, yo no te quiero. Or, in English, "Look, if I loved you it was because of your hair. Now that you are without hair, I don't love you anymore." The painting captures both the violence of separation and the pleasure of a newfound independence: "I never painted dreams. I painted my own reality."2
Go further
Listen to artist and feminist Eva Luisa Rodríguez perform a spoken-word piece about Frida Kahlo.
Discover the relationship between art and identity through artworks by Kahlo and others.
Watch Curator Anne Umland discuss works by Kahlo and other 20th-century Surrealist women artists in the video below.
It doesn't bother me. Whether it's a craft or whether it's art. That is a definition that people put on things.
Ruth Asawa
Born in California, Ruth Asawa began her art education as a teenager taking painting and drawing classes at an internment camp. She and her family were among the thousands of people of Japanese descent forcibly imprisoned by the US government during World War II. After being released, she studied to be a teacher but was unable to get a license because of her Japanese heritage. Asawa enrolled at Black Mountain College, an experimental art school in North Carolina, where she was encouraged to mine the possibilities of different materials. Throughout her career, she was a tireless advocate for arts education in San Francisco's public schools, and she founded a program that integrated the arts and gardening.
In 1955, Asawa created this untitled work by looping wire with a dowel—a process she likened to "drawing in space."3 When she first exhibited her wire constructions, critics not only questioned whether they were sculpture since they had no interior mass, but critiqued her work in gendered terms, calling it decorative and domestic. These distinctions meant little to Asawa: "It doesn't bother me. Whether it's a craft or whether it's art. That is a definition that people put on things."4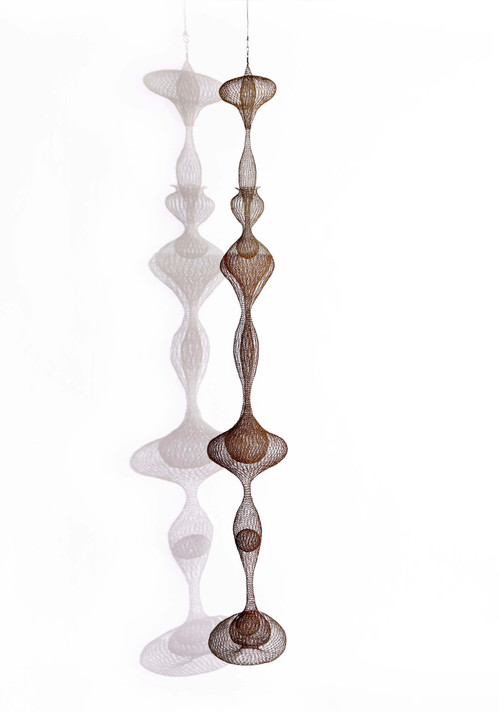 Ruth Asawa. Untitled. c. 1955
Go Further
Read Jillian Tamaki's illustrated story about Asawa's life.
Listen to three of Ruth Asawa's six children discuss the artist's process for making her looped wire sculptures in their family's home.
Explore other women who made abstract art during the mid-20th century.
Try this activity inspired by Asawa's prints of flowers.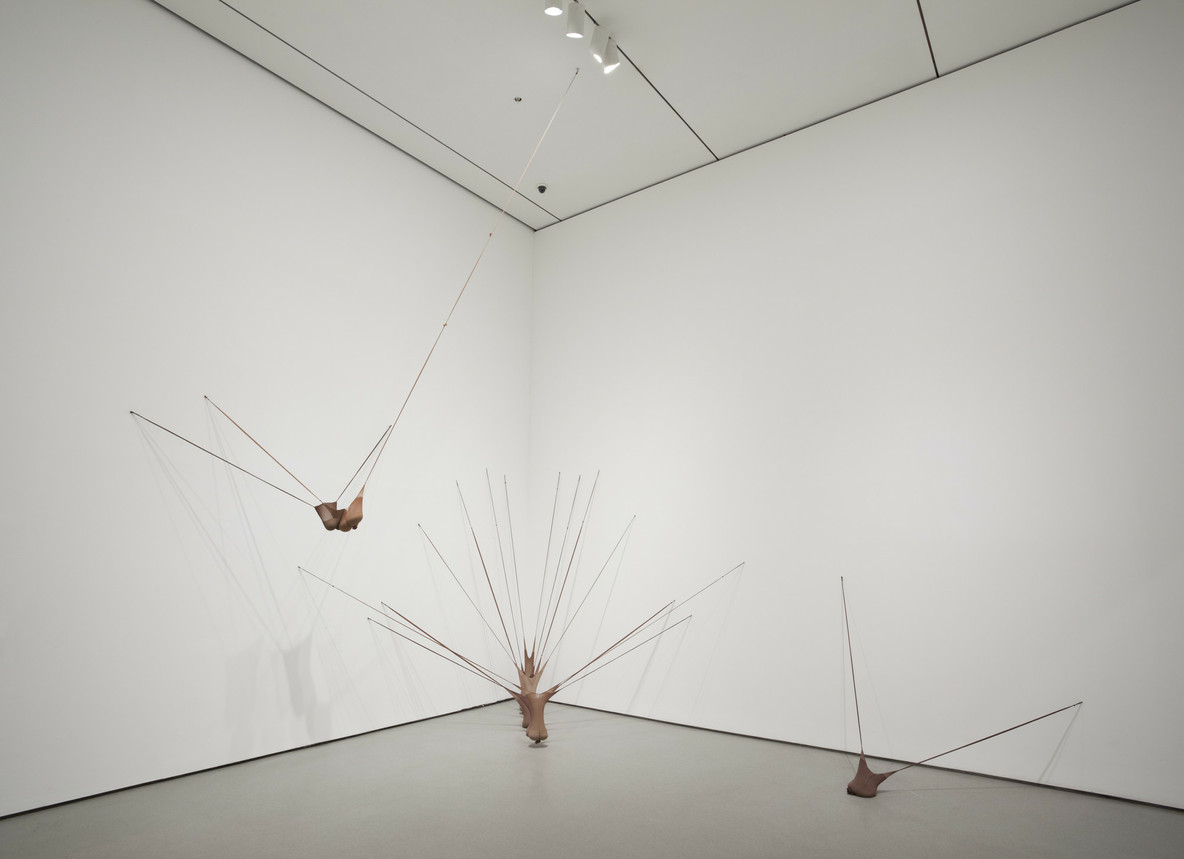 Senga Nengudi. R.S.V.P. I. 1977/2003
I very much liked the idea of used pantyhose. Because when a woman wears pantyhose, she's usually under extreme stress.
Senga Nengudi
Senga Nengudi manipulates fabricated and natural materials in ways that invite audiences to explore their relationships to their bodies and each other. Nengudi began her career amid the Black Arts Movement, which promoted Black empowerment in the 1960s and '70s through the arts and culture. During this time, she channeled her interests in Black identity, dance, Japanese culture, and spirituality into an art practice and brought R.S.V.P. I to life.
Made from pantyhose filled with sand, stretched and tethered to the walls, R.S.V.P. I mirrors what Nengudi calls the "elasticity" of women's bodies, or their ability to stretch. This was influenced by her experience of changes to her body during pregnancy. Some of the pantyhose Nengudi used were "infused with the energy of the women that wore them." In this way, R.S.V.P. I could be seen as a gathering—one you'd RSVP to—of the spirits of women who wore the nylons. Nengudi said, "...I find different ways to use materials others consider useless or insignificant providing proof that the disregarded and disenfranchised may also have the resilience and reformative ability to find their poetic selves."5
Go further
Look closely at this image of Nengudi interacting with one of her R.S.V.P. sculptures. Notice what kinds of shapes or lines her body and the sculpture make. Think about how your body moves throughout the day, and how it occupies space in different ways.
Listen to Nengudi and her friend and collaborator Maren Hassinger talk about this work.
Consider R.S.V.P. I. with conservator Megan Randall as she reflects on how her life and connection to this artwork changed.
The women's movement…rarely talk[s] about their expectations of women of color and all people of color, who frankly represent 85 percent of the planet.
Howardena Pindell
In 1979, after working as a curator at The Museum of Modern Art for 12 years, Howardena Pindell was in a car accident that left her with partial memory loss.6 Several months later, she made Free, White and 21, illustrating the stark divide between Black and white American experiences by appearing as both herself and as a white woman. In it, Pindell recounts the racism that she experienced from early childhood to adulthood, while her white character dismisses Pindell's experiences with statements like "you really must be paranoid" and "you won't exist until we validate you."
Pindell credits both the Civil Rights and Women's Liberation movements with helping her to discover her own voice: "I developed a number of tools for inward looking, personal assessment through the women's movement's consciousness raising processes in order to understand how racism and sexism work within the art community as well as the community at large. I found my true voice through the African American movement but received my training wheels in the women's movement in the late 1960s and early 1970s."7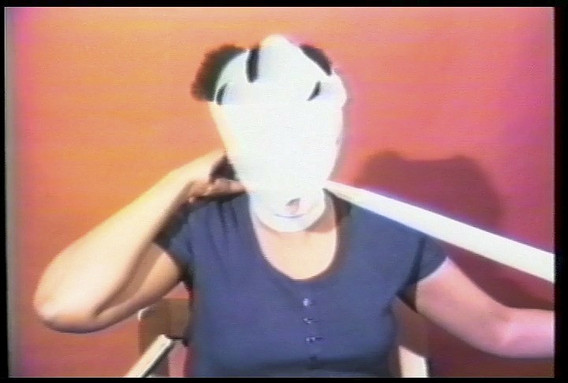 Howardena Pindell. Free, White, and 21. 1980
Go further
Watch Pindell's performance in Free, White and 21.
Listen to a discussion about video art and Free, White, and 21 in this episode of A Piece of Work.
Explore more of Pindell's art and writings.
That is something that I want to scream from the mountain tops—how powerful and how knowledgeable the Indigenous women of the world are.
Cara Romero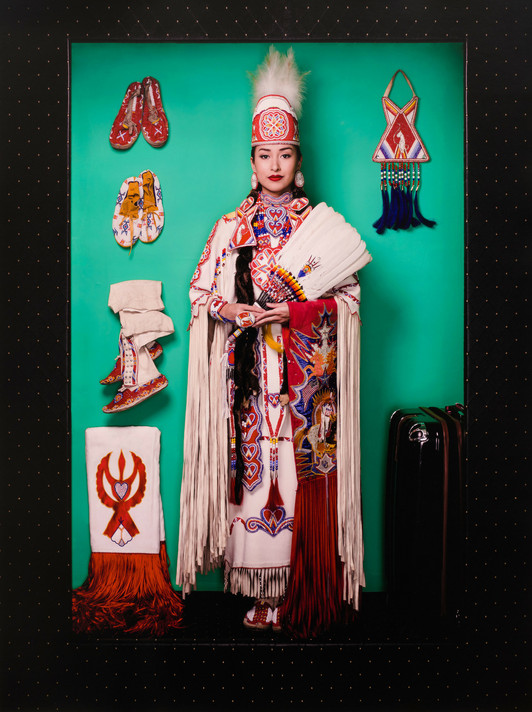 Cara Romero. Wakeah. 2018
Cara Romero uses her camera to share "self-representations" of Indigenous American women as a way of countering "a lifetime of seeing Native American women and Native American people represented in a dehumanized way." A member of the Chemehuevi Indian tribe, Romero recognized early on that popular depictions of Indigenous Americans—particularly women—are typically inaccurate. Her First American Girl photo series confronts these ongoing stereotypes that lump distinct Indigenous cultures together. Using large-scale portraits, she spotlights women from tribal nations across today's United States, each staged like American Girl dolls in boxes.
In Wakeah, Comanche-Blackfeet-Kiowa ledger artist Wakeah Jhane Myers stands wearing her traditional powwow regalia. Like the accessories that accompany toy dolls, the personal objects that surround her—moccasins, a purse, and a suitcase—reflect her culture and help tell her story. Romero says, "For me, coming from a community of women who have been dehumanized, or othered, or portrayed in a way that's less powerful than the way I see things, it's been a tremendous privilege to be able to move my medium and my craft into a place where I can show their supernatural-ness through photography."
Go further
Try this activity and consider which personal objects you might surround yourself with if you were photographed like Wakeah. Where would your objects come from? What stories would they tell?
Listen to Romero discuss her journey to photography and an "inside joke" about Wakeah's suitcase in the exclusive audio interview below.
Ways to keep learning
Close information gaps related to gender, feminism, and the arts on Wikipedia with Art+Feminism.
Watch artists, scholars, and other thought leaders discuss diverse feminisms on Feminist Art Coalition's resources page.
Consider what ideas and stories lie behind other artworks in MoMA's collection with our online course Modern Art & Ideas
Discover the ways women artists used photography as a tool of resistance in the forthcoming exhibition Our Selves: Photographs by Women Artists from Helen Kornblum.

What stereotypes or gender expectations do you see or experience in your community? What makes you feel empowered and why?
Reflect on these questions to make connections between your life and the ideas these artists explore. Share your thoughts with us by emailing [email protected].