A Matter of Memory: Shigeko Kubota's Video Sculptures
Read an excerpt from the exhibition catalogue about how the artist transgressed boundaries to create something entirely new.
I am a sculptor, I want to make video, but I also wanted to make objects. So the video part is my mirror for my memory, of my life, but the object is creating my creation.
—Shigeko Kubota, 1983 [1]
The New York–based artist Shigeko Kubota deftly fused video's latent promise of veracity and preservation with its susceptibility to erasure and obsolescence into an art form uniquely her own. Starting in the early 1970s, she interwove video—a signal-based feedback technology comprising portable camera, videotape, playback deck, and monitor—with materials including plywood, sheet metal, and Mylar to generate arresting works that eluded expectations for both sculpture and the nascent field of video art, thus giving viewers, critics, curators, and art historians pause. By embedding time-based media within freestanding architectonic forms, Kubota invited concentrated acts of looking and listening. She determined that moving images could become monuments, and the inverse: inert objects could become animated sites of mediation.
Kubota's inherently hybrid objects mixed disciplinary categories of viewership, combining abstract and minimalist forms, and transgressing the boundaries that separated video sculpture from Minimalist sculpture. The former's promiscuous associations with a global culture industry were set against the latter's concerns with formal purity, despite the fact that practitioners of both of these strains of art making were invested in seriality, iteration, questioning the autonomy of the object, drawing viewers' attention to the edges of a work as a means of framing its context, and, most notably, emphasizing actual (not illusionistic) space. Kubota's video sculptures—her combinatorial proposition—corroborated Donald Judd's famous dictum, issued in his 1965 essay "Specific Objects," that "the best new work in the last few years has been neither painting nor sculpture."[2] While both Kubota's and Judd's rectilinear volumes made signature use of plywood and colored metal sheets and were shown widely from the 1970s to the mid-1990s, when the two artists also resided next door to one another in Soho, their works rarely intersected in the same exhibitions or art historical accounts. The hybridity of Kubota's video sculptures was at odds with the prevailing monocultural, male-dominated art historical narratives of the period; artworks could be specifically video or sculpture, but not both.
Kubota's combinational proposal can be seen in her merging of natural formations (mountains, rivers, waterfalls, rocks, blossoms, basins) and manmade structures (graves, steps, windows, ramps, pyramids). It is also evident in her frequent intermixing of computer-generated graphic sequences with edited footage that memorialized fleeting encounters with family and fellow artists and the varied landscapes she saw during her frequent travels across North and South America, Asia, and Europe. By embedding then state-of-the-art CRT (cathode-ray tube) monitors displaying rapidly shifting images produced by electronic acts of recording, rewinding, fast-forwarding, and freeze-framing within sculptural forms that refer to the deep time of geology in works such as Three Mountains (1976–79), Niagara Falls I–III (1985–87), and Rock Video Cherry Blossom (1986), Kubota mitigated video's association with the futurity of globalization. With this conjunction she foregrounded video's inherent multi-temporality—its reliance on an unsettling provisional present that is stored and replayed over and over.[3] As she asserted in a text that accompanied her Meta-Marcel: Window works, the first of which dates from 1976, "Video is the window of yesterday. Video is the window of tomorrow."[4]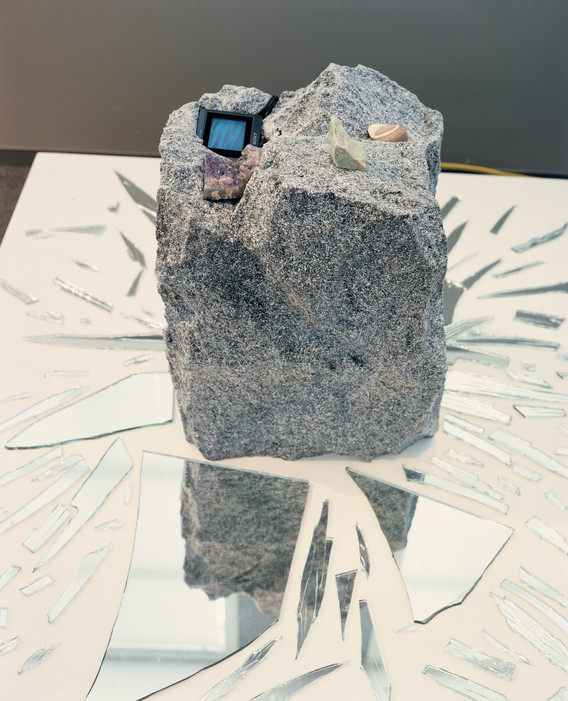 Peter Moore, photograph of Shigeko Kubota's Rock Video Cherry Blossom. 1986
Kubota forged a radical commensurability between the subject position addressed by static sculptures and the one addressed by moving images. And she constructed a reciprocal relationship between bodies perambulating around sculptures and the looped playback of women's lived experience, often her own, during a period when these concerns were often seen as mutually exclusive. In broader terms, Kubota's video sculptures positioned signaletic electronic processes alongside social ones, treating diversity and difference—in media, language (written, spoken, and in translation), and gender—not as marginal concerns but as constitutive of the work itself. Her video sculptures provide an impetus to take up video's less discussed technological charge: its role not as an imaging device or a means of visual representation, but as a medium predicated on storing and accessing memories, both personal and social, and on the forces that erode and erase them.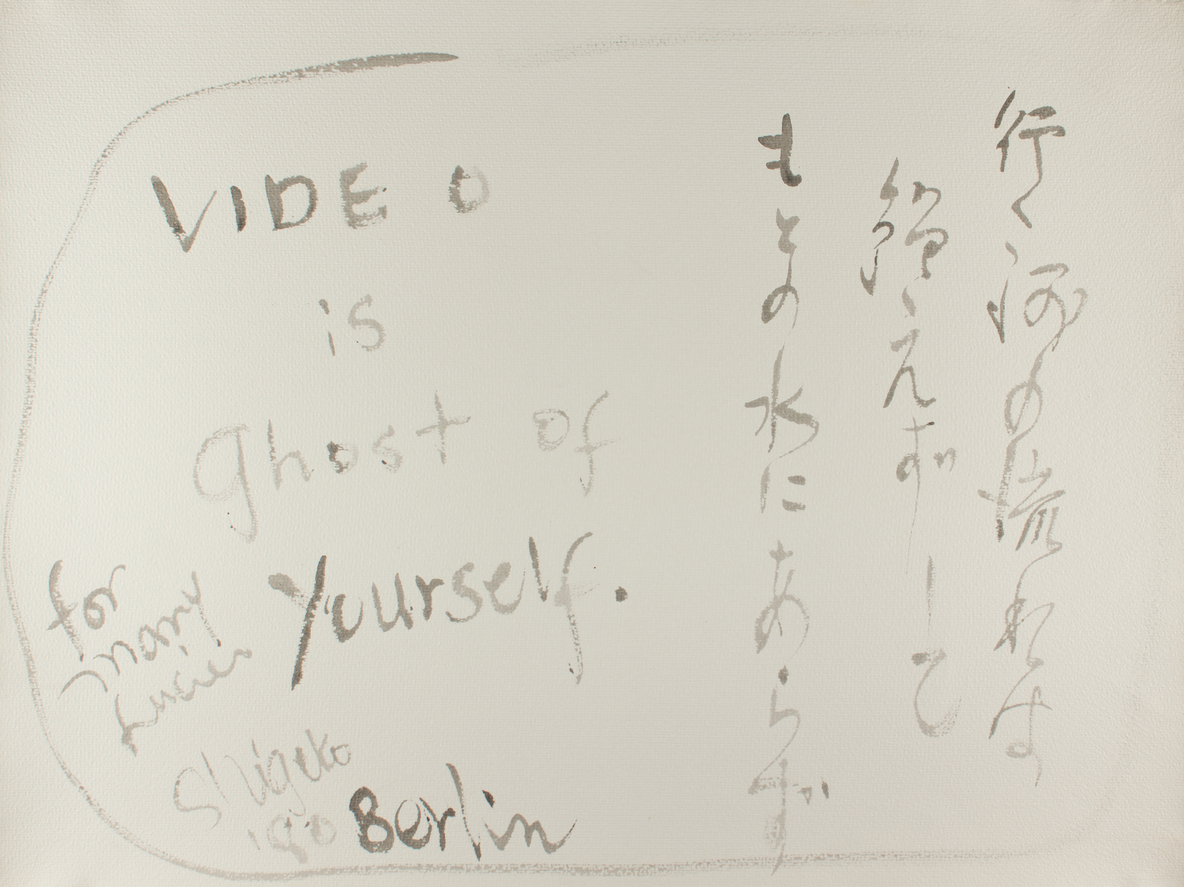 Shigeko Kubota. Video is ghost of yourself (for Mary Lucier). 1980
[...] Despite her emphatic international presence and her definitive impact on the development of video art, and video sculpture in particular, Kubota's contributions have been eclipsed within art historical discourse by those of her husband, Nam June Paik.[5] While they collaborated throughout their 30-year marriage, it was Kubota who came up with the concept of video sculpture, as she recounted in 2008: "In the beginning Paik only used the television set, just like that, bare, without anything. Then I told him that a television by itself is not a work. It could be found in any store, he needed to add something. He didn't listen to me, so I decided to do it myself, in the late Sixties. Video Sculptures with all kinds of materials, with super 8 and moving images from films."[6]
Shigeko Kubota. Video Haiku–Hanging Piece. 1981
The question of who is exerting influence over whom is age-old. "Some people say her work is derivative of his," the critic Brooks Adams reported in his 1984 Art in America cover profile of Kubota, relaying the misogyny that often prevented women artists from being recognized at all, let alone acknowledged as collaborators.[7] Moreover, Paik and Kubota were both seen as monolithically Asian rather than distinctly Korean and Japanese, which also contributed to the collapsing of their singular identities within the art historical discourse on video. The reading of Kubota as derivative was rebutted by Adams and others who saw her as a key protagonist. As for Paik, he finally took Kubota's advice. When a version of the now canonical TV Buddha was installed at the Whitney in 1982, he embedded the monitor in a mound of dirt rather than leaving it exposed on the plinth, as he had when he first presented the work in 1974. This anecdote underscores the ways that video art was built on processes of iteration and collaboration, both in the studio and in the push and pull of critique. Kubota's Video Haiku—Hanging Piece (1981), whose deployment of CCTV puts it in dialogue with Paik's work and which evolved over the course of its exhibition history, is another case in point. Like River, Video Haiku features a downward-facing monitor suspended over a reflective steel concave disk that refracts the video image. Instead of edited sequences, however, the monitor plays a live feed from a camera mounted to capture visitors moving around the work or, alternately, the view through the window, as when the work was installed at the Museum of Contemporary Art Chicago in 1981. When Video Haiku was exhibited at New York's White Columns, in 1983, Kubota attached a Mylar panel to the ceiling that further refracted and doubled the video images, a method similar to the one she had employed in Marcel Duchamp's Grave. The CCTV techniques Kubota foregrounded in Video Haiku found greater currency in not only Paik's work but also that of Bruce Nauman and many other artists who were Kubota's peers and who would be credited more than her with advancing video as an art form.[8] Despite being marginalized by art history, Kubota proved to be an indefatigable force—as an artist as well as a critic, a curator, and a collaborator who undeniably shaped video from these distinct vantage points.
Gloria Sutton is an associate professor of contemporary art history at Northeastern University and a research affiliate in the Art Culture Technology Program at MIT.
Shigeko Kubota: Liquid Reality, organized by Erica Papernik-Shimizu, Associate Curator, with the support of Veronika Molnar, Intern, Department of Media and Performance, is on view at MoMA through January 1, 2022.
Notes
1) Kubota, in "Shigeko Kubota: An Interview," conducted by Jeanine Mellinger, 1983, Video Data Bank, School of the Art Institute of Chicago.
2) Donald Judd, "Specific Objects," in Complete Writings 1959–1975 (New York: Judd Foundation, 2015), 181. For a nuanced rereading of "Specific Objects" and contemporary art historical efforts at "debunking" the mythology around Judd and the heroism of Minimalism, see the recording of "Specific Objects: A Donald Judd Symposium, Part 1," organized by The Museum of Modern Art, New York, November 12, 2020, https://www.moma.org/calendar/events/6541.
3) For more on this topic, see Bruce Kurtz, "The Present Tense," in Video Art: An Anthology, ed. Ira Schneider, Beryl Korot, and Mary Lucier (New York: Harcourt Brace Jovanovich, 1976), 235. This book, one of the first to contextualize video art and notably edited by artists, includes a contribution by Kubota.
4) Kubota, in Mary Jane Jacob, ed., Shigeko Kubota Video Sculpture, exh. cat. (New York: American Museum of the Moving Image, 1991), 32.
5) Kubota and Paik were married in 1977. After he suffered a series of strokes in 1996, she dedicated even more time and energy than she had previously to managing his work and life, becoming his primary caregiver, which may have been a key reason she slowed down the production of her own work at that time. They remained together until Paik's death, in 2006.
6) Kubota, in "Shigeko Kubota in Conversation with Manuela Gandini," in Dissonances: Shigeko Kubota, Yayoi Kusama, Yoko Ono, Takako Saito, Mieko Shiomi, Atsuko Tanaka, exh. cat., ed. Achille Bonito Oliva (Milan: Fondazione Mudima, 2008), 210–11.
7) Brooks Adams, "Zen and the Art of Video," Art in America, February 1984, 125.
8) While Nauman's CCTV experiments predate Kubota's, focusing on firsts as best reinforces a paternalistic lineage that Kubota seemed determined to break. For a feminist reading of Nauman's early video installations set against Stuart Hall's discourse of encoding and decoding meaning, see Gloria Sutton, "Reciprocal Experience: Decoding Bruce Nauman's Spatio-Temporal Installations," in Bruce Nauman: A Contemporary, ed. Eva Ehninger and Martina Venanzoni (Basel: Laurenz Foundation and the Schaulager, 2018), 87–113.