Cooking with Artists: Meriem Bennani
In MoMA PS1's ongoing series with chef Mina Stone, artist Meriem Bennani shares her recipe for chermoula fish balls, a spin on a traditional Moroccan meatball.
"Food feels parallel to language, your mother tongue. When you live far away from where you're from, you have the same relationship to your language as to your food. These two things relate to your primary understanding of the world and your mode of expression."
Born in Rabat, Meriem Bennani produces her video installations and films between Brooklyn and Morocco. Her work tackles "hard-to-resolve or contradictory issues, where I am sometimes contradicting myself." Meriem's multiscreen installations often include sculptures, on which elements of the film are projected. Augmenting the linear story, the architecture and sculpture build a new world that immerses the viewer. Meriem's installations use elements of documentary as a springboard into myth, surprise, and the unpredictable.
"In order for me to talk about problems, I have to come up with a language that is shaped by the problem itself."
The language she creates is disconcerting, humorous, evocative, yet familiar. The contradictions of lived experience find form on the screen. These qualities are also reflected in her food.
The recipe Meriem shared with me is for chermoula fish balls, her own re-creation of a traditional Moroccan dish that usually uses ground beef. The recipe is rooted in what the artist found comforting and delicious as a child, taking on a life of its own and inspiring new ideas, ingredients, cultures, and locations.
When we cook, we are often searching for what we know: home, familiarity, a past self, only to find it no longer exists.
"I was just in Morocco for three weeks, and I realized that my repertoire of things that I can cook on a daily basis was very limited since I stopped eating meat. I feel like most countries have a meatball, a familiar childhood dish. I got super excited because I tried making a dish I grew up eating made with ground beef, but with fish instead."
Bright, spicy, and herbaceous fish balls––made by pulsing generous amounts of traditional chermoula, breadcrumbs, and olive oil, then simmered in a sauce of freshly ground tomatoes and more chermoula––are exquisite.
As Meriem says, your mother tongue and food run parallel paths. Both language and cooking are living, breathing entities that change as we change. Meriem emailed me to say she served her leftover fish balls with tahini and iceberg lettuce in a pita. "It's not really Moroccan, but more New York 😉 but it was amazing."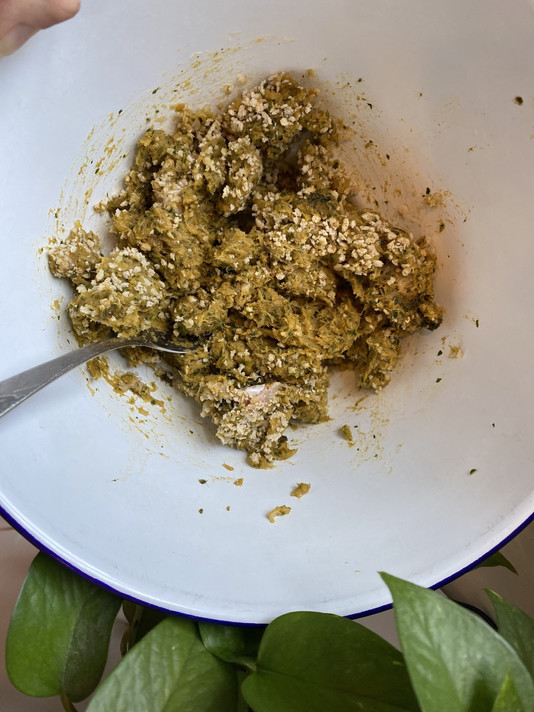 Chermoula Fish Balls
Makes 26–30 balls and serves 4–6
"It's like a tomato sauce–based meatball dish. But what makes it Moroccan is chermoula. Chermoula is something that you can make and use in different dishes. We use it a lot also for cooking and eating fish. You can, you know, hit it on the inside like with…see? I don't have a vocabulary for cooking in English…."
For the chermoula:
1 bunch of parsley (washed, bottom stems removed, and coarsely chopped)
1 bunch of cilantro (bottom stems removed and coarsely chopped)
2–3 garlic cloves
2 tablespoons ground cumin
1 tablespoon of paprika
2 teaspoons salt
extra virgin olive oil
Combine all the ingredients in a food processor and pulse until it forms a thick paste. Taste for seasoning and add more cumin, paprika, and salt to taste. Set aside in a bowl and cover with a generous amount of olive oil until it glistens on the top.
To make the fish balls:
1 1/2 pounds white fish, such as fresh sardines, branzino, cod, or hake
3 tablespoons chermoula (or more to taste)
1/2 cup breadcrumbs
2 tablespoons of olive oil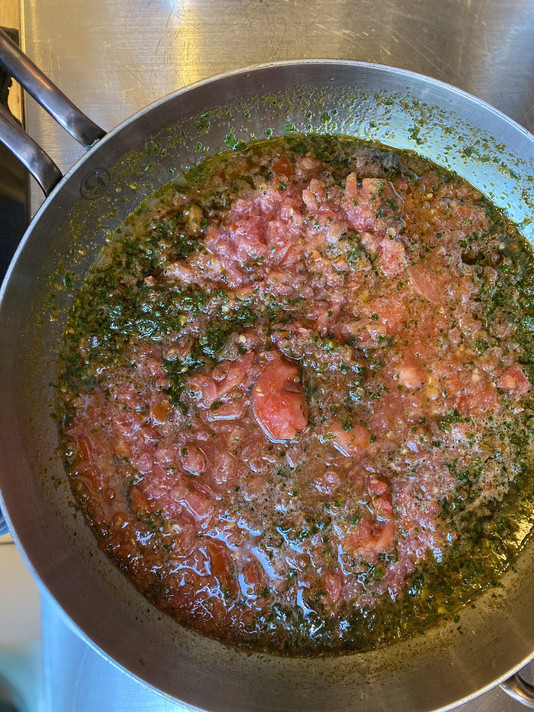 Pulse all the ingredients in the food processor until you have a nice uniform mixture of fish and herbs. With wet hands, roll into balls about the size of a golf ball and place on a plate until ready to use.
For the tomato sauce:
3 large, ripe, fresh tomatoes
3 tablespoons chermoula
Extra virgin olive oil
Salt and pepper
Cut the tomatoes in large cubes and pulse in a food processor until smooth with a few chunks. Alternately, grate them on the large holes of a handheld grater.
In a tagine or deep skillet, heat a generous pour of olive oil. Add the chermoula and sauté over medium/low heat for one minute. Add the ground tomatoes and simmer over low heat for about 15 minutes. Gently add the fish balls, making sure they all touch the bottom of the skillet.
Note from Meriem: Make sure they all touch the bottom of the skillet. No two-story superposition!
Cook on one side for about five minutes and then flip the fish balls, adding a sprinkle of salt.
Allow to simmer for another 20 minutes, until the olive oil takes on a deep rust color.
Meriem's note: Eat with bread and your hands. You can also cook this with ground beef and throw some eggs in it.
"Food is probably my only ritual. It's very grounding."