Opening up Cindy Sherman's Centerfold (Untitled #96)
An excerpt from MoMA's One on One series offers a close look at a work that became "a lightning rod for political debates."
The text below is excerpted from the MoMA publication Cindy Sherman: Centerfold (Untitled #96), written by Gwen Allen as part of the Museum's One on One series. Each volume in this series is a sustained meditation on a single work from MoMA's collection. A richly illustrated and lively essay illuminates the subject in detail and situates that work within the artist's life and career as well as within broader historical contexts. This series is an invaluable guide for exploring and interpreting some of the most beloved artworks in the Museum's collection. Check out the full series.
For more than 40 years Cindy Sherman has been celebrated for her extraordinary ability to create vivid scenes and characters. She first captivated the art world with her Untitled Film Stills (1977–80), a landmark series of eight by ten-inch black-and-white photographs in which she transforms herself into an astonishing variety of female stereotypes drawn from Hollywood and European art-house films as well as B movies.(1) The Stills inspired countless critics to discuss Sherman's work in relation to the medium of film, with cinematic terms—such as director, auteur, actress, makeup artist, costume designer, stylist, and lighting technician—often being used to describe the artist. Less frequently discussed, though equally important for understanding Sherman's work, is her use of print media, especially magazines. Since early in her career she has investigated the visual conventions of magazines—from pulp and confession rags to fashion and men's erotic magazines—and considered their effects on our individual and collective psyches. This book is about one of Sherman's earliest forays into the visual culture of magazines, the so-called Centerfolds series (1981)—specifically Untitled #96—in which she explores issues of representation, power, and gender in relationship to the pornographic centerfold.
In the early 1980s Sherman was commissioned to create new work to be published in the influential art magazine Artforum. She chose to take on the theme of the centerfold model. Although the magazine's editor ultimately rejected the project, the artist decided to pursue it on her own, producing a total of 12 large-scale color photographs (Untitled #85–#96). The Centerfolds show young, often reclining women (all are, of course, Sherman herself) in private, somewhat melancholic moments of reverie, longing, or waiting. Some simply stare into space, their expressions difficult to read. While none of the photographs are nudes or explicitly sexual, they were intended to make viewers question their conscious or unconscious assumptions and impulses when looking at a pornographic centerfold—a format that perhaps had a far greater hold on the male (and female) imagination in the 1980s than it does today, when pornography has largely migrated from print to digital platforms.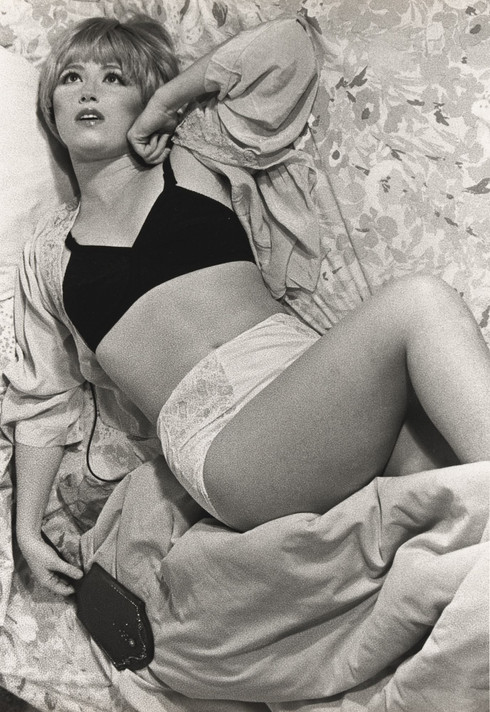 Cindy Sherman. Untitled Film Still #6. 1977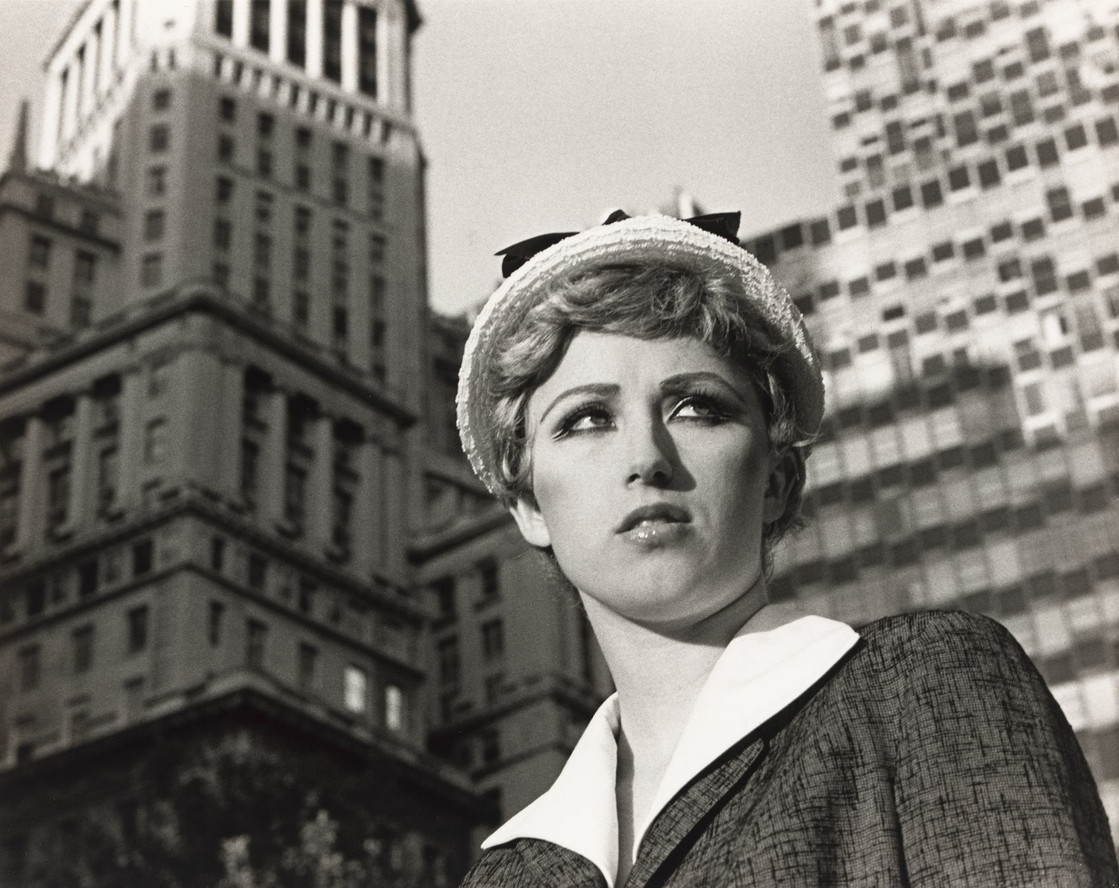 Cindy Sherman. Untitled Film Still #21. 1978
In Untitled #96 a young woman lies on her back against a "harvest gold" brick-patterned vinyl floor of a type that was common in 1970s American kitchens. She wears a schoolgirl outfit: an orange V-neck sweater, an orange-and-white gingham skirt, and white tennis shoes. Her hair is cropped and her face bare of any obvious makeup. She clutches a scrap of newspaper that appears to have been torn from the classified section. Among the only words that can be deciphered are "know yourself/know your future," suggesting a fortune or horoscope. Her left leg is tucked under her right and bent back so that her heel touches her backside, and her skirt rides up, exposing part of her thigh. There is something unsettling about this tightly cropped figure, splayed diagonally across the horizontal picture plane, with her vacant, faraway expression. Her mood seems to change, depending on how we imagine the narrative that is simultaneously implied and withheld. Is she hopeful or wistful? Slightly apprehensive or just introspective? Her complete absorption in her own thoughts and lack of awareness of being seen gives her a vulnerability—and casts the viewer as a complicit voyeur.
When the Centerfolds debuted at the New York gallery Metro Pictures in November 1981, the photographs became a lightning rod for political debates. Some critics read them as a feminist parody of soft-core porn; others criticized them for depicting women as victims, inviting identification or even titillation. As the artist later explained, "I wanted a man opening up the magazine to suddenly look at it in expectation of something lascivious and then feel like the violator that they would be, looking at this woman who's perhaps a victim...[although] I didn't think of them as victims at the time."(2) The series placed Sherman's work in the spotlight, and Untitled #96 in particular has become iconic. (Indeed, it was chosen as the cover image for the catalogue to the major traveling retrospective of Sherman's work organized by the Museum of Contemporary Art, Los Angeles, and the Museum of Contemporary Art Chicago in 1997.) Considered in the context of Sherman's career to date, the Centerfolds can be seen as a pivot point between the artist's early work with cinematic roles and genres and the many other complex subjects she has gone on to tackle.
(1) The only body of work that Cindy Sherman has titled is the series Untitled Film Stills. The rest of her series are untitled, although many of them have been published extensively with informal series titles for ease of reference. These titles are referred to in this book for clarity, but they are not proper titles. Sherman has also not numbered her photographs. The numbers that appear after "untitled" are inventory numbers assigned by her gallery, Metro Pictures. Since the numbered titles have been widely published, we have chosen to include the numbers in this book for consistency and, again, for ease of reference. In running text but not in figure captions, we italicize these numbered titles the way we would any other (though technically Sherman's works are untitled).
(2) Cindy Sherman, in Cindy Sherman: Nobody's Here but Me, directed by Mark Stokes, a Cinecontact production for BBC and the Arts Council of Great Britain, aired April 24, 1994, on BBC 2, https://www.youtube.com/watch?v=UXKNuWtXZ_U.
Save 20% when you buy two or more books from the One on One series from the MoMA Design Store. Members save 30%.