Vital Behaviors in a Reopening City
Artist Ken Okiishi talks with curator Sophie Cavoulacos about the premiere of his newest film, social media FOMO, and how going to the movies changes the way we see the world.
Sophie Cavoulacos: I'm so glad that we've structured our discussion of your work Vital Behaviors like the presentation as a whole: unfolding across different spaces. By the time this is published, we'll have recorded a video Q&A about its making, which will live alongside its streaming in Virtual Cinema from July 22 through August 6. But first, we wanted to share our written exchange that delves into...so much! Your use of cinema, and the way you've activated it to surface ideas of image circulation and viewership, has many layers, and so it's fitting that these screenings, originally planned to premiere in April 2020, offer new ways to engage with the work in person and online. But before we get to that, I wanted to begin with a quite basic question: Could you describe the role that cinema plays in your practice, going back to your artistic training?
Ken Okiishi: I was lucky enough to study at Cooper Union (c. 1999) when it was still tuition free. In the filmmaker Robert Breer's oral-history-based film class, we would watch prints at Anthology Film Archives, since it was a few blocks away and Jonas Mekas was generous in that kind of way—but, at the same time, Breer had this hilarious sense of contradiction, and he would openly make fun of colleagues who fetishized film to the point of refusing video transfers, etc. Breer had this wonderful way of thinking about the possibility of circulation while also taking advantage of possibilities of viewing and making in NYC—it was about paying attention to issues of form in ways that did not foreclose the possibility of a sudden change of mind or all of the subtle shifts that, on a formal level, are light years apart from each other and can become generative, but that dogmatic thinking (or, as we might say now, algorithmic or machine learning) cannot distinguish between. It was about being able to see if something is working rather than relying on the parameters of "essence" or "context" to determine the aesthetic judgment.
A straightforward example of what I am trying to say could be a self-driving car with a beta-test "brain" that thinks that the sun bouncing off a white semi truck is the same thing as the sky because they have the same numerical color/texture/etc., and so the car veers into the truck and causes a fatal car crash. Many 20th-century avant-garde paradigms of thought are basically as crude as a self-driving car crash.
I also started going to MoMA all the time (it was free for Cooper Union students) to watch films and videos, many that were outside of the "Downtown" canon I was being taught. And there was also Kim's Video on Saint Mark's Place—a video rental palace that had everything from multiple film canons as well as tons of films that don't fit in anywhere—and you would also meet people or kind of look at people when you were browsing video tapes. They also had these clerks—mostly NYU film students—who were so terribly mean! They would make fun of anything you rented—but that hazing was part of it. Choosing and renting a movie was an event.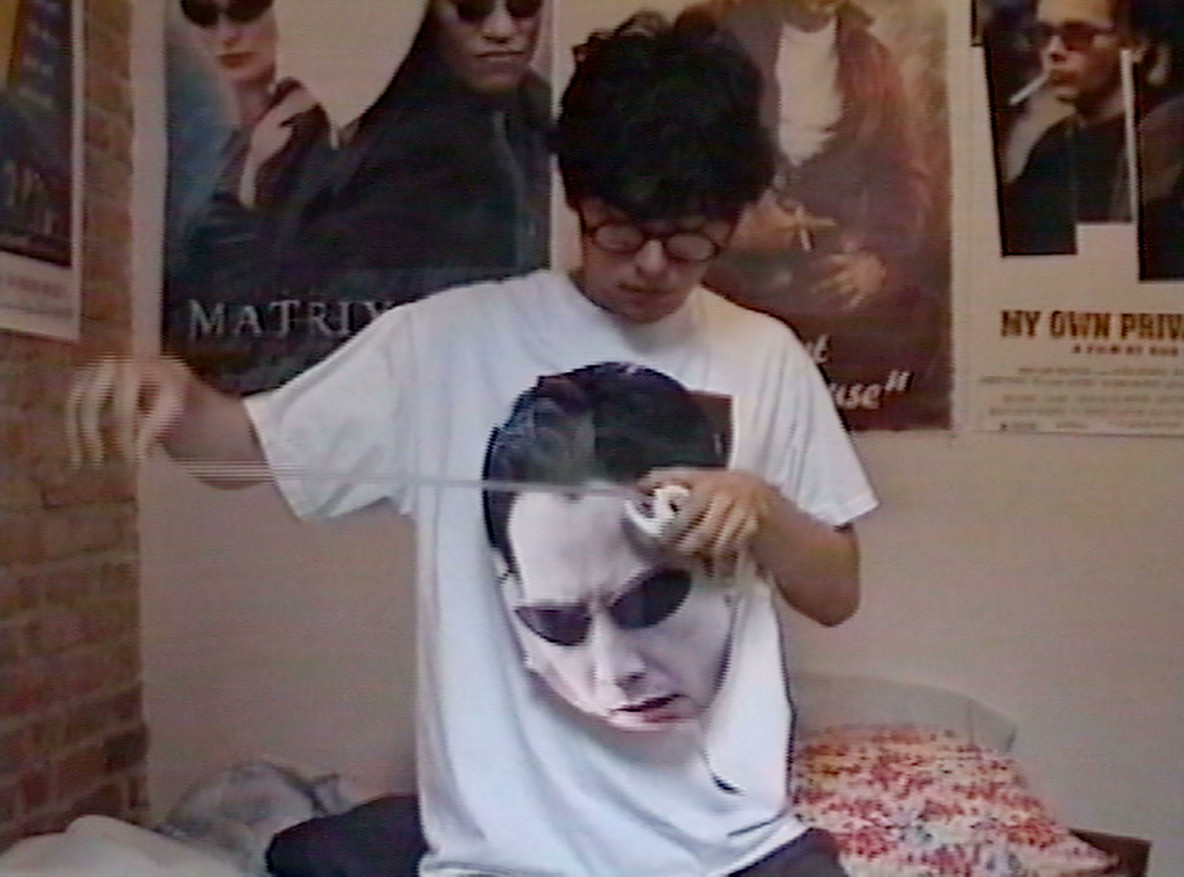 Still from Ken Okiishi. Death and the College Student. 1999
What I noticed in the last few years before the pandemic—as opposed to the 10 years before that, when everyone was saying that movie theaters had or were or would completely die out since everyone watches everything "online"—is that in NYC, the number of movie theaters and places where excellent film curators could have constant flows of programs was suddenly actually increasing. And there were all kinds of people I had never seen before at the theaters and a real culture of going to the movies was emerging, and no one had accurately predicted this. Any day of the week, I could look at the schedule and, quite spontaneously, ride a bike to a theater.
That's how I tend to watch movies—multiple times a week but without a clear schedule in advance. I'll look at Screen Slate or individual programs, depending on what neighborhood I am in at the moment, and just go. Often, I'll even watch movies that I know absolutely nothing about—just to be there in the theater and have something other than myself and my world to interact with and think alongside. In a way, there is an important theoretical aspect to this that is almost so ordinary that it becomes invisible—even this pre-pandemic moviegoing practice (and I would say "practice" rather than "habit," since thinking at the movies is where a lot of the "work" of making artwork for me happens—it's almost the way dancers go to class) shows that these categories of "digital versus IRL" or this kind of polemical posturing in regard to "the digital" often fails to see how these new and old elements are constantly interacting in ways that make new possibilities, that can even amplify the possibility of things that were supposedly "killed" by "the digital" (but were actually killed by things like displacement and gentrification making modes of interaction so much more difficult when geography was the main limiting factor, or overdevelopment facilitated by bad government policy). I can literally sit in Seward Park answering emails and suddenly find out that [Pier Paolo] Pasolini's Medea is playing at Metrograph and be there in 30 seconds—or I can be riding my bike down the West Side Highway on the hottest day of the year and check the Lincoln Center schedule because it is just way too hot outside and suddenly be inside of João Pedro Rodrigues's O Fantasma—and then, when I leave the icebox of the theater, have rewrapped the experience of steaming trash bags on half-dead rats with an erotically transformed mental frame.
For me, the movies literally transform how I see the world when I leave the theater. Again, it will seem almost ridiculous to point this out, but it is important to say: the Internet (aka "the digital") connects me to information in physical space with a speed and agility that was impossible before. The way the Internet overlays and interacts with geographies and bodies in cities spawned intense vectors of scrutiny, acceleration, protest—and pain—during the last year, when it seemed that the screen of the phone and laptop and a mediation of all life experiences through the sensationalizing algorithms of a for-profit public sphere had gained an unmovable hegemonic position—but then people just started checking out. All of this activity started happening that was a bit odd—glitchy. From all angles, the relationship between distance, proximity, and forms of mediation—and the desire for basic forms of enjoyment and an intuitive sense of what is good for the soul and what is not—reached a level of self-reflection that I have never witnessed outside of myself (LOL). As a hypochondriac who overthinks everything and also loves a good bike ride in the city, my joke is that everyone else, during the pandemic, became me.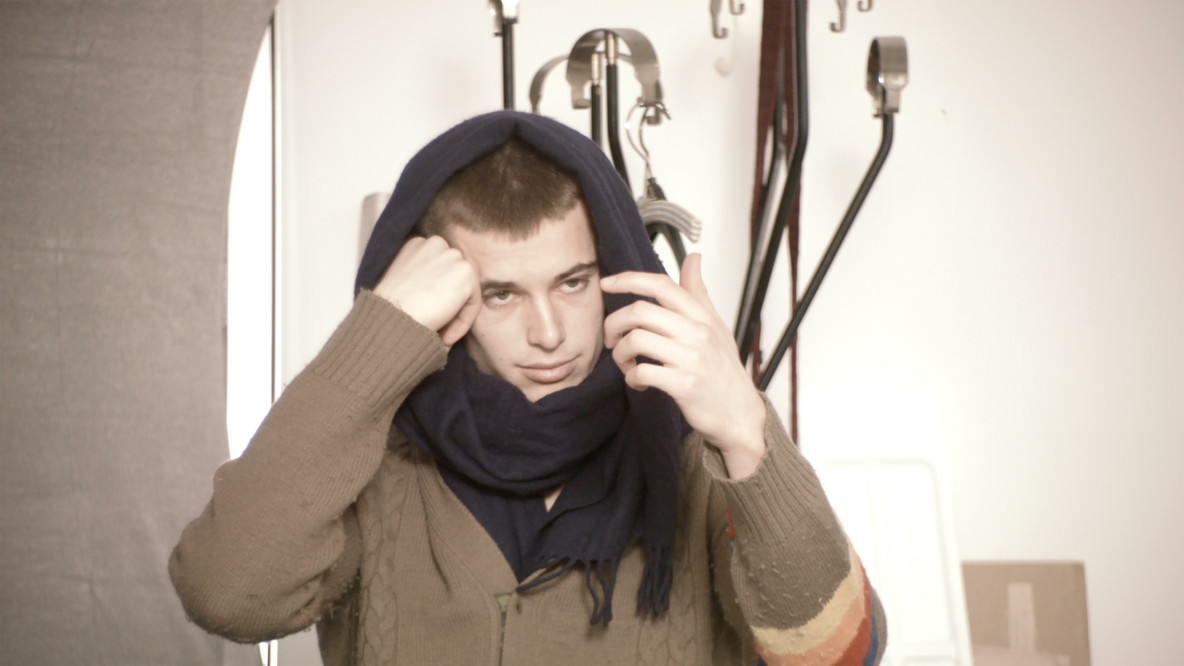 Still from Ken Okiishi. Vital Behaviors. 2019
There has been a lot of thinking around how visual culture has shifted with the pandemic, and as we've spent so much time interacting with our computer screens. What makes a digital encounter cinematic, in your eyes?
I think the best way for me to answer this question is to flip the question on its head. What makes a material encounter in the world feel cinematic? Or what gives an aura of the digital to certain experiences and bodies in life? At a certain point last winter, I was basically stuck in Berlin, Germany, waiting for a visa—but like many people in the globalized art world, I was also perversely enjoying that I had a real excuse not to travel or see anyone—and I had somehow found this apartment on the Internet that was across the street from an automobile service station that reminded me of The Umbrellas of Cherbourg. That was the last film I had seen in a theater—but not on purpose. There was no news of the virus or any whiff of the danger of breathing the breath of others, and then I immediately stopped going to the movies the first time I heard about the virus, so I never had this self-conscious event at the "end of the world" that so many people have written about. I simply sat in the balcony at Metrograph for three days in a row to watch The Umbrellas of Cherbourg because this is the kind of thing I did all the time. And so, in this pandemic winter in Berlin, I could walk on the balcony whenever it snowed and look at this service station across the street and it was, in this elegiac way, like being at the movies.
In Germany, there is also this amazing French and German TV channel called Arte, which funds filmmakers right out of film school and shows the films on TV. So I could turn on the TV and watch something without thinking about it too much; and this will, again, sound too obvious to discuss, since it becomes invisible as such an ordinary pleasure, but there is a potential philosophical truth here that is important. Not choosing what I am watching (not browsing a long list of titles in an awkward interface; not pressing play, stop, rewind, save for later, like, add to my playlist, curate my collection, etc.)—but somehow receiving something in front of my eyes, a bit like seeing a stranger on the street who suddenly becomes intriguing, this encounter with absolute otherness that can turn into intimacy or repulsion or distraction or any other complex of affective sensations that enter the brain as a lived experience—this is what feels cinematic to me.
To shift gears a bit: yesterday, we did a preview screening of Vital Behaviors to set the sound levels and so on in MoMA's Titus Theater 1, the first time we'd both seen it in over a year, and my first time seeing it on the big screen. It was so special! Can you describe the experience?
I actually didn't sleep very well the night before, I was so anxious about it. I hadn't been in a movie theater in over a year—and, now that I am vaccinated, it wasn't really about fear of receiving or transmitting the virus, but more that something that had been such a significant but also ordinary part of being alive had to be revisited again—like the odd terror of seeing an old friend. What if I had pumped it up in my mind, and it popped in nostalgia and felt unremarkably banal? What if my film hadn't aged well with the mindfuck of the last year? And then the projection started—and I was there. And I could tell you were there—right there with and inside the film. Liftoff. It was instantly happening, this thing that happens at the movies that no one can ever explain adequately.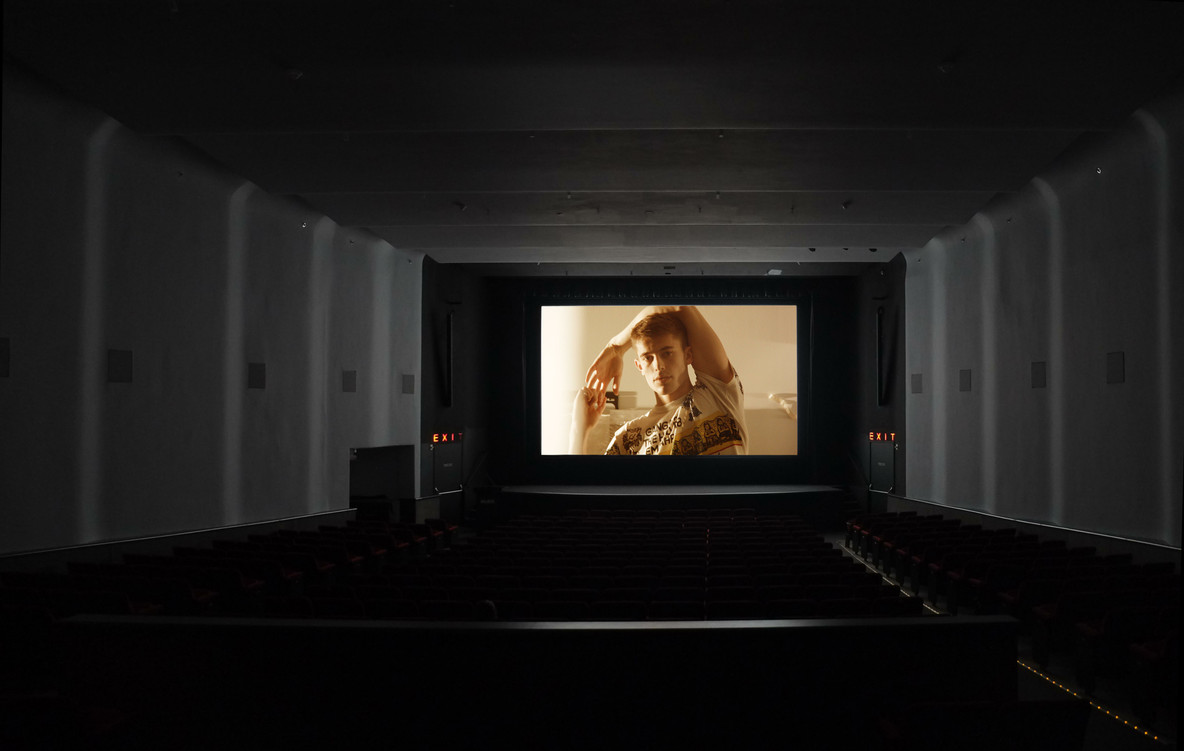 View of the June 28, 2021, DCP test of Ken Okiishi's Vital Behaviors in MoMA's Titus Theater 1
I think we had both had a few intense reactions, and one was about how the film, made in 2019, which plays on these ideas of social media, online personae, and the total emeshing of devices and software in our daily lives, felt…unaffected by the elapsed time, at least as we sat in the theater together. It's not that COVID-19 hasn't deeply altered our lives and societies, but those changes that many perceived to be related to the pandemic were, in fact, already there in 2019.
Yes—people hate it when I remind them now, but everyone complained about how NYC was totally played out in 2019. Paradoxically, or more precisely, against the grain of what we are supposed to believe, most people I know are saying that NYC has never felt as alive as it did in the summer of 2020 and right now, in the summer of 2021. There's a difficult relationship to death in the present—and the forms and processes of mourning and survival that have emerged do something to claiming bodily existence in a city that I have not seen in a long time. I think many of the transformations that happen in thinking and being in Vital Behaviors between memory and online/offline existence track with the paradigm shifts.
In your work, you've been reflecting and relishing in these ideas for 20 years and more, and I'm curious how you think about timeliness and the idea of zeitgeist as these vectors of self-identity, collective identity, not to mention the identities that are sold and packaged to us onscreen and offline. In no particular order, I'm thinking of late '90s Manhattan, Kids, public space under Mayor Giuliani, chat rooms, Keanu Reeves, Occupy Wall Street, the art market, of course social media. Somehow it seems that many of your questions and concerns have stayed the same, but the expression of those ideas in the world is what constantly shifts.
Yes—it will often be, also, that something that I am tracking and thinking about eventually accelerates in a way that a work that was difficult to understand suddenly becomes legible. In a world where the difference between modes of existence accelerated into stark relief in the past year, Vital Behaviors has gained a certain intensity.
It also occurred to me that some of your videos that you and I have talked the most about (Telly and Casper [2000], which we're showing online; The Deleted Scene [2012], and Vital Behaviors [2019]) are separated by roughly 10 years. This may be overdetermining things, but that made me curious about how distance might be important in your work.
Early on, when social media (Friendster) was just starting out, I didn't like the way I felt when I was on it, and that it also seemed to put all aspects of life, public and private, on the same level of access, which totally freaked me out. So I didn't do it. Which now sounds, of course, a bit insane—but I continued not to do social media, and then that also became a way of being able to see things in a certain light, almost a classical notion of distance and observation. Which is not to say that I don't suffer from FOMO—there are also moments, of course, when there is the big FOMO of living in a world cut off from a groupthink that can make you feel kind of out of it. But a lot of this kind of information can be felt in conversations or even just walking down the street—it's a way of seeing the effects or the latent aspects before they "blow up" or "go viral" or whatever it is that happens when something gets a lot of likes.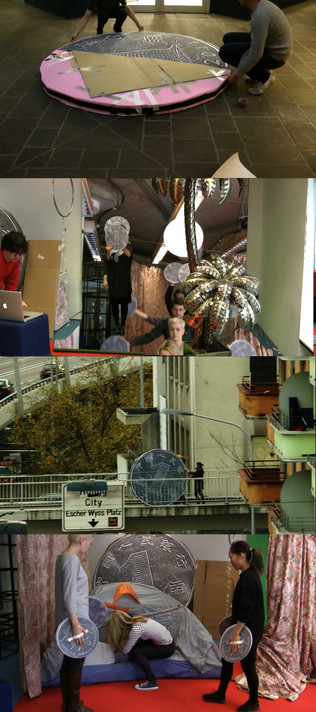 Still from Ken Okiishi. The Deleted Scene. 2012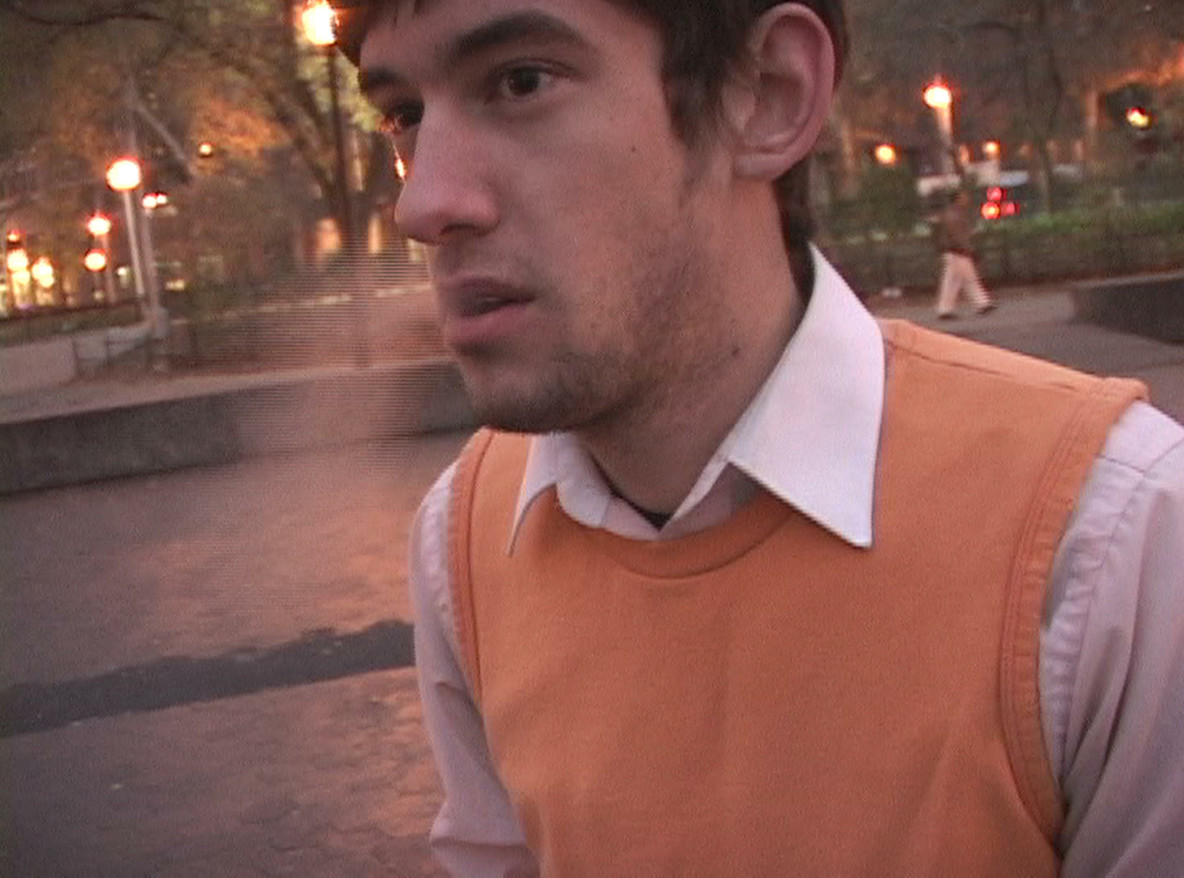 Still from Ken Okiishi. Telly & Casper. 2000
The strange thing about the passing of time seen as a kind of "distance" is the tendency to see time in loops, recurrences, cycles—because I think this generates a willful blindness. This is another way of saying that my general methodology of working is walking or riding a bike around and seeing what is going on—and then trying to find a set of mediums/methods/processes that can develop to activate critical frames of vision and thinking, and also, perhaps, activate potentialities other than what systems of optimization would have us all become.
There is another distance too, about cities, and how our interconnectedness in a global-capital-cultural network ebbs and flows. Berlin as a specific place in certain times in your life and work; New York and its enduring reinvention and self-image. Does Vital Behaviors denote a specific urban space for you? Or this more amorphous space of social media that is everywhere and nowhere?
It's both at the same time for me. I was noticing the ways in which social media culture was interacting with urban space, and these kind of glowing silvery people would appear—these kind of Instagram creatures. Near my studio, there were these blocks on Broadway that suddenly became all Matcha, CBD, and fast health-food restaurants that had the texture of an app—and signs everywhere, "Order me on an app. Order me on an app." Or I would walk into a store, and they would say, No, you can't buy this thing, but you can order it on an app. And I was like, why on earth would I walk down the street if I can order it on an app? The neighborhood, with one of these typically bad NYC real estate chimeras, NoMad, is also where I did my first Soulcycle class with Brian, the person who became the star of Vital Behaviors.
And that's a perfect transition into our next conversation! I'm so delighted to be returning to MoMA's cinemas through your work, in this way that's thinking deeply about what happens when we gather in a theater. Somehow, the social, communal, and also conceptual power of that encounter is felt more strongly than ever, in this still transitional and self-aware moment for the medium. As we used to say as a sign-off...See you at the movies.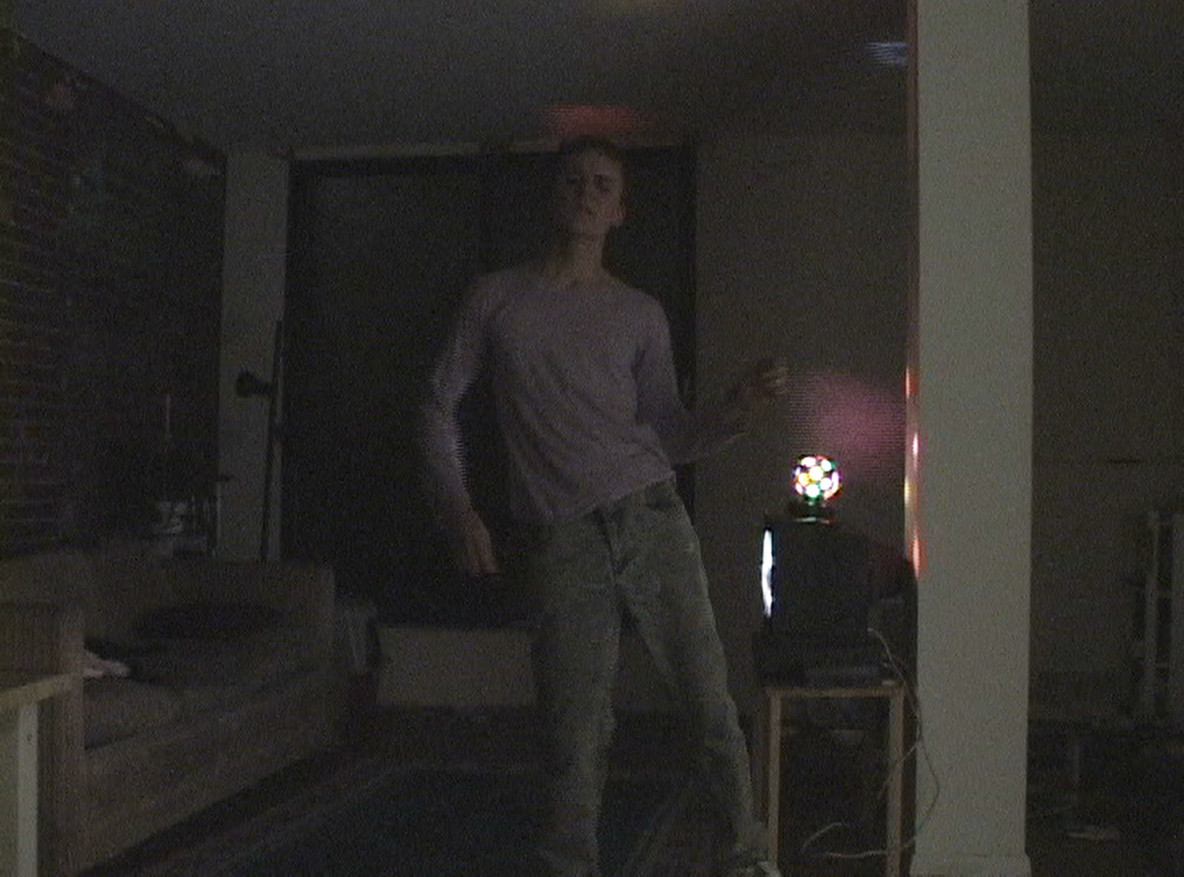 Still from Ken Okiishi. Telly & Casper. 2000