Inside the Early Days of the Pandemic in Wuhan and the US
Nanfu Wang's acclaimed film In the Same Breath launches our 20th annual Doc Fortnight festival.
Below, curator Sophie Cavoulacos introduces In the Same Breath, which she selected to open Doc Fortnight 2021. You can stream the film and a Q&A with the filmmaker March 18–23 on Virtual Cinema, available exclusively to MoMA members. Not a member? Join today to start streaming.
For two decades, MoMA's Doc Fortnight festival has held a special place in the calendar of movie-loving New Yorkers: in the dead of winter, a chance to discover brand-new films scouted from festivals far and wide, and an occasion for our city's documentary community to gather, exchange, and celebrate. This year the festival looks quite a bit different, presented on MoMA's Virtual Cinema (we can't wait to see you back in the theaters when we can safely do so), brushing up to spring, and coinciding with disconcerting anniversaries that echo, day by day, the coronavirus's rapid spread across the New York City area.
I can't think of a better guide in this ­still-uncertain moment than In the Same Breath, the newest film by acclaimed documentary filmmaker Nanfu Wang and the opening night selection for this 20th edition of Doc Fortnight. Sparked by her own experience at the start of the pandemic, and informed by her binational perspective, Wang charts an eye-opening account of the virus's course in China and the United States, ultimately drawing parallels between the two. In January 2020, searching for information about an outbreak so little was known about, Wang discovered that material circulating in online forums about early cases in Wuhan was being taken down, and began compiling an archive of these urgent, fleeting dispatches. She quickly set up a network of camera operators and directed them—from New Jersey (talk about remote work!)—to create, on the ground, a timeline of events that had been suppressed by Chinese state media.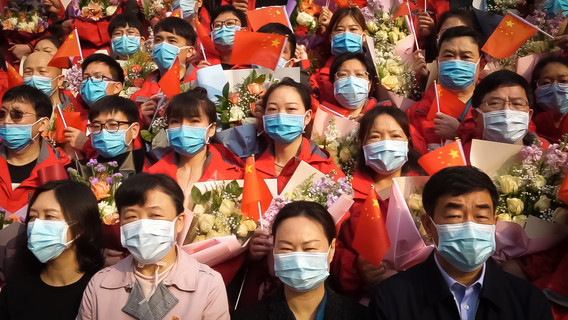 In our recent conversation about the film (which you can watch on Virtual Cinema), Wang described the unsettling feeling that came over her as she became surrounded by many of the same distressing events she had witnessed from afar, which quickly became part of the film. Turning its focus stateside, In the Same Breath establishes a sobering record of gross unpreparedness, overburdened hospitals, reprisals against whistleblowers, and how misinformation was filtered through news media and politics. Wang records the pandemic's front lines in this nation in every sense, combining heartbreaking interviews with health care workers (which remind us, continually, of the need to grieve) with reopening rallies around the country.

A still from the Virtual Cinema conversation between Sophie Cavoulacos and Nanfu Wang
In the Same Breath's powerful message is that, long after we wait in line to get our vaccine shot, the combined threat of misinformation, political power, and nationalism will still be with us. Since the film's completion, the events of January 6, racially disproportionate vaccine distribution, and continued violence against Asian American communities are all sobering reminders that there is no "getting back to normal" from here.
And yet, perceiving this tumultuous year through a filmmaker's eyes ,which viscerally felt different from the endless news streams I have absorbed, I felt inspired. I was struck by the range of Wang's imagery: original footage, social media images, talking heads on television, surveillance video, even X-rays of early infected lungs. Wang spoke movingly of this visual record: "A lot of those lives are gone now, which occurred even in real time of working on the film. We gathered thousands of X-rays posted onto that forum. The crucial decision in making this film came from knowing that those people are dying every day—by the time we got in touch with them, they had passed away. The fast montage of X-rays you'll see is a record of lives passing in front of us."
Thinking of X-rays as a filmic image, as a record of our time, has left me with a renewed sense of cinema's power in representing the most significant narratives around us. Wang has combined reportage with media literacy, critically reading mass media, politics, and visual culture in real time. Other directors in Doc Fortnight unearth hidden truths and untold stories through archival research, personal essays, field recordings, family history, reenactment, and even myths, music, and daydreams. Are these all the stuff of documentary? The conversations we've been recording with the filmmakers over the past weeks dissect all of these questions and more. A year into our cinema closure, speaking into the void of a digital video is no less strange, but it makes us so happy to know that you're watching.