How Can We Reclaim the Story of a Place?
Architects V. Mitch McEwen and Emanuel Admassu craft alternative visions of architecture in New Orleans and Atlanta.
It wasn't until my early twenties that I was able to visit the Cummer Museum of Art & Gardens in my hometown of Jacksonville, Florida—and it's not out of a lack of interest or time. I never visited the Cummer because no one told me it even existed. Between repeat field trips to historical sites like Fort Caroline and the Museum of Science History, none of my teachers ever thought to take us to North Florida's only art museum.
When I reflect now on my relationship to museums, I carry feelings of not belonging. Because like many places across the United States, art museums in particular have a history of refusing Black and brown people.
Architect V. Mitch McEwen makes this very point in an interview with the New York Times about the exhibition Reconstructions: Architecture and Blackness in America. Having only collected two works by Black designers throughout its 92-year history, "MoMA created an effectively Whites Only architecture archive and department, by design." And the same applies to many cultural institutions within and beyond New York City.
My first visit to the Cummer was to see Augusta Savage: Renaissance Woman, an exhibition curated by Dr. Jeffreen Hayes, and one of the first times Black women have seen ourselves reflected within the museum's galleries. Featuring archival documents, tenderly rendered portraits, and exquisite sculptures, the exhibition felt like a love letter to the artist, who, despite playing an instrumental role in the Harlem Renaissance, is often forgotten or left out of history altogether. Born in North Florida, Augusta Savage began making art by sculpting the red clay surrounding her home in Green Cove Springs. These early experiences galvanized her future as an artist, educator, and community organizer. Yet Savage was never mentioned in my classrooms. In Dr. Hayes's words, Black women artists "tend to be a footnote in our history, not getting the same level of scholarship that their male counterparts received."
As Reconstructions co-curators Sean Anderson and Mabel O. Wilson affirm in an interview featured in the online course Reimagining Blackness and Architecture, we feel the impact of Black makers and creatives every day, and it's crucial that we continue to preserve, uplift, and celebrate their stories. What if Jacksonville, a city cementing Andrew Jackson's histories of exploitation and violence, was instead named after Augusta Savage?
"What if...?" This question permeates every work in Reconstructions.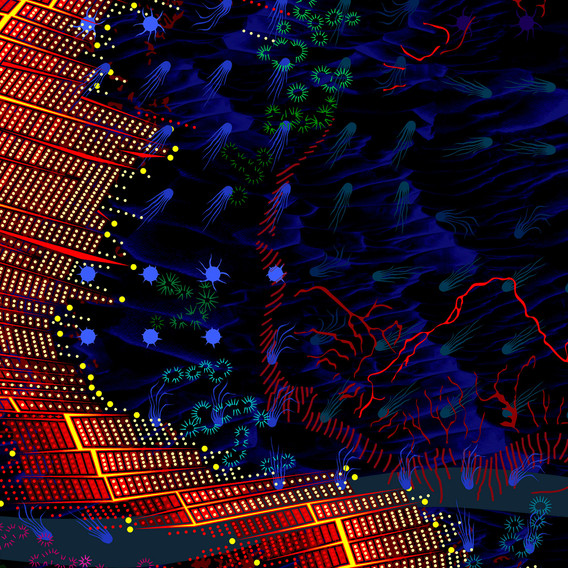 Emanuel Admassu. Planetary Scar (Mid-Atlantic Ridge). 2020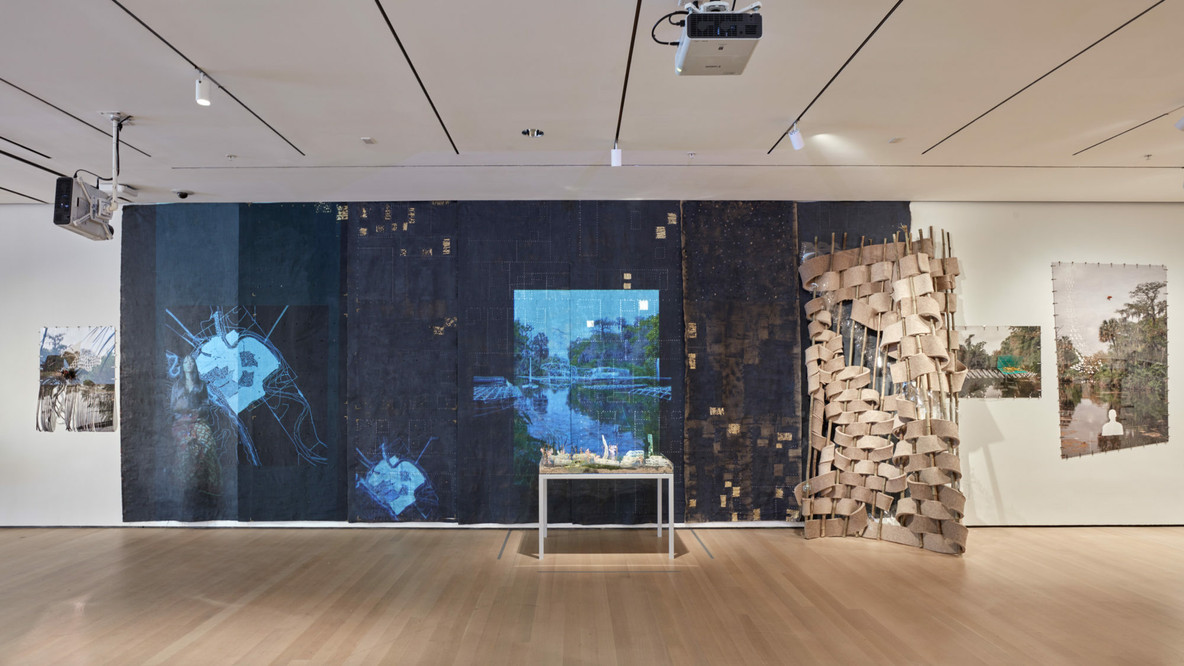 Installation view of Reconstructions: Architecture and Blackness in America, The Museum of Modern Art, New York, February 27–May 31, 2021
R:R, or "Republica:Reconstructed," is V. Mitch McEwen's project that considers an alternative outcome to the German Coast Uprising of 1811, during which nearly 125 enslaved people marched to New Orleans, Louisiana, setting fire to the prisons, also known as sugar plantations, along their path. McEwen uses this historical event as a launching point to ask, "What architecture would Black people have already invented if we had been truly free for the last 210 years?"
Based on a conceptual framework developed by New Orleans–based artist and collaborator Kristina Kay Robinson, R:R proposes an architectural imagination of Republica, the capital city of an independent Black nation-state founded from the success of the 1811 Rebellion.
What architecture would Black people have already invented if we had been truly free for the last 210 years?
V. Mitch McEwen
When asked to describe her vision for Republica, Robinson responds with lucious poetry: "Republica smells like rain, oud, bakhoor, trinity seasoning, frankincense, coffee, and fresh bread baking. It is hot and wet. People live on land and water. It is advanced architecturally, though what constitutes the basis of 'advanced' might be different than in the rest of the continent. Their system for building on land and water prioritizes the environment's integrity. ...There is always a lot happening in public space. Socializing, learning, working and celebration is kind of a continuum."
Evoking this rich description, R:R brings together architectural models of multiple scales, film and moving image, photography, and textiles to illustrate the different textures of Republica. Digital drawings show foundational structures equipped to collect flood waters; public spaces that have been elevated to heights that protect people's homes and communities. Felt wrapped around bamboo and the braided plastic of swampland photographs indicate one way we can be (and have been) the builders of our own communities despite the continued displacement of Black people from public landscapes and architectural histories.
Together, R:R's components offer new ways of seeing New Orleans—as a city teeming with legacies of Black resistance and the possibilities of liberation.
At the bottom of the Atlantic Ocean lies the Mid-Atlantic Ridge, a planetary scar that divides the continental plate of Africa from those of the Americas. For architect Emanuel Admassu, this geographic marker is a site for the formation of Blackness: "The constructed ideas of racial categories, of black and white, only begin to gain power once they're juxtaposed next to each other. So the moment you cross that line, you become Black."
At its founding, Atlanta, Georgia, began as a terminus for railroad lines connecting Georgia's port to the mainland, and this history—along with Admassu's memories of moving to Atlanta from Addis Ababa, Ethiopia, as a teenager—links the city to the Mid-Atlantic Ridge. "Atlanta has always been this space of movement," says Admassu, "and it eventually becomes a really welcoming space for people moving to or within America."
Yet what makes the city a welcoming place is not its architecture, but the Black people who have continually imagined "liberation within spaces of containment."
Generated alongside Admassu's creative partner Jen Wood, Immeasurability seeks to redefine architecture, asking what the discipline might look like if it decoupled itself from the idea of property.
With his studio, AD–WO, Admassu offers a response grounded in Atlanta's shifting urban landscapes. Models of highways, homes, and stores sprout from a steel disc, all covered by magnetic black sand found along the Mid-Atlantic Ridge, whose contours are outlined on a central tapestry. Flanking its sides, landscape photographs are punctured by Waffle House signs, the bright yellow squares transforming the scenes. These elements represent the "everyday practices [of] people who are living in Atlanta, who are finding ways to occupy the highways, the streets, the parking lots, strip malls, and so on."
What emerges from Immeasurability is another Atlanta, one that focuses on the connectivity of spaces found in everyday Black life—in the booths of Waffle House, among the faded outlines of parking lots, and on the sidewalks where open car doors pour music into the streets. In this Atlanta, the sounds of the city's six interstate highways merge with those of the forests and the rhythms of trap beats to form a unique music of its own—one that cannot be easily defined.
Both R:R and Immeasurability resist Eurocentric definitions of architecture that depend on measurement as a tool for dividing, distributing, and dominating landscapes and people. Such rich complexity and limitlessness is what makes all the works in Reconstructions speak to each other and to me.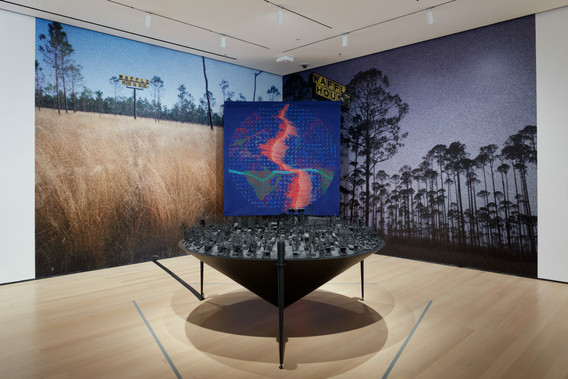 Installation view of Reconstructions: Architecture and Blackness in America
Reconstructions: Architecture and Blackness in America is on view through May 31. You can now enroll in MoMA's new online course, Reimagining Blackness and Architecture. Through original films, audio interviews, and short readings, the course will introduce learners to the ways in which Black artists, architects, scholars, and writers have responded to these histories of violence and exclusion to create new ways of being, reimagining the spaces that have refused us.
The exhibition is made possible by Allianz, MoMA's partner for design and innovation.



Volkswagen of America is proud to be MoMA's lead partner of education.



MoMA Audio is supported by Bloomberg Philanthropies.