"Love Poem for You Beyond": Wendy Xu on Luigi Ghirri
A hypnotic album of photographs, unseen for decades, inspires a poet.
"Ghirri's work transports me somewhere parallel to the known world," says poet Wendy Xu. "It's not backwards or forwards in linear time (the past or the future), it's somewhere…more surreal and exciting." Xu, whose collection Phrasis was named one of the 10 Best Poetry Books of 2017 by the New York Times Book Review, spent part of the spring thinking about Ghirri's photographs. We asked her to write about the Italian photographer's Cardboard Landscapes, a fascimile edition recently published by The Museum of Modern Art of a handbound album of 111 photographs, which Ghirri gave to John Szarkowski, then the director of the Department of Photography at MoMA, in the 1970s. "I love how much of his work captures the passage of time and the inevitable sorrows that accompany it, but with a touch of humor," explains Xu, a Brooklyn resident born in Shandong, China, whose "Love Poem for You Beyond," inspired by Ghirri, appears below. "As paper depicting a human face degrades off a brick wall over the course of many photos, for example, the feelings of elegy and irony intertwine powerfully. A depiction of a depiction fading out on its own time." Xu joins a number of esteemed poets who have written original poems inspired by works in MoMA's collection.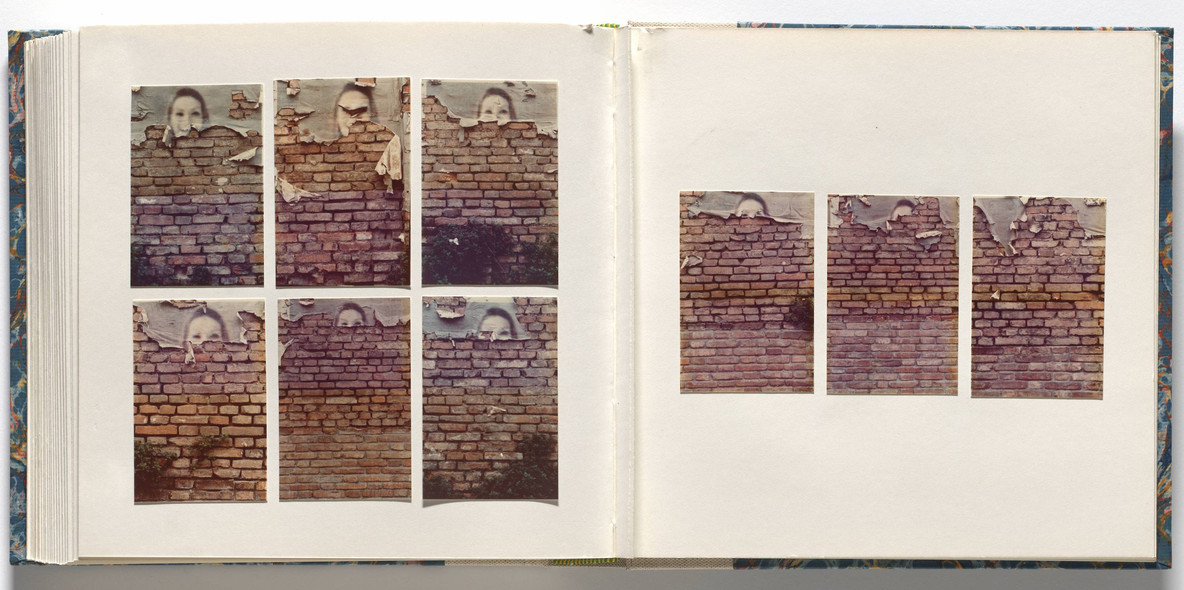 Luigi Ghirri. Cardboard Landscapes (detail). 1971–73
LOVE POEM FOR YOU BEYOND
after Luigi Ghirri
Like a mountain if not
for the shadow
betraying mountains, rare glossy curdle
of light that glints at the edge of you, yet
I do my work
and it is always against depiction, thoughts suffering
for the want of it, a sterling magnetism connects
your inner light
to mine
You are here with me in the wrinkle or twang of blue
How else can time know
we allow it to pass after all, just beyond you
a fantasy of seeing everything
Brush-hazy sky and white clotted clouds, time folds
the gentle brick's seams into sky, like steam
folding paper, brick folding only against real sky, wanting
to see you there
to say you
and mispronounce the memories that hurt
If a stem of pinkish crepe, a row of vase-like hollows in reverse should enter
your right eye,
Watch before it passes into the data bundle
I don't want to improve you, I want to take
a photograph of your time on earth
When the thought of something reckless like a flipped corner
you could pull to reveal
the next world
wafts from the on-screen chimney
Giddily I place my nose into the stream,
It sings
Luigi Ghirri. Cardboard Landscapes (detail). 1971–73
Wendy Xu's new collection of poems, The Past, is forthcoming from Wesleyan (2021). She teaches poetry at the New School.