Drawing, from a Starting Point of Zero
The curator of Degree Zero traces a revolutionary concept that inspired postwar artists.
Degree Zero: Drawing at Midcentury is on view at MoMA through June 5.
Stunde null, or the "zero hour," was the term used to mark the end of the Second World War that came with German surrender on May 8, 1945. Within a few years this rhetoric of reset, signifying a decisive break with a dark past and a launch into a new future, would begin reverberating through the cultural sphere as well. Throughout the period between 1948 and 1961, the word "zero," and its attendant concept of absolute renewal, could be heard cropping up regularly, and internationally, in the realms of art, literature, and film. During the war cities had crumbled, the human cost had been devastating, and the moral consequences were worse. Aesthetic traditions, it was clear, had to be detonated and reimagined, too.
"So one must begin again from scratch," declared French philosopher Jean-Paul Sartre, writing about the work of Alberto Giacometti in 1948—the same year that Germany Year Zero, a film by the Italian Neorealist filmmaker Roberto Rossellini, followed a 12-year-old boy through a blown-out Berlin. As the concept of renewal increasingly shifted away from politics and toward aesthetics, the French artist and critic Michel Tapié wrote admiringly, in 1952, of the "genuine departure from zero" that was possible in an America unburdened by the "clichés and…plagiarisms" of Europe's artistic tradition. Two years later, the French critic Charles Estienne also equated "a total liberty of expression" with the idea that "each time means to start from zero"; he found this liberty possible in Europe thanks to the revolutionary tache of Tachisme, which he defined as "the zero degree of plastic writing, the zero degree of the birth of the work."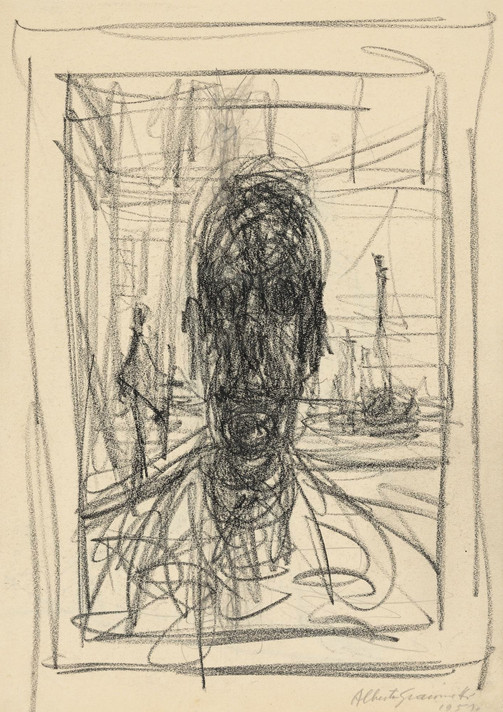 Alberto Giacometti. Portrait. 1951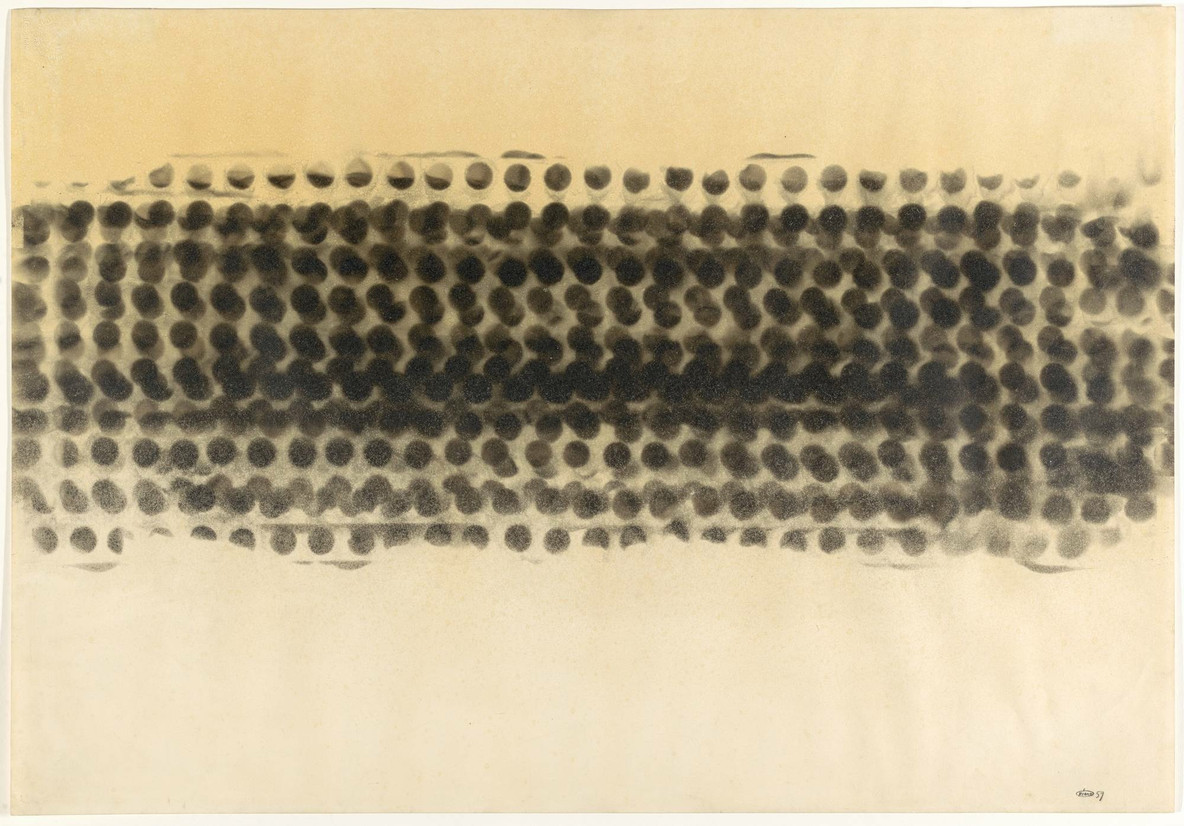 Otto Piene. Untitled (Smoke Drawing). 1959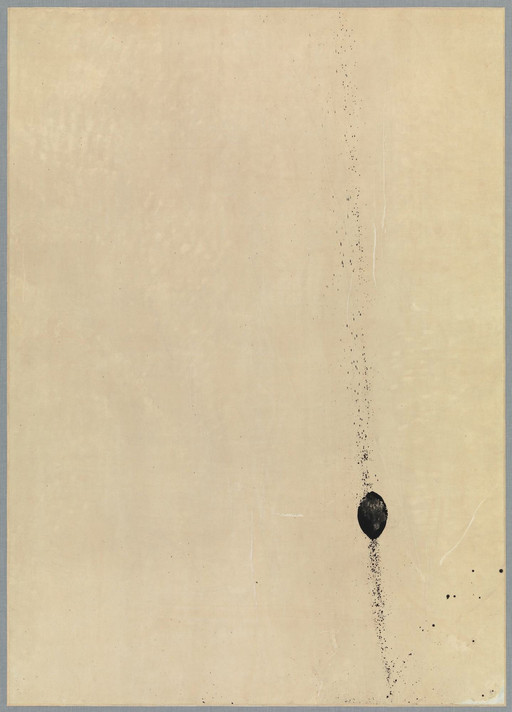 Saburo Murakami. Work Painted by Throwing a Ball (Tōkyū kaiga). 1954
In Japan, where military defeat changed the stakes of starting over, artists founded the Zero-kai (Zero group) in 1953, with the idea that "Zero means 'nothing.'" As member Saburo Murakami explained, "Start with nothing, completely original, no artificial meaning." In 1957, the ZERO group was created in Düsseldorf, with its title—as cofounder Otto Piene later reflected—indicating "a zone of silence and of pure possibilities for a new beginning as at the countdown when rockets take off—zero is the incommensurable zone in which the old state turns into the new." Even by 1961, when gestures of abstraction began to give way to the accumulations of Pop, and the war's rubble was being rebuilt into the Berlin Wall, the sentiment lingered. "I am for an art that grows up not knowing it is art at all," Claes Oldenburg wrote in a 1961 manifesto, "an art given the chance of having a starting point of zero."
In literature, this impulse manifested most notably in Writing Degree Zero (1953), the French literary critic Roland Barthes's first book, in which he espoused "the search for…a zero level…of writing." According to Barthes, in attempting to be "neutral," "colorless," and "transparent," this almost journalistic mode of expression would achieve "a style of absence which is almost an ideal absence of style." This mode, he maintained, would mean shaking off the conventions of language that customarily embed it within a particular historical and social milieu, those that have heretofore defined language as "a corpus of prescriptions and habits common to all the writers of a period…a kind of natural ambience wholly pervading the writer's expression…." It's a proposition that applies as much to a visual language as to a written one—especially at this historical moment, when the former often aspired to the condition of the latter.
Just as the mindset of the postwar reset manifested across cultural disciplines, within the realm of visual art it manifested across mediums. After all, Tapié was praising the paintings of Jackson Pollock, and Sartre's essay on Alberto Giacometti was about sculpture. But there was one medium that was particularly suited to embodying this attitude. Though one would be forgiven for thinking, thanks to the many histories of postwar art, that pretty much all that was made between the late 1940s and the early 1960s were large American paintings, drawing—from an international roster of artists—was in many ways the ideal medium for a degree zero moment.
Materially, this approach often manifested in a particular kind of mark-making—a graffiti-like scribbling, an elemental scratching—that is at the heart of what drawing is. It's an impulse visible in the skeins of works on paper by Jean Dubuffet, who in the early 1950s used the French word graphismes to refer to his drawings. At the end of the decade, the Fluxus artist Dick Higgins began his Graphis series of score-like drawings, about which he wrote, "'calligraphic' patterns can be permitted to arise from the material or the environment." Though perhaps it is Cy Twombly whose work, with its free and furious scrawls, is most associated with this quality of graphism: one that lies between language and art, and rhythmically records impression and experience through gesture and line. Concerned with the project of shaping something coherent from powdery dust and ash, drawing at midcentury was unabashedly graphic—and by turns calligraphic, topographic, and choreographic—in its methods and meanings.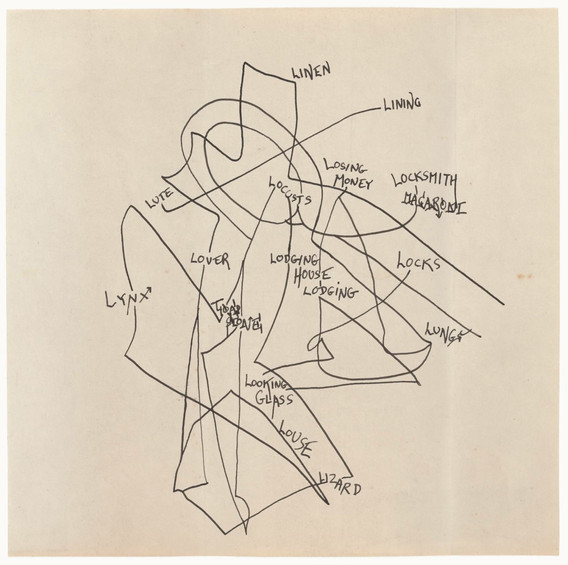 Dick Higgins. Graphis No. 82. 1960
Norman Lewis. The Messenger. 1952
In the 1950s, at a postwar moment when national identity was particularly freighted, a complex conversation around calligraphic drawing arose at the nexus of American, European, and Asian art. A 1954 exhibition of Japanese calligraphy at MoMA, which featured works by artists such as Morita Yasuji and Osawa Gakyū, reflected an interest in what the press release called "this new abstract calligraphy," which "seeks primarily to exploit the pictorial values of the written symbol, making legibility incidental." Meanwhile, American artists like Franz Kline, David Smith, and Norman Lewis were heavily influenced by Japanese calligraphy—though Kline would later deny it, despite his extensive engagement with the Japanese Bokujinkai circle, or "group of people of the ink." Presumably Japan, its position weakened after its wartime defeat, was not a suitable interlocutor for the virile Abstract Expressionist. But European artists happily took up the mantle; Pierre Alechinsky even traveled to Japan to make the film Calligraphie japonaise in 1956.
If calligraphy was one graphism that appeared in postwar drawing, topography was another, as artists surveyed new physical and psychological landscapes. Dubuffet incorporated figures and language into the whorls of an inky terrain, while Louise Bourgeois zoomed into a forest of follicles until they read like mountains or blades of grass. Jay DeFeo mapped the crumbling walls of Florence's churches, while Sari Dienes recorded, through rubbing, the peaks and valleys of a lower Manhattan gravestone. Dorothy Dehner charted the New City she found following her divorce from David Smith and her return to New York from an isolated Bolton Landing, while Beauford Delaney harnessed the electric energy of his adopted Paris. Ellsworth Kelly captured the play of shadows on a staircase in the South of France, while Georgia O'Keeffe found forms in the aerial view of a landscape from an airplane window.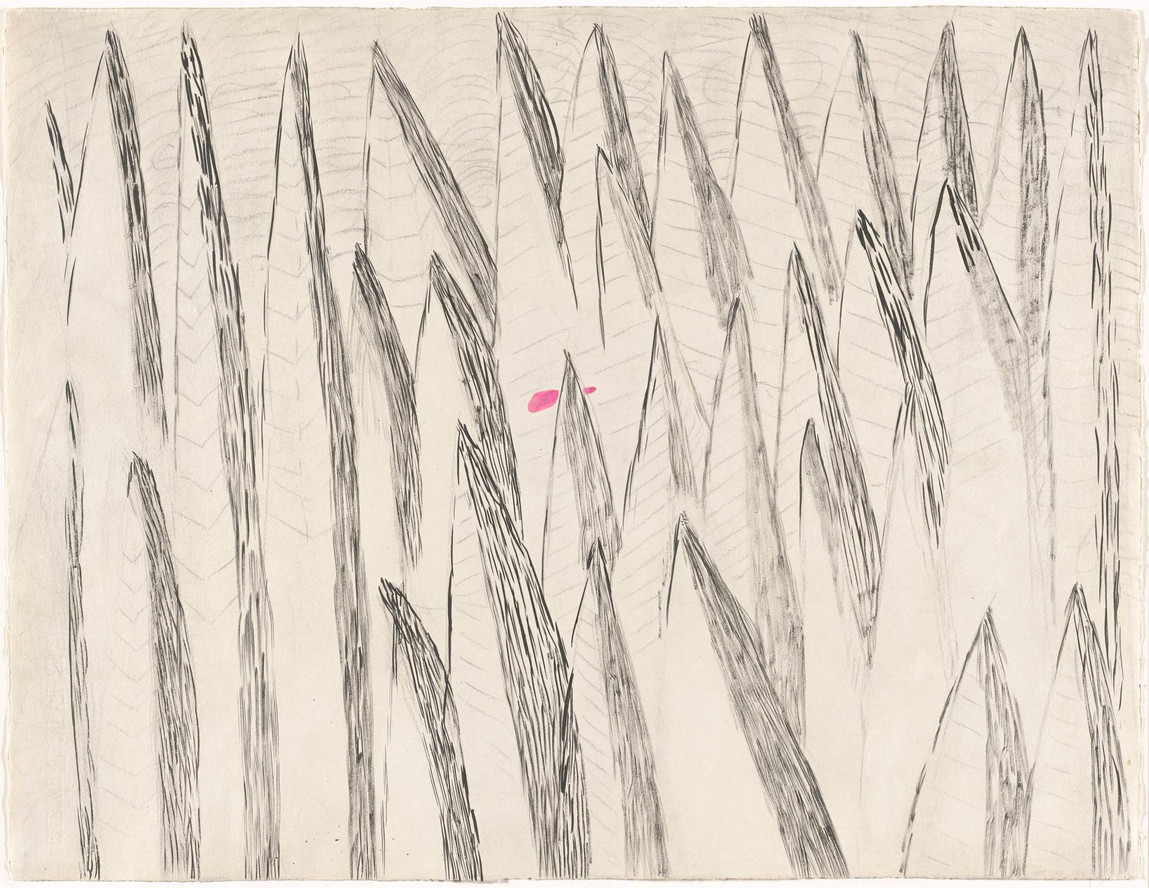 Louise Bourgeois. Untitled. 1949
Finally, drawing also took a choreographic turn during this period, expanding to encompass performative practices ranging from the aleatory to the expressionist. Merce Cunningham took pen to graph paper to plot the randomly derived movement possibilities of his Suite By Chance, while Gunter Brus—before enacting the violent feats of Viennese Actionism on his own body—recorded his aggressive kinetics in gouache on paper. In his 48-sheet scroll A Trip from Here to There, Beat polymath Brion Gysin engaged calligraphy, topography, and choreography all at once; starting from zero, the work dances a journey across Morocco in a pure, language-like line.