A Curator's Guide to Degree Zero Exhibition Highlights
Take a close look at 10 essential works from the exhibition, selected by curator Samantha Friedman.
Modest, immediate, and direct, drawing was the ideal medium for the period of renewal that followed the Second World War. Degree Zero features 75 drawings from MoMA's collection made between 1948 and 1961, spanning movements, geographies, and generations. These 10 highlights show some of the myriad ways artists started again from scratch.
Norman Lewis. The Messenger. 1952. Charcoal and ink on paper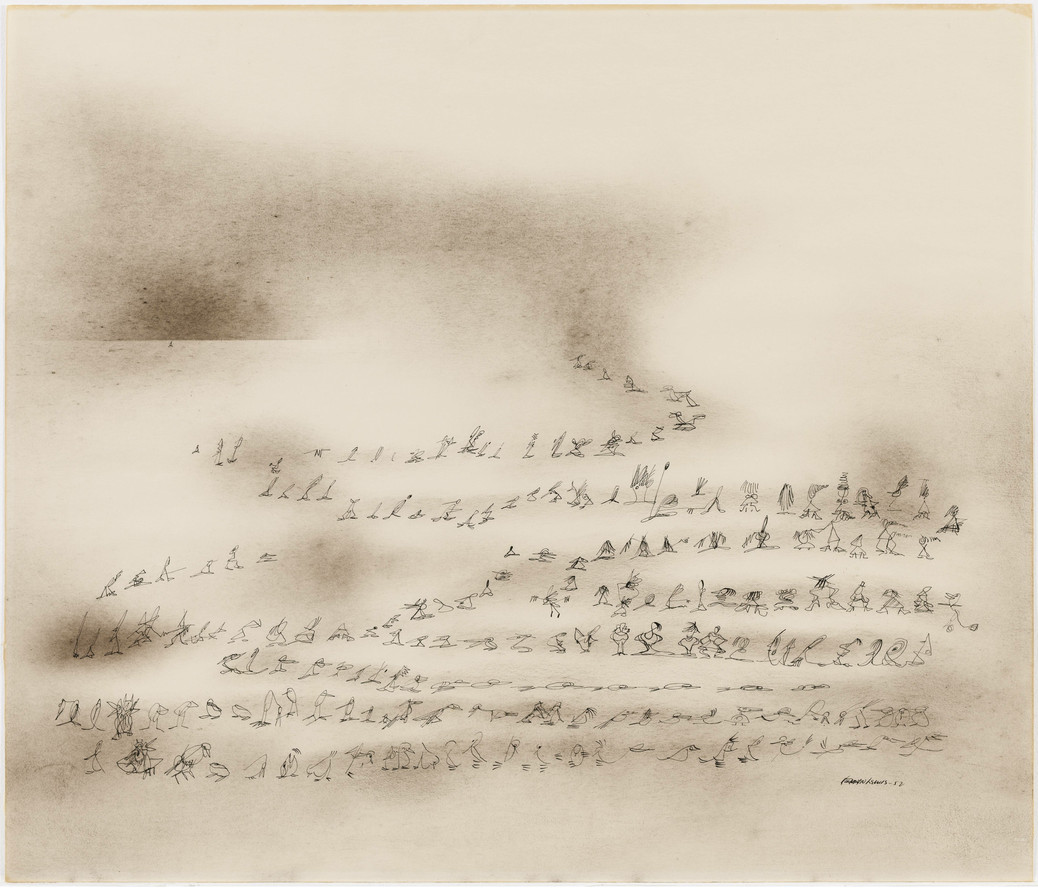 In this drawing, Norman Lewis exploits two mediums to create a unique visual atmosphere, contrasting hazy passages of charcoal with precise figures in ink. "The whole thing in a sense became calligraphy," the artist explained about the so-called "little people" motif seen here, in which "everybody was going some goddamn place and nobody was going anywhere."
Ellsworth Kelly. Study for Window, Museum of Modern Art, Paris. 1949. Ink and pencil on paper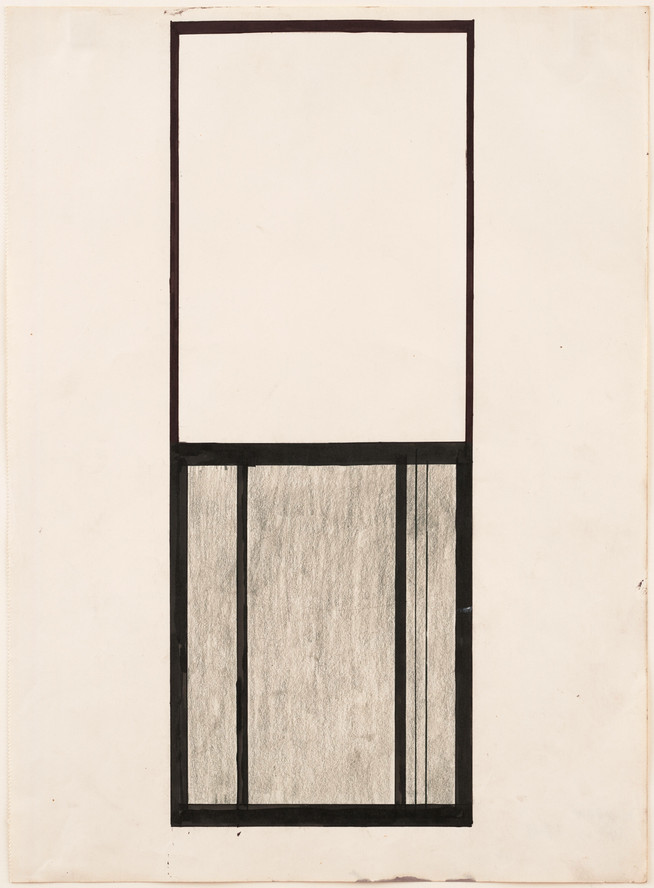 "Everywhere I looked, everything I saw became something to be made, and it had to be exactly as it was, with nothing added," Ellsworth Kelly explained in 1949. "It was a new freedom: there was no need to compose." While living in Paris on the G.I. Bill, the artist visited the Musée d'art moderne, where the shape of a window captivated him more than the art on view, resulting in this drawing and a subsequent painting.
Georgia O'Keeffe. Drawing X. 1959. Charcoal on paper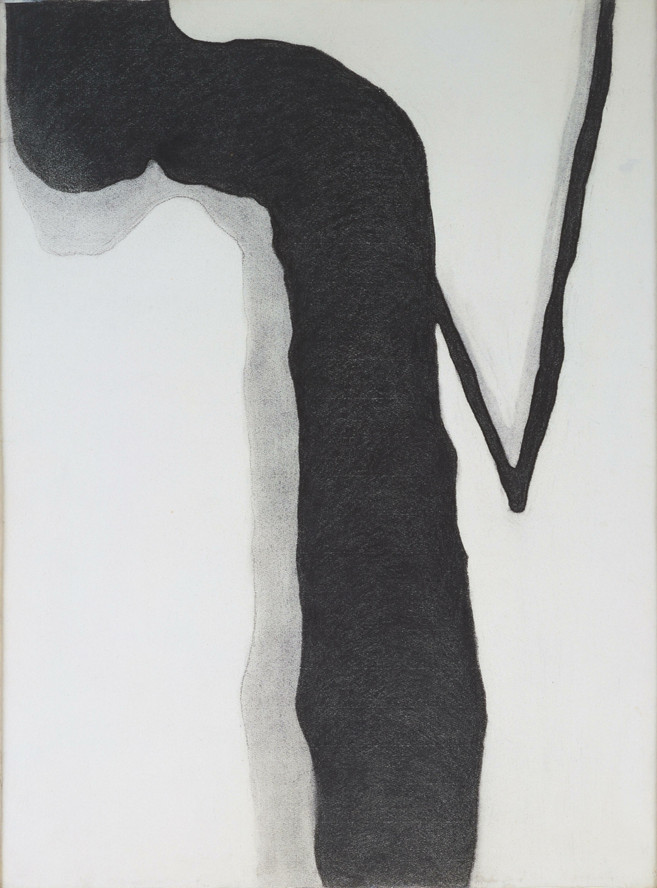 Made the same year Georgia O'Keeffe took a three-month trip around the world, this drawing was inspired by the aerial views of a landscape she witnessed from a plane. "The rivers actually seem to come up and hit you in the eye," she recalled, insisting that "there's nothing abstract about those pictures; they are what I saw—and very realistic to me." This approach—adopting forms from life and simplifying them toward abstraction—is similar to the one taken by the younger Ellsworth Kelly, whom O'Keeffe admired. "I've actually looked at one of Kelly's pictures and thought for a moment that I'd done it," she once said.
Hércules Barsotti. Drawing No. 1 (Desenho No. 1). 1958. Gouache on paper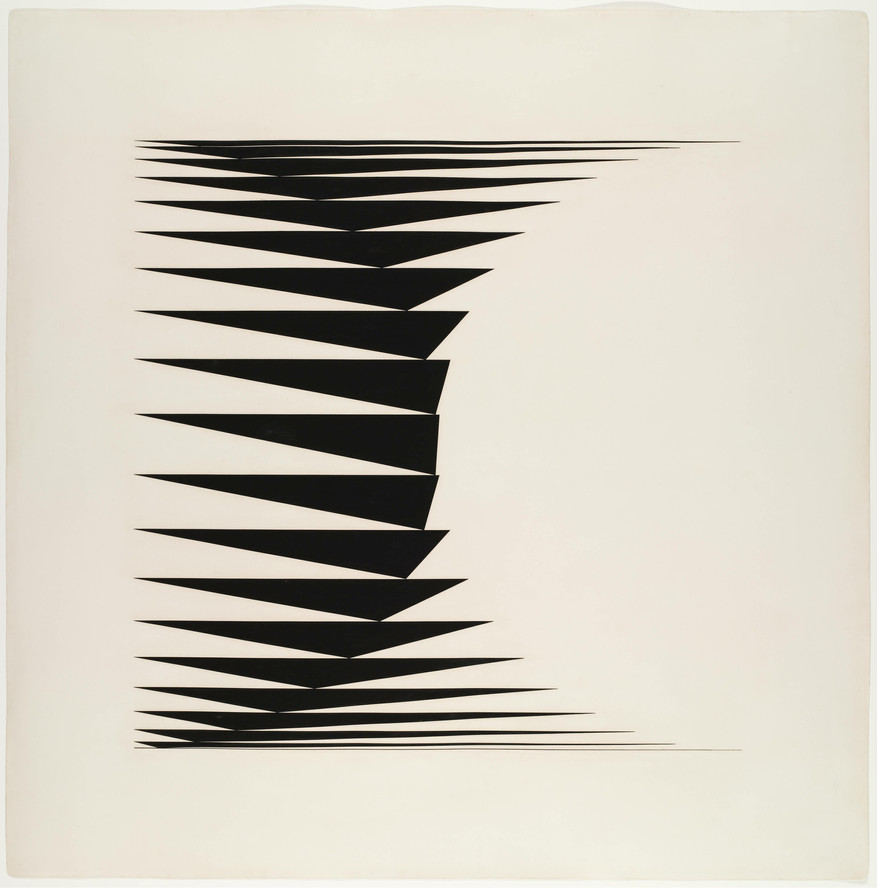 Hércules Barsotti made this drawing the year he and his partner Willys de Castro, whose work is also on view in this exhibition, left São Paulo to travel throughout Europe. Previously associated with the rational geometry of Brazilian Concrete Art, they embraced Neo-Concrete Art—which stressed a connection between art and life—upon their return. The graphic dynamism of Drawing No. 1, in which an arrangement of triangles produces an illusion of curvature and depth, testifies to this approach. "Using a minimum of resources—working with a line or a plane, with white paper and black ink," de Castro wrote of Barsotti's drawings, "he communicates to us portions of the unsettled universe."
Martín Ramírez. Untitled (Alamentosa). c. 1953. Pencil and watercolor on paper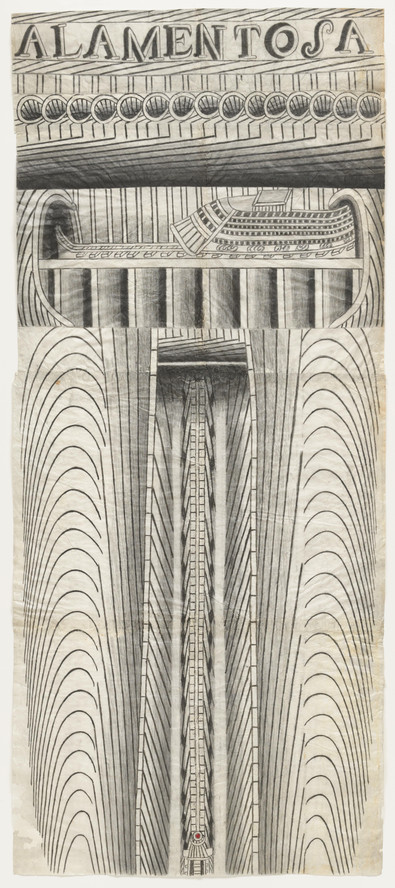 Five decades before MoMA acquired its first Martín Ramírez drawing, Tarmo Pasto, a professor of art and psychology who fostered the artist's practice at California's DeWitt State Hospital, brought Ramírez's work to the Museum's attention. "The fact that he is a non-communicative mental patient is beside the point in considering the validity of his art," Pasto wrote to MoMA's founding director, Alfred H. Barr Jr., in 1954, going on to praise the artist's "meaningful symbolism," "adeptness in handling," and "linear rhythm." Each of these qualities is visible in this monumental work, in which trains glide through horizontal and vertical tunnels.
Uche Okeke. Design for Iron Work I. 1959. Ink on paper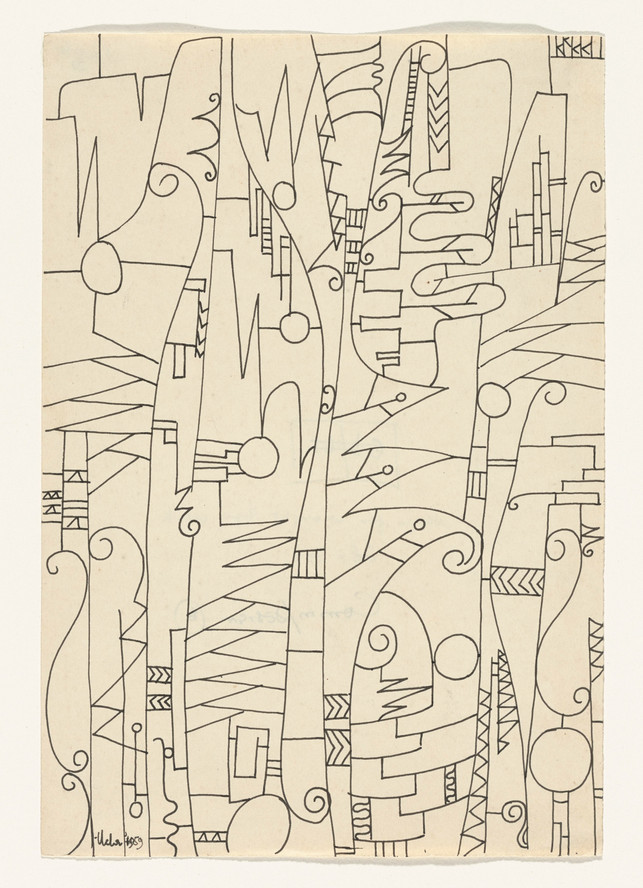 "Young artists in a new nation, that is what we are!" proclaimed Uche Okeke in 1960, the year Nigeria gained independence from British colonial rule. With fellow members of the Zaria Art Society, Okeke sought to create a "truly modern African art to be cherished and appreciated for its own sake." This drawing for ironwork adopts the lyrical curves of uli designs—traditionally practiced by the Igbo people of southern Nigeria in mural painting and body art—executing them with an imported pen and commercially produced paper instead of natural dyes.
Sonja Sekula. The Voyage. 1956. Ink and watercolor on paper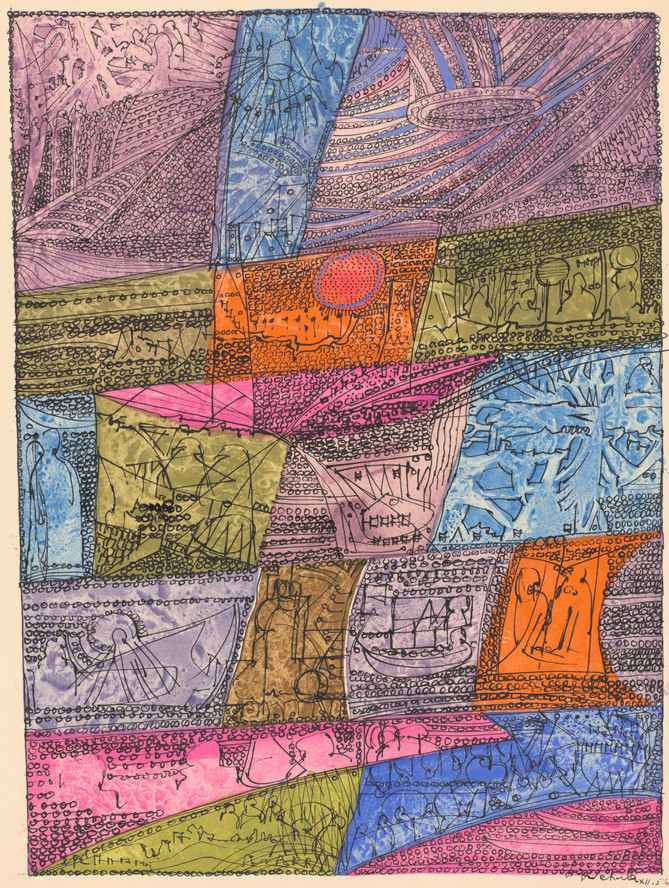 "Small size . . . suits my heart best," Sonja Sekula wrote to her dealer Betty Parsons in 1956. "The American public must have bigness. OK. But I stick to my own need and prefer to work small scale." The portable medium of drawing allowed the artist, who struggled with mental illness, to continue to work as she traveled back and forth between New York and her native Switzerland, where she received treatment. This transatlantic journey is alluded to in this work's title and in the ship that appears in one of its interior frames. Together, these jewel-toned zones suggest a narrative, as one might find in the panes of a stained-glass window.
Yayoi Kusama. Accumulation. 1952. Ink on paperboard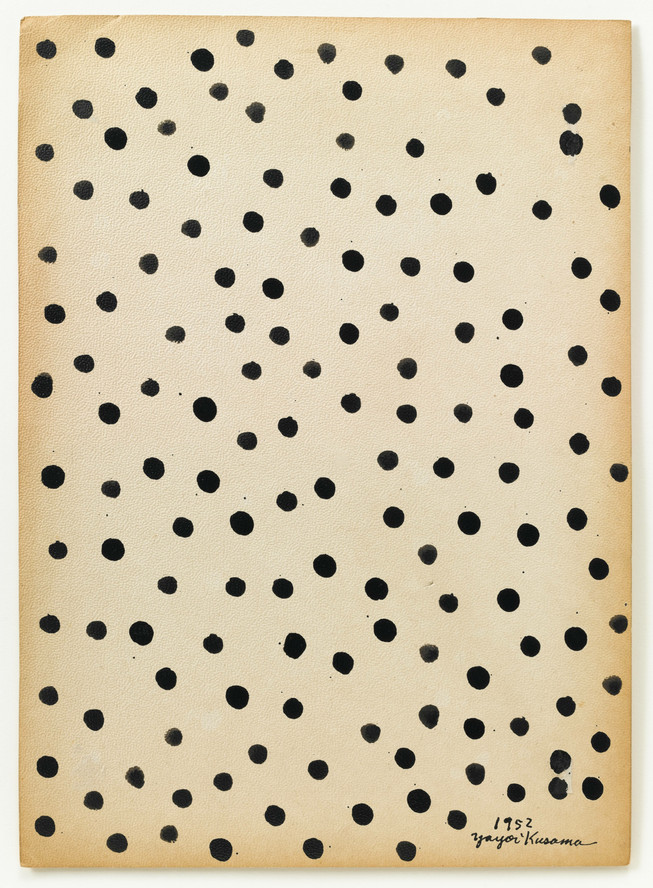 The early 1950s—a period when Japan was under American occupation—was a formative time for Yayoi Kusama. "During the dark days of the War," she recalled, "working with letter-size sheets of white paper, I had found my own unique method of expression: ink paintings featuring accumulations of tiny dots and pen drawings of endless and unbroken chains of graded cellular forms." According to Kusama, these forms contemplate the infinity of the universe and the individual's place within it: a single dot among many.
Saburo Murakami. Work Painted by Throwing a Ball (Tōkyū kaiga). 1954. Acrylic on paper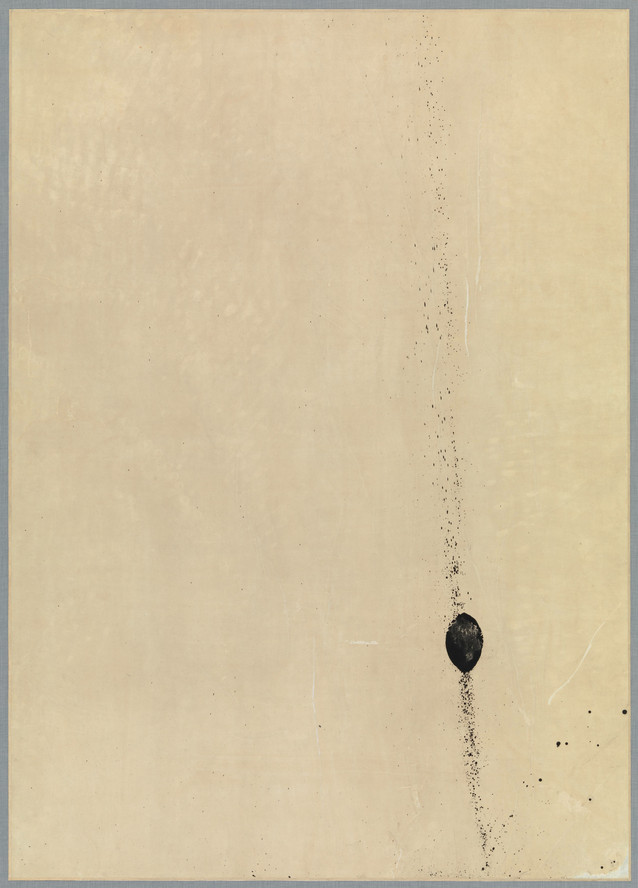 One of Saburo Murakami's Bōru, or "ball" paintings, this work's title summarizes the action of its making: bouncing an ink-covered ball against a sheet of handmade torinoko, or "egg paper." Though he would later become associated with Japan's Gutai group—which emphasized the body's materiality through performance—he made this drawing as a member of the earlier Zero-kai (Zero group). Murakami, who chose the group's name, explained, "Zero means 'nothing': start with nothing, completely original, no artificial meaning."
Otto Piene. Untitled (Smoke Drawing). 1959. Soot on paper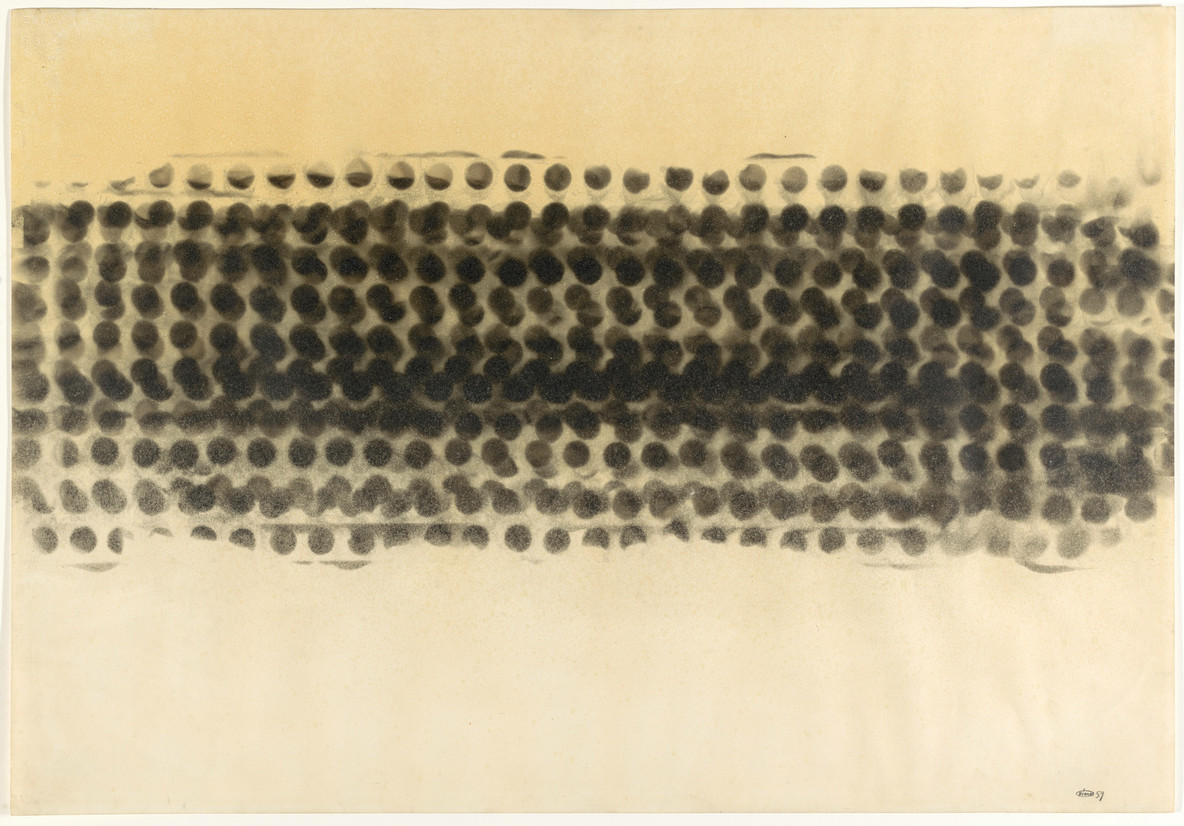 Otto Piene began making his Rauchbilder, or "smoke drawings," in 1959. His process involved setting up a mesh screen over a candle and placing a sheet of paper above so that "the smoke impressed the sheet with its vibration pattern." The idea of burning something in order to create something else was consistent with the philosophy of the ZERO group Piene had cofounded in Düsseldorf the previous year. "Zero is the incommensurable zone in which the old state turns into the new," he explained.