Flip Sides: Ellen Gallagher Goes a Long Way in a Short Time
Art historian and photographer Carol Armstrong traces rapid evolutions and common threads in two of Gallagher's works.
The text below is excerpted from the MoMA publication Among Others: Blackness at MoMA, edited by Darby English and Charlotte Barat. Chosen by the New York Times as one of the Best Art Books of 2019 and by Artnews as one of the Best Art Books of the Decade, Among Others is the first substantial exploration of a major museum's uneven historical relationship with Black artists, Black audiences, and the broader subject of racial Blackness. This is the final entry in our series of selected Among Others excerpts on Magazine.
A short three or four years separate two pieces by Ellen Gallagher: They Could Still Serve of 2001 and DeLuxe of 2004–05. Nonetheless, they encompass the far ends of the spectrum of her work: at one end, the minimalist, almost abstract tendency with which she began in the '90s; at the other, the image-rich, multimedium direction in which she has been going ever since. A quick perusal of the lists of techniques and materials that went into the making of each work begins to sum up the distance traveled: "dye, rubber cement, acrylic gel, oil paint, and pencil on paper mounted on canvas" in the first instance; in the second, "photogravure, etching, aquatint, and drypoints with lithography, screenprint, embossing, tattoo-machine engraving, laser cutting, and chine coll., some with additions of modeling clay, paper collage, enamel, varnish, gouache, pencil, oil, polymer medium, watercolor, pomade, velvet, glitter, crystals, foil paper, gold leaf, toy eyeballs, and imitation ice cubes."
They Could Still Serve is singular while DeLuxe is a grid of 60 individually framed pieces. And the titles say something about the two ends of Gallagher's spectrum of work as well: They Could Still Serve is outwardly referential, drawn from the caption of plate 24 of Goya's Disasters of War series (1810–20), whose image of wounded bodies being hauled off is nowhere to be seen on Gallagher's rose-stained paper, while DeLuxe is, at least in one sense, inwardly referential, coming from the advertisements, taken from old issues of African-American magazines such as Ebony, Sepia, and Our World, that make up the mostly black-and-white grounds of the work's grid, appropriated source materials that remain visible though radically altered, cut up, built upon, subtracted from, added to, worked over, and generally transmogrified. In short, the two pieces are a long way from each other in material and semiotic terms, though not in the time elapsed between the creation of the first and the production of the second.
And yet these works are flip sides of one another too. Materially, They Could Still Serve is incipiently multi- and intermedium, formed as it is of many sheets of ruled penmanship paper glued onto its single piece of canvas, its gridlike minimalism supported by the repeated rectangular units of paper while simultaneously marred and undermined by accretion, pigment staining, and organic rivulets of meandering reddish line until it hovers between the conditions of painting and sculpture, as all collage must. And with the ghost of violence past that its title supplies drifting over it, its pinkish, fleshly hue becomes indeterminately allusive, ambiguously evocative of blood and carnal corporeality, so that the shape formed by the sepia-colored and single gray sheets of paper toward the lower center of the work stands out like a kind of wound, while also reinforcing the geometry of which the staggered grid is made. Which is to say that They Could Still Serve blurs the boundaries between the material and the semiotic, the abstract and the figurative, undoing the hard-and-fast distinctions between those categories. And of course there are the tiny little eyeballs floating here and there, which are paired with similarly tiny wide-lipped mouths in Oh! Susanna and were, from the beginning, one of Gallagher's signature disruptions of minimalist abstraction by racial signage.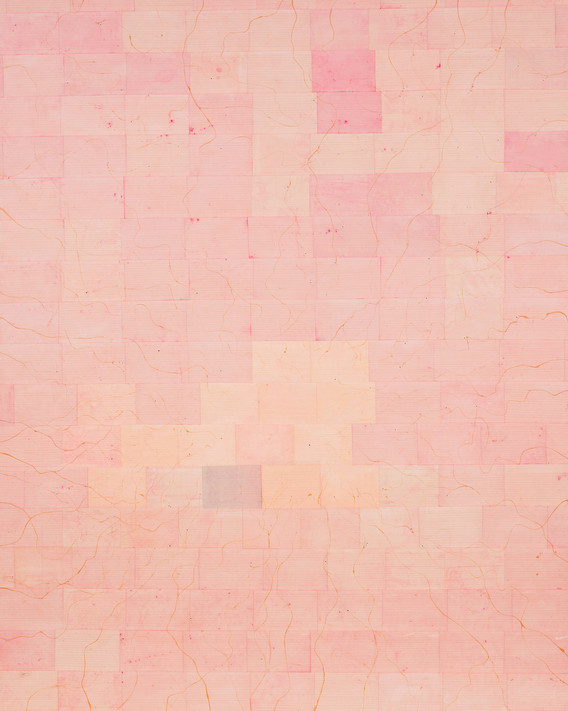 Ellen Gallagher. They Could Still Serve. 2001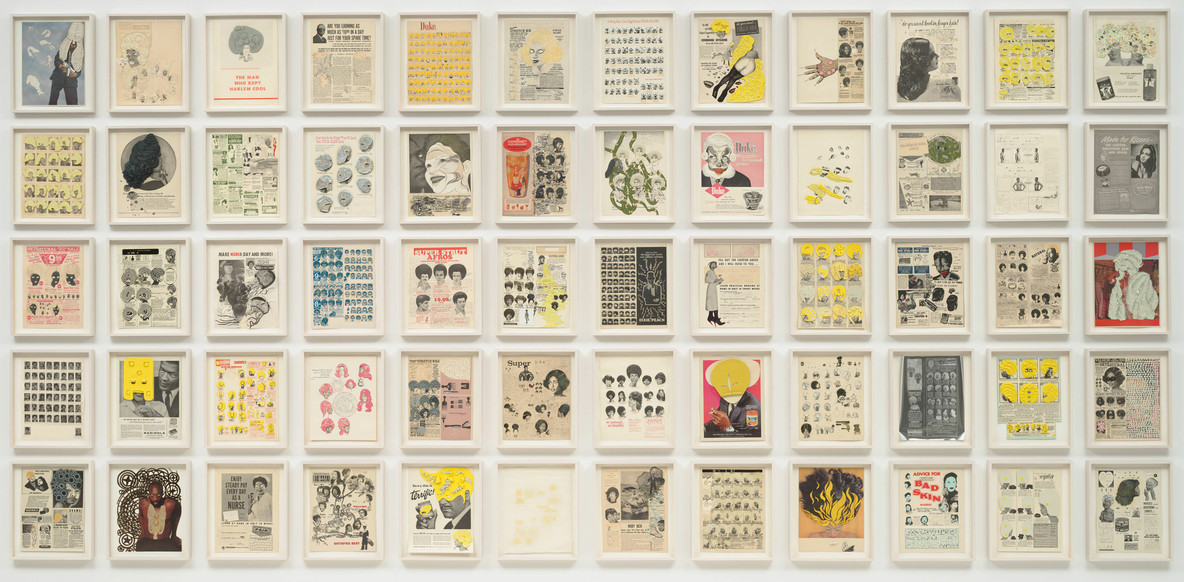 Ellen Gallagher. DeLuxe. 2004–05
Meanwhile, all one has to do to see the abstract minimalism of DeLuxe is to stand back from it and take it in as a whole, so that the areas of wall that separate each of its 60 framed units are seen as spacings integral to the work's formal unity as well as to its grammar. From this perspective, both the visual and the verbal contents of those 60 units are elided, so that the work's grid structure is even more pronounced than that of They Could Still Serve. And from this same distant perspective, one takes in the scattershot punctuation of DeLuxe's formal structure by color as well: predominantly yellows and pinks, some strong blacks, and one red rectangle over to the right. These break up the work's white-framed black-and-whites and encourage the viewer to come in closer to see what they yield in the way of details.
Up close, one may choose to take in DeLuxe's rectangular units in a readerly, left-to-right, top-to-bottom fashion or more randomly, in whatever order one chooses, looking back and forth to suss out relationships, repetitions and anomalies, continuities and discontinuities, differences and similarities. From the first, the viewer will note the signature preoccupation with hair, running like a constant thread throughout the whole, and tying it not only to other work by Gallagher but also to work by other African American women artists of her generation, such as Lorna Simpson. The most obvious locus of political commentary at the intertwined levels of race and gender, the thematics of hair in DeLuxe are more than just topical and more than mere iconography; they are a generative topos that is distinctive to Gallagher's practice-specific engagement in the combination of semiosis and materiality. From the upper-left-most rectangle, with its obviously cut and collaged, gun-toting black man with the extravagant white 17th-century judge's wig made of Plasticine, and with other, printed wigs floating disembodied against a powder-blue ground, to the lower-right-most rectangle with its black-and-white register, its female head of hair, its floating vowels, and its ads for hair products such as Royal Crown Hair Dressing as well as other items such as false teeth and douche bags, DeLuxe mounts a sustained and prolific demonstration of how materials beget images and images beget materials, not to mention a cohabitation of the chaotic and the structured, the visual and the verbal, the biomorphic and the cultural, each entwined with the other. Interspersed here and there with a black-on-black mimeograph negative, a grid-within-a-grid of black-and-white or yellow Plasticined heads, a cut-up pornographic photograph, themes of female desirability and male power, and at least one apparently unaltered magazine page advertising a skin product that will produce the made-for-kisses "lighter, smoother skin that men adore," DeLuxe plays on the bodily fragmentation and the image seriality to which the title of They Could Still Serve alludes. At the same time, DeLuxe maintains and ups the ante on the earlier work's investment in the material substrate of the work of art, and its capacities for inversion and subversion, invention and creation.