True Colors: Dawoud Bey on Gordon Parks's "Harlem Gang Leader"
In the hands of white editors, Parks's Life magazine photo essay could only tell part of the story.
The text below is excerpted from the MoMA publication Among Others: Blackness at MoMA, edited by Darby English and Charlotte Barat. Chosen by the New York Times as one of the Best Art Books of 2019 and by Artnews as one of the Best Art Books of the Decade, Among Others is the first substantial exploration of a major museum's uneven historical relationship with Black artists, Black audiences, and the broader subject of racial Blackness. We are featuring selected excerpts on Magazine.
The history of the visualization of Black subjects is as complex as our almost 400-year sojourn here in these United States. Although one of the earliest widely practiced photographic processes—the daguerreotype—was in use in New Orleans by Jules Lion, a French-born mulatto, just a year after the invention of the method, it can't be said that the Black body as subject in the evolving medium was any less fraught than other pieces of our ongoing collective presence in the Americas. For while photography was initially heralded as effecting an almost magical transformation of the material world into a two-dimensional object, sucking that world in through a lens and depositing it onto a coated surface, it seems inevitable that the nefarious aspects of America's relationship to its darker brothers and sisters, brought here in chains as instruments of free labor, would eventually find their way to this seemingly mysterious yet increasingly trusted medium of image reproduction, making it too a tool of subjugation. A culture of institutional racism required visual corollaries that could be used to justify its existence and the dehumanization that it necessitated. Thus the stereotypical photographic images of African Americans that began to appear in popular culture were distortions of the worst kind, crafted to depict Black subjects as variously shiftless, naive to the point of buffoonery, sexually threatening, and otherwise in need of control.
Of course, these images had no basis in fact, let alone in the complex interior lives that Blacks—like all peoples—experience and inhabit. With the advent of local photography studios, African Americans who could afford to do so were able to generate their own photographic likenesses, coauthored with the studio photographer—likenesses that remained private, as these photographs were intended for their subjects' mantels or other spaces of private display, to be shared with family or other beloveds. They did not end up in the public arena. If they had, the often grotesque fabrications masquerading as true representations of the Black subject in the popular media would have been seen for what they were.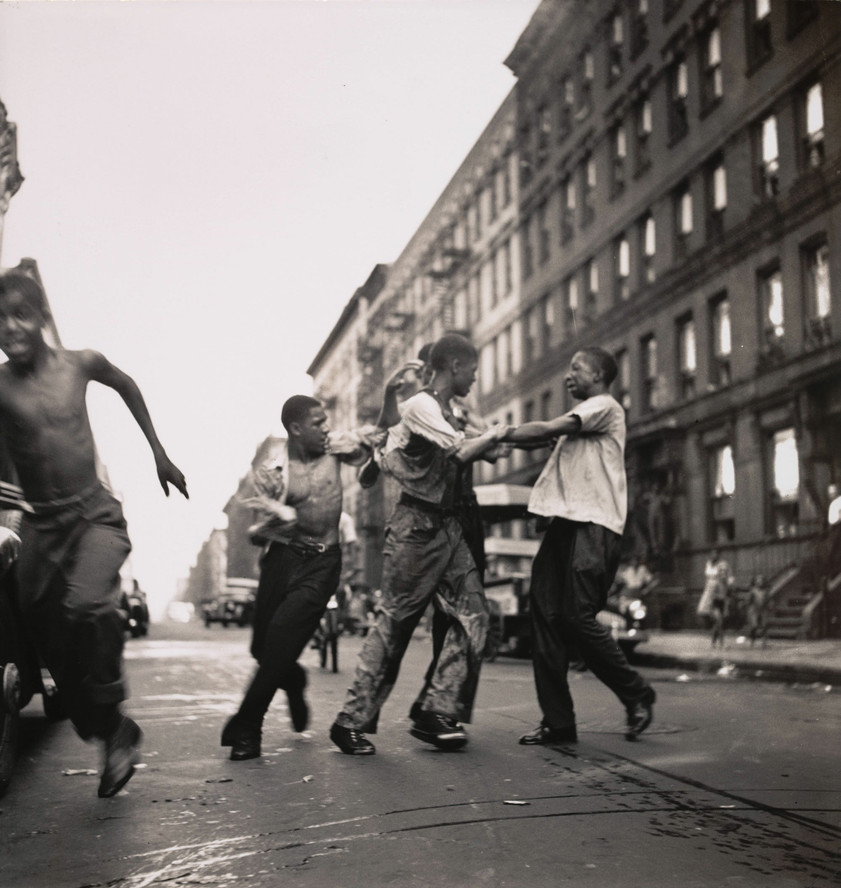 Gordon Parks. Untitled (Harlem Gang Wars). 1948
With the Great Migration from the South, which began in the early 1900s, African Americans became increasingly urban, and their presence in the cities of the North was increasingly recorded in photographs. To the extent that their arrival there suffered the kinds of travails created by malicious and exploitative social engineering, their existence was challenging, yet those same cities also provided opportunities for uplift and opportunity, and a thriving Black middle class emerged side by side with a hardscrabble Black working class and a Black working poor. Were one telling the stories of the Black urban communities of the mid-20th century, one could craft any number of widely divergent stories.
It is hard to imagine in the oversaturated media climate of the 21st century, but in the years before television, most Americans got their news from daily newspapers and weekly newsmagazines, the most popular of which was Life. Reaching a peak weekly circulation of 8.5 million people, the magazine exerted considerable influence on its readers, and its photographs and stories amounted to a weekly chronicle of America. Blacks were part of that America, and in 1948, to visualize their stories, Life hired Gordon Parks as its first Black staff photographer. Parks came to the magazine after several years working for the US government's Farm Security Administration, which assigned photographers to create and compile images that could be used to support its various social-safety-net programs.
Parks became Life's go-to photographer for certain kinds of assignment, charged, among other things, with venturing into the seemingly troubled Black urban environment of Harlem to describe the fraught circumstances of those "trapped in the ghetto." In this capacity, Parks completed the project that would be published in 1948 as "Harlem Gang Leader," a story of thwarted ambition, shiftlessness, truncated possibilities, and an enveloping, pessimistic darkness defining the young life of the protagonist, seventeen-year-old Red Jackson. Parks initially proposed the project to Life, and it was its success with the publication's readers that secured an offer of a staff position for him with the publication, which he accepted. Parks made hundreds of photographs during the four weeks he spent with Jackson, his family, and his fellow "gang members," and from that vast output Life selected twenty-one images for the story. The selection, as was customary, was left in the hands of Life's editors. Parks, like other photographers at the publication, did not have final say over which of his photographs would be used or how they would be printed, cropped, flopped, or otherwise shaped to the page and more important to the story that the editors wanted to tell their largely white readership.
The images here, Red Jackson and Untitled, are but two of the photographs that Parks made for that story. They show, indeed confirm, the darkness and tragedy presumed to be the lot of Jackson and his cohort, with Jackson viewing his community from inside a dark and foreboding broken-windowed interior and what might well be a battle in a lethal war between gang factions.
What we now know, since Parks's death and the excavation and preservation of his archive undertaken by the Gordon Parks Foundation, is that, as often has been the case, the image of the Black subject presented here was in fact distorted, false, and quite different in character from the photographs that Parks actually made during that month he spent with Jackson. Far from being merely a "gang leader" (and that term is certainly a bit overstated), Parks's newly excavated photographs show, Jackson was also a young man who was gentle and caring with his mother and siblings. Made out to be a hopeless sociopath in the published photo-essay, he was actually a young man trying, like any other, to figure out for himself a life that he could craft from his circumstances. That story, that reality, that fundamental humanity, has time and again proven elusive when the important work of Black representation rests finally in the hands of those seeking to fulfill a very different agenda.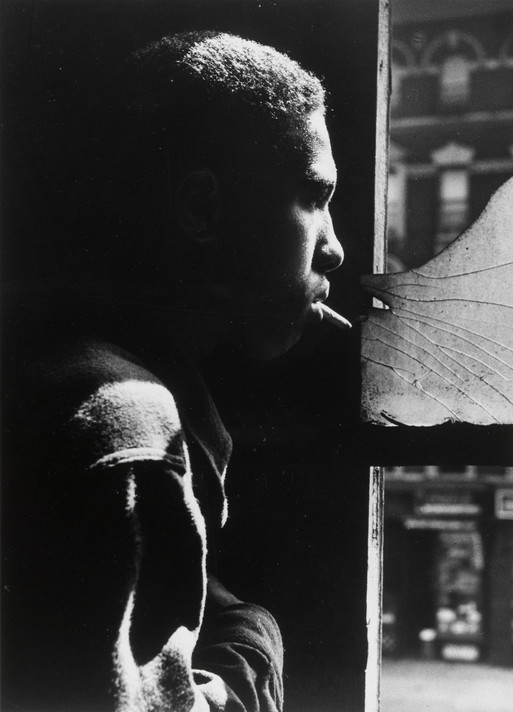 Gordon Parks. Red Jackson, Harlem Gang Leader. 1948