How a Children's Book about Art Took Flight
The artist, the author, and the illustrator behind Roots and Wings: How Shahzia Sikander Became an Artist share the story of its making.
On the occasion of Children's Book Week, we asked the team who made the newly published Roots and Wings to share some behind-the-scenes insights into how it came about.
How did you all come to work together on this project?
Shahzia Sikander: I was invited five years ago by MoMA. I had a young child who loved to paint and I thought it would be so cool for him to read a book about his mother. I also loved the children's books produced by MoMA on Jacob Lawrence, Sonia Delauney, and Yayoi Kusama. I met Hanna through MoMA and she did some sketches and I fell in love with the cover image capturing the spirit of the young girl painting and riding the benevolent and wise simurgh, a Persian mythical bird, the gesture symbolic of harnessing imagination and intellect. Initially I was asked to write the text for the book myself. It was a learning curve. I realized writing for young kids is best in the hands of a children's author so when the project got picked up again with Amy I was thrilled. I loved that she had written about my favorite female artists: Louise Bourgeois, Frida Kahlo, and Georgia O'Keeffe.
Hanna Barczyk: In 2016, I received a request to be one of the illustrators to create a few sample illustrations for a possible picture book about Shahzia Sikander. I am happy to say that I was the artist chosen to illustrate the book. That summer, I had a chance to meet with Shahzia in her Times Square studio and began the process of collecting pictures and images. Shahzia showed me a few books to look at, which included The Adventures of Hamza. She introduced me to the fables of Kalila and Demna and writer Korney Chukovsky, and shared stories of her life growing up in Pakistan. She took me through her studio and showed me animations and drawings that she was currently working on. Storyboard sketches followed with a rough idea on planning out the book. A few months later, however, the book was put on hold. In December 2019, I received the news that Roots and Wings was back on. I was thrilled to be reunited with Shahzia to continue our journey to bring the original and new sketches to life.
Amy Novesky: Abrams, who distributes MoMA's books, recommended me to MoMA when they were looking for someone to cowrite Shahzia's story. Abrams published two of my picture books about artists: Me, Frida (about Frida Kahlo) and Cloth Lullaby (about Louise Bourgeois). I am both a children's book author and an editor—currently I am the children's book editorial director for Cameron Kids, a division of Abrams. It's a small world!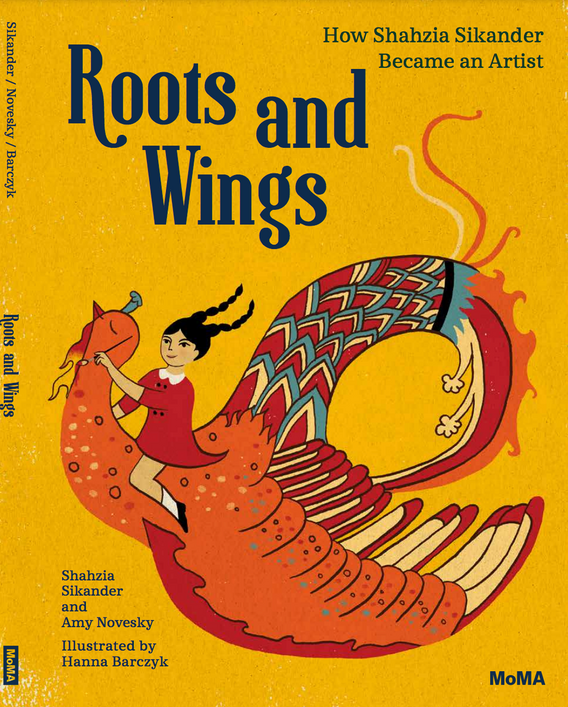 The cover of Roots and Wings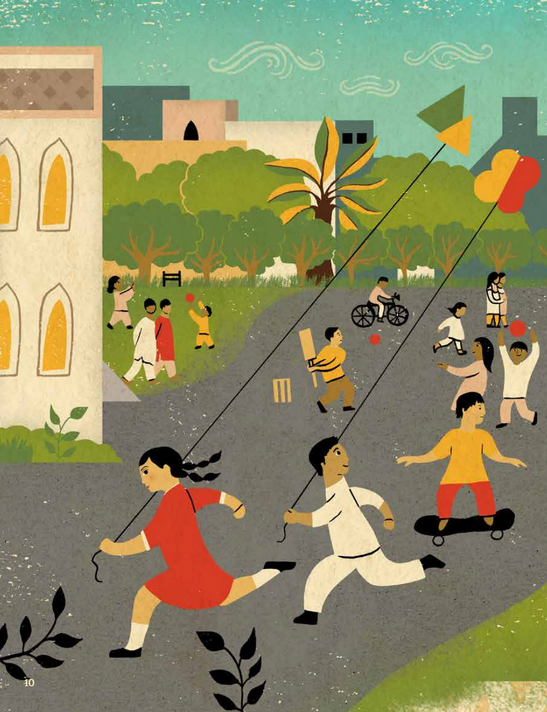 Illustration from Roots and Wings
Could you each say one thing about your background as an artist/writer/illustrator, and how this project relates to what you do—or perhaps is a departure from it?
SS: I was into nature, outdoors, math, and exposed to stories through books as a child. To reflect upon my childhood was a fresh opportunity for me to be reminded how creativity surrounds us in ordinary and unexpected ways. Working with Amy and Hanna, I learned firsthand how complicated it is to communicate effectively to very young kids, to condense characters and events in rich yet paired-down words and illustrations.
HB: I am a conceptual illustrator working for editorial publications, children's books, film posters, book covers, and murals. When creating a children's book, I feel a strong responsibility to be in service of the author's words and create a visual connection. Illustration is the perfect marriage between the narrative and the visual. I felt a strong sense of imagining Shahzia's world, but still keeping some of my conceptual approach by applying delicate lines, as well as bold, flat colors I regularly use in my work.
AN: I love to write and edit books about art and artists, so this book felt like a really good fit. It was an immediate "yes" for me. I was honored and thrilled to work with MoMA and with Shahzia, and to be a part of this beautiful book with them and with Hanna. I have never cowritten a book with an artist, and so that was new for me. To slip into the first-person voice of another, living person's story is a bit daunting—it was important to me to get it right. Shahzia was incredibly gracious and generous, entrusting me with her story.

Shahzia Sikander. The Scroll. 1989–90
Could you tell us a little bit about the process of making this book. How did you work together? Did you learn anything new?
SS: I had several independent opportunities to engage with Hanna and Amy, and throughout the process I was able to share thoughts, images, and photos with them as well as the MoMA team who were committed to having my voice be present. I shared specific historical paintings that have inspired me along with childhood and family photographs, of running around outdoors, playing cricket, flying kites, climbing trees, images of my beloved animated city of Lahore, and of the master teacher Bashir Ahmed with whom I learned pre-modern manuscript painting techniques as a teenager. I went through different children's books while I researched, using the opportunity to peruse picture books with my son. What I have learned is that there's a dearth of books exposing kids to painting as a life-long path. There are also very few books about Muslim kids just being kids and not siloed into stereotypes.
HB: On top of the conversations I had with Shahzia about her life growing up in Pakistan, I read interviews and observed her artwork in detail. I spent a long time studying the characteristics of The Scroll and used it often as my reference throughout the book. I found myself with an intense curiosity to study the history of miniature painting, revisit Russian folktales, and browse through contemporary children's books. But I also felt I needed to delve deeper into the cultural and geopolitical history of South Asia, Islam, literature, Hinduism, from the Mughal Courts to Partition, from Babur to Manto and Leopold Weiss. It was important to me to channel an understanding and appreciation of cross-cultural visual connections and stay true both to the author's words and my own visual language. I was guided by Shahzia throughout the whole process and feel deep gratitude for her welcoming a process of collaboration. A whole new world opened up for me by creating this children's book.
AN: In addition to talking to Shahzia, I also read about her, listened to interviews, and studied her artwork. I had a story to work with, and adapt from, which, for me, is a great way to begin. From there, I had fun with all of the vivid details of Shahzia's childhood. I learned that Shahzia skateboarded as a child in Lahore, Pakistan. I love that detail and it was one that I could relate to: I skateboarded as a child growing up in Southern California.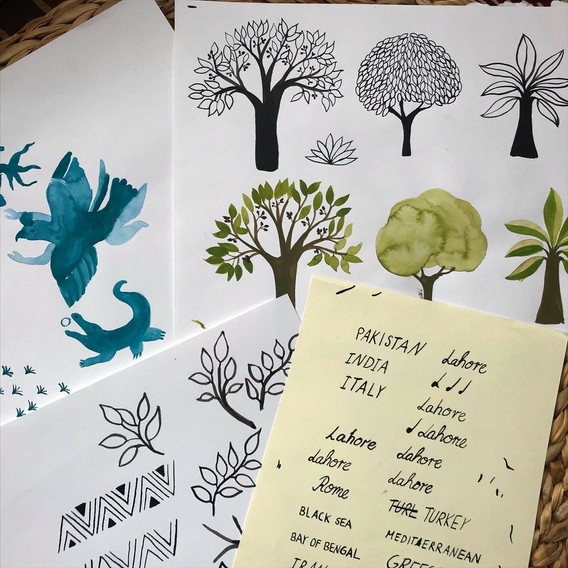 Preparatory sketch for Roots and Wings by Hanna Barczyk
Spread from Roots and Wings
Shahzia, how did you decide what vivid details of your childhood in Lahore and life to include? Did you keep a journal when you were younger, or are these scenes all from your memory? Amy, how did you help shape this narrative?
SS: One of my early childhood memories is of an abandoned school bus converted, by volunteers in the neighborhood where I lived, into the Aleph Laila book bus library, and how my afternoons were spent perusing books. Details I shared with Amy were mostly from memory, flushing out some first with my siblings. I also went through childhood and family photographs to identify specific events. I grew up in a multigenerational household, in my paternal grandparents' house, with lots of cousins, aunts and uncles, and neighbors, so it was always busy and adventurous. Much of those memories are deeply entrenched and it was meaningful to give them voice and shape and have Amy thread them so gorgeously with her words and poetry. Amy's style is lyrical and visual and I was at ease sharing details and also speaking to her about my artworks. When I met Amy, the instinct was of trust, and that is important in any collaboration.
AN: I am a visual and sensual writer, in that I love to shape stories around the senses. And Shahzia's story is sensory rich: growing up with ancient fables, Russian fairytales, poetry in English and Urdu. Bollywood films and American Westerns. The colorful sights and sounds and scents of Lahore: Hibiscus, rose, car exhaust. Bright-orange sweet jalebi and fragrant strings of jasmine. Qawwali songs, pop songs, and melodic calls to prayer. Climbing trees and eating jamun fruit with her mom, their mouths turning purple. Watching pigeons and kites take to the sky. Sleeping under the stars on warm nights. Traveling to pine forests cool as cathedrals and to cities like Rome. And of course the tactile and painstaking process of her art: hand-making the paper, the paints, the delicate and exacting brushstrokes. Shahzia's story didn't need much from me—her life is a work of art—but I did try to bring a bit of my art, or poetry, to it.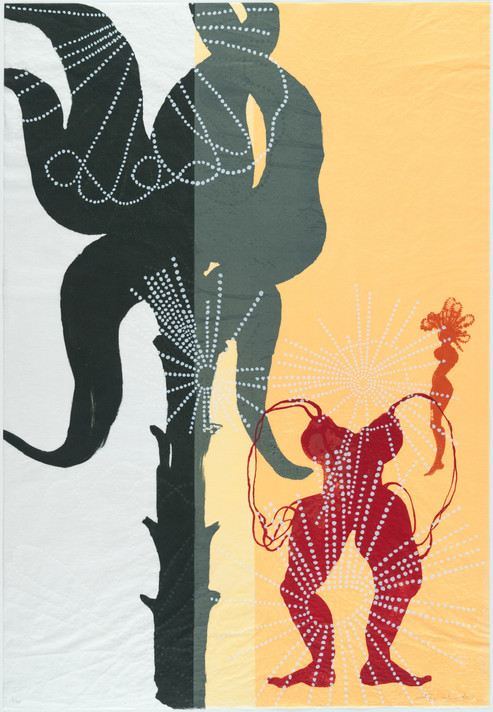 Shahzia Sikander. Afloat. 2001
Hanna, what was the process like of coming up with an illustration style for a book written by and about an artist? And Shahzia, was it fun/surprising/daunting to see another artist illustrating your life?
HB: I loved the whole process. One of my curiosities is to learn how an artist becomes an artist, and Shahzia's story brings forth such joy, realities, and imagination to the journey of becoming. In my process, I create multiple pencil sketches first, and find common threads of connection, between words, reference pictures, and imagination. Looking at a lot of samples of artwork, and specific decorative borders, animals, and family photos from childhood, which Shahzia provided for me, I was able to piece together an illustration like a collage. I created a painted background first and used inks, gouache, acrylic paint, and then digitally layered all the elements together.
SS: I was asked by friends why I was not illustrating the book myself! Illustration is a unique language and I was aware and respectful of that. There are many magical, uplifting children's picture books out in the world in various visual styles. I was seeking an illustrator whose language would not be in conflict nor confusing next to mine. I did get a chance to check out other illustrators. What was important was to find the right synergy. Hanna was open to an organic process, of my being involved and sharing information. During the time when the book project went dormant, I followed Hanna on social media, becoming familiar with her editorial illustrations and female iconography. I instinctively liked that all three of us had a strong feminine perspective in our respective works.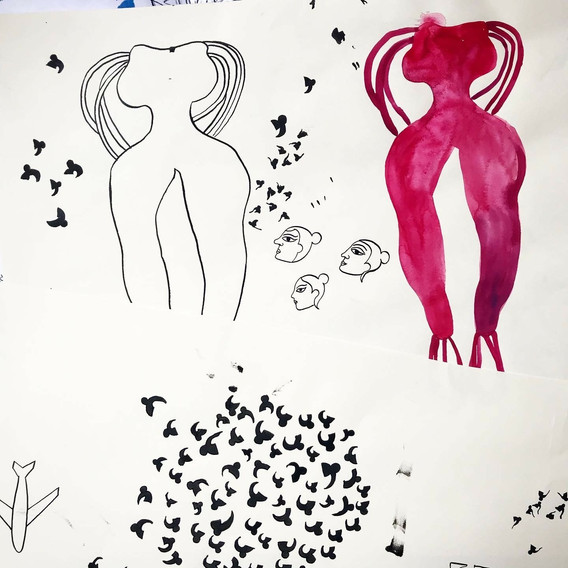 Preparatory sketch for Roots and Wings by Hanna Barczyk
Art is how we learn to tell stories about our truths and how we negotiate a place in the world for future generations.
Shahzia Sikander
If there is one message you hope a child might come away from Roots and Wings with, what would it be?
SS: Cultural details abound in the book but are not reduced to token representation. What I wanted to convey is that curiosity and the desire to engage and express is universal. Books fed my soul and imagination as a child growing up in a Muslim and South Asian culture. I carry that ethos with me as a visual artist. Art is how we learn to tell stories about our truths and how we negotiate a place in the world for future generations.
HB: I think it would be that we find deeper connections by sharing stories, the importance of imagination, and allowing yourself to dream big.
AN: I love that Shahzia chose to master a form of traditional art that was no longer considered relevant, and she has made it her own: modern, meaningful, powerful, beautiful. I love, too, the theme of travel, which I am drawn to in my own work—the idea that, if you are hardworking and talented, sometimes all you need is a plane ticket and suitcase full of paintings, a bit of luck, and a dream.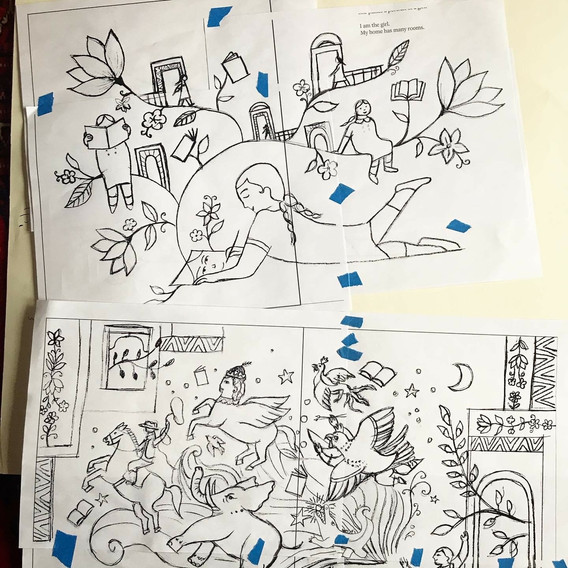 Preparatory sketch for Roots and Wings by Hanna Barczyk
And, finally, what have you read recently that you really loved—children's book or otherwise?
AN: Speaking of Russian stories, I just started reading A Swim in a Pond in the Rain by George Saunders, about writing, reading, and life, by way of a selection of stories from four classic Russian writers.
HB: A book I really loved that I read while illustrating Roots and Wings was Orhan Pamuk's My Name Is Red. That book found me in the perfect moment of time. I also recently reread and loved Stefan Zweig's The World of Yesterday.
SS: I was recently reading illuminating essays by authors like Viet Thanh Nguyen, Maaza Mengiste, Aleksandar Hemon, and Porochista Khakpour about the experience of displacement and courage. I am interested in the space between the migrant and immigrant, the citizen and foreigner, who remains invisible, whose stories get recounted regularly, and how we can contribute in defining the complex dynamic and evolving world we live in.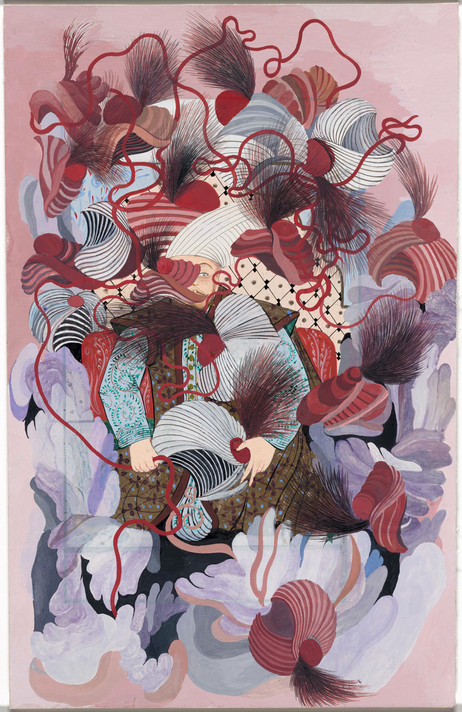 Shahzia Sikander. Turb-in-motion. 2005
Join artist Shahzia Sikander for a virtual presentation and reading of her new children's book, Roots and Wings: How Shahzia Sikander Became an Artist, as part of our Art Talks series