Dorothea Lange's Pictures of Children
Find a few ways to learn about Lange and photography, for kids ages six and up.
Thank you to Sara Bodinson, River Bullock, Francis Estrada, Cari Frisch, Lisa Mazzola, Larissa Raphael, and Lara Schweller for contributions to this post.
Dorothea Lange. Child and Her Mother, Wapato, Yakima Valley, Washington. August 1939
This is a picture of Lois Adolf, who was 10 years old in 1939. Lange made at least eight photographs of Lois and her family while she was working for the United States government documenting the ways in which the aid they were providing helped farmers and others who were struggling during the Great Depression. This was Lange's favorite picture of the group. Imagine if Lois's mother, behind her, was in focus, or not included at all. Lois is grasping barbed wire, with her hands placed carefully between the barbs. What does her expression suggest?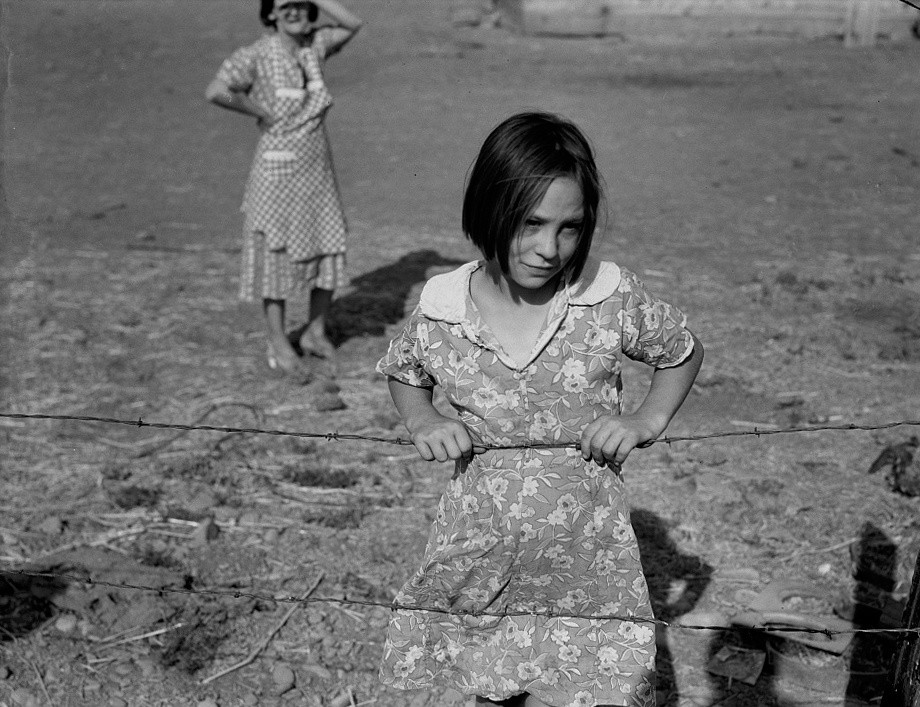 Dorothea Lange. Child and Her Mother, Wapato, Yakima Valley, Washington. August 1939
This photograph was made shortly before or after the previous photograph. Compare and contrast these two images. What is the same and what is different? How do the differences change your response to the image?
Dorothea Lange lived in the Bay Area in California for most of her life. She worked in the studio as a portrait photographer before turning to capture life on the streets of San Francisco during the Great Depression. Lange continued to photograph city life throughout her career. Here she captures a mother and child walking down a major thoroughfare. Notice how Lange captures their poses. Pose as the mother. Now pose like the child. How do those poses feel different? What might they each be thinking or feeling? Imagine what might have happened just before the moment Lange photographed.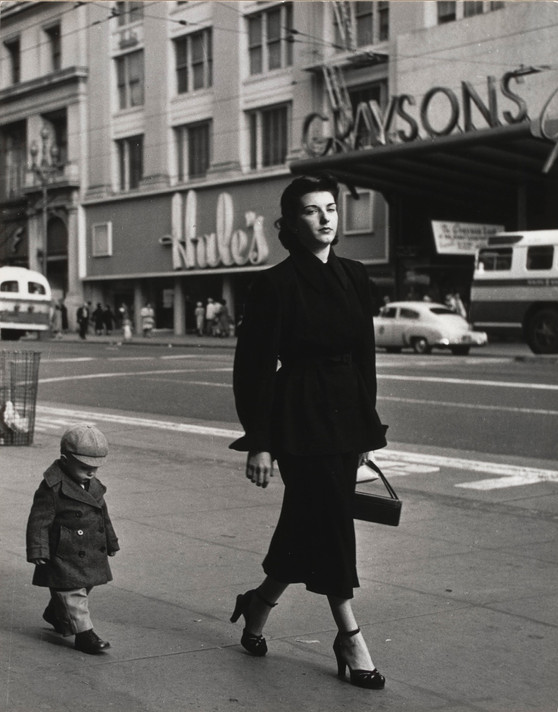 Dorothea Lange. Mother and Child, San Francisco. 1952
Dorothea Lange. First Born, Berkeley. 1952
Lange made photographs of her own family, including this picture of her son holding his newborn baby. Based on his expression, and the way he is standing, how do you think her son feels at this moment? What is in focus and what is out of focus? What are the brightest and darkest areas of the image? Consider which areas include the most detail and which include the least. Where do you think Lange was directing our attention and why?
During World War II, Lange turned her camera to the conflict's impact on Americans. She was hired to take photographs of Japanese Americans sent to internment camps in 1941, after Executive Order 9066 and subsequent orders authorized their imprisonment. In One Nation Indivisible, San Francisco, Lange focuses on a seven-year-old girl, Hideno Nakamoto. She stands amid her fellow students at a school in San Francisco reciting the Pledge of Allegiance. Other versions of the image show the girl to Nakamoto's left (cropped by the right edge of this photo): Yoko Itashiki. Shortly after, their families were forcibly removed to Tanforan Assembly Center, and then to Topaz Relocation Center in Utah.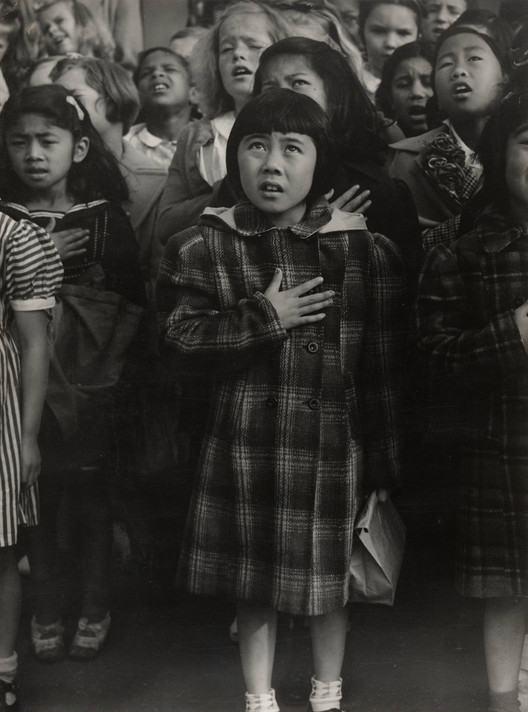 Dorothea Lange. One Nation Indivisible, San Francisco. 1942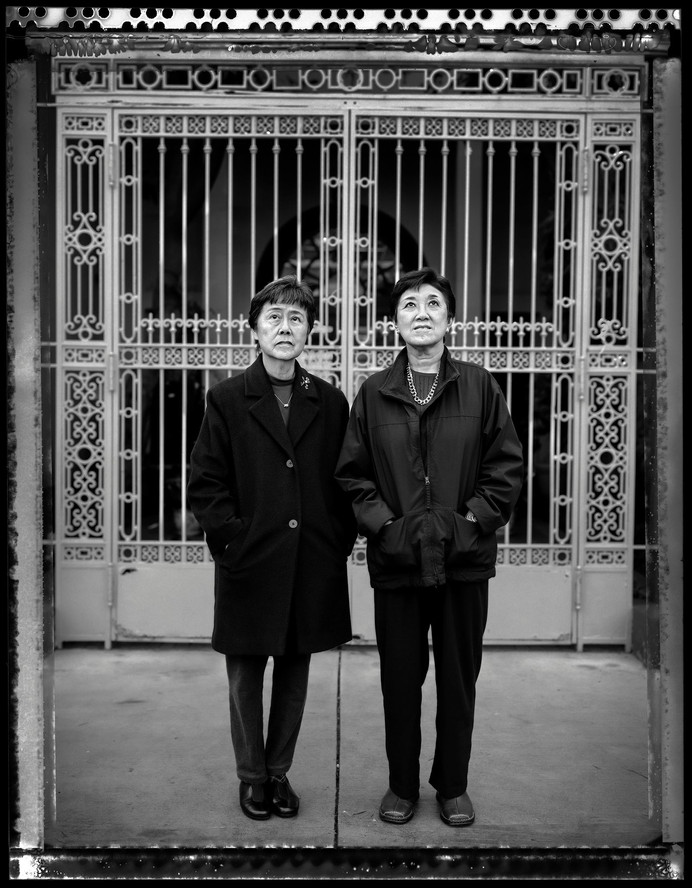 Paul Kitagaki Jr. Helene Mihara and Mary Ann Yahiro. 2007
65 years after Lange took her photo of the girls, Paul Kitagaki Jr. interviewed and photographed Hideno Nakamoto and Yoko Itashiki outside of their school (above). He thought it was important to document their experiences. He said, "I hope viewers will be inspired by their stories, and I would hope that the incarceration of people by their ethnicity or race could not happen again in the United States."
Dorothea Lange. Gunlock, Utah. 1953
Magazines were one of the main ways in which people learned about the world around them before the Internet, and even before television. One of the most popular magazines was called Life, and Lange published two photo essays in it, in 1954 and 1955. This one was from a story about three towns in Utah: Gunlock, Toquerville, and St. George. Artist Wendy Red Star talks about Lange's photograph of a boy and his horse:
"I'm originally from Montana. This image reminds me of me, actually. When I was growing up, on the Crow Indian Reservation, I was practically raised by horses. Looking at this little boy's face and how comfortable he is, is something that very much resonates with me. The horse looks like a landscape itself. And the way that she was able to do a tight shot that shows us this boy's expression, that he is just perfectly comfortable on this mountainscape of a horse, that he can smile at her and have no fear of falling off.… It's almost like he's showing her his greatest passion or his talent. And there's a lot of pride in that."
From left: Dorothea Lange. Irish Child, County Clare, Ireland. 1954; Rondal Partridge. Untitled. 1937
Lange took this picture for a photo essay in Life magazine called "Irish Country People." However, she was very disappointed that the magazine did not include it and many others she made for the story. She held her camera low, so it seems as if we are looking up at the girl. The image on the right shows Lange photographing children earlier in her career. Notice how she holds her camera by her waist, looking down into it as she focuses its lens. Her other camera is on a tripod nearby. Lange used this upward angle so that the sky could be the background for her subjects, and she also thought that it made them seem taller and more heroic. How might the image of the girl look different if she approached her from a different angle?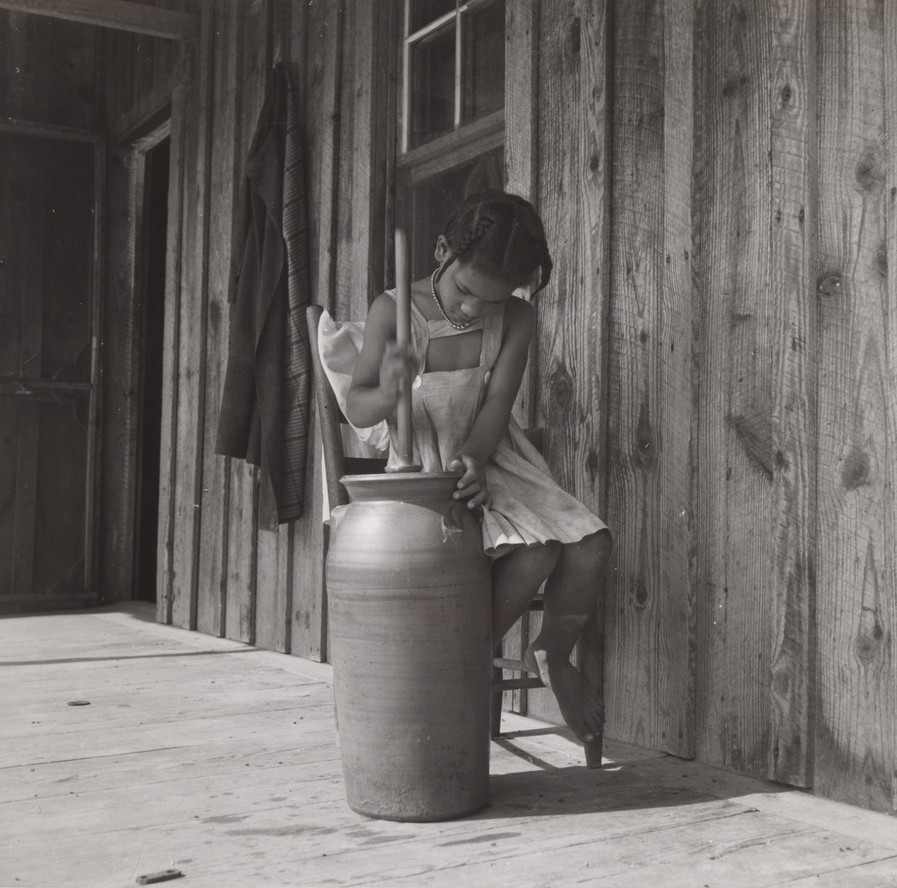 Dorothea Lange. Randolph County, North Carolina. July 1939.
Lange drove all over the United States taking pictures. She photographed this girl in North Carolina in the middle of an action. Can you tell what she might be doing based on her pose and surroundings? This girl is making butter. It's hard work, but it's also something you can do at home if you have some heavy cream and a jar with a tight-fitting lid…just shake it a lot.
This is a page from a report Lange prepared for the United States government in 1935. It includes a quote from the family pictured, saying, "We got blowed out in Oklahoma." This family and many others had to abandon their farms during a long drought that resulted in the Dust Bowl. They loaded up everything they owned on their cars and drove west, searching for work. Find a recent photograph in a newspaper, magazine or online and look at the caption. What information do you learn about the photo from the caption? Can you write an alternate caption?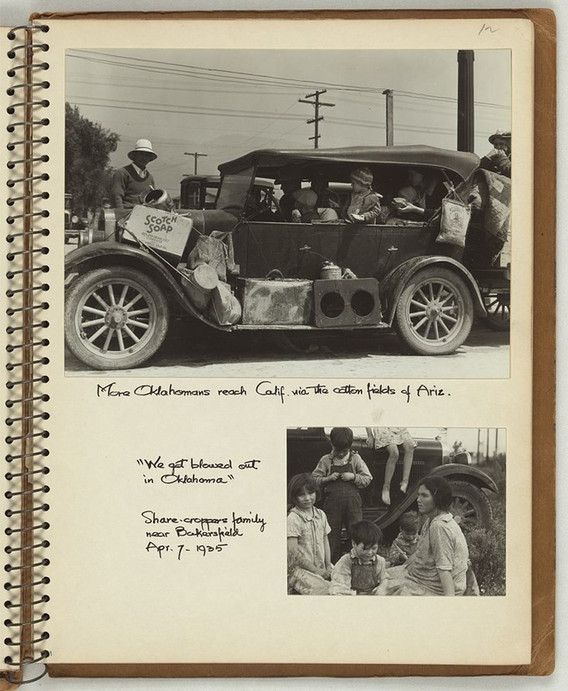 Paul Schuster Taylor and Dorothea Lange. "Migration of Drought Refugees to California" March 15, 1935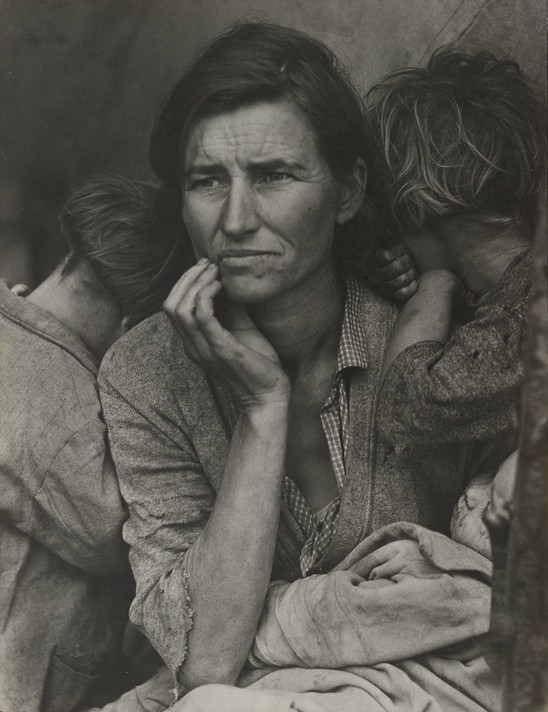 Dorothea Lange, Migrant Mother, Nipomo, California. March 1936
This is a photograph Lange made of a woman named Florence Owens Thompson and her children on the edge of a frozen pea field in Nipomo, California, on a rainy day in March 1936. How does Lange's photograph give you a sense of what this mother might be feeling? What do her children's poses suggest about how they might be feeling?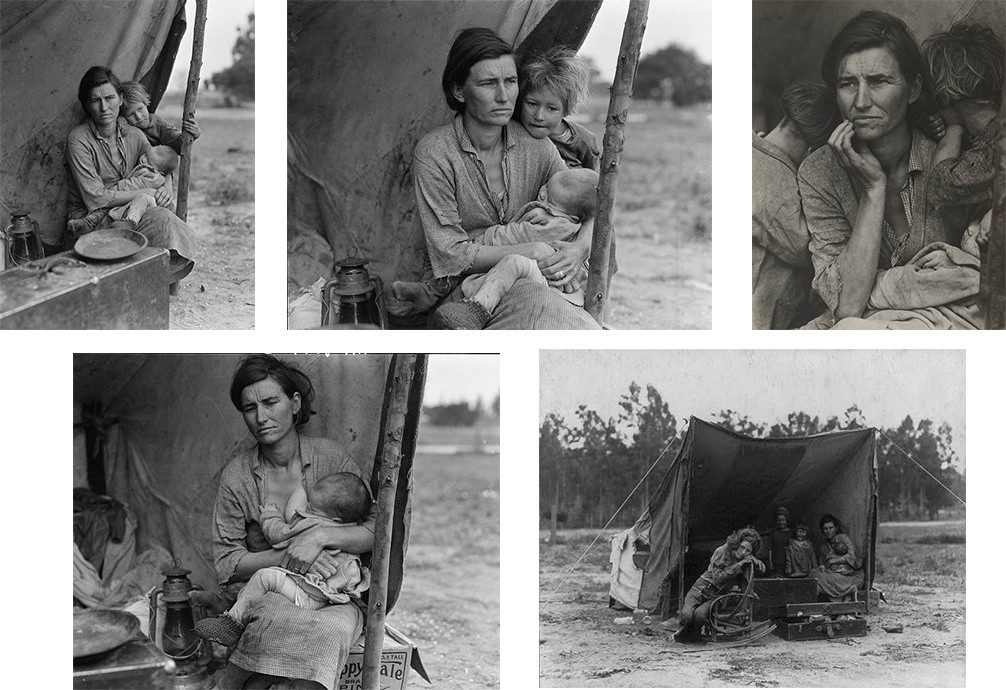 Lange made seven photographs of this family, but only sent her five favorites to the government. Many years later Lange described her experience photographing them: "I saw and approached the hungry and desperate mother, as if drawn by a magnet…working closer and closer from the same direction." Based on what Lange said, which do you think is the first image she took and which do you think is last?
More Resources
The exhibition page for Dorothea Lange: Words & Pictures includes a short introductory video and an audio guide playlist. Read excerpts from the MoMA publications Dorothea Lange: Words & Pictures catalogue (2020) and Dorothea Lange: Migrant Mother (2018). Seeing Through Photographs, a free online course on Coursera, also explores Migrant Mother and other documentary photographs.