For nearly three years, the Reconstructions: Architecture and Blackness in America curatorial team met with an esteemed Advisory Committee along with the 10 individuals whose work features in the exhibition. The participants independently decided to form the Black Reconstruction Collective as a means to address not only the disparity of Black architects in the profession and the profound lack of Black architects among exhibition histories nationwide, but also as a way to advocate, support, and amplify the ideas and works of emerging architects and designers. These are the voices that, for too long, have been silenced, erased, or forgotten in histories. The BRC, now incorporated as a nonprofit 501(c)(3) organization, endeavors to use all funds for invited lectures and other engagements to further extend the long-term goals of their Manifesting Statement. This statement appears in the exhibition catalogue, and in the exhibition itself, as part of a 10 × 10' denim textile at the entrance of the gallery.
–Sean Anderson, Associate Curator, Department of Architecture and Design
Manifesting Statement
A nation constituted in conflict with its own ideals would need to be reconstructed before it could be fully constructed. It would need to go to war with itself and win, then reconstruct itself differently. This is not rebuilding but reconstructing to the core of governance, citizenship, history, infrastructure, and the distribution of land. Paradoxically, the people who did the constructing and must now do the reconstructing are likely to be the same—laborers in one instance and authors in another—designers of this nation and of themselves.
The Black Reconstruction Collective commits itself to continuing this work of reconstruction in Black America and these United States. We take up the question of what architecture can be—not a tool for imperialism and subjugation, not a means for aggrandizing the self, but a vehicle for liberation and joy. The discipline of architecture has consistently and deliberately avoided participation in this endeavor, operating in complicity with repressive aspects of the current system. That ends now. We commit ourselves to annihilating the willful blinders that have enabled architecture to continue to profess its Eurocentrism as a virtue and claim apolitical ends.
We reject the boundaries established by nation-states, challenge the spatial manifestations of anti-Black racism, and encourage creative agency and liberatory practices. This collective portal unites activists, scholars, architects, artists, and organizers across time and space. With this commitment to Black freedom and futurity, we dedicate ourselves to doing the work of designing another world that is possible, here, where we are, with and for us.
The Black Reconstruction Collective
Emanuel Admassu
Germane Barnes
Sekou Cooke
J. Yolande Daniels
Felecia Davis
Mario Gooden
Walter J. Hood
Olalekan Jeyifous
V. Mitch McEwen
Amanda Williams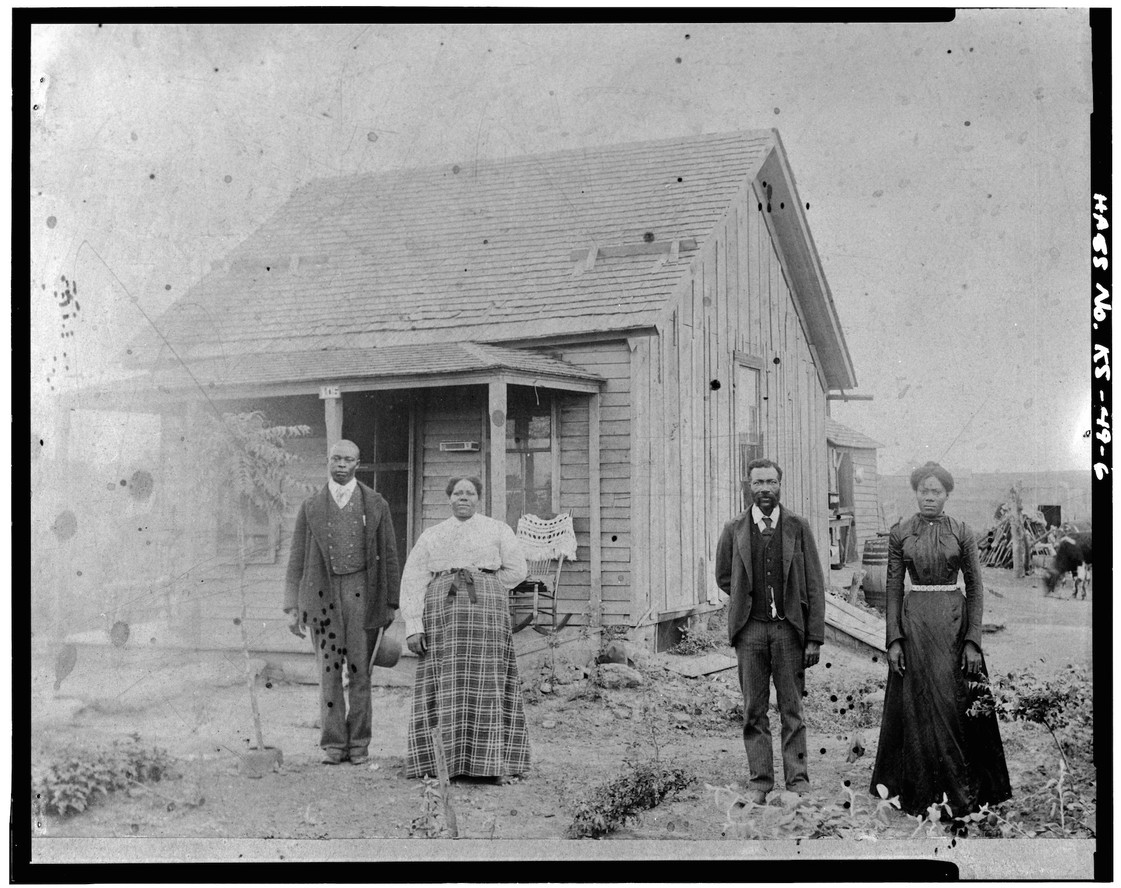 Exodusters in Nicodemus, Kansas. c. late 19th century.
The exhibition is made possible by Allianz, MoMA's partner for design and innovation.