The Feminist Challenge of Wangechi Mutu
A collage portrait of a visionary African fighter and mother mixes sensuality and violence.
The text below is excerpted from the MoMA publication Among Others: Blackness at MoMA, edited by Darby English and Charlotte Barat. Chosen by the New York Times as one of the Best Art Books of 2019 and by ARTNews as one of the Best Art Books of the Decade, Among Others is the first substantial exploration of a major museum's uneven historical relationship with Black artists, Black audiences, and the broader subject of racial Blackness. For the next few months, we will be featuring selected excerpts on Magazine.
Wangechi Mutu's allegorical collages fuse references to beauty, consumerism, colonialism, and race. Born in Kenya, Mutu attended school in Great Britain and the United States and has lived in New York since the 1990s. Intertwining themes from her experience as an African woman and migrant, her work explores the influence of Africa on other cultures. Although trained as a sculptor and multimedia artist, Mutu is best known for her large-scale collages, wildly colorful works including printed and painted papers as well as synthetic materials such as glitter or plastic pearls, and punctuated by armatures drawn in ink. Here Mutu grafts images from diverse sources—anthropological, ethnographic, and medical texts, pornography, high-fashion magazines such as Vogue, and others. She builds on the history of artistic photomontage as a socially engaged art form, nodding to artistic predecessors as diverse as Hannah Höch and Romare Bearden while staking out distinctly personal ideas on postcolonial Africa and globalization. The characters in these works are consistently female.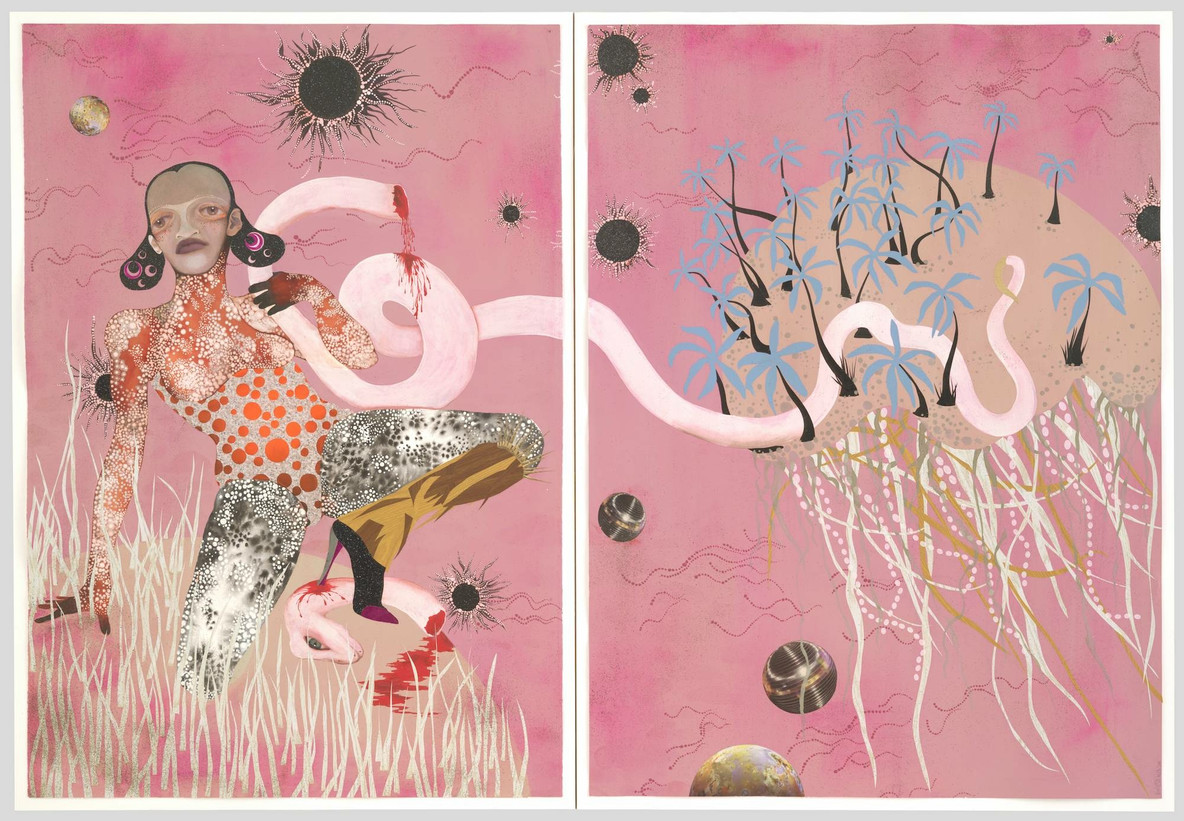 Wangechi Mutu. Yo Mama. 2003
Mutu's diptych Yo Mama pays tribute to Funmilayo Anikulapo-Kuti, the mother of the famous Afrobeat musician Fela Kuti. A pioneering feminist, said to have been the first woman in Nigeria to drive a car, Anikulapo-Kuti fought against the practice of female genital mutilation. Mutu depicts her symbolically as the biblical Eve, triumphantly slinging a headless serpent across her shoulder while her stiletto boot mutilates the snake, an intrusive phallus. In the artist's words, "The figure exists in an imaginary outer space, clutching a mangled serpent, the phallic and mythological creature that instigated the downfall of Eve.... The image and title are infested with the inherent contradictions that were the experience of a radical like Funmilayo. A visionary and brave fighter, she was caught in the upheaval of the creation of a nation's identity." Both tantalizing and disturbing, Yo Mama is emblematic of Mutu's collage strategy, which often mingles the glamorous sensuality of full lips and curled lashes with haunting violence and severed limbs—Anikulapo-Kuti, for instance, has only one full leg. In appropriating details from magazine clippings, Mutu may generate facial features mismatched in scale (a device seen here in Anikulapo-Kuti's eyes), resulting in figures simultaneously alluring and strange. These layered references and remixed body politics contribute to an interrogation of otherness, race, alienation, and female representation.
I'm interested in powerful images that strike chords embedded deep in the reservoirs of our unconscious.
Wangechi Mutu
There is no singular question at the core of Mutu's work. The artist has said, "The idea of clearcut binaries—African/European, archaic/modern, religion/pornography—I've never really believed in that. I'm interested in powerful images that strike chords embedded deep in the reservoirs of our unconscious." Here, atop a millennial-pink palette and leaping between two panels of opposing gravitational forces, the figure represents the feminist challenge—woman as both warrior and creator. The dualities and even multiplicities in the work are as tangled as the coiled serpent.