A film curator's playlist takes its inspiration from Andy Warhol's eight-hour-and-five-minute landmark film.
Inspired by Andy Warhol's Empire, currently on view in the fourth-floor collection galleries, this playlist happens to match the film's outsize running time of eight hours and five minutes. Warhol's black-and-white, single fixed frame of the iconic New York City skyscraper was filmed over the course of a July night in 1964 from the neighboring Time & Life Building. The Empire State Building appears imposing and ethereal at once, as if floating, though nothing much happens but the fading light and encroaching darkness, and the building's intermittent flashing lights. (A keen eye might spot Warhol reflected in the window around five hours in.) Challenging the limits of spectatorship, Empire is a prime example of Warhol's minimal approach to filmmaking that also welcomes multiple interpretations: queer scholars have slyly called on it as the longest skin flick, while an urbanist's perspective can place it within the shifting iconography of the New York City skyline.
In a year that has transformed our relationship to the passage of time, Empire has been a fitting companion and poses profound questions about how we, as New Yorkers, interact with our environment.
Here, I've compiled a playlist inspired by Warhol's exploration of duration, viewership, and even boredom at the close of my nearly 12 uninterrupted months in New York City. Call it songs for a slow city. After a jag through New York-and-Warhol inspired titles, the selection flows through experiments with duration, drone, loops, and samples across genres, geographies, and generations. Featuring eclectic picks and classical figures of the musical avant-garde, the mix invites deep listening and ambient interludes. Wherever it finds you, I hope it can bring inspiration, tranquility, or simply extended sonic company as we head into a new year.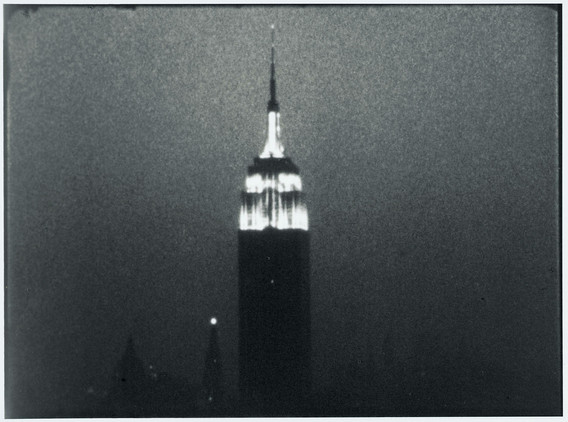 Andy Warhol. Empire. 1964