Unreal, Mysterious, Strange
Explore the dreamlike art of the Surrealists with these art activities for kids and families.
Unreal, dreamlike, bizarre—just some of the words used to describe the art movement known as Surrealism. Take a deep dive into the art and artists associated with Surrealism with these art activities for kids and families.
Look closely at Surrealist works of art
From abstract "automatic" drawings to realistic painted scenes inspired by dreams and nightmares—with their unexpected arrangements of objects and materials—take a closer look at these works by Surrealist artists.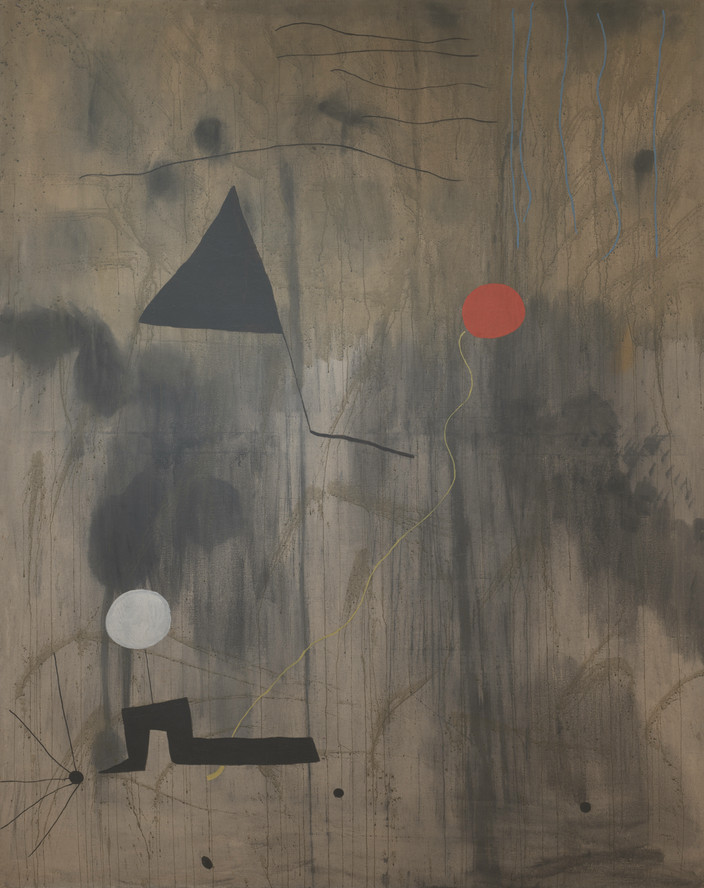 Joan Miró. The Birth of the World. 1925
Joan Miró poured, brushed, and flung paint onto an unprimed or uncoated canvas, creating a dreamlike appearance. He left some marks up to chance, while other shapes and lines were carefully considered.
What draws your attention as you look at this painting?
Can you find a kite, a shooting star, and a balloon? What other shapes do you see?
Miró named this painting The Birth of the World. If this were your painting, what would you call it?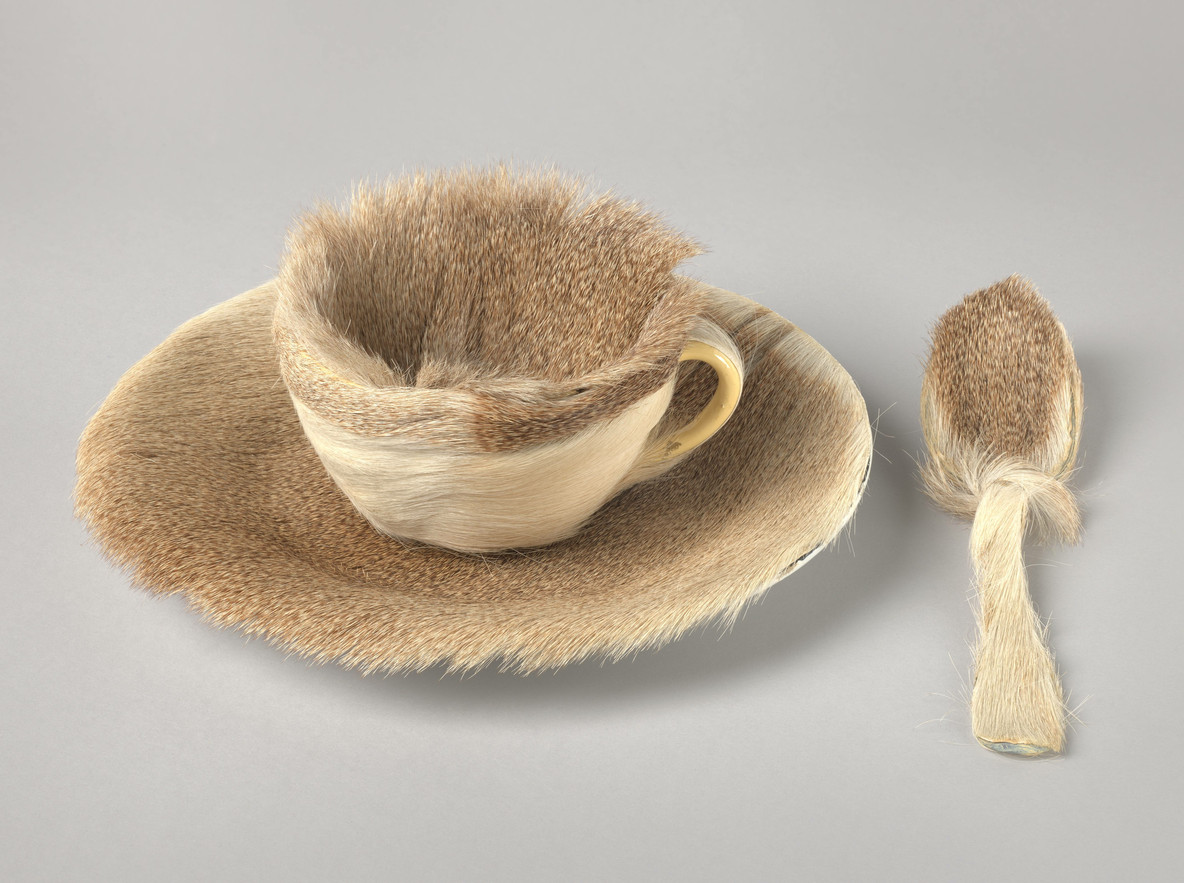 Meret Oppenheim. Object. 1936
There is something out of the ordinary about these objects. What do you notice?
To make this sculpture, Meret Oppenheim bought a teacup, saucer, and spoon from a store and covered them with gazelle fur. By doing this, she transformed these everyday objects into art.
How would you change regular objects into a work of art?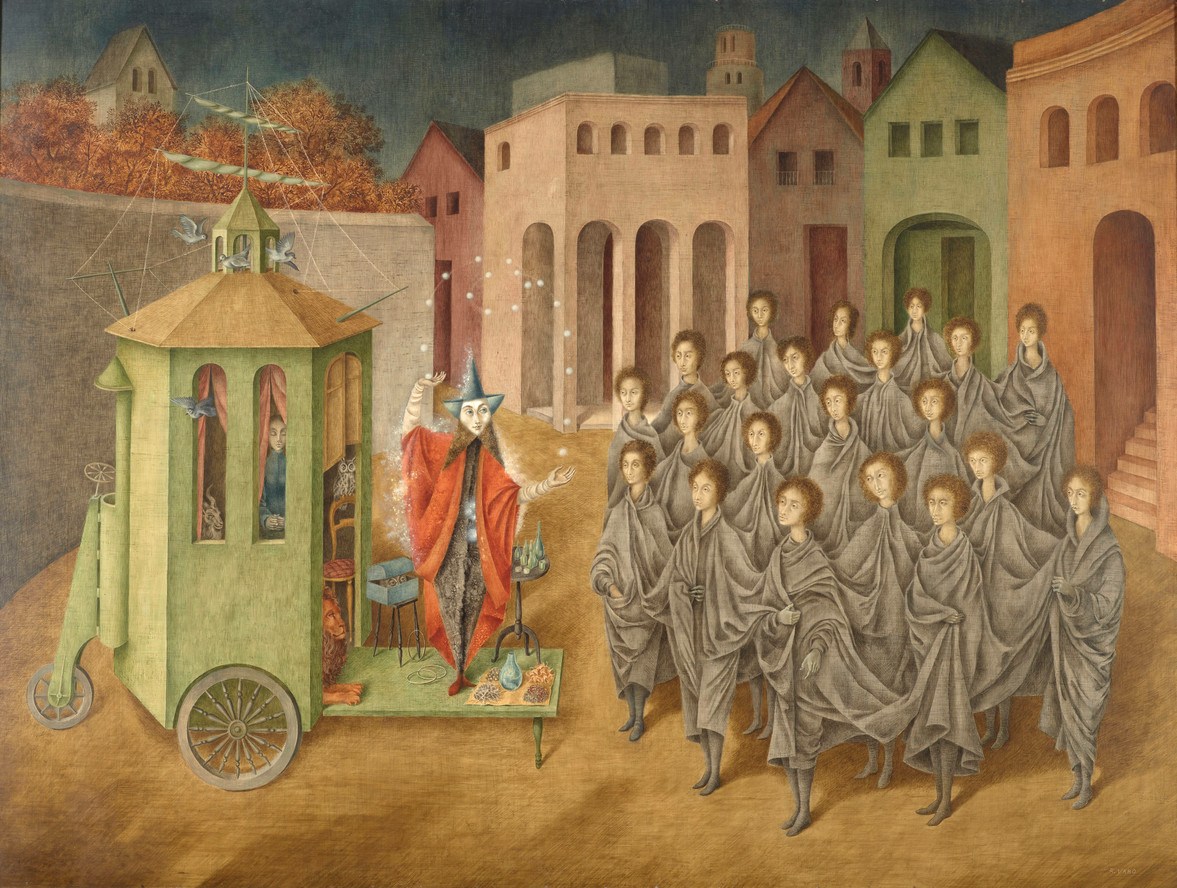 Remedios Varo. The Juggler (The Magician). 1956
Listen and look closely to explore some of the secrets hidden in this mysterious painting by Remedios Varo.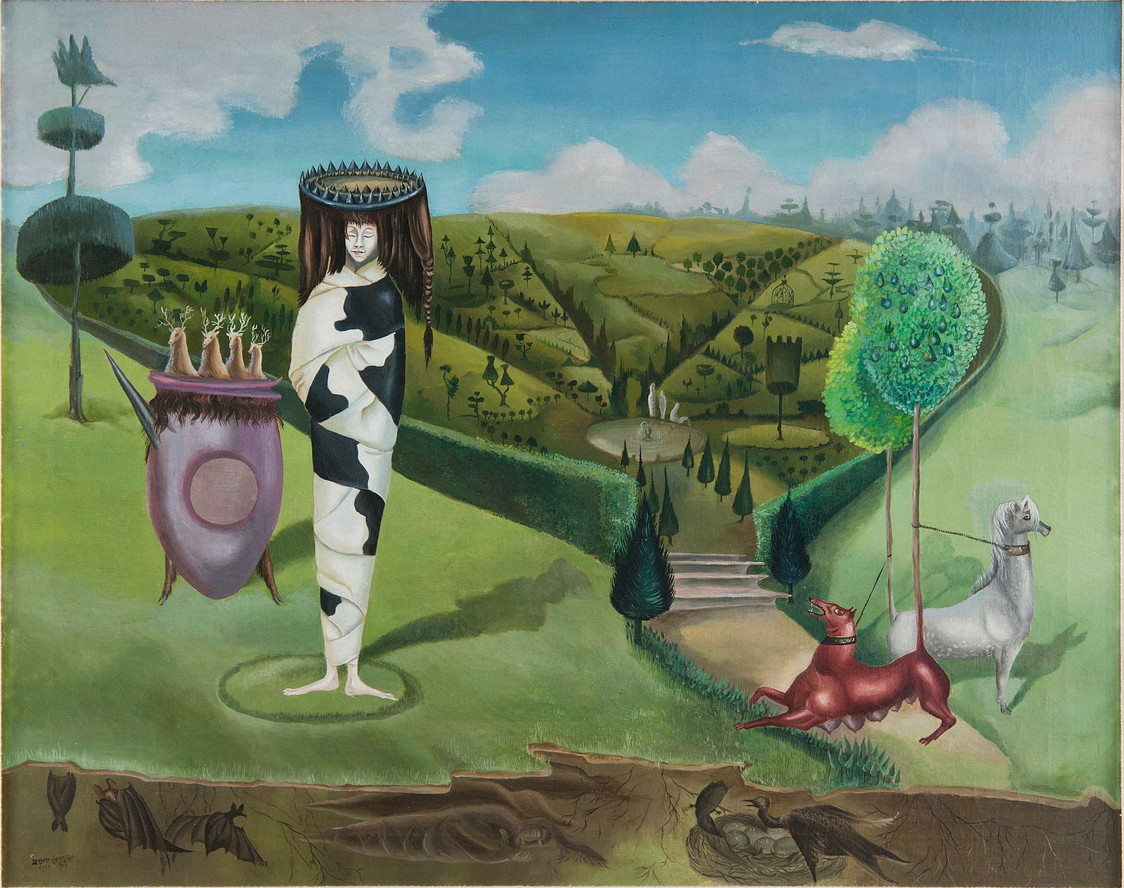 Leonora Carrington. Green Tea. 1942
Take a listen to explore strange worlds above and below ground in this painting by Leonora Carrington.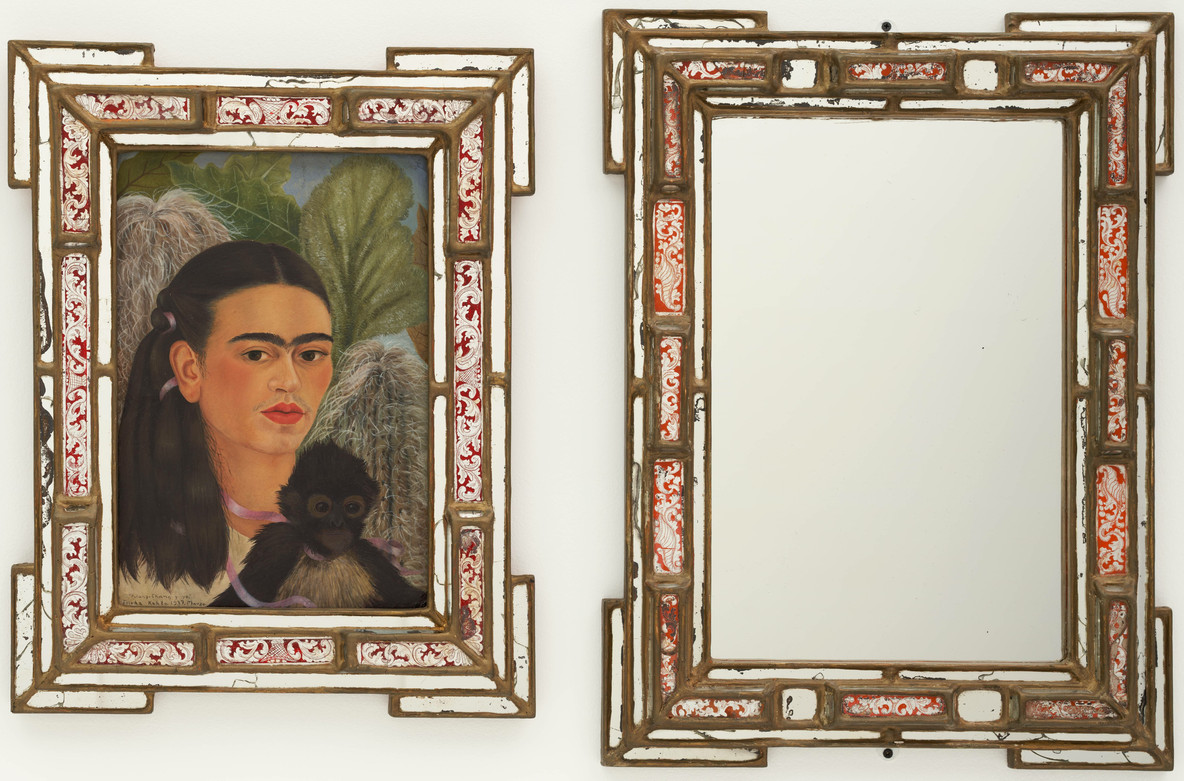 Frida Kahlo. Fulang-Chang and I. 1937 (assembled after 1939)
Do you think it would be cool to have a pet monkey? Frida Kahlo had several spider monkeys that she kept as pets—the one in the painting is called Fulang-Chang. The pink ribbon that Kahlo painted around her neck connects her to Fulang-Chang, showing how much she loved him. Kahlo later gave this painting to her close friend Mary Sklar, along with a framed mirror so that, when Sklar looked in the mirror, it would be as if the two friends were together even when far apart.
What other details do you notice?
Listen to a Surrealist-inspired story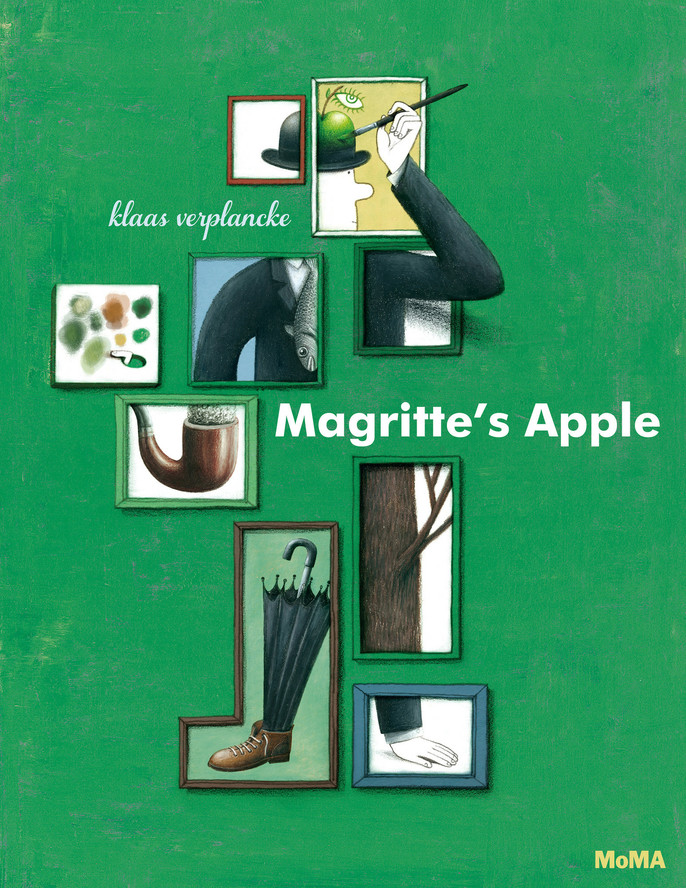 Magritte's Apple, by Klaas Verplancke
Listen to author/illustrator Klaas Verplancke as he reads Magritte's Apple, his delightful story inspired by the artwork of René Magritte. René floats through the world of his dreams and imagination, fulfilling his desire to become a painter…if he could just figure out what to paint!
Invite your family to play a Surrealist drawing game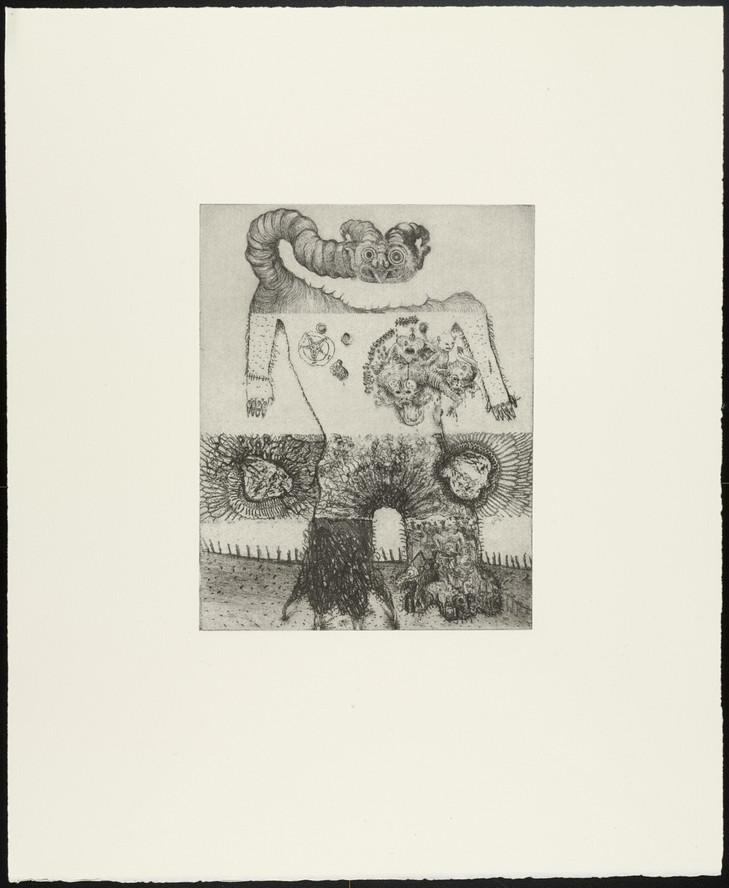 Jake Chapman, Dinos Chapman, Hope (Sufferance) Press, London. Untitled from Exquisite Corpse. 2000
Surrealist artists loved dreams and fantasies; in creative games such as Exquisite Corpse, they made artwork out of combinations that were unexpected or unplanned, like this recent work based on the Surrealist game. To play, the artists took turns adding to a drawing without knowing what any of the others had drawn. At the end, the finished drawing was revealed...and was always surprising!
Materials: paper, colored pencils or markers, drawing partners. (This game works best with three or four players.)
Fold a piece of paper crosswise into as many sections as you have players, and then decide who will draw first.

The first person draws a head and neck on the paper's top section. The player then folds the paper so that the drawn section is hidden. Tip: Add small connecting lines into the next section so the next player knows where to begin drawing.

The second person draws the upper body, then folds the paper so their section is hidden, too.

The third person draws the legs and feet. If there are four players, the third player draws just the legs and leaves the feet for the last person.

Once you've all finished, unfold the paper to reveal your Exquisite Corpse.
Mix it up! You can draw parts of animals, creatures, or even objects instead of a head, body, or legs!
Check out Making with MoMA: Mix and Match Drawing Kit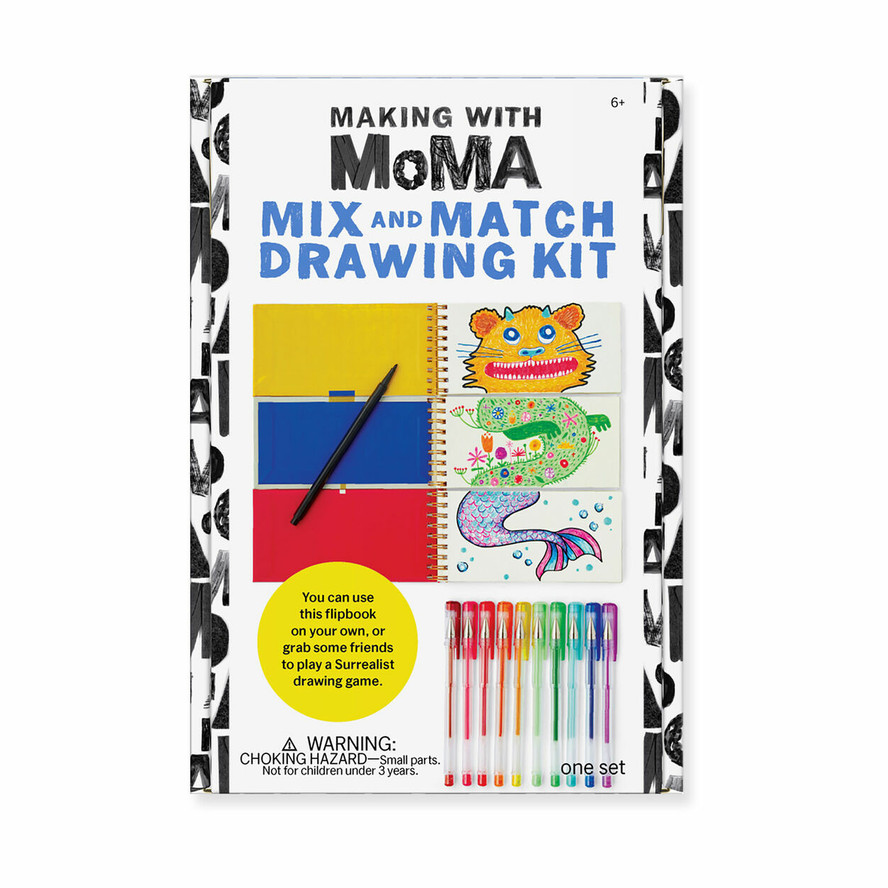 Making with MoMA: Mix and Match Drawing Kit
Continue to create Surrealist-inspired artworks with this spiral sketchbook that uses separate sections to encourage unexpected or unplanned combinations via mix-and-matching. Kids can take turns or work on their own to add parts of a drawing, then combine them randomly to form a surprise work of art. Designed by MoMA educators in collaboration with Todd Oldham, the Making with MoMA: Mix and Match Drawing Kit is based on art workshops and activities for families at The Museum of Modern Art.