Art-Making Activities Families Can Do at Home
For kids ages six and over, we rounded up some of our favorite drawing, collage, audio, and movement activities inspired by artworks in MoMA's collection.
Oprima aquí para leer este artículo en español.
As I write this, my son is asking when I'll be done so I can play with him...again. We get that working and taking care of your child(ren) is tough but we hope these art-inspired prompts can provide a much needed diversion. In an attempt to bring the Museum to you, we compiled a few drawing, writing, audio, and close-looking activities. If you have time, try them together; if not, deliver these prompts one at a time to your kids and get some work done in between! We'd love to see what they inspire—share what they are making on social media using #MuseumFromHome.
Activity 1: Ideas for Drawing
Looking for creative ways to occupy your kids that don't involve screens? Here are nine drawing prompts that should keep kids six and up busy for at least half an hour.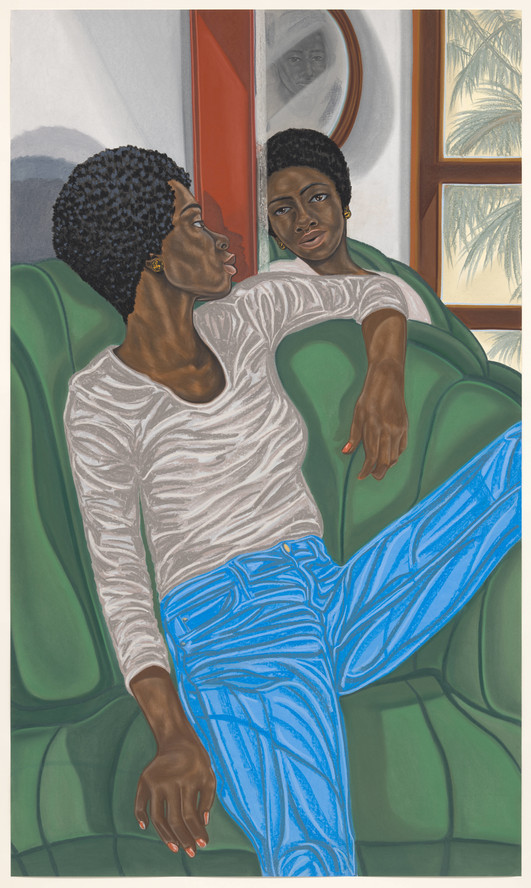 Toyin Ojih Odutola. Projection Enclave. 2018
Shade a page with the side of a pencil. Use an eraser to create lines through the shading.

Create a pattern using the first letter of your name and flipping the letter in different directions.

Draw a portrait of a person using only 10 lines. Now try five lines. Can you do it in three lines?

How might you show blue and red dancing? Draw a fight between yellow and purple. What would three colors at play look like?

Draw what you see out your window.

If your mood was a color today, which color would it be? Make a drawing using that color.

What would a lazy line look like? How about an angry line? An excited line? A silly line?

Search for shadows and lights on the walls and floors. What shapes and patterns do they create? Sketch them.

Sketch an object from two different points of view. How are your drawings different?
Activity 2: Discover Art at Home
Get inspired by MoMA's collection of art and design objects without leaving your living room using these artwork-driven activities.
Take turns telling a story about this artwork by Giorgio de Chirico. Then draw a scene from your story, showing what might happen next.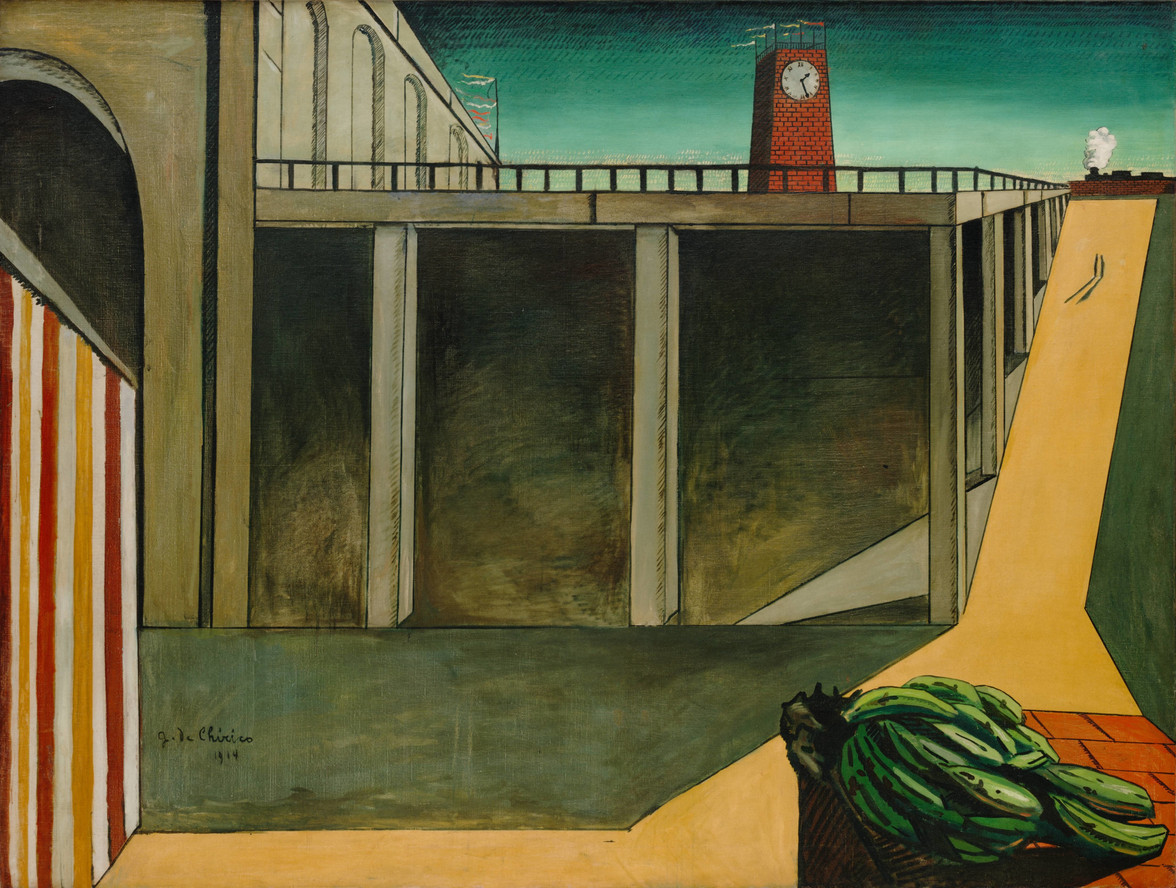 Giorgio de Chirico. Gare Montparnasse (The Melancholy of Departure). 1914
Florine Stettheimer made this portrait of herself with her sisters and mother. Can you find the artist? (Hint: she has a paint palette in her hand.) Look for clues that show where they are. Draw a portrait of your family. Who and what will you include? Where will you be?
Florine Stettheimer. Family Portrait, II. 1933
Alice Neel painted portraits of her friends, family, neighbors, and fellow artists. A chance encounter with a boy named Georgie Arce in her neighborhood of Spanish Harlem sparked a lasting friendship. Neel went on to sketch and paint him several times.
Try to imitate Georgie Arce's facial expression. How do you think he is feeling? Now re-create his pose with your body. Do you think he seems comfortable? Why or why not? What else can you tell about this boy based on what you see? What more do you want to know?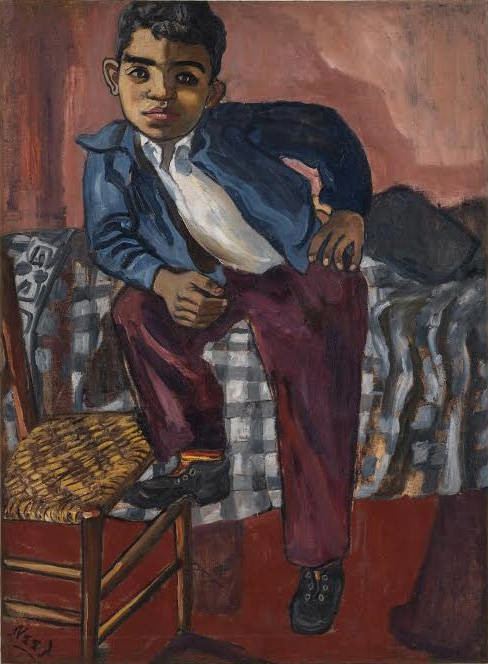 Alice Neel. Georgie Arce. 1953
Andy Warhol ate the same thing for lunch every day: a can of tomato soup. He said, "I used to have the same lunch every day, for twenty years, I guess, the same thing over and over again." Make a drawing of what you like to eat for lunch. How will you represent, or show, your meal?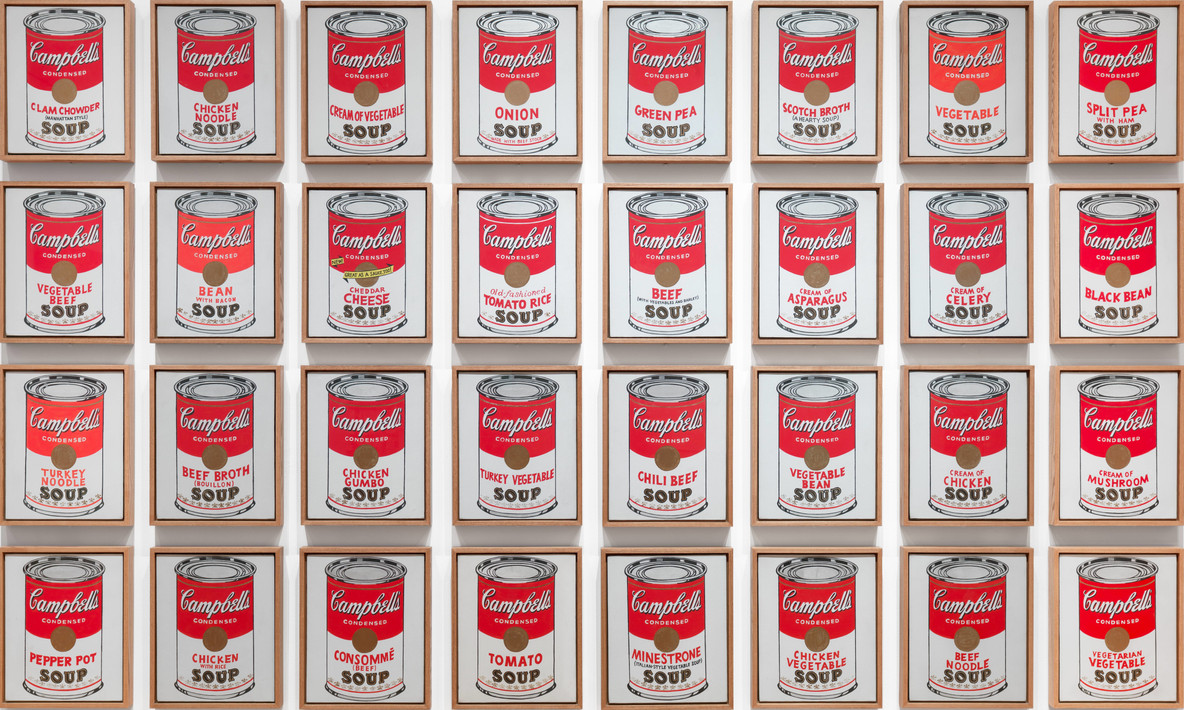 Andy Warhol. Campbell's Soup Cans. 1962
Stephen Shore photographed the Merced River in Yosemite National Park. What three objects would you bring if you visited this place? Draw or list them.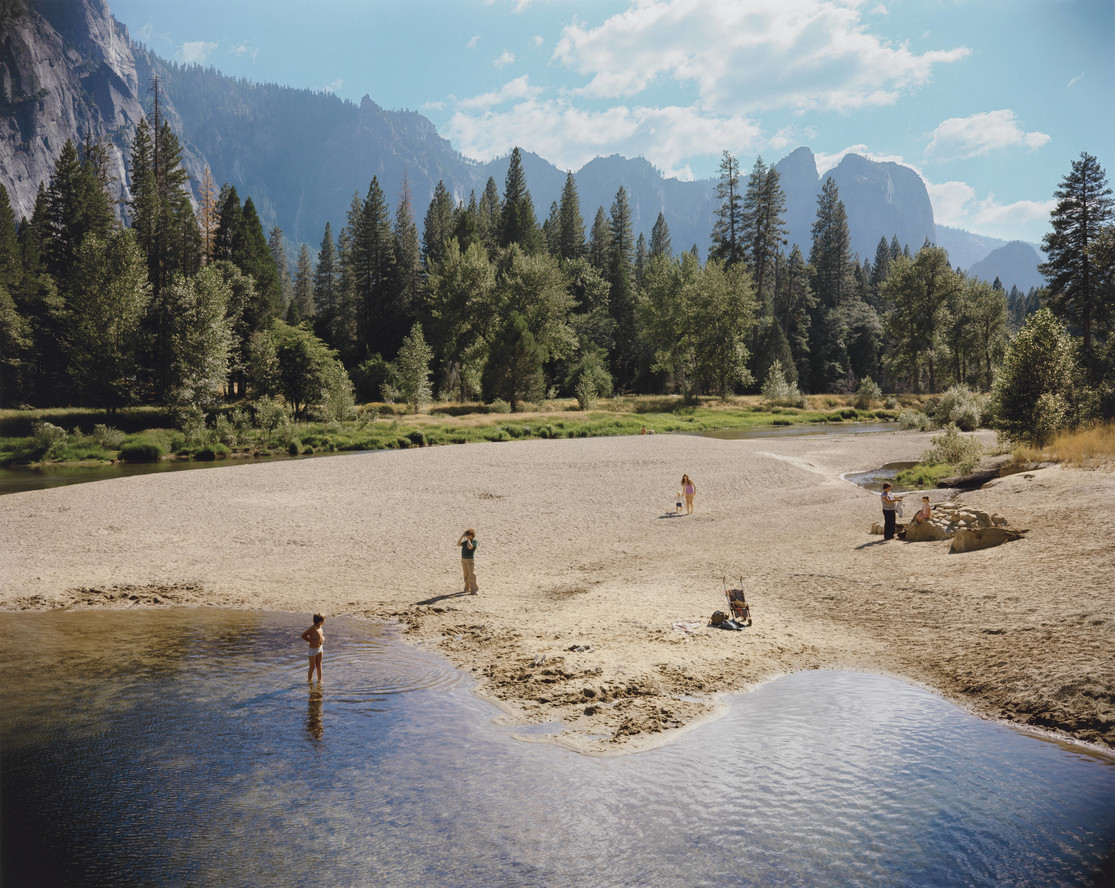 Stephen Shore. Merced River, Yosemite National Park, California, August 13, 1979. 1979
Imagine yourself in André Derain's landscape. What might you hear or smell? What might you see beyond the frame?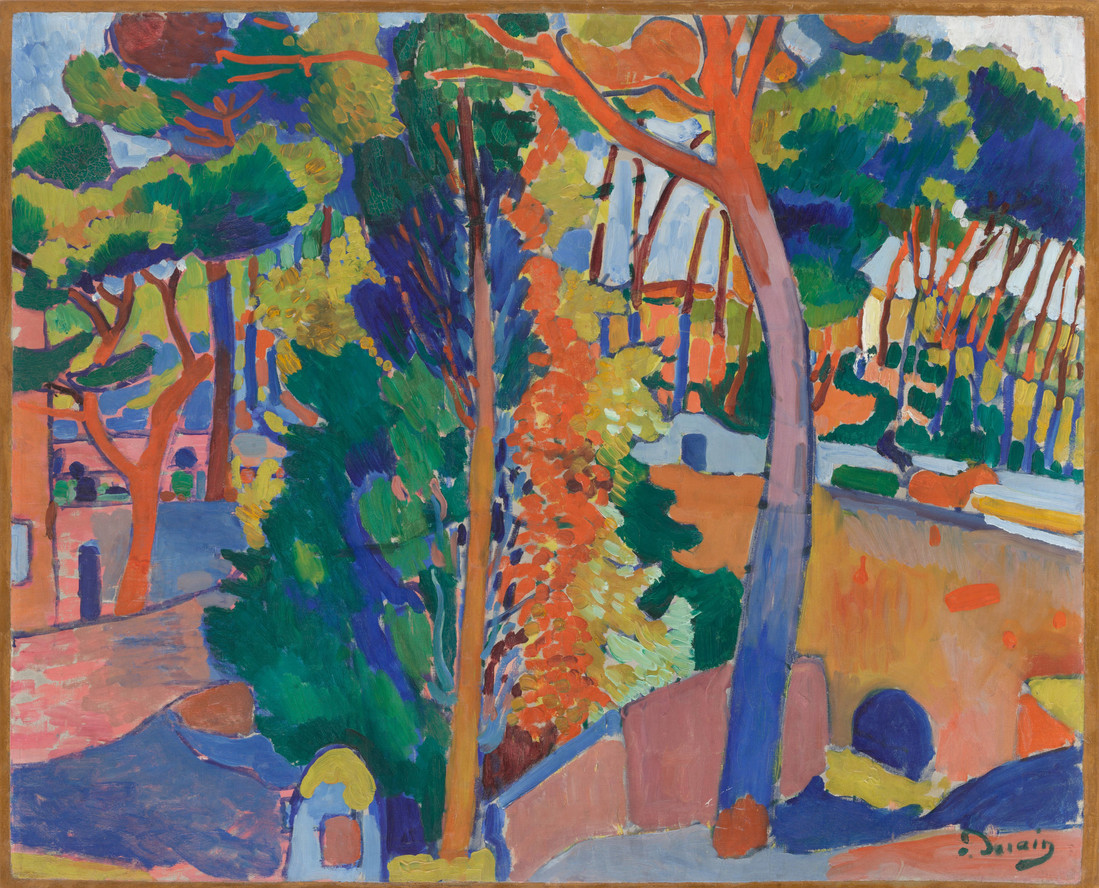 André Derain. Bridge over the Riou. 1906
Each part of the Formula 1 Racing Car is designed to allow it to go fast—from being wide and low to the ground, which prevents it from flipping over when turning corners, to the flowing, streamlined shape that helps the car move faster through the wind.
Design your own car. What special features will it have? Make a drawing or model of your design.

John Barnard, Ferrari S.p.A., Maranello, Italy. Formula 1 Racing Car (641/2). 1990
Activity 3: Kids' Audio
Enjoy some guilt-free screen time with this playlist. Look, listen, and learn about art with audio designed especially for kids.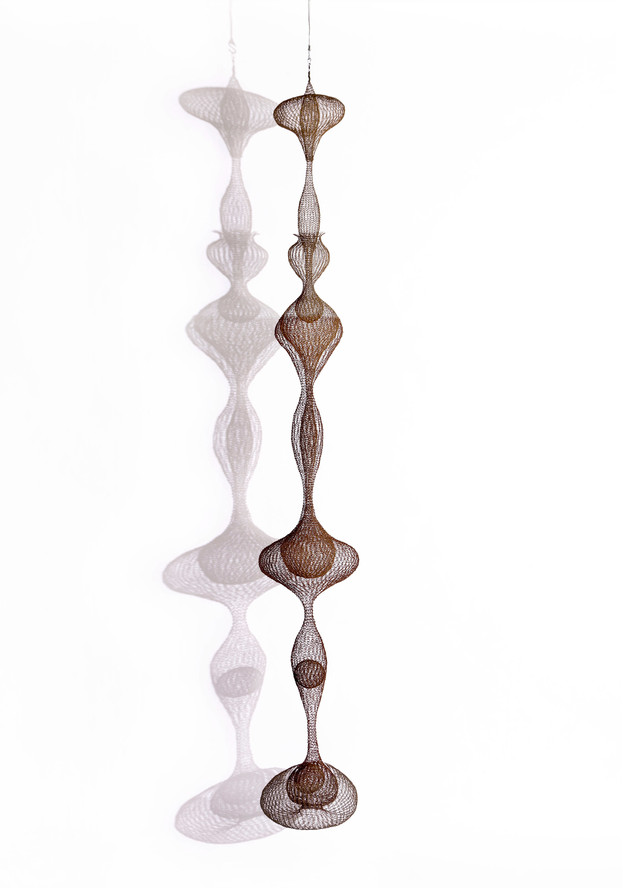 Ruth Asawa. Untitled. c. 1955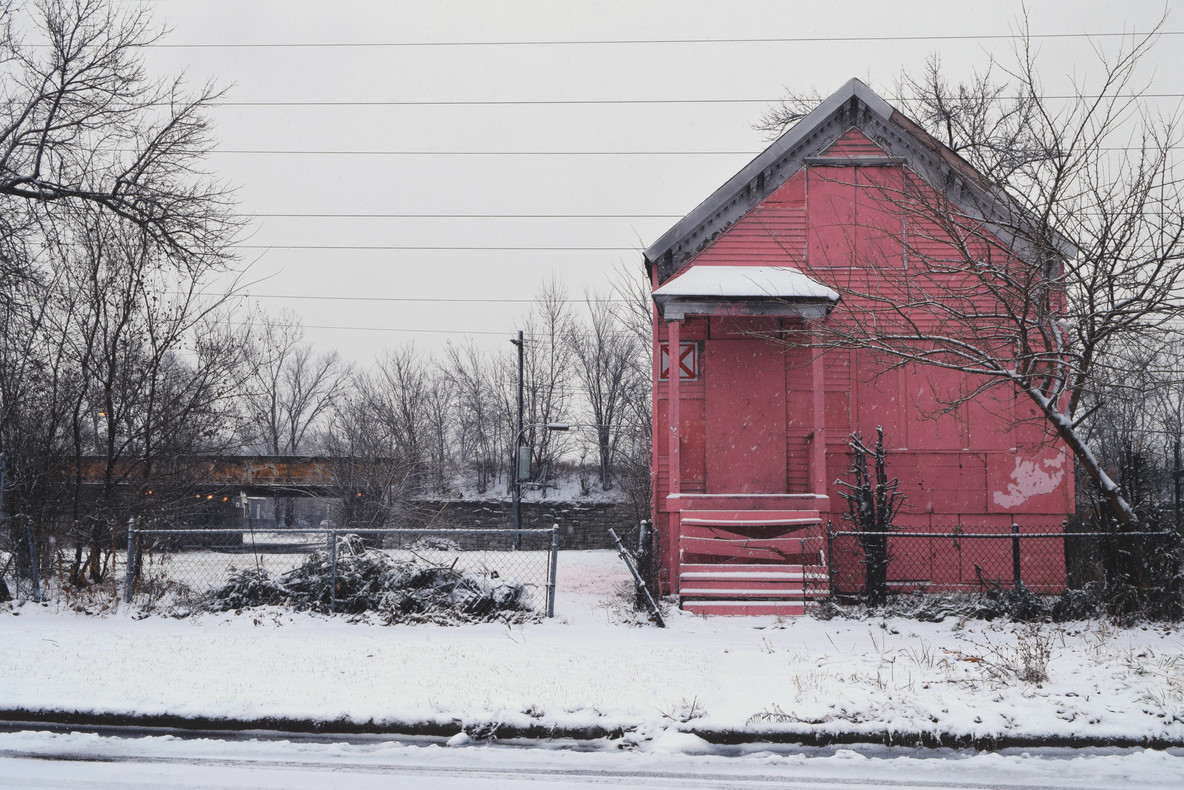 Amanda Williams. Pink Oil Moisturizer, from the Color(ed) Theory Suite. 2014–16
Lee Bontecou. Untitled. 1961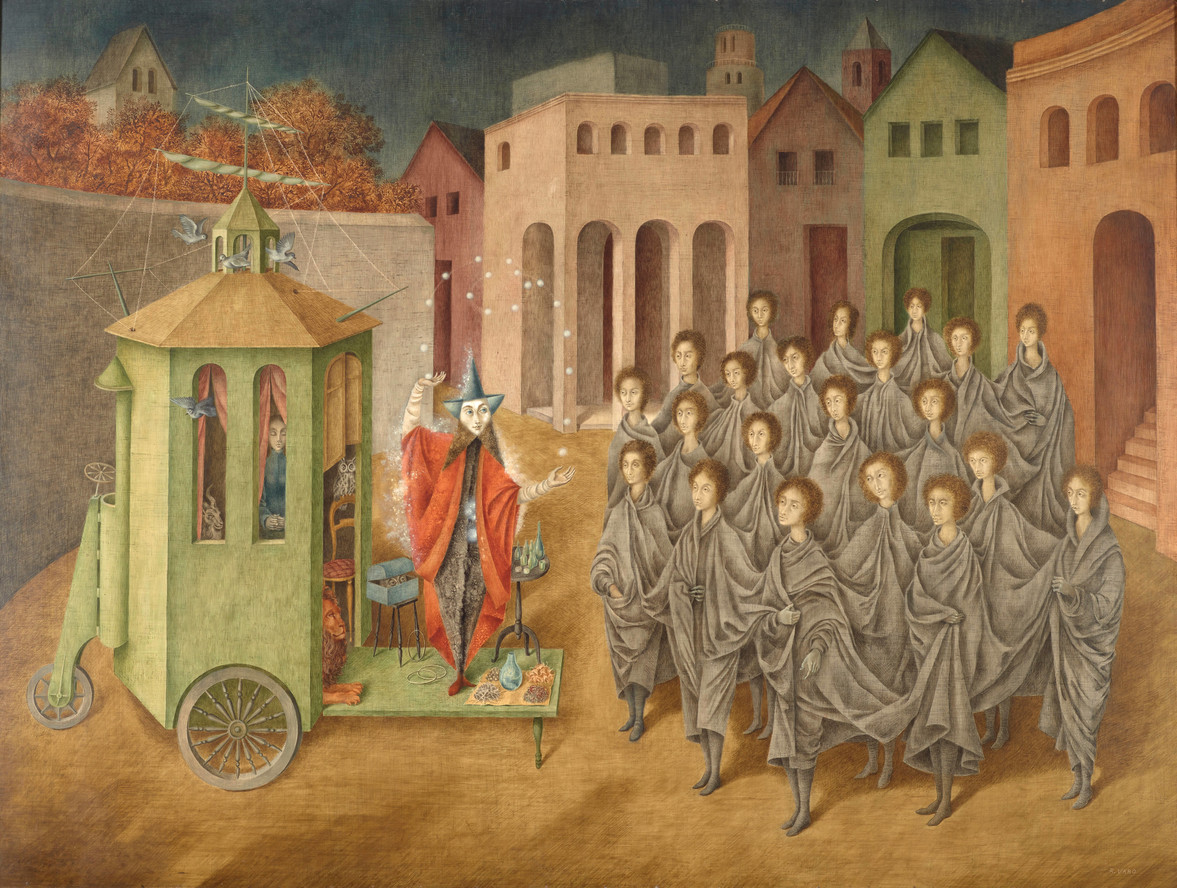 Remedios Varo. The Juggler (The Magician). 1956

Claude Monet. Water Lilies. 1914–26
Check out transcripts and more audio for kids.
Activity 4: Art Making with MoMA
For more activities, from constructing a wearable sculpture to filming a chain reaction, check out these step-by-step activities from Art Making with MoMA.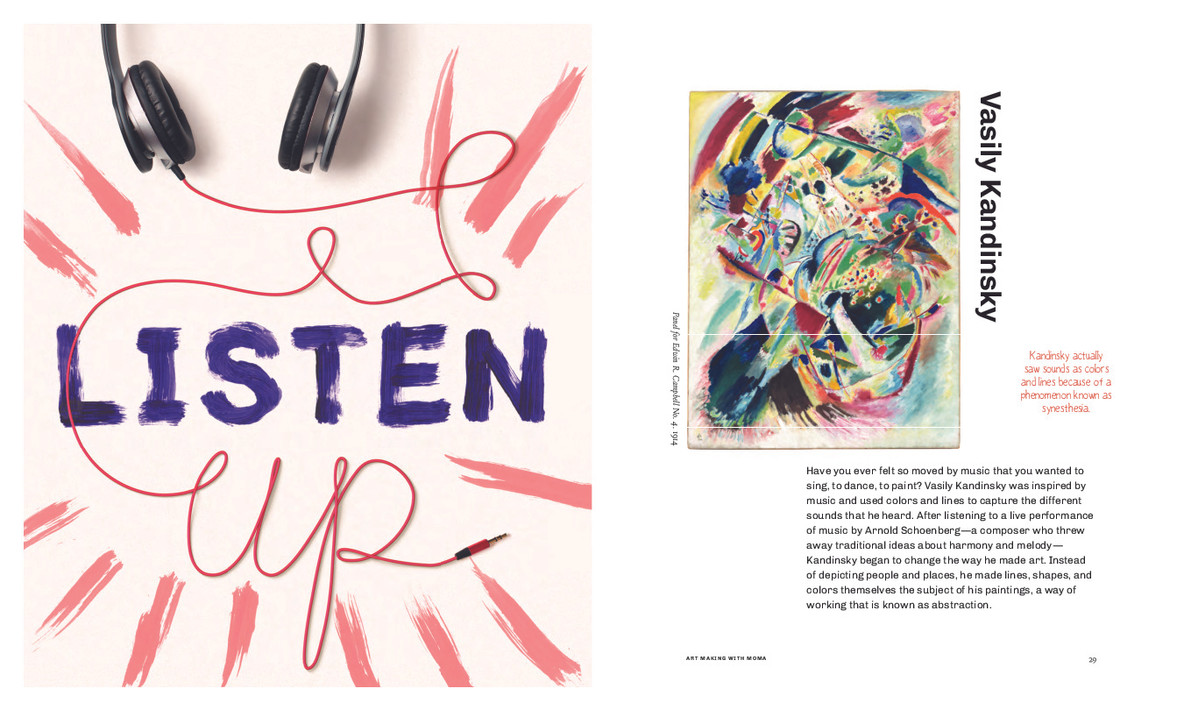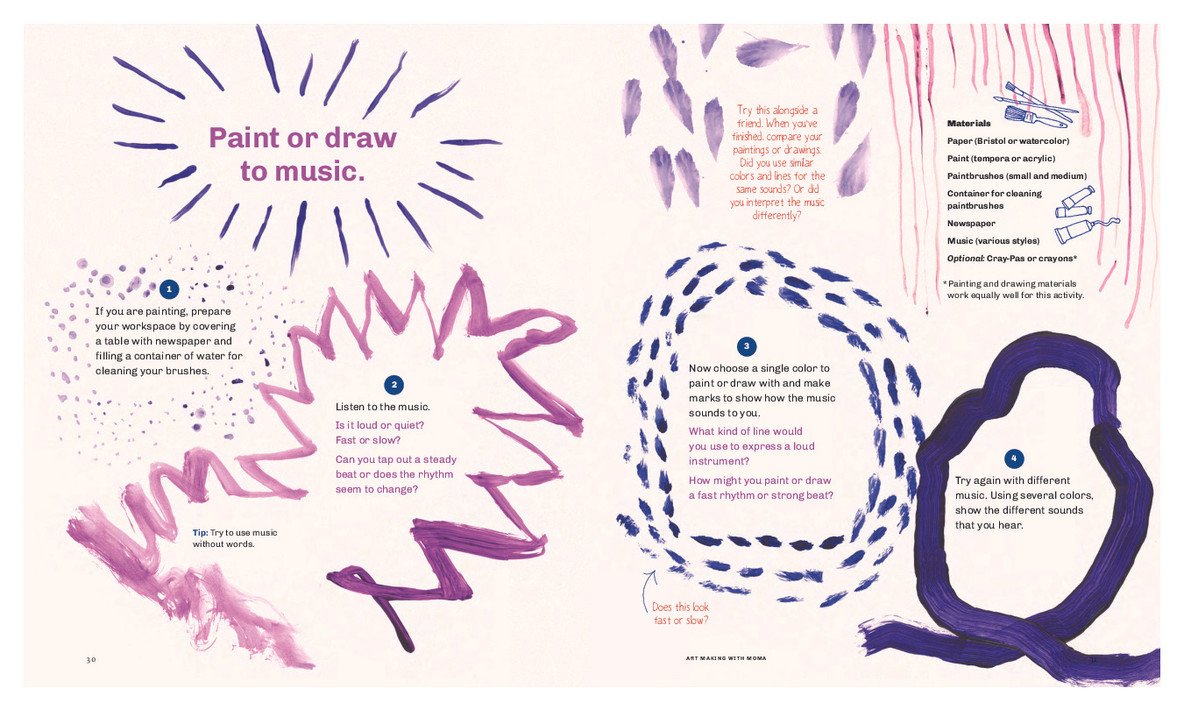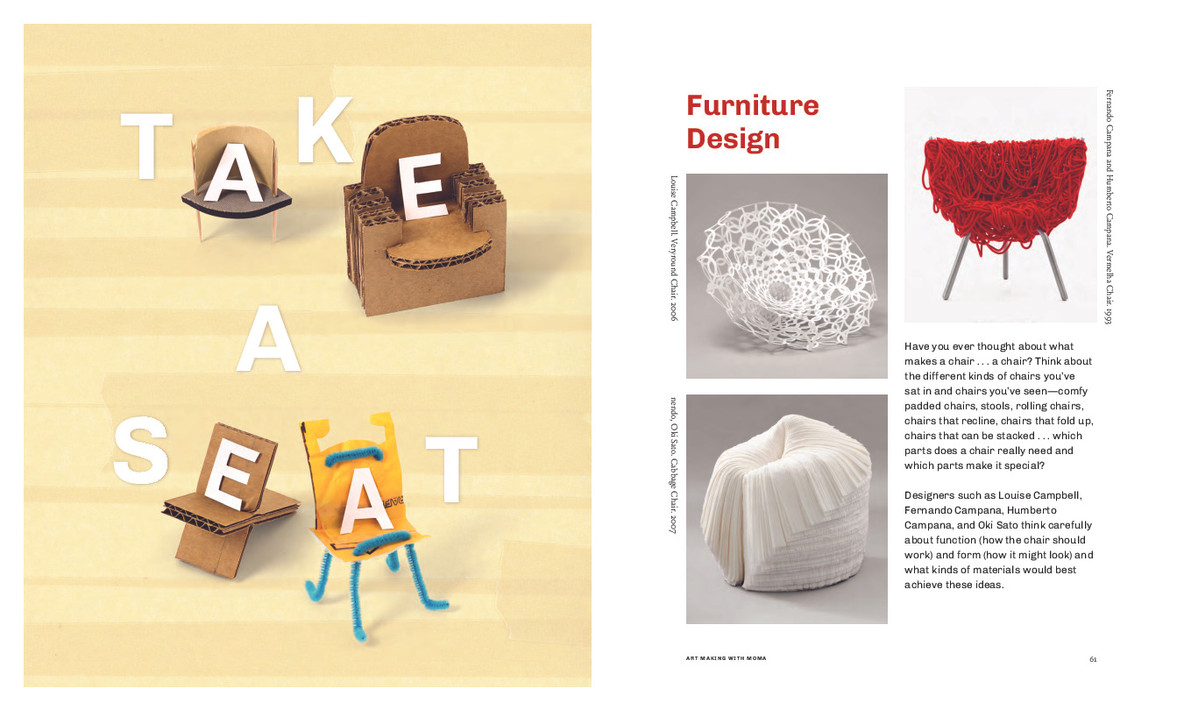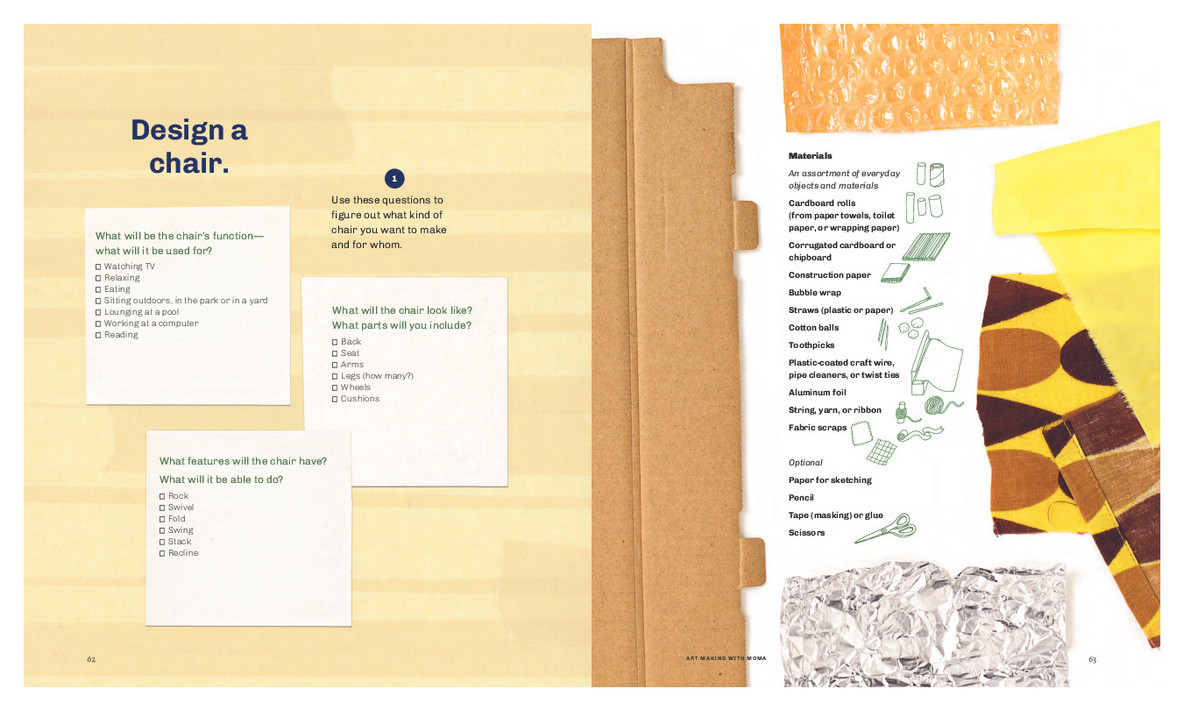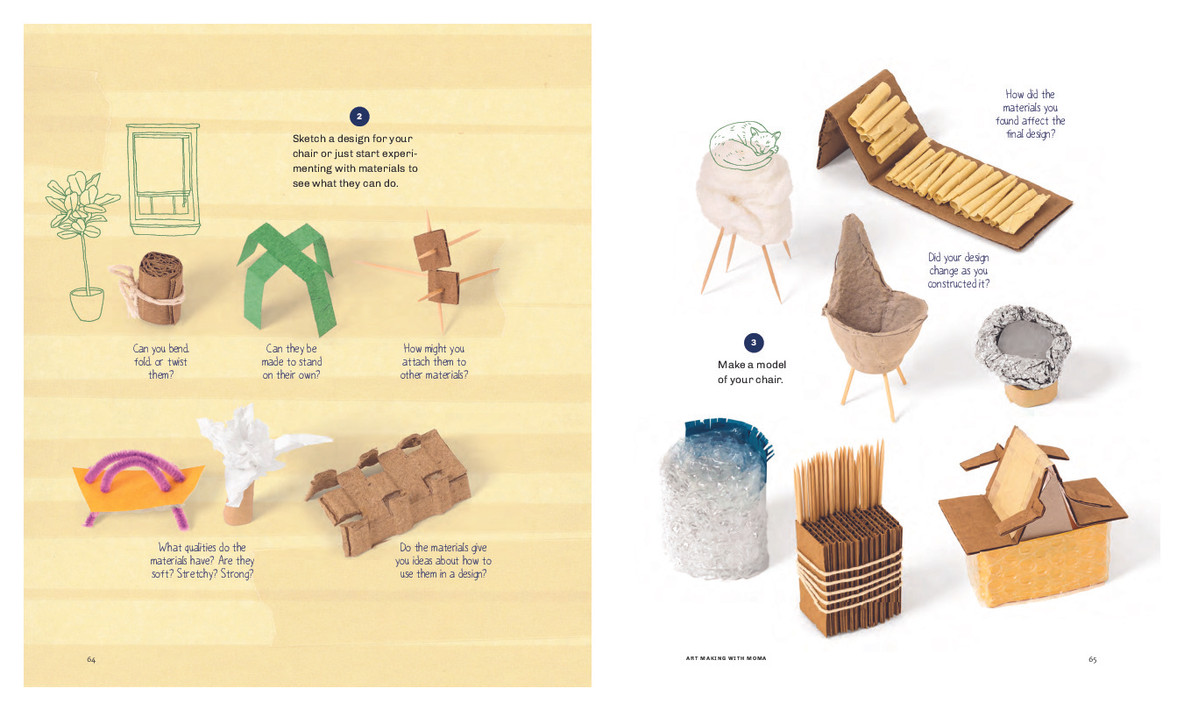 Activity 5: Activities Inspired by Artists' Processes
Here are some simple activities inspired by MoMA artworks that you can do at home with paper, drawing materials, and tape.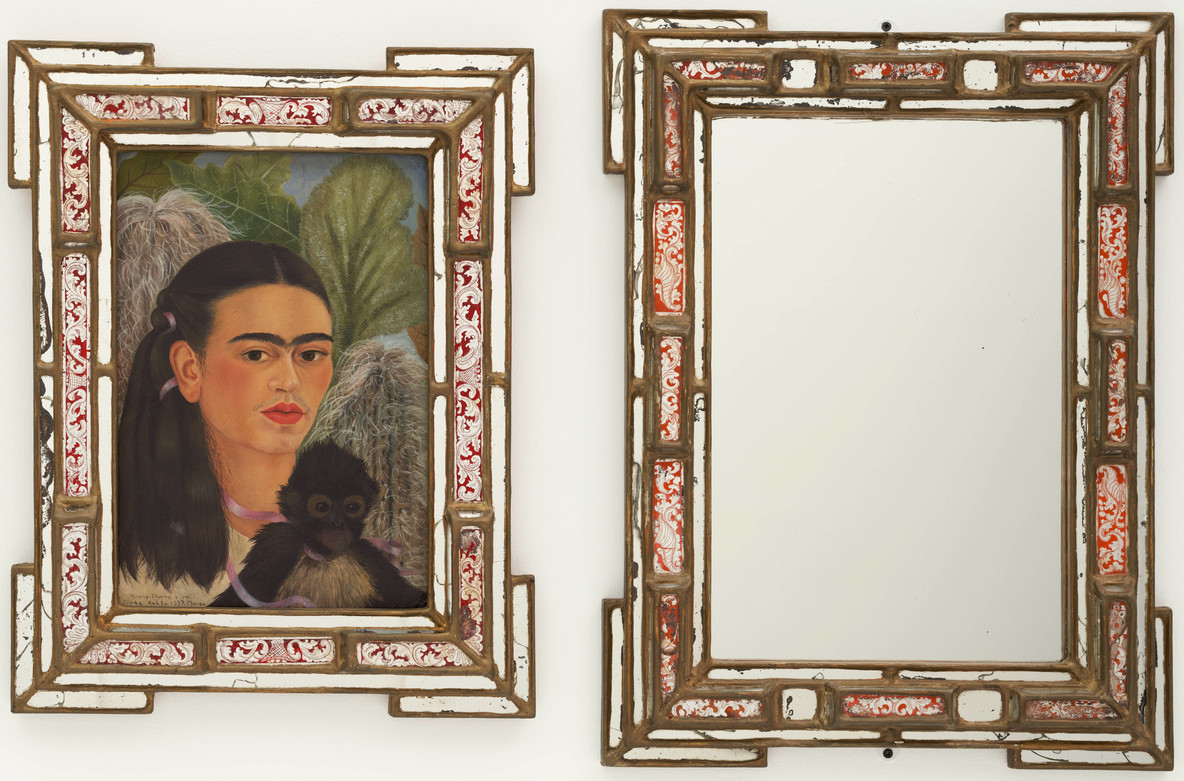 Frida Kahlo. Fulang-Chang and I. 1937 (assembled after 1939)
Frida Kahlo painted self-portraits and filled them with symbols of her ideas, her feelings, and important events in her life. In Fulang-Chang and I, Kahlo painted herself wearing traditional Mexican clothing, surrounded by native plants to show her pride in her country. She also included her pet monkey—connected to her by a pink ribbon—perhaps showing her love for him.
When Kahlo gave the painting to her friend Mary Sklar, she added a mirror to be hung next to it, so that when her friend looked in the mirror they would be together—her face and Mary's reflection—even when they were physically apart.
Try this!
Draw or paint a portrait of yourself. What will you include that shows who you are? If you'd like, send your portrait to a friend.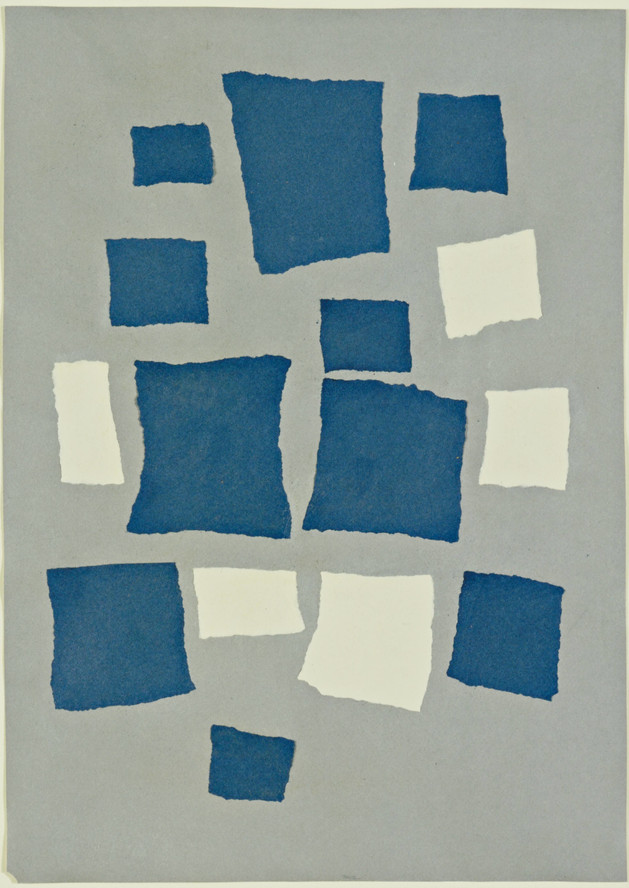 Jean (Hans) Arp. Untitled (Collage with Squares Arranged according to the Law of Chance). 1916–17
Jean (Hans) Arp experimented with different kinds of art-making. To make this collage, he tore paper rectangles and let them fall onto a larger sheet of paper. The artist let chance decide where the pieces would fall. Some people think he might have moved some of the shapes for the final collage, other people think he didn't. What do you think?
Try this!
Create a chance collage. Tear shapes out of a piece of paper. Let the shapes fall from a distance onto a sheet of paper. What do you notice about your arrangement? Glue or tape down your pieces or try again.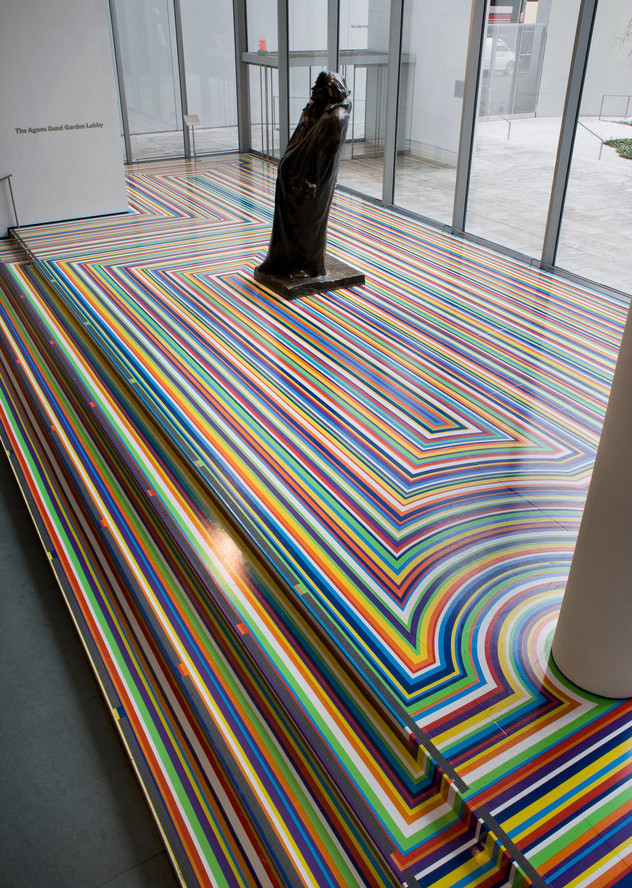 Jim Lambie often creates art for a specific place. To make ZOBOP he used vinyl tape to create a colorful series of lines on the floor of the Museum. The lines formed different shapes and patterns as they curved around a column or made a sharp turn at a window.
Try this!
Create a line design. Make a design for a floor using lines of tape. You can also do this on a piece of paper using crayons or markers.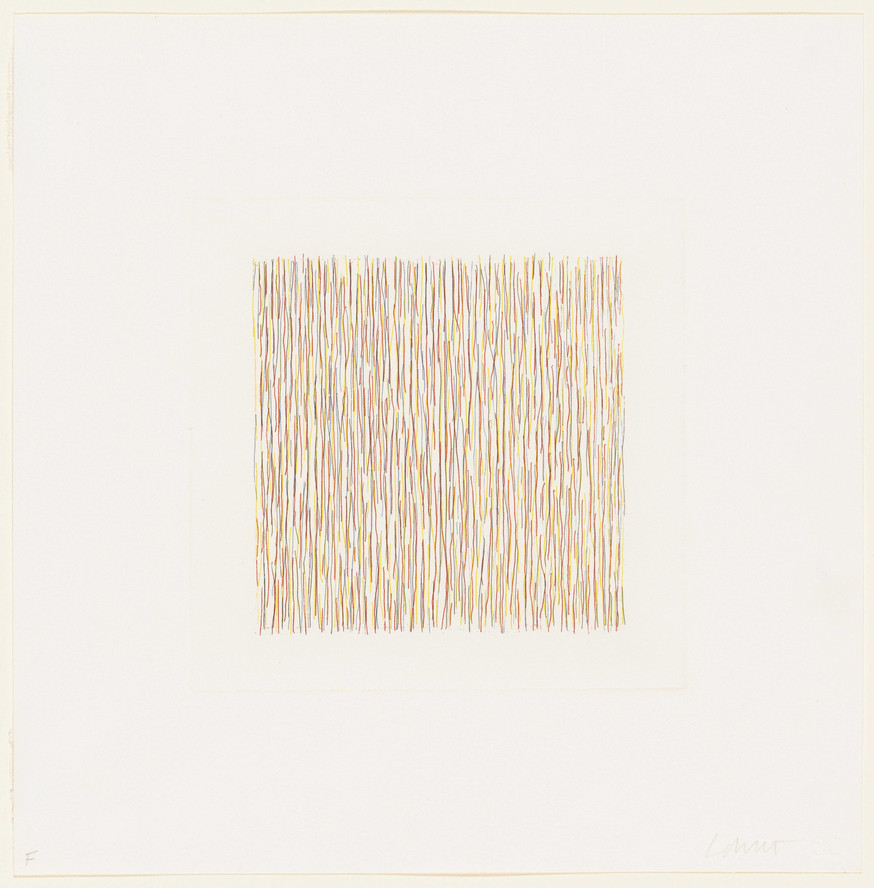 Sol LeWitt. Lines, Not Straight, Not Touching, Four Colours. 1971
Sol LeWitt wrote instructions that other people used to create works of art. He said, "If I give the instructions and they are carried out correctly, then the result is OK with me." In Lines, Not Straight, Not Touching, Four Colours, the instructions are the title of the drawing. Look at the picture to see how this work was made by following these rules.
Try this!
Draw from instructions. Try your own take on LeWitt's rule or make up your own instructions. Then follow the rule to make two different drawings. Another idea: you and a partner can create instructions for each other to make a work of art.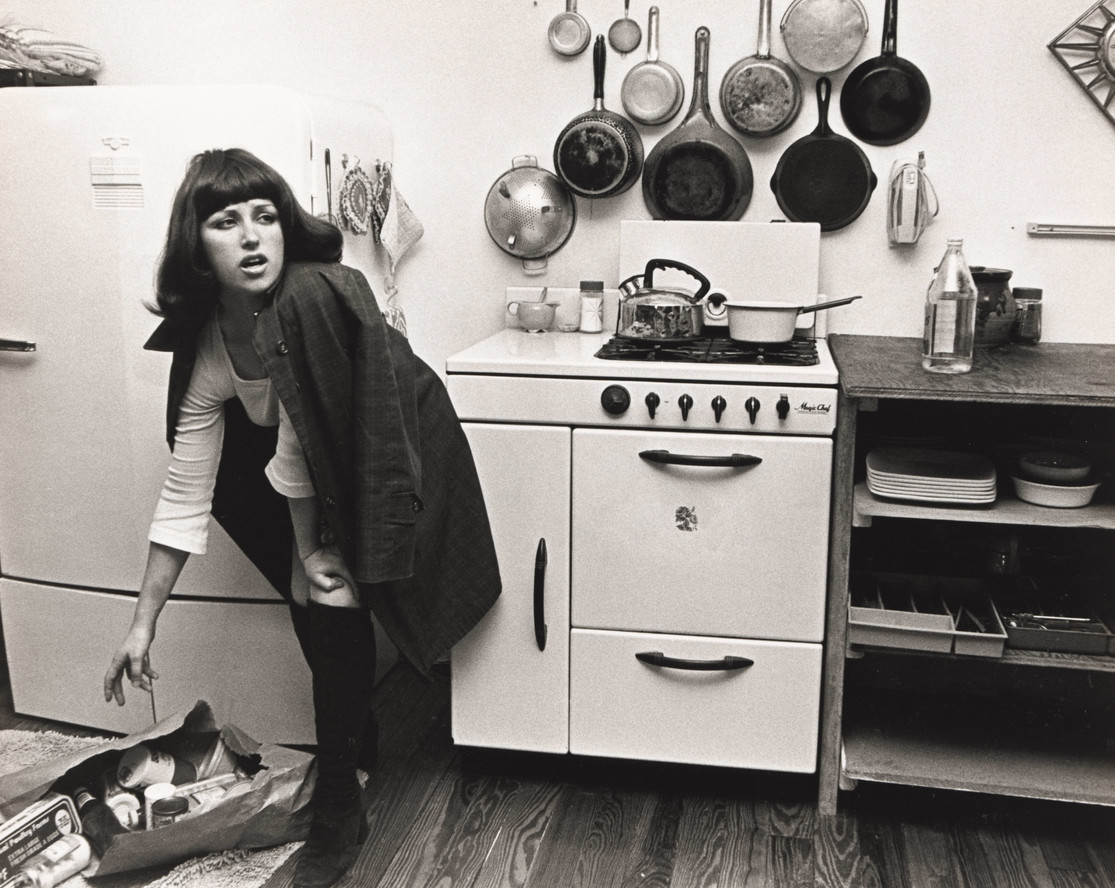 Cindy Sherman. Untitled Film Still #84. 1978
Cindy Sherman creates photographs of herself dressed as different characters. She is both in front of and behind the camera, acting as model, makeup artist, stylist, and photographer. She said, "I wish I could treat everyday as Halloween, and get dressed up and go out into the world as some eccentric character."
Try this!
Think about a character from a story, movie, TV show...or a person you know. Then look around your house and see what kinds of clothes and props will transform you into that person. You could also invent a character based on what you find. After you dress up, try out different poses in front of a mirror. Next choose a setting or location where you imagine your character in action—you could even make your own background. When you're ready, take a photograph of yourself, or ask a family member to help. Capture a few poses and expressions. What do they reveal about your character?