Cooking with Artists: Nathan Carter
The artist shares a refreshing, tangy salad to be eaten with friends, in MoMA PS1's ongoing series with chef Mina Stone.
"I like kids' work more than work by real artists any day."
—Jean-Michel Basquiat
I was watching my three-year-old son, Apollo, joyfully paint our entire kitchen table with free-flowing rainbows and gold handprints. He was fully in his zone, laughing with delight at the tactile sensation he felt while squishing the paint between his fingers and watching the colors blend and collide.
At that moment, I felt an incredible distance from his innocence. Like most of us, I am wrapped up in processing and unraveling the day-to-day since March, tapping into the most serious parts of my mind and running marathons there for indeterminate periods of time.
"Children make things from the heart." That was a note I had written to myself before interviewing the painter, sculptor, and installation artist Nathan Carter. A reminder to myself to find the spiritual essence of unprogrammed integrity in daily life. My interview with Nathan unexpectedly revealed itself as connected to the note I had written before we spoke.
Nathan told me, "When I was a kid, I drew and built my worlds a lot. I would make maps and models of places. I would mix toys together and there was a lot of masking tape, pencils, matchboxes, thread, string, and Elmer's glue—sticking legos to pine cones and things like that. I think, as an adult, as a childish adult, I'm still doing that storytelling through drawing maps of places and world-building."
Whimsical, thought provoking, yet also straightforward, Nathan extends an invitation into a world where different colors, shapes, and languages exhort you to participate and reimagine. This is something he also applies to his relationship with cooking—as something he incorporates into the life of his studio. Lots of different dishes, full of color and flavor passed around and shared.
One of my favorite parts of our interview was when we spoke about the nonverbal communication between parents and children around the dinner table; the moments of beauty we find to share with those we love, sometimes over hot pockets and milk. "There's lunch on the table...it might just be like plates of hot pockets with carrot slices and glasses of milk…. The oldest one is making a painting and the youngest one is building a car out of a piece of cardboard...I'm working on something and there's tools, glue guns, and food, and I remember taking stock of this and thinking...there is so much love in this scene."
Ensalade Brillante
"There were some years where I kept going to Guadalajara to work at a ceramics factory called Cerámica Suro, which is run by this really lovely man named José Noé Suro," Nathan told me, "I remember plates of large cucumber slices with lots of lime juice all over them. Then José would put red chili sauce on them and I thought 'this is incredible.'"
This was the beginning of Nathan's Ensalada Brillante—his own name for a refreshing, tangy salad of cucumbers, mangoes, pineapples, lime, and spicy Thai chilis for kick. Visually, the salad is reminiscent of Nathan's artwork, building blocks of colors and shapes meeting together and creating a delicious world we get to share in.
Serves six to eight people
2 hothouse cucumbers
1 mango, peeled and cut into quarter-inch slices
Half of a pineapple (substitute navel or blood orange or yellow melon), cut into cubes
The juice of 4 limes (about 1/3 of a cup)
3 or 4 Thai red chilies
Salt (optional, see note)
Cilantro leaves for garnish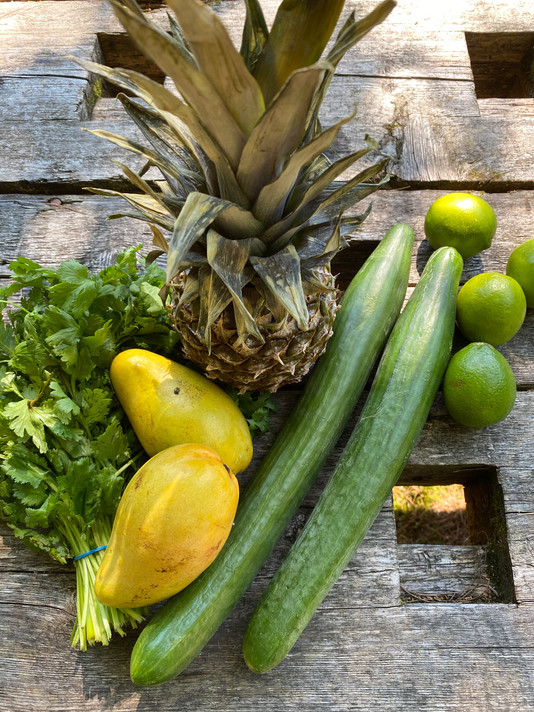 Using a vegetable peeler, peel the two cucumbers in alternating stripes and slice in 1/4"-thick rounds.
Carefully cut three to four red Thai chilies down the center and remove the seeds and slice into small ribbons. (Mina's note: I used serrano peppers as a substitute because Thai chilies weren't available.)
On a large serving platter, arrange the cucumber slices in a single layer.
Place mango and pineapple slices on top of the cucumber, and sprinkle the Thai chilies over the salad.
Squeeze or pour the lime juice to completely saturate the cucumber, mango, pineapple, and chilies. Sprinkle the salad with salt and garnish with cilantro leaves.
Nathan's notes:
You can refrigerate the salad for a few hours and serve it cold (reserve the cilantro garnish for when you are ready to serve).
Nathan doesn't usually salt this salad, as he serves it with food that is rather salty and finds he likes the balance. I couldn't help but give it a little sprinkle, so dress to your taste.
Nathan often serves this with braised short rib or pulled pork tacos, guacamole, Tecate, and tequila…