Cooking with Artists: Maia Ruth Lee
The artist shares her mother's recipe for miyeokguk, in MoMA PS1's ongoing series with chef Mina Stone.
"Love is an action, a participatory emotion. Whether we are engaged in a process of self love or of loving others we must move beyond the realm of feeling to actualize love.... This is why it is useful to see love as a practice."
—all about love, bell hooks, 2001
This series of interviews, in many ways, has taken on a life of its own. It started as an intimate series of artists' recipes during the COVID-19 shut down. A window into artists' work ethos and personal lives under the guise of a simple recipe.
Now the series is changing with the times.
Cooking is political. It always has been and it always will be. It is a method of education and a catalyst for community engagement. It can simultaneously be a voice of dissent and a tool of extreme oppression. In its purest form, cooking is an act of love.
A lot has changed since I interviewed Maia Ruth Lee, a New York–based artist, over a month ago for the fourth installment of this series. Maybe if I interviewed her today she would choose to share a different recipe, or none at all, but it leaves room to draw the significance from her interview and apply it to the world as it is today—different than it was a month ago.
In big and small ways, little things connect us, educate us, and unite us. It is not business as usual anymore, but rather the business of change and ever-evolving awareness. Cooking is, more often than not, deeply rooted in one's identity and culture. It is a universal language with which we can connect and experience each other, and it gives us the ability to educate about culture, family, and history.
Cooking is political. It always has been and it always will be.
Mina Stone
Maia's artwork explores "language as a tool that connects and separates us, language and symbology as a mode of self protection, self preservation, and a code that keeps us all in check with one another." Her most recent installations include glyphs of found metal scraps from fences and windows throughout New York City, as well as "Bondage Baggage" luggage—bound by rope, tarp, and string.
Maia is also the director of a nonprofit after-school program called Wide Rainbow, which connects contemporary artists with the community. She mentioned in our interview that her role as an educator and her art practice is a symbiotic relationship, each method informing and nurturing the other. Her art is also deeply embedded in her personality—she's a rapt listener and community engager, and she has the instant ability to make people feel at home around her.
As Maia said, "I often think about what kind of legacy we can leave behind. What ideas will stay and what will be forgotten? Education is at a pivotal moment right now. We have been able to peel away little by little to reveal great flaws of a system that erases, misplaces, and misuses what is handed down to the next generation. What is our legacy as thinkers, artists, and creators? It must be about the truth. It must be about integrity and grace. It must be about generosity and strength, and it must be about supporting our very own communities."
Maia Ruth Lee's Miyeokguk
Maia chose to share her mother's recipe for miyeokguk—miyeok ("seaweed") and guk ("soup"). Miyeokguk is a traditional Korean seaweed soup made for people on their birthdays, and for new mothers during the postpartum period. The soup is rich in iron, minerals, and potassium, and adheres to the main philosophy of Korean food: that nutrition is a vital component of health and food is medicine.
Maia's childhood was spent mostly in Nepal, and her mother would make this often for her family. She also made it every day, for two weeks, after Maia gave birth to her son, Nima.
The soup is traditionally made with lots of dried whole miyeok, which can be found in Korean groceries stores or online (wakame, as it's called in Japanese), and beef, chicken, or mussels. Maia's mom used canned tuna because it was more accessible in Nepal, and it saved her a trip to the butcher that "she didn't trust very much" (ha!).
20g dried whole seaweed (miyeok or wakame) (about three cups soaked)
1 or 2 cloves of garlic, chopped
1 tablespoon sesame oil
1 can of water-packed albacore tuna, drained and crumbled
2 tablespoons soy sauce
1 teaspoon sea salt
8 cups water
1 tablespoon white miso, or any miso you like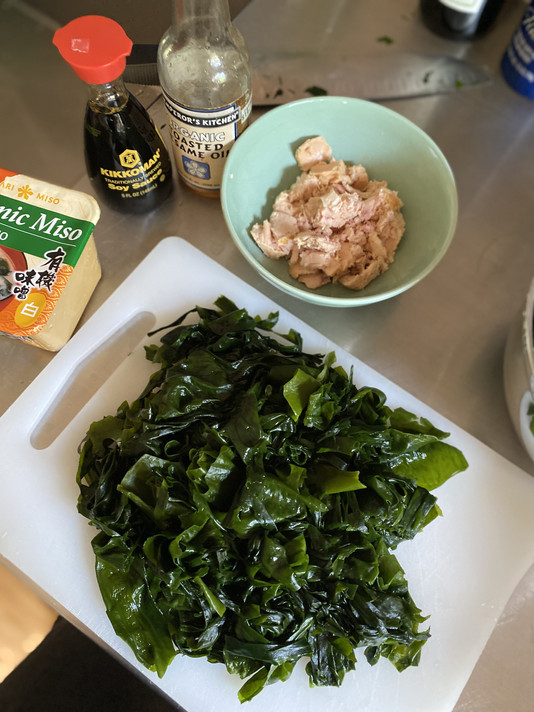 Soak the dried miyeok for about 30 minutes in a large bowl of cold water. Rinse thoroughly and drain. Chop the miyeok into bite-sized pieces, measuring out three cups.
In a large pot over medium/high heat, sauté the garlic and sesame oil for one minute, add the crumbled tuna, and sautee for one minute more to marry the flavors.
Add the miyeok and soy sauce to the pot and continue to sauté for another four minutes. Add the eight cups of water to the pot and bring the soup to a boil. Reduce the heat and simmer for 10–15 minutes. Add the miso to the soup and simmer for a couple more minutes, then add salt and pepper to taste.
Maia's note: Miyeokguk is traditionally a very delicately flavored soup. There is a typical way of mentioning seasoning in Korean recipes, 적당히, the literal translation being "the right amount," and the figurative translation in English would be "to your taste."
Mina's note: The seasoning for this soup is a base starting point. You can add more salt, soy sauce, or miso "to your taste."