Modern Art History Research at Home
Learn from home with these resources from MoMA's Archives, Library, and Research Collections (ALRC), along with tools from other institutions.
As we head into a strange new socially distanced kind of summer, scholars, curators, students, and others are discovering new ways to learn, research, and grow from home. Below are some resources that we in MoMA's Archives, Library, and Research Collections (ALRC) have found useful and exciting. Some are platforms that have temporarily lifted access restrictions during the COVID-19 crisis; others are rich digital resources that have always been just a click away. Happy researching!
MoMA Resources
MoMA Exhibition History
Our MoMA and MoMA PS1 exhibition history pages include digitized catalogues, installation photographs, press releases, and checklists, from the Museum's founding in 1929 till now. Researchers can also explore our exhibition history and collection data sets on GitHub.
MoMA Archives Image Database (MAID)
MAID contains about 50,000 items digitized from our Archives: letters, ephemera, photos of artists and other art-world personalities, historical views of the Museum building and Sculpture Garden, and more. You can search MAID by keyword or browse by date range.
MoMA through Time
The interactive microsite MoMA through Time is an incomplete history of MoMA and MoMA PS1 as told through photographs, letters, and video from the Archives.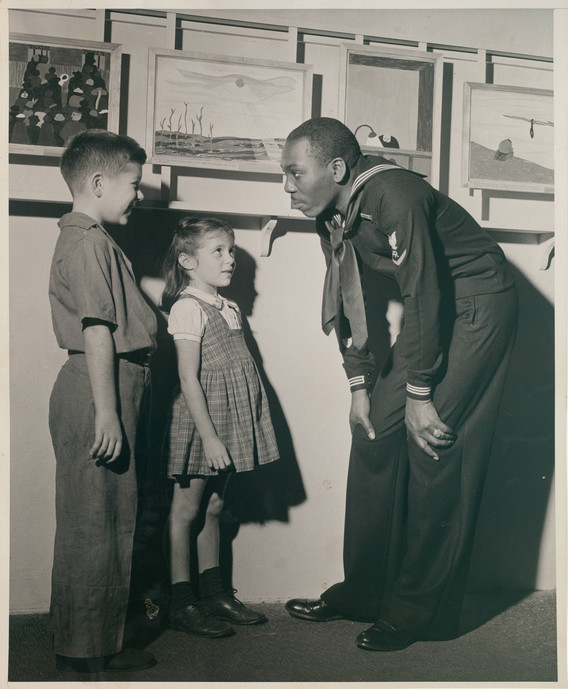 At MoMA through Time, take a look back at moments and milestones in the Museum's past—like Jacob Lawrence greeting visitors to his 1944–45 exhibition Paintings by Jacob Lawrence.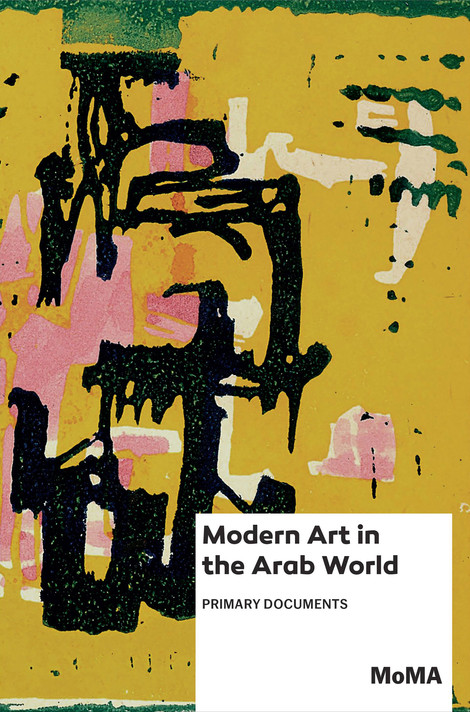 MoMA publications like Modern Art in the Arab World: Primary Documents (2018) are available through the Primary Documents resource.
MoMA Library Electronic Resources
The MoMA Library's e-resources finder provides access to a trove of rich and varied materials, much of it unique, on art and cultural history. These include open access content from HathiTrust and the Library of Congress, as well as content from select online journals and resources available through our database subscriptions.
post: Notes on Modern and Contemporary Art around the Globe
post is the public face of MoMA's Contemporary and Modern Art Perspectives (C-MAP) program, an internal research program promoting the exploration of modern art history beyond North America and Western Europe. The essays, trip reports, interviews, and bibliographies available on this site give researchers a peek into the exciting research happening at MoMA behind the scenes.
Primary Documents
Many MoMA publications have been digitized and are available on our site, but one particular highlight is the Primary Documents series. Each of the anthologies in this series is devoted to a particular critic, country, or region outside of North America or Western Europe, and includes archival materials like artists' writings, correspondence, criticism, and more.
General Research Resources
JSTOR
JSTOR is a digital library that provides access to more than 12 million academic journal articles, books, and primary sources. During the COVID-19 crisis, JSTOR has expanded the amount of content it makes freely available online.
The Library of Congress
The digital collections available on the Library of Congress's site include architecture, design and engineering drawings, a comics literature and criticism Web archive, a collection of Works Progress Administration posters, and more.
Getty Research Institute
The Getty Research Institute, an essential center for art history research and knowledge, has a variety of useful resources on its website: an open content program, digital collections, and the Getty Research Portal, which provides access to digital copies of art history texts, rare books, and related literature.
Archives of American Art
The Archives of American Art's website includes online exhibitions, over three million digitized documents, 1,500 oral history transcripts, and more. Their site would be particularly useful for scholars of Black art and artists; their collections include the fully digitized papers of Romare Bearden, Jacob Lawrence and Gwendolyn Knight, Alma Thomas, and others.
Project MUSE
The Project MUSE database, a collaboration between humanities and social sciences libraries and publishers, contains over 700 journals from 125 publishers and over 60,000 books from more than 100 presses. During the COVID-19 crisis, many of the database's participating publishers are choosing to make their content on the platform freely available.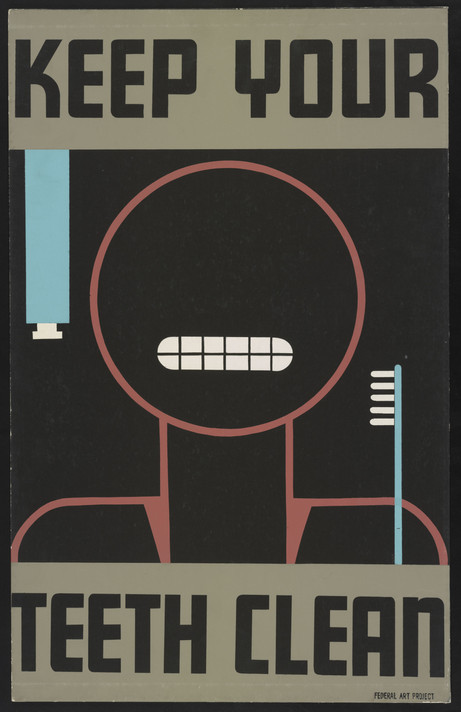 "Keep your teeth clean" (c. 1936–38) is one of many Works Progress Administration posters in the Library of Congress's digital collections.
Specialized Resources
UCLA International Digital Ephemera Project
UCLA's International Digital Ephemera Project (IDEP) presents digital ephemera—everything from protest posters to postcards, cell phone videos to newspaper advertisements—with the aim of broadening our historical record past the mainstream media. The ephemera is gathered with global partners like the Lalish Center in Kurdistan and the Palestinian Museum, and includes content from Armenia, Cuba, Egypt, Iran, Iraq, Israel, and South Africa.
The Metropolitan Museum of Art's Thomas J. Watson Library Digital Collections
The Metropolitan Museum of Art has a wide variety of resources digitized and freely available, from fashion plates from the Costume Institute to early photography trade manuals. Their MetPublications site also includes nearly 600 books with full text online.
Hemispheric Institute Digital Video Library
The Hemispheric Institute Digital Video Library (HIDVL) documents performance practices across the Americas from the 1970s till now. The library includes a significant, wide-ranging collection of performance video—almost 900 hours' worth—but also artist profiles, interviews, bibliographies, and more.
The Schomburg Center for Research in Black Culture, Jean Blackwell Hutson Research and Reference Division
Many items from the Schomburg Library's collection of rare books, documents, and other materials relating to Afro-American and African diaspora culture are digitized. The Schomburg Center also offers a wide range of cataloged periodicals on the global Black experience from the Americas, Sub-Saharan Africa, Europe, and elsewhere. Researchers can retrieve the full text of articles of many articles with a valid New York Public Library card. They also offer a library guide that helps users access many others, including digitized versions of periodicals like The Crisis, Black Enterprise, Ebony, Jet, Vibe and others available via Google Books.
Digital Library of the Caribbean
The Digital Library of the Caribbean provides access to 2.6 million pages of Caribbean cultural, historical, and research materials held in archives, libraries, and private collections, including newspapers, official documents, ecological and economic data, maps, histories, travel accounts, literature, poetry, and musical scores.
International Center for the Arts of the Americas at the Museum of Fine Arts, Houston's Documents of Latin American and Latino Art
Documents of 20th-Century Latin American and Latino Art, the International Center for Arts of the Americas (ICAA)'s signature project, provides free, open access to over 10,000 historical documents—correspondence, manifestos, essays, and lectures—on the development of modern and contemporary art in Latin America and among Latinx populations in the US.
Frick Art Reference Library at Home
The Frick Collection's library (which is partnered with MoMA through the New York Art Resources Consortium) has over 20,000 resources available online, including digitized books, pamphlets, journals, and more.
Asia Art Archive
The Asia Art Archive is a growing collection of letters, photographs, video, and ephemera surrounding recent art in Asia, with the aim of enriching and adding nuance to the dominant art history narrative. Since 2010, AAA has been digitizing these vital resources and making them freely available on their website.
El Museo del Barrio
The website for El Museo del Barrio, a New York museum specializing in Latin American and Caribbean art, now includes a digital archive of their exhibition catalogues from the past 50 years.
Independent Voices
Independent Voices is a digital archive of alternative press newspapers, magazines, and journals from the latter half of the 20th century, including those produced by feminists, campus radicals, antiwar activists, Black Power advocates, LGBT activists, and more.
UbuWeb
UbuWeb, founded by poet Kenneth Goldsmith in 1996, is one of the Internet's largest repositories of avant-garde art. It includes archives of concrete, visual, and sound poetry, film and sound art, and papers on performance and Conceptual art.
Monoskop
Monoskop is a wiki and digital archive of the recent arts and humanities, with a particular focus on the arts of Eastern and Central Europe. The site's directory of avant-garde and modernist magazines is a particularly useful resource.
Franklin Furnace
Since its founding 1976, Franklin Furnace's mission has been to promote and preserve avant-garde and ephemeral art, especially works that are vulnerable due to cultural bias, institutional neglect, or their political content. Their website includes event and moving-image archives with information about every performance, installation, exhibition, or benefit the organization ever presented.
Library Stack
Library Stack aggregates a wide array of digitally born art, architecture, design, and critical theory publications into one open-access database. Publications are indexed with Library of Congress–controlled vocabularies, but also more informal keywords that allow users to browse under categories like "Labor and Technology" and "Black Lives Matter."
Roulette
The Roulette Intermedium concert venue has been a center for innovative performance, new music, and experimental art since its founding in 1978. Their digital archive features recordings of over 4,000 concerts, along with hundreds of other audio and video recordings, photos, programs, posters, and other ephemera.
L'Internationale Online
The online platform of L'Internationale, a confederation of seven major European modern and contemporary art institutions, includes commissioned texts, visual essays, and a robust online library with publications on critical theory, postcolonial studies, geopolitics, and more.