Are Museums the Research and Development Labs of Society?
Explore topics from AI to angels with this selection from MoMA's R&D Salons.
Museums are the Research and Development arm of society. This conviction—spurred on by the 2008 financial crisis and the opportunity it offered to rethink our assumptions on what constitutes the foundation of a healthy social system—was the impetus for MoMA establishing its Department of Research and Development in 2011. Still reeling from the aftershocks of the crisis, the world was coming to grips with a "new normal." Then, as in other crucial moments in history, we were motivated by the belief that cultural institutions could—and should—play a pivotal role in civic life not only by providing inspiration, trust, and a sense of community, but also by addressing the most urgent issues with the clarity, honesty, and compassion that art and artists can provide.
Our ongoing series of MoMA R&D Salons explores the contribution that museums, artists, and art can make to society on topics ranging from the civic role of museums to protest, aging, and death. In each, I host a conversation with four to six speakers—at least one of them an artist or a curator—as well as several video contributors. After my introduction, each speaker presents for seven minutes, interrupted by the short videos. The audience, having received a reading list a few days in advance, comes armed with probing questions. The discussion is always rewarding, even when it is difficult or even chafing. The salons are all recorded and available on the MoMA R&D website. Excellent researchers have shaped and produced these programs. On the website, you will be able to find their names, watch all the presentations, and access the reading lists. We invite you to revisit some of these salons and explore the questions they pose, which only seem more pertinent today.
As in 2008, the potential and responsibility of museums today is front and center in our minds. In many countries and communities, the coronavirus crisis has left behind devastation, and some say the worst is still ahead of us. We will need to care for those left weakened by it, heal our social systems, rebuild our support structures, confront anew our past convictions and values, and adapt to change. The cultural sector has an important role to play in this evolution. Museums do not have all the answers, but they can try, experiment, and prototype, just like an R&D department. They can help citizens sharpen the critical tools required to take on the crucial conflicts of our time and prepare society for the future.
–Paola Antonelli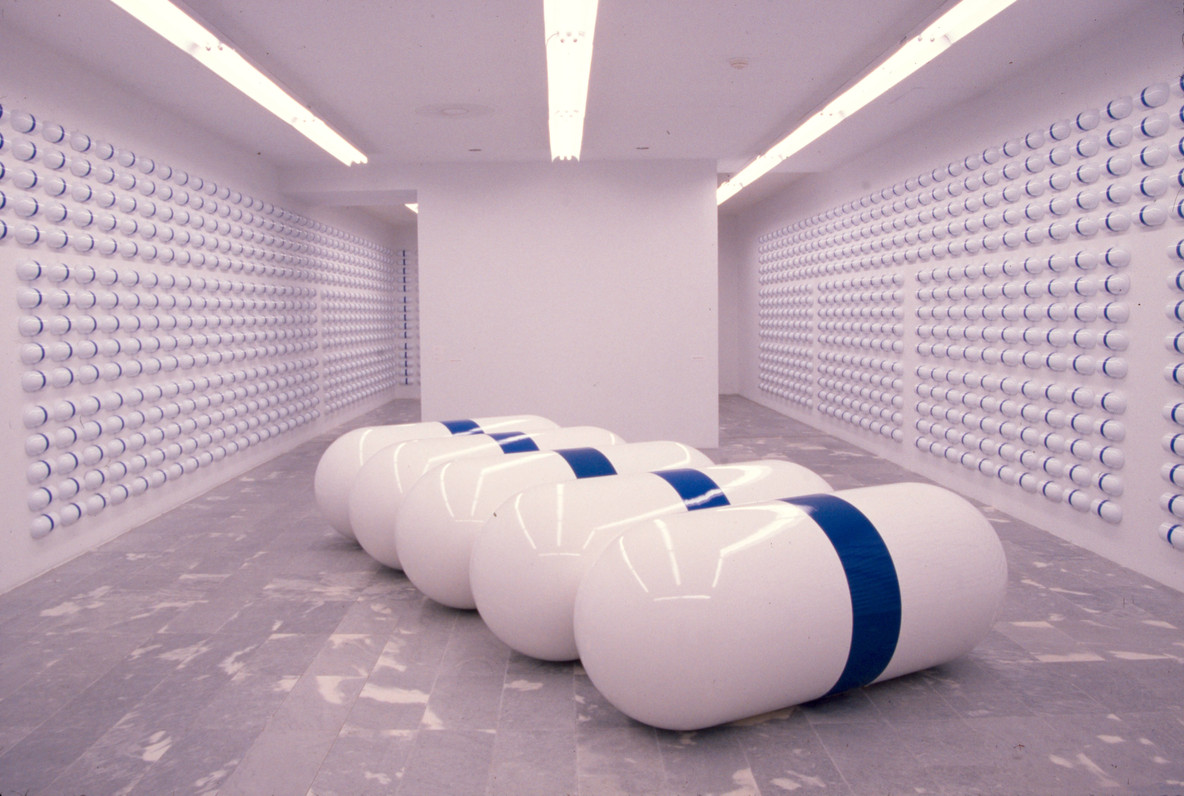 Installation view of the exhibition Projects 56: General Idea, November 26, 1996–January 7, 1997
Salon 7: Museums as Citizens (2014)
As museums close their doors to the public, we begin to reconsider our role during this global pandemic. The late Holly Block (at the time of the salon, the director of the Bronx Museum of Modern Art) joined, among others, Anne Pasternak (now director of the Brooklyn Museum and then president of Creative Time) and Tom Finkelpearl (New York's former Cultural Affairs Commissioner) to reflect on the civic role of cultural institutions. They discussed how, to rise to the challenge of addressing society's needs, museums must revise their programming to better accommodate artists and citizens.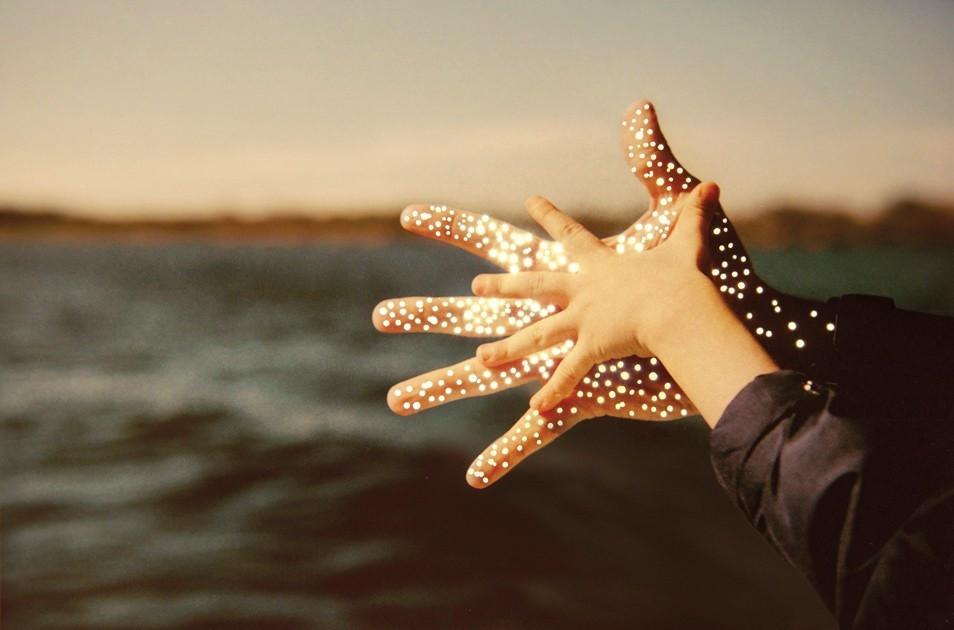 Amy Friend. Dare alla Luce. 2013–ongoing
Salon 19: Modern Death (2017)
Rita Charon, physician, founder, and executive director of Columbia University's Program in Narrative Medicine, spoke about the need to train doctors and those who care for the dying in ideas and values that reject the notion that death is an ultimate defeat. Karla Rothstein, the director of DeathLAB and one of the four panelists, suggested that "the discussion of death [is] an essential component of any thorough investigation of the future of our society, especially within our cities."
Stephen Shames. Black Panthers hold Free Huey signs at a rally at the Alameda County Courthouse where Black Panther Minister of Defense, Huey P. Newton, is on trial for killing an Oakland policeman, Oakland, California. September 1968
Salon 23: On Protest (2018)
"Artists have the ability to get people to see the possibility of struggle, the possibility of a world that is different, the possibility of transformation, and—by the very fact that they have gathered—the possibility that they can be that change," said Jamal Joseph, an academic and former member of the Black Panther Party. Salon 23 investigated the effectiveness of protest as a means of communicating civic discontent and initiating change. Artist and activist Tania Bruguera, in New York to install her Untitled (Havana 2000) at MoMA, explained how artists and activists are constantly rehearsing in their practices, until the right time for action arrives.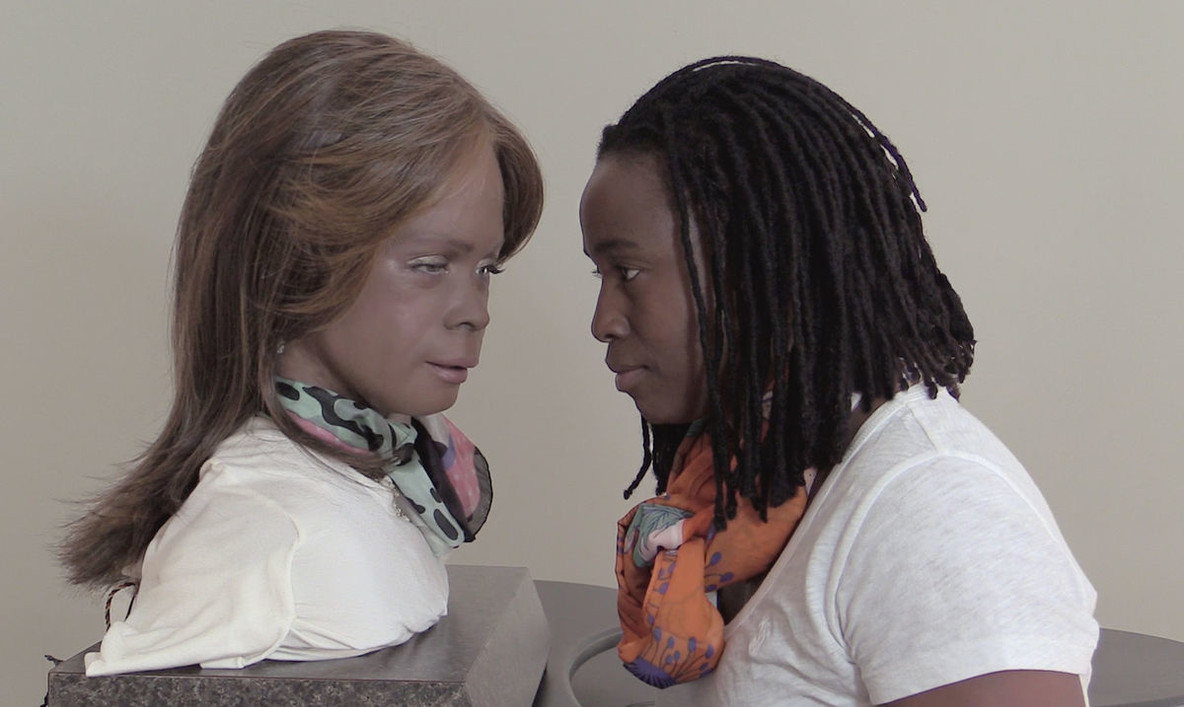 Stephanie Dinkins. Conversations with Bina48. 2014–ongoing
Salon 24: AI - Artificial Imperfection (2018)
The goal of Salon 24 was to clarify and debunk urban myths and misconceptions about AI, and at the same time point out the dangers inherent not only in its pervasiveness but also in its human—and therefore fallible—input systems. Kate Crawford, an artist and scholar at the forefront of research on AI and ethics, talked with Fernanda Viégas and Martin Wattenberg, information designers and co-leaders of AI and visualization efforts at Google, about the training sets used to teach AI to understand how to map, classify, and measure. AI training was also the subject of artist Stephanie Dinkins's and computer scientist Rediet Abebe's contributions, which explored the biases of gender, race, and sexuality that are embedded in it.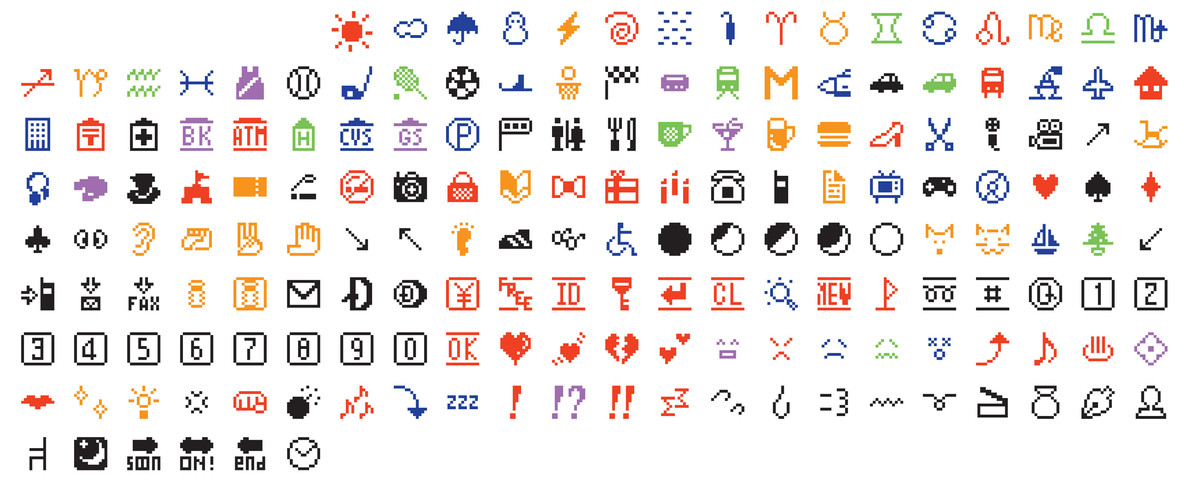 Shigetaka Kurita. Emoji. 1998–99
Salon 25: Why Words Matter (2018)
The title requires no explanation. In the age of fake news, at a time when clear directions are a matter of life or death, in circumstances where respect and compassion may be difficult to convey through facemasks and other protective equipment, words—written, spoken, sung—matter more than ever. In her mesmerizing work Last Whispers, artist and writer Lena Herzog comments on the silencing of cultures and cosmologies encoded in the disappearing languages of indigenous communities. Scientist Isha Datar illustrated how words are human-made creations—as, of course, are emojis, explained tech maverick Fred Benenson, who translated Moby Dick into Emoji Dick.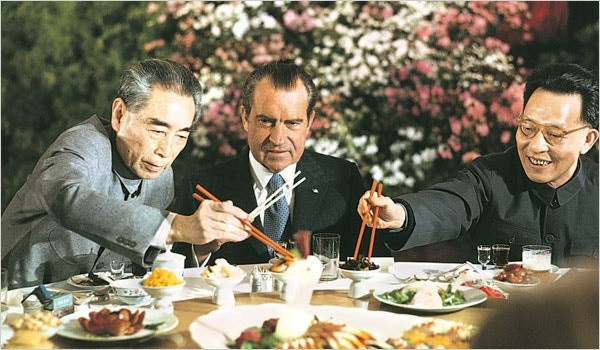 President Nixon holds his chopsticks in the ready position as Premier Chou En-lai (left) and Shanghai Communist Party leader Chang Chun-chiao reach in front of him for some tidbits at the beginning of the farewell banquet here. February 27, 1972
Salon 27: Gastrodiplomacy (2018)
In an era of social distancing, banquets large and small feel like a distant memory. Johanna Mendelson Forman, author of Conflict Cuisine: An Introduction to War and Peace Around the Dinner Table, described food's ability to "bring people together around a common table and focus on the cultural dimensions of the cuisine as a language that all parties can understand." Bill Yosses, White House executive pastry chef during the Obama administration, spoke about his experience with food as a tool for soft-power diplomacy, while Peter Kim, former director of New York's Museum of Food and Drink, and Jon Gray of the Bronx-based collective Ghetto Gastro, spoke about food as culture. The salon was dedicated to the memory of the greatest gastro-diplomat of our time, Anthony Bourdain, who had taken his own life three months earlier.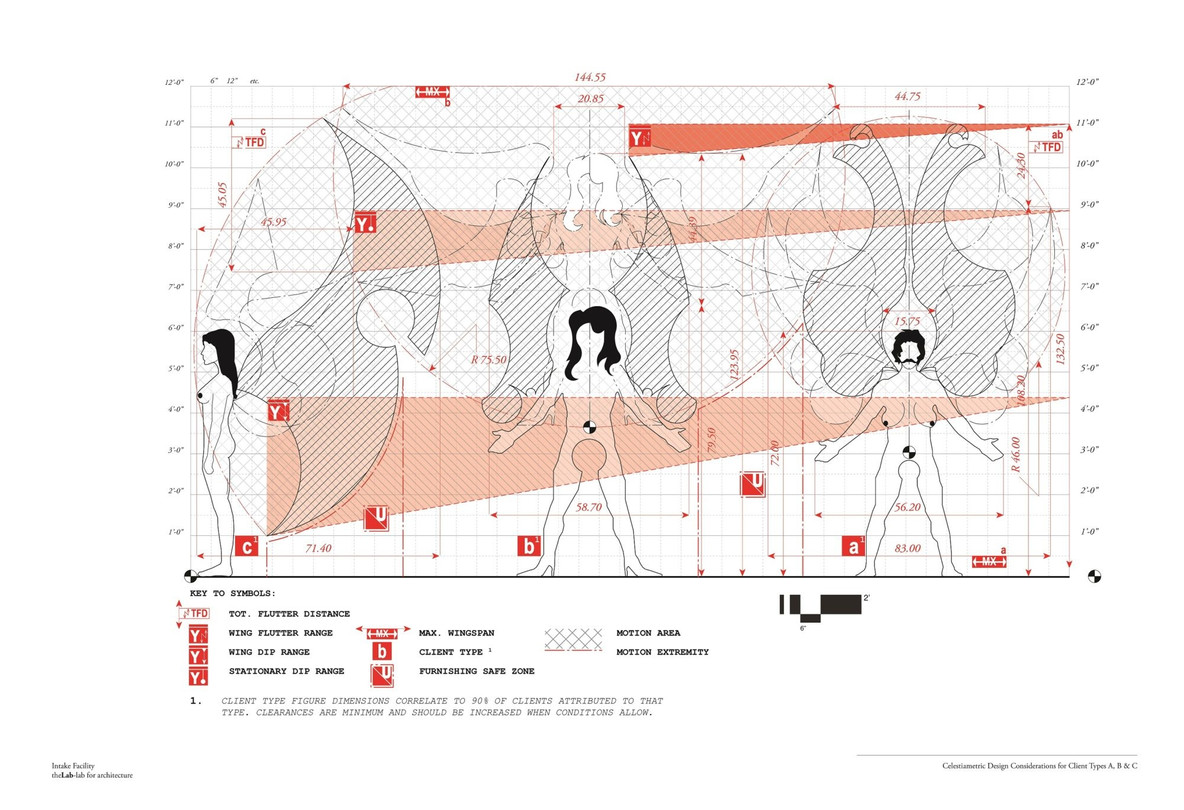 Mustafa Faruki of theLab-lab for architecture. Intake Facility for an Anonymous Client. 2018–ongoing
Salon 28: Angels (2018)
"The local angels in New York are utterly busy," said Wim Wenders in the short video he recorded for this salon. The director—whose 1987 film Wings of Desire offered an indelible portrait of these supernatural yet humanly vulnerable beings—was wondering about democracy, freedom, and morality. Little did he know that his words would resonate so profoundly today, when New York has become one of the epicenters of a worldwide health crisis. When dealing with our feelings, fears, and insecurities, we find ourselves sometimes turning to angels. As the scholar Annette Yoshiko Reed explained, we rely on angels to help us understand a chaotic cosmos and deal with worries about what we cannot see. Architect Mustafa Ali Faruki and artist Jacolby Satterwhite also joined this poignant salon.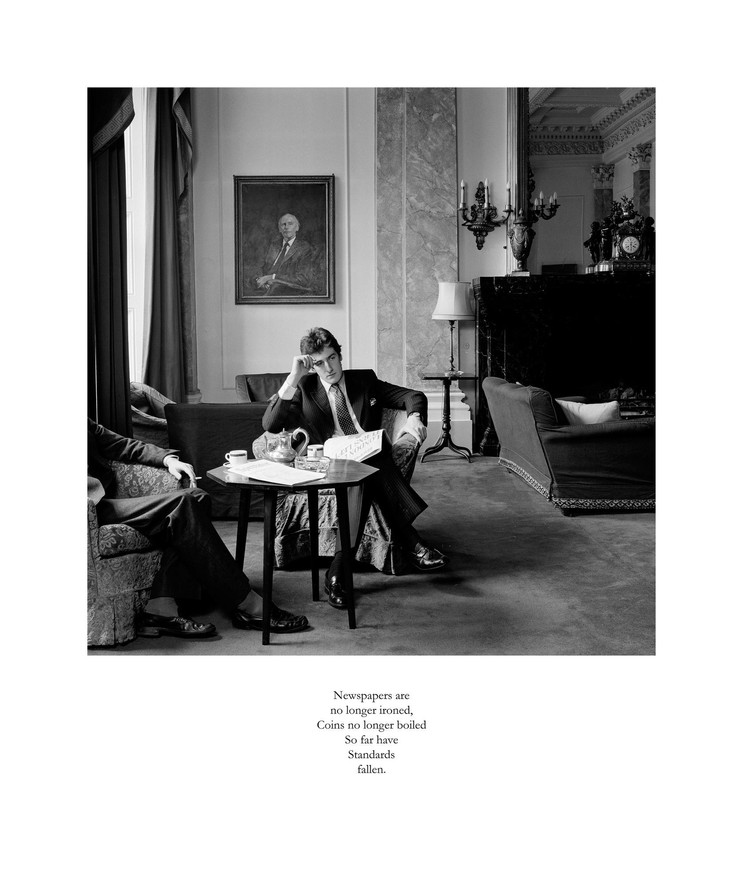 Karen Knorr. Newspapers are no longer ironed, Coins no longer boiled So far have Standards fallen, from the series Gentlemen. 1981–83
Salon 30: White Male (2019)
In 1994, Whitney curator (and current Studio Museum director) Thelma Golden installed an influential exhibition titled Black Male: Representations of Masculinity in Contemporary American Art that "investigated the complex aesthetics and politics at work in representations of African American men in the post-Civil Rights era." This pivotal exhibition animated the conception of Salon 30, which also aimed to examine the long history of white male predominance. Scholar and critical theorist Homi Bhabha was asked a deceptively simple question: Is there a "white male culture?" His answer was a resonant "no," a subculture perhaps, but nonetheless it is an established norm that white men embody efficiency, achievement, and progress, and prevail over all other forms of identity.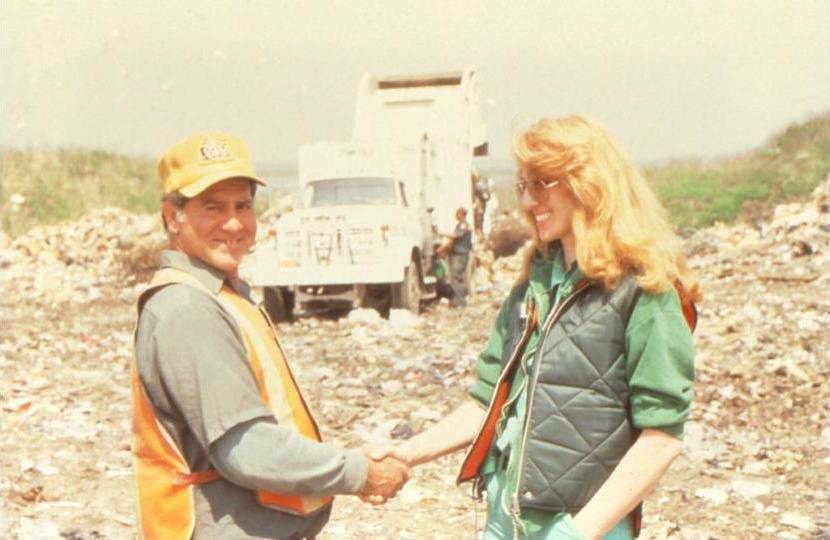 Mierle Laderman Ukeles. Touch Sanitation Performance, 1979–1980, "Handshake Ritual" with workers of NYC Department of Sanitation
Salon 31: Workspheres (2019)
At a time when more than 30 million Americans have lost their jobs, the social and individual value of work is paramount in our collective mind. In a salon devoted to this theme, writer Anand Giridharadas declared that "work is a space where so much and so little is possible, [...] where the wildest idealism collides with the rawest practicality." Social entrepreneur Palak Shah framed the "invisible" work of domestic workers and urged that it be included in all political and policy considerations. While Mierle Laderman Ukeles—the official, unsalaried artist-in-residence at the New York City Department of Sanitation since 1977—spoke about the work, sacrifice, and dignity of sanitation workers.
Christina Agapakis. Bacterial Encounters. 2013
Salon 32: Plastics (2019)
Hoping that no one would bring up the famous quote from the 1967 film The Graduate (and no one did until the event was nearly over), we devoted a salon to the theme of plastics. At different times in history, this family of materials have signified progress and innovation, opportunity and delight, as well as environmental and biological threat. Mark Chambers, director of the New York City Mayor's Office of Sustainability, spoke about the "daunting scale" of the issue, describing the sheer amount and diversity of the plastics that are disposed of every year in our city. Roger Griffith, a MoMA conservator who cares for the Museum's design collection, lamented that plastics disappear only when you do not want them to. And biologist and artist Christina Agapakis offered hope by imagining a near future in which bacteria will contribute to addressing the environmental dangers of plastics—by eating them!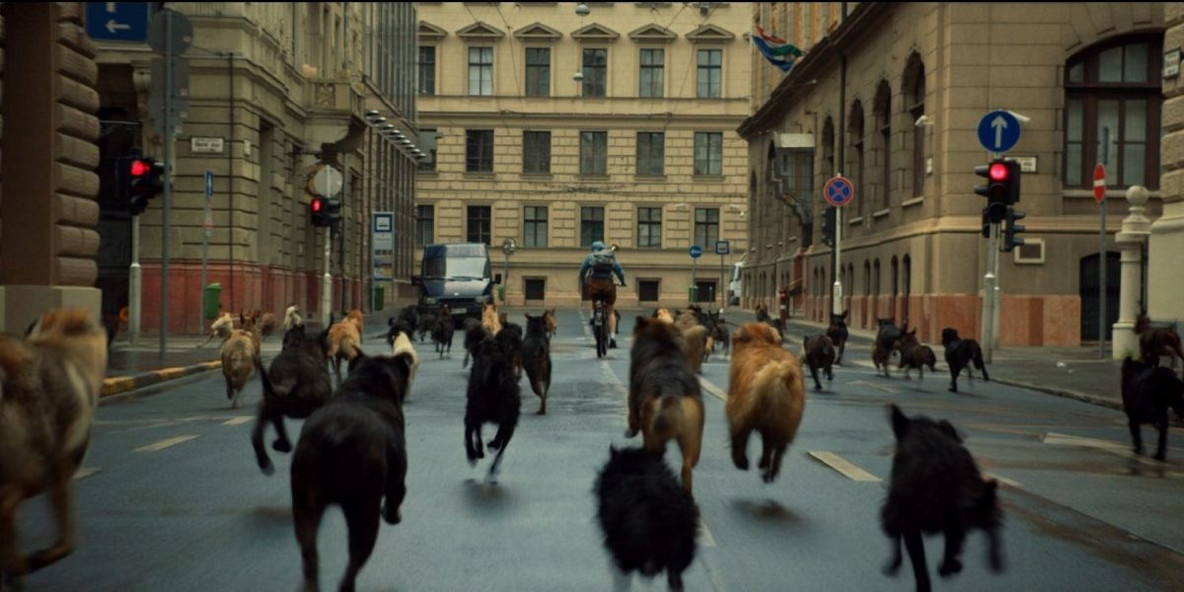 White God. 2014. Hungary. Directed by Kornél Mundruczó
Salon 35: Dogs (2020)
Friends, consorts, guides, companions, partners in crime—dogs are members of our societies. For this salon, we invited speakers and attendees to re-evaluate the "otherness" of this species and imagine an egalitarian interspecies world—considered by some a path to a sustainable future. Alexandra Horowitz, canine cognition expert and professor at Barnard College, discussed the disparate ways we live with dogs and the tensions created by considering scientific studies of dog behavior. The panelists also discussed architecture, performance, ethics, and legal rights, inviting the audience to think about constructive forms of symbiosis—not only with other species, but also with each other.