Cooking with Artists: Anicka Yi
The artist shares her recipe for lemon pasta with parmesan, peas, and fresh herbs as part of our ongoing series with chef Mina Stone.
Welcome back to Cooking with Artists, in which I chat with artists about my favorite topic: home cooking. In each conversation, they'll share something personal about cooking and food from their world, shining a light on who they are, their work, and hopefully who we are as a society.
Anicka Yi is one of the warmest, most humorous, and most unpretentious women I have ever met. Anicka has no wall—she embraces you with ardor, excited to connect and exchange meaningful ideas. Her artwork is similarly unhindered—pushing boundaries and bringing, as Yi says, "rogue materials into the realm of art," making "Conceptual art that addresses the biopolitics of the senses." I experience her artwork as an intricately woven net that she casts on us, bringing us into contact with the makeup of our world, and asking us to experience life through all different viewpoints.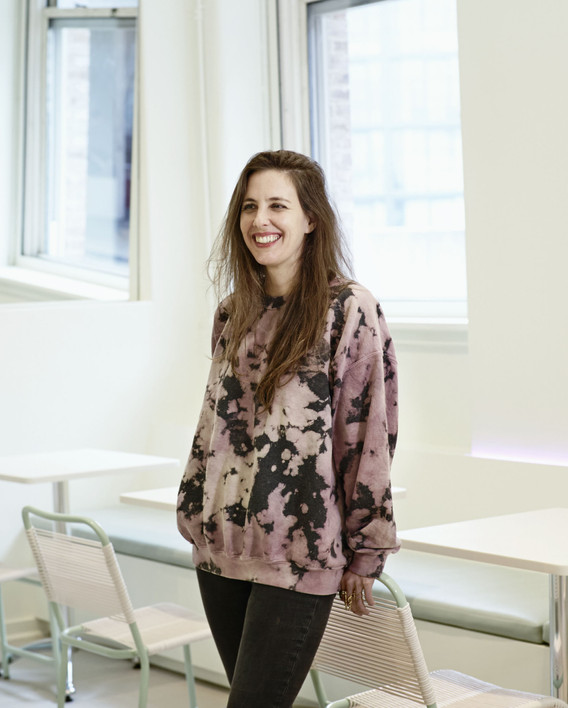 Anicka Yi's Lemon Pasta with Parmesan, Peas, and Fresh Herbs
Often, especially with family, food is our main source of nonverbal communication. It is the shared history, nostalgia, and source of comfort that ties us together for a lifetime and beyond. "Because my mother was often working, my sisters and I had to learn at an early age how to be proficient at cooking if we wanted to eat well. We ate a lot of pasta growing up and that has been the enduring food that I've cooked consistently throughout my adult life."
Pasta, intrinsically a comfort food, is the very thing I can picture three sisters—left to their own devices—cooking up to feed themselves.
Anicka mentioned that her favorite food is lemons (something we have in common), and the dish she shared certainly celebrates citrus to its fullest. It is super tangy from the lemon juice, floral from the zest, and fresh from the addition of peas and herbs. It is filling yet light, and a platform for endless variations.
1 lb of spaghetti
Zest of 4–6 lemons (however many you use for 3/4 cups of juice)
Juice from 4–6 lemons (3/4 of a cup)
4–6 garlic cloves, finely minced
3/4 cup extra virgin olive oil
A pinch of red chili flakes to taste
1/2 lb finely grated parmesan cheese
1 cup frozen english peas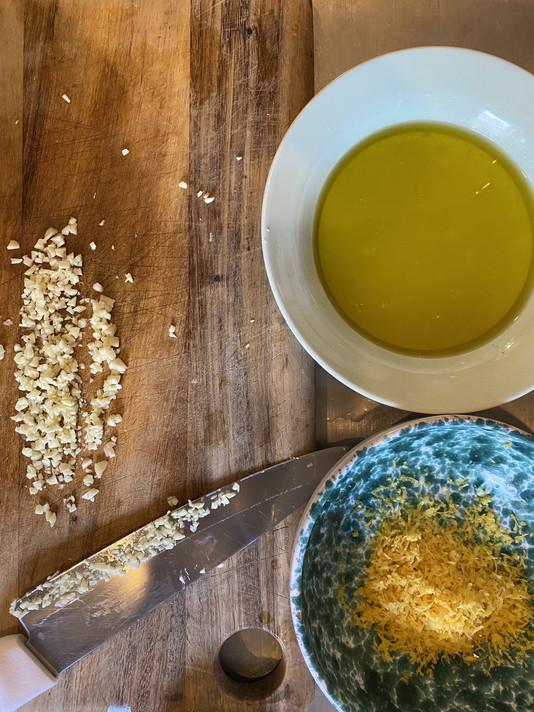 A handful of fresh basil
A handful of Italian parsley, coarsely chopped
Salt and freshly ground pepper
Boil pasta in salted water until al dente and set aside.
Whisk together the lemon juice, lemon zest, and minced garlic cloves. Then add the olive oil, chili flakes, and a generous pinch of salt and fresh pepper. Whisk in the grated parmesan cheese.
Anicka's note: "It's almost like making a lemony, cheesy, salad dressing.
Toss the pasta with the lemon and parmesan mixture and mix well. Taste for seasoning and add more salt.
Mina's note: Citrus buffers saltiness—add more salt than you think here.
Bring a small saucepan of salted water to a boil and blanch the english peas (one minute) and add to the pasta.
To finish the dish, hand-tear the basil and sprinkle it with chopped parsley over the pasta. Then serve!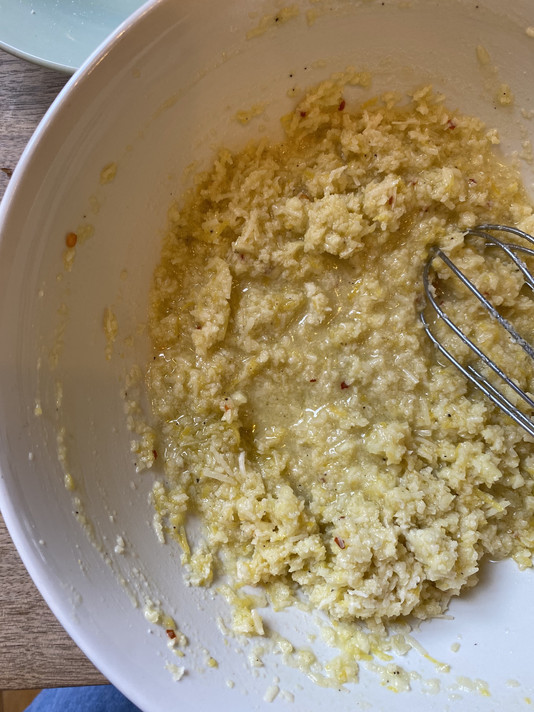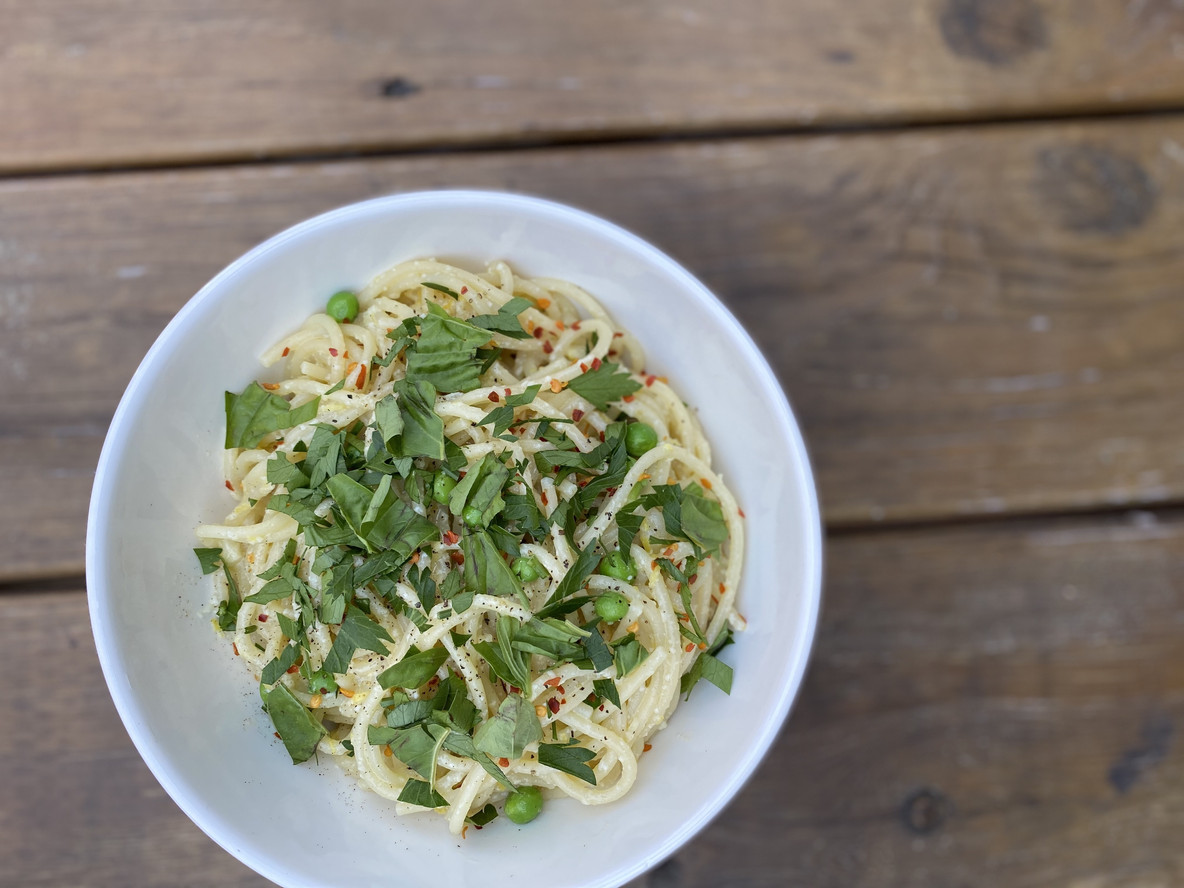 Anicka's note: This recipe is remarkably versatile. I have added shredded brussel sprouts and pancetta to the dish. You can add cooked or raw corn kernels or scallions. The combinations are limitless. It's an incredibly refreshing pasta dish, wonderful for spring and summer cooking but also great for winter effervescence.