Story Time: Tar Beach by Faith Ringgold
Join MoMA in celebrating the work of artist Faith Ringgold with your family.
In addition to making art, Faith Ringgold is an activist, teacher, speaker, and the author and illustrator of many children's books. We invite you and your family to watch a recording of Ringgold reading her renowned book, Tar Beach. Then take a closer look at one of the artist's woodcuts in MoMA's collection, and make your own art inspired by her work and ideas.
Faith Ringgold reads her 1991 children's book Tar Beach on National Public Radio
WATCH Faith Ringgold read Tar Beach
Why do you think Cassie wanted to fly? Where did she go?

Why was the George Washington Bridge special to Cassie?

Cassie's father wasn't allowed to be part of a construction union, which meant he often had to look for work and be away from home. How did that make his family feel?

What did Cassie dream about?

Compare the activities Cassie and her family did on their tar beach to what your family does in the summer. What's similar? What's different?


LOOK! Take turns sharing what you notice about Tar Beach Woodcut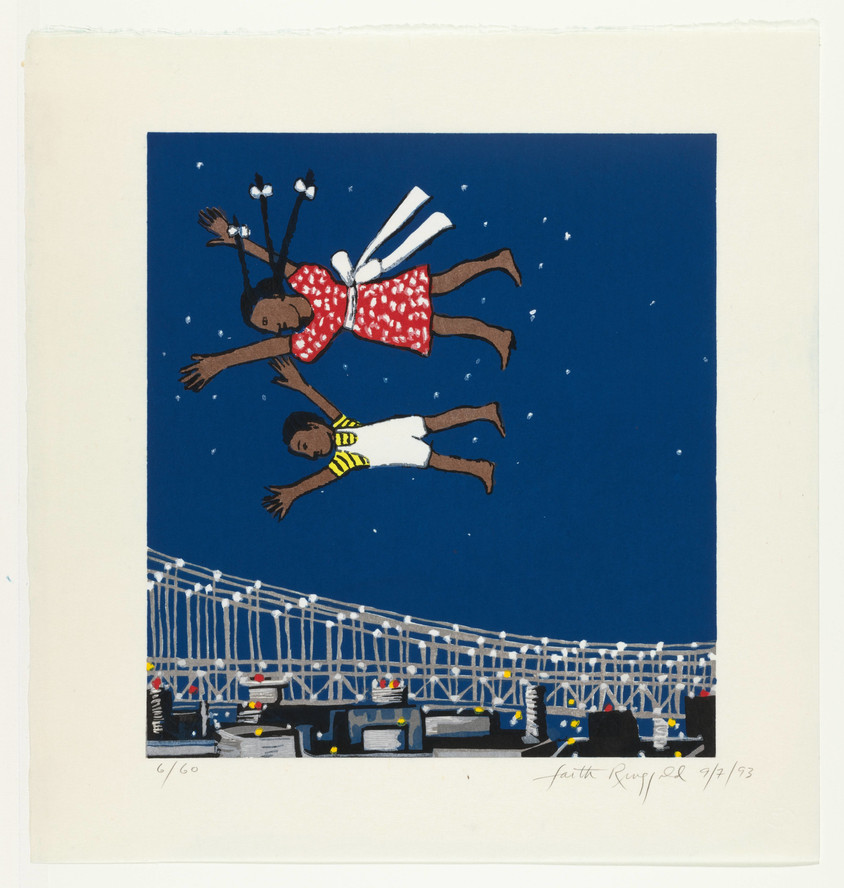 Faith Ringgold. Tar Beach Woodcut. 1993
Imagine that you're able to fly like Cassie. Where would you go? Why?

If you could give the image a caption, what would you write?

Tar Beach Woodcut and the book Tar Beach were inspired by Faith Ringgold's story quilt Woman on a Bridge #1 of 5: Tar Beach. The painted quilt shows Cassie Louise Lightfoot, along with her family and neighbors, on their rooftop, or tar beach. Cassie takes flight above the city, owning the buildings and bridges she flies over, as her family and neighbors eat and play cards. Ringgold saw the women in this series of artworks as "actually flying; they are just free, totally."
CREATE a paper story quilt
Ringgold's artwork tells stories through pictures, words, color, and texture. Share your own story through pictures and words.
Materials:
Paper
Pencils, markers, or crayons
Scissors
Tape or glue
Think of a story or memory you would like to share. It could be something that actually happened or something you imagine (or a combination!). Decide who will be in your story—family, friends, or someone special to you.

What will you show the people or characters doing? How will you show where they are?

Start drawing! Add details that show the colors, patterns, and textures you might see.

Using any open space on your drawing or a separate piece of paper, add words to your story quilt, as Ringgold does in Coming to Jones Road: Under a Blood Red Sky #8 from Femfolio. Briefly describe what is happening, create a poem, or tell a full story with a beginning, middle, and end.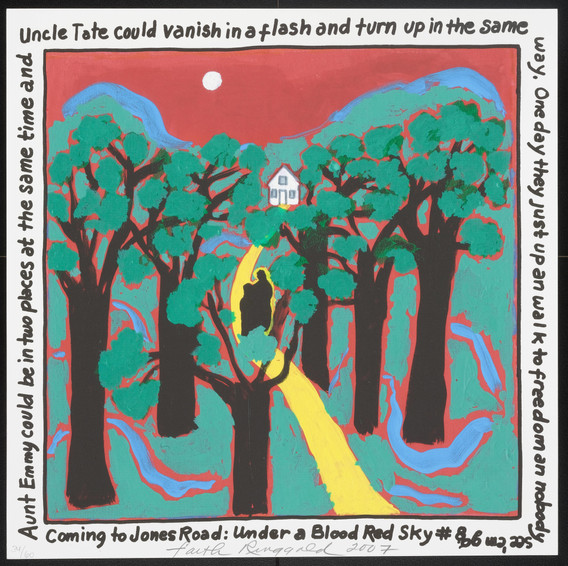 Faith Ringgold. Coming to Jones Road: Under a Blood Red Sky #8 from Femfolio. 2009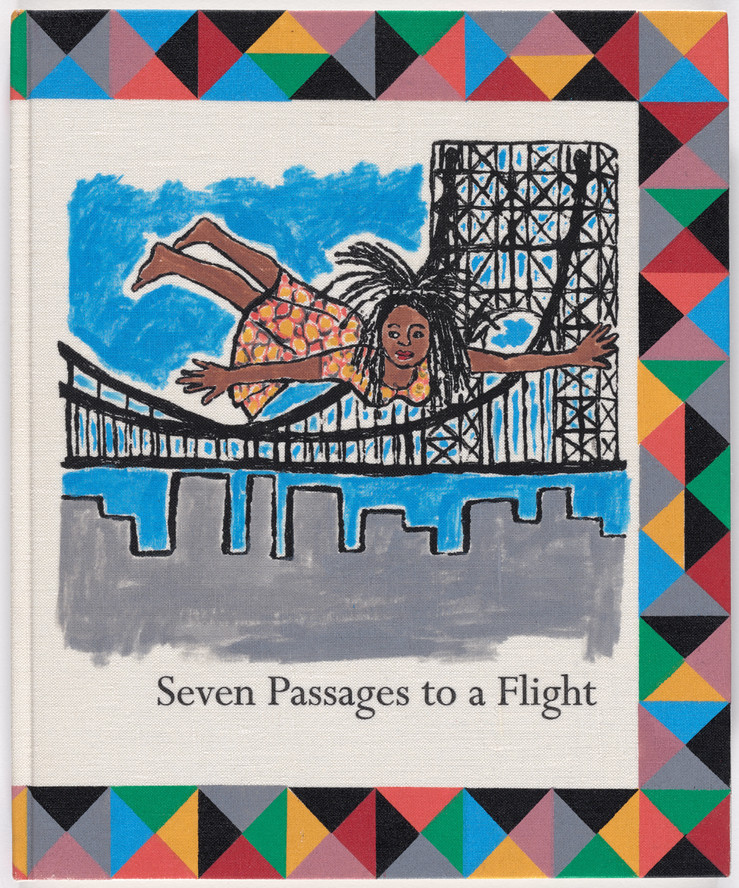 Faith Ringgold. Seven Passages to a Flight. 1995
Optional
Create a frame for your story by cutting squares or strips of patterned paper, as Ringgold often does in her artwork. If you don't have patterned paper, you can create your own patterns and cut them out. Arrange the pieces together with your drawing and story, then attach them with tape or glue.

Share your story with a friend or family member, then post your picture to Twitter @momalearning and on Instagram with #MuseumFromHome.