Kuo talks about her job and some unexpected materials in New Order: Art and Technology in the Twenty-First Century.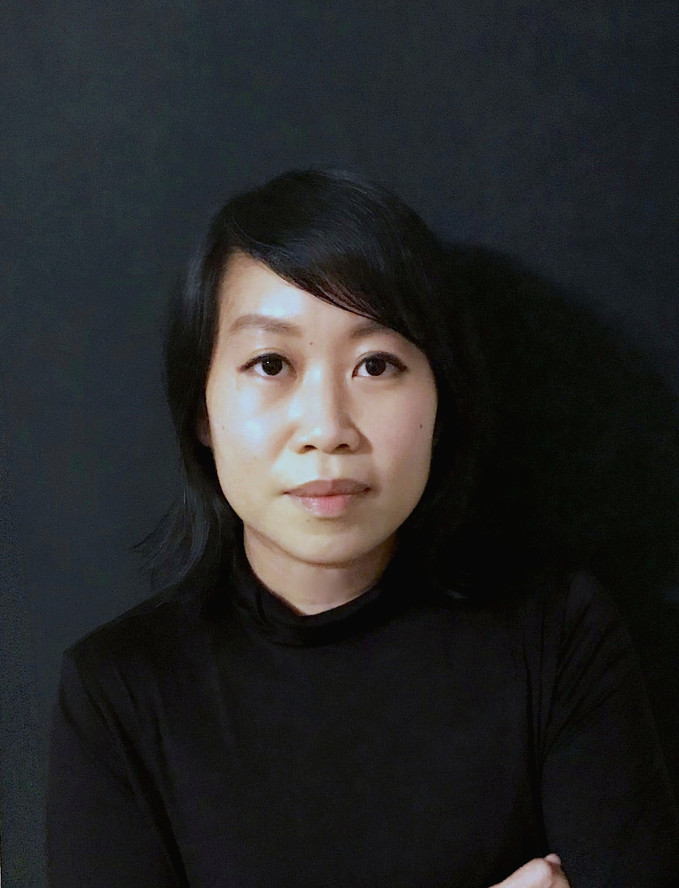 Michelle Kuo is The Marlene Hess Curator of Painting and Sculpture and organizer of New Order: Art and Technology in the Twenty-First Century (opening March 17). We asked Michelle to tell us about her job and some of the unexpected materials in the exhibition.
What is the common thread among the works on view in New Order?
All the works are drawn from the Museum's collection, and they all engage technology—particularly the physical dimensions of technology, whether tools, substances, machines, or space. And so the exhibition also highlights the diversity of media and materials that the Museum has been acquiring over the past two decades.
What's the most surprising/exciting medium or material that appears in the exhibition?
Plastic. It's old and ordinary, but it's also everywhere and extraordinary: a product of modern technology that has become utterly chameleonic and totally high-tech. Today, 3-D printing makes use of new resins and polymers to create new kinds of geometries and shapes, as seen in Tauba Auerbach's Altar/Engine (2015). Previously, vinyl, PVC, and other kinds of plastic were seen as near-magical substances driving the postwar economic miracle in the 1950s, and Seth Price explicitly addresses this history in his striking vacuum-formed work from 2006. Plastic takes on a futuristic, foreboding quality in Rodney McMillian's gargantuan vinyl piece Succulent (2010), in the bottles of Josh Kline's strange chemical mixtures, and in Sondra Perry's altered exercise bicycles and monitors. And of course petroleum-based substances are in all of our technological devices, screens, power sources, and network servers. Which has had dire effects on our environment, as other artists in the show explore.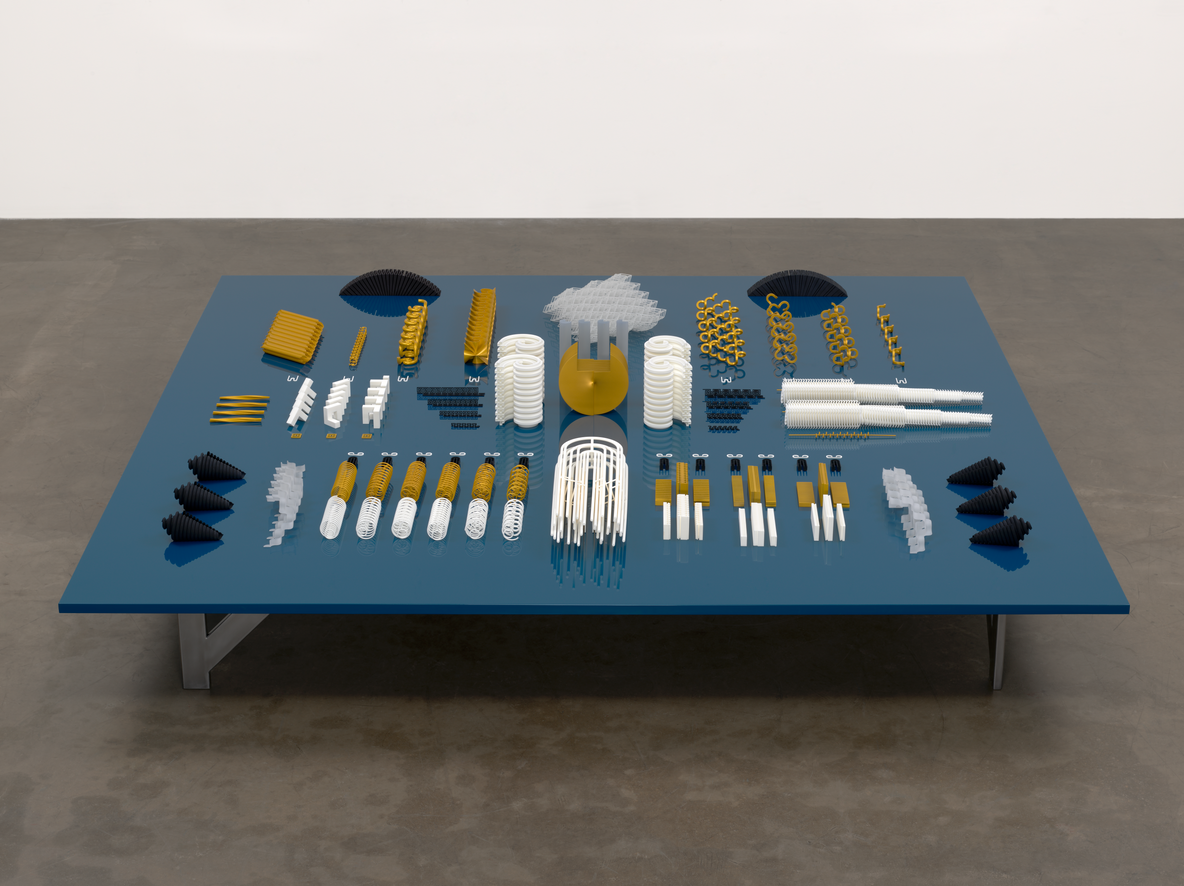 Tauba Auerbach. Altar/Engine. 2015
Art and technology are often seen as opposed.... But, in fact, the two fields are inseparable.
Michelle Kuo
What was the inspiration for this exhibition?
Art and technology are often seen as opposed: one is supposedly free, creative, spontaneous; the other rational, applied, anonymous. But, in fact, the two fields are inseparable. Artists have explored—and critiqued—technology throughout history; and technology is historically linked to craft. Both domains are devoted to experiment. They are never predictable or linear—quite the opposite.
I've focused on this complex relationship between art and technology throughout my work: my PhD dissertation was about the 1960s organization Experiments in Art and Technology (E.A.T.), which brought artists and engineers together in collaboration, and my more recent scholarship has examined contemporary artists' experiments in fabrication and new materials. So I naturally gravitated toward the topic for this contemporary collection show. MoMA itself has a long history of engaging with the subject, from Machine Art (1934) to The Machine as Seen at the End of the Mechanical Age (1968); seeing what the Museum has acquired in the 21st century has yielded some exciting surprises.
Were there any unexpected challenges in curating this show?
Many of the works are recent acquisitions that have never been shown before at MoMA, and have unorthodox materials, or constructions, or forms. They don't sit comfortably in any one category like "sculpture," or "prints," or "new media," but often inhabit all those domains and challenge them at the same time. So they raise new questions in terms of installation, conservation, and display: we have to work with the artist to mix Josh Kline's "smoothies" right before the exhibition, or source the correct type of ultrasound gel for Anicka Yi's piece, or make sure that the 3-D–printed shapes in Tauba Auerbach's work are intact, since the plastics used for additive manufacturing are typically made for ephemeral applications like rapid prototyping—they're made not to last.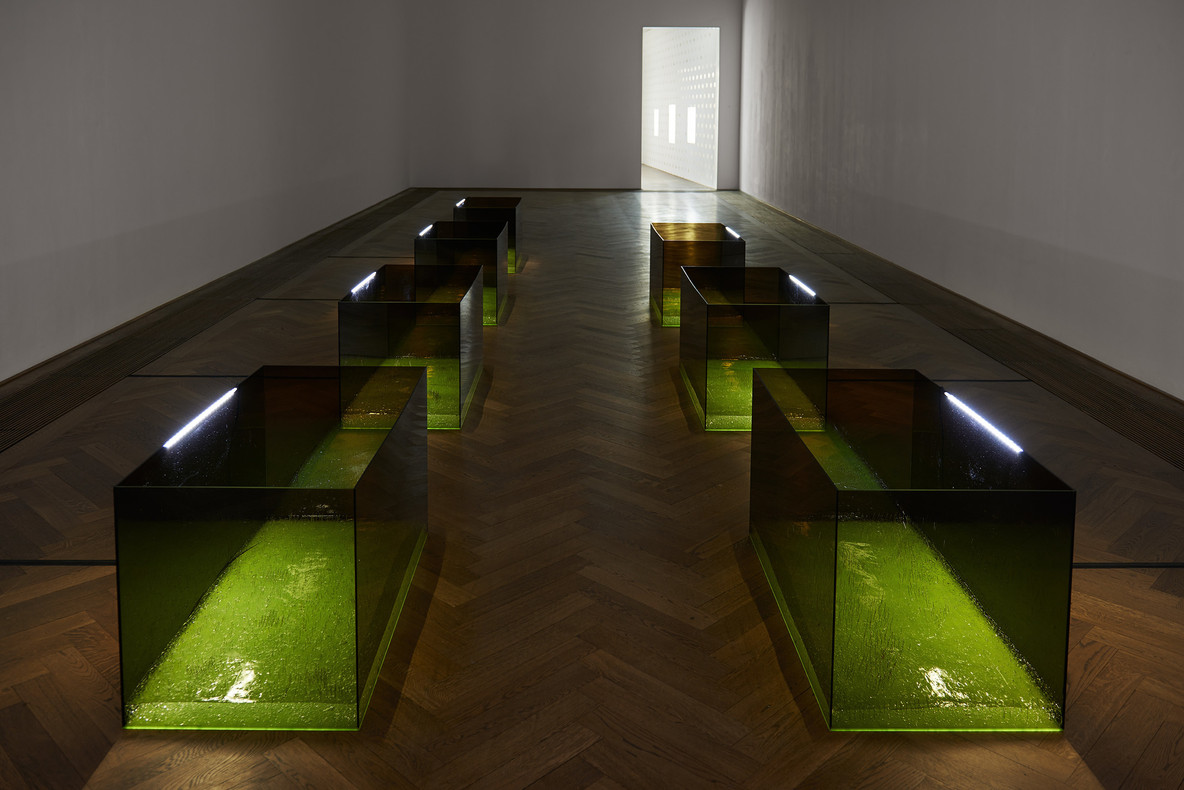 Anicka Yi. Shameplex. 2015
Who was the first artist whose work interested you, and why?
My uncle. He immigrated to the US from Taiwan in the 1960s and felt he had to study a practical field—physics—but changed course and became an artist and commercial illustrator, eventually moving to Nashville and creating everything from country music album covers to paintings addressing Chinese American identity. We had his drawings and prints in our house when I was growing up.
If you could "borrow" a work from MoMA's collection, what would it be?
That's a tough one! I think Eva Hesse's Untitled (1966), which reads as both a two-dimensional picture and a sculpture in the round, as an organic shape subject to gravity and as a tool or device that could be activated. It hangs from an elastic cord, so you feel like it has this tensile agility: a live wire.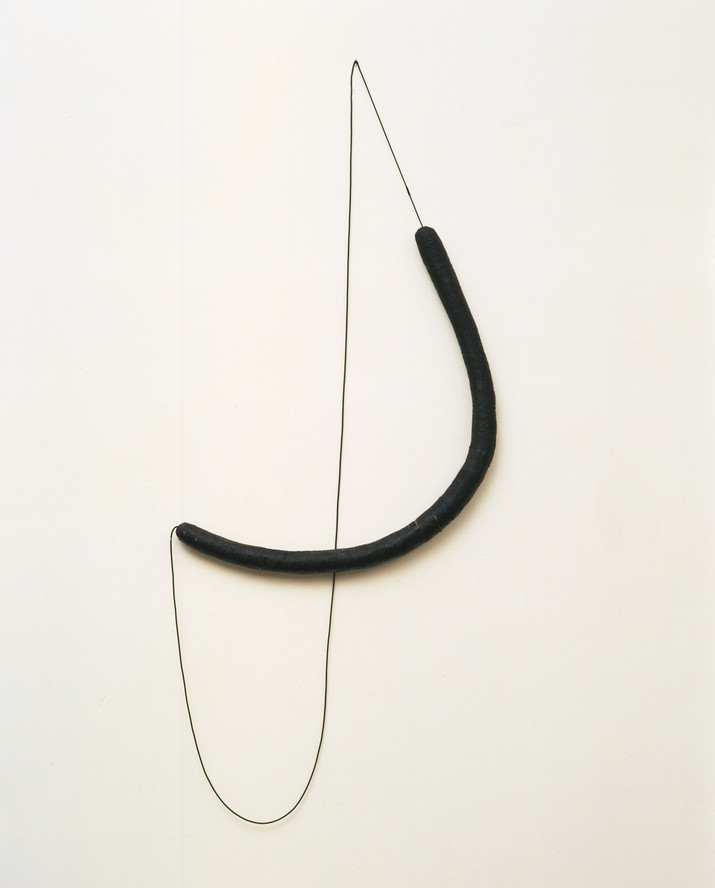 Eva Hesse. Untitled. 1966
What's your favorite part of putting together an exhibition?
Spending time with conservators to understand more about the materials and forms of the works themselves. And then thinking about how these forms will relate to each other and to viewers in space—to generate meaning through collective perception.
What's one of the most surprising things about your job?
The sheer scale of the audience when working at a large museum: it is amazing to think that one could help, in some small way, connect that many people to art.
If you weren't a curator, what do you think you'd be doing?
An architectural historian. That's not exactly far-flung! But everyone experiences space and structure. Everyone can relate to architecture's impact, politics, and forms—from squares to walls, schools to prisons, homes to battlefields. It seems absolutely urgent to study how those forms came to be.
New Order: Art and Technology in the Twenty-First Century is on view March 17–June 15, 2019.