A Rehearsal for Communion: On Arthur Jafa's akingdoncomethas
Arthur Jafa's video shares a way for us to come together from a distance.
In recognition of this moment, and to offer a space for reflection, we invite you for a special showing tonight, June 4, at 8:00 p.m. of Arthur Jafa's 2018 video akingdoncomethas, and we have also extended its screening through Tuesday, June 9, from 12:00 to 3:00 p.m. EDT each day. You can watch below during these times.
—Glenn D. Lowry, The David Rockefeller Director
Arthur Jafa's 2018 video akingdoncomethas will screen below once per day, from 12:00 to 3:00 p.m. EDT. You will only be able to watch the video during those times, so if you've missed it, please come back when it's available. The first screening was preceded by a conversation with the artist: watch a recording of the Instagram Live conversation @themuseumofmodernart's IGTV.
Arthur Jafa's videos seem to come like something we've been waiting for. In 2016, he premiered Love Is the Message, the Message Is Death at Gavin Brown's enterprise in Harlem, just days after Donald Trump was elected the 45th president of the United States. Jafa's meditation on the intimacy of the beauty and terror of living in the US confirmed something some already knew about his ability to suture life as we had known it with the uncertainty that awaited us. Those who had seen Julie Dash's 1991 film Daughters of the Dust, for which Jafa served as cinematographer, had borne witness to the way Jafa rendered indigo (the plant central to South Carolina's plantation economy) on black skin. As literary scholar Christina Sharpe explains in her own groundbreaking book In the Wake: On Blackness and Being, the blue-on-black flesh was a searing visual metaphor for the way slavery's past appeared in the present, just as the Peazant family who prepared to leave the island and migrate northward was an allegory for an ambivalent hope in the future. Over and over again, Jafa has been able to picture transformation, whether formally, through montages in works like APEX (2013) that juxtapose one thing after another so that you can hold multiple, nearly-incommensurable images in your mind's eye simultaneously; or pictorially, by creating a moving image of the cosmos in transition—a blazing sun, for example, that appears like a verbal stutter or musical downbeat across his commercial and art works.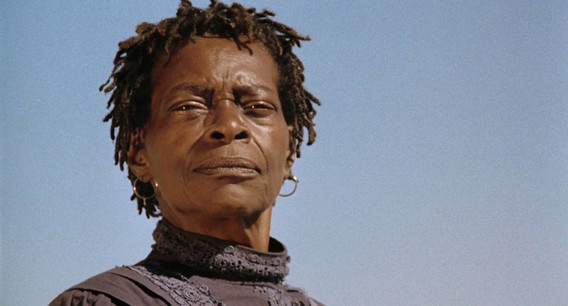 Julie Dash. Daughters of the Dust. 1991
I believe in black people believing.
Arthur Jafa
In 2018, Jafa returned with an exhibition titled Air Above Mountains, Unknown Pleasures, which included a self-portrait of the artist as Mary Jones, a trans sex worker who lived in Manhattan in the 1830s, alongside the premiere of a new video, akingdoncomethas. "A kingdom cometh as" is a millennial Christian expression for the end of time, a description of the world to come after the rapture. The video assembles over 100 minutes of found footage of black church services and features a range of megachurch bishops, gospel songwriters, and musicians, including TD Jakes, Le'Andria Johnson, and Al Green. In a public program organized during the run of the show, Jafa told Isis Pickens, the First Lady of Harlem's Zion Hill Baptist Church, that while he had gone to church with his grandmother as a child growing up in Mississippi, he was not religious as an adult. Pickens responded by saying, "If I didn't know any better, I would think you were a believer," to which Jafa said, "I believe in black people believing."
Secularism notwithstanding, European histories of art and architecture are revered as beginning in the church. Consider the importance of Michelangelo's 1508–12 Sistine Chapel ceiling fresco, and the reverence paid to the influence of Gothic architecture in the wake of the 2019 fire at Notre-Dame de Paris. And yet Euro-American institutions don't typically reserve analogous recognition for the importance of African American religious practices on the artistic imaginary, even when it comes to art made by black people. Just as ecclesiastical architecture, with its vaulted ceilings and plays of light, encouraged a leap of faith through the seeing eye, the black church ("the church of the insurgent") has envisioned the possibility of human transcendence under captive conditions through a listening ear and the embodied word.(1)
Jafa has long been preoccupied with a desire to create what he calls a black cinema that "replicates the power, beauty and alienation of black Music"(2)—a way for images to be felt in the body with the same sensuousness as sonic frequency and verbal intonation(3). With its long takes of expressive musical performances and mellifluous sermons, akingdoncomethas proposes this kind of channeling, focused on a faith in the possibility of life after catastrophe. When I first saw the video with my mother and brothers, we were seated on a sloping bleacher that could accommodate a crowd. The video's intensity and illumination offered a space for collective repose and mournful celebration. Today, from a home or a shelter or a space of essential work, it feels just as intimate; albeit at a distance, it is a rehearsal for coming together and welcoming our next world.
(1) Hortense J. Spillers, "Moving on Down the Line," American Quarterly 40, no. 1 (March 1988): 83–109. Thanks to Moses Serubiri for sharing this essay with me.
(2) Greg Tate, "The Changeling Mis-en-Scène—Arthur Jafa's Meta Love and the New Black Reportage" in Love Is The Message, The Message Is Death (New York: Gavin Brown's enterprise, 2016), exhibition catalogue.
(3) For more on frequency, "sonic politics," and "felt sound" in images of black people in diaspora, see Tina M. Campt, Listening to Images (Durham, Duke University Press, 2017).