Wolfgang Tillmans's "ON MY OWN"
Listen to the photographer's music track about being on your own but not alone.
Wolfgang Tillmans's "ON MY OWN"
Join us today, May 20, at noon on MoMA's Instagram Live for a conversation between Wolfgang Tillmans and Roxana Marcoci
Wolfgang Tillmans creates dynamic, anti-hierarchical photographic installations. He uses every part of the wall and room, hanging his pictures right into a corner, above a doorframe near an exit sign, on a freestanding column, or next to a fire extinguisher. The logic of Tillmans's practice is the visual democracy he brings to each installation, best summarized by his phrase, "If one thing matters, everything matters."
What is perhaps less known is that in 1986, two years before he bought his first camera, a 35mm film Contax single-lens reflex, Tillmans started experimenting with music: writing, singing, and recording songs with his friend Bert Leßmann on a synthesizer and drum machine. He taped some of these sessions on a cassette player. Then, for 30 years he stopped making music. During that period, Tillmans showed his passion for music through the lens of photography. He took over 200 portraits of musicians—such as Damon Albarn for Spex, Carl Craig for i-D, and Aphex Twin for INDEX—and occasionally made music videos or DJed at London's Ghetto nightclub.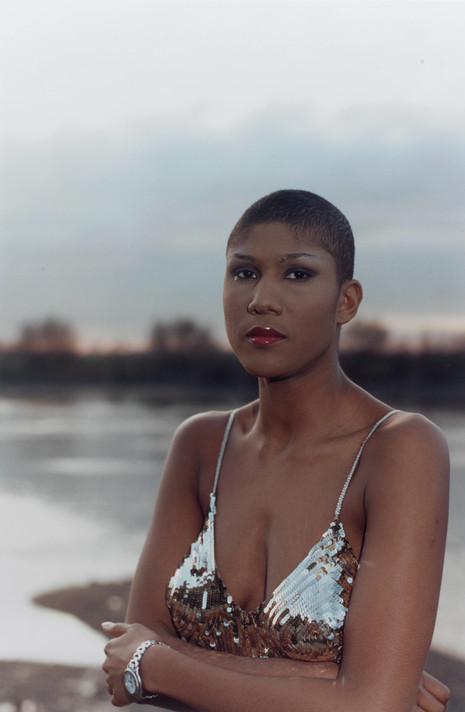 Wolfgang Tillmans. Smokin' Jo. 1995
In 2016, Tillmans began to record music again, and decided to restore his old tapes. Tillmans's musical collaborator, Tim Knapp of Trixx Studios in Berlin, along with Tim's father, Klaus, made the restoration possible by replaying instruments that were recognizable in the original tapes, while preserving the original voice of the 18-year-old Tillmans. For his first record, Tillmans paired two new songs with three of the restored post-punk songs from 1986. Titled 2016 / 1986 EP, the record was released under his own name on the newly founded Fragile label, in tribute to his teenage persona.
"In 2011 I was at the printing factory for my book Abstract Pictures and I recorded the printing press because I thought the super rhythmic sounds of this rotation press were a good techno soundtrack. I never did anything much with it then, but [my] first track, 2016's "Make It Up as You Go Along," was based on those recordings. From there, I developed the idea of making music out of my field recordings."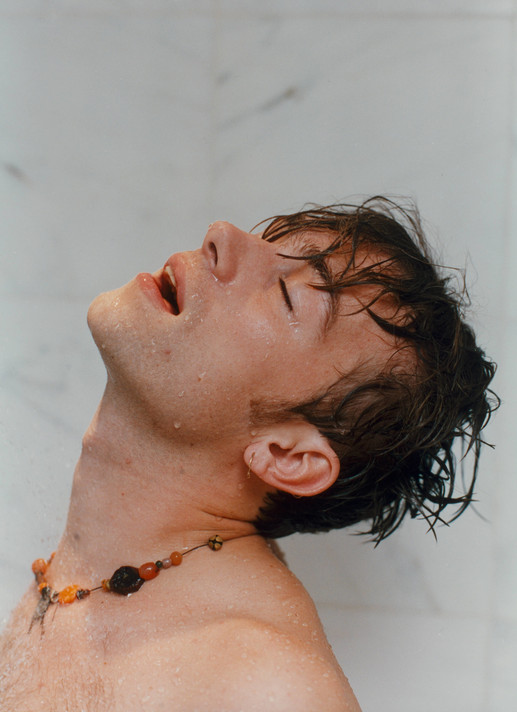 Wolfgang Tillmans. Damon, shower, head up.1995
Field recording sounds are a kind of audio photography.
Wolfgang Tillmans
In 2018, along with Knapp, Tillmans returned to more song-based recordings, producing "ON MY OWN" (3:37). As Tillmans explains, "'ON MY OWN' uses the screeching noises from New York subway trains. That's a very important part of how I work because I can't play [instruments] myself, but I have a very clear idea for sounds and melodies, for the recordings that I bring to Tim. He modulates, modifies them, and builds them into their tracks as we produce them. Field recording sounds are, of course, a kind of audio photography. So there is also that connection to my visual art practice."
Particularly poignant at this critical moment of self-isolation around the world, the song's mantric lyrics repeat the refrain: "I'm on my own and not alone." Tillmans selected this musical composition about togetherness, which he sings against his own recordings of moving trains in New York City's subway, to share with everyone.
"On My Own" credits: Vocals and field recordings by Wolfgang Tillmans. All instruments by Tim Knapp except string machine by Jay Pluck. Music by Tillmans, Knapp. Lyrics by Tillmans. Produced by Tim Knapp and Wolfgang Tillmans. Mixed by Klaus Knapp and Tim Knapp. Mastered by Klaus Knapp at Trixx Studios, Berlin.