Cooking with Artists: Dara Friedman
Chef Mina Stone walks us through Friedman's recipe for "Perfectly Whatever" chicken soup.
Magevo (Greek), to bewitch, enchant, charm
Magierevo (Greek), to cook, prepare food
I'd like to welcome you to a series of interviews I am doing with artists about my favorite topic—home cooking. Like an artist, a cook holds the key to the transformation of material. The artist enchants the viewer, and in turn, the cook enchants the eater.
The idea for this series started when I was thinking about how our current circumstances have created both the need and the time to create a little magic in our home. During times of crisis, we lean into things that comfort us and remind us of what's important. That always seems intrinsically linked with food, the people we love, and our habitat.
I wanted to interview different artists and have them share something personal about cooking and food from their world. My hope is that it shines a light on the essence of who they are, their work, and hopefully who we are as a society—and also gives a tangible form of connection and comfort by way of a shared recipe. I believe that cooking, at its best, is a universal language we can all relate to, a pause in the day that offers a release when so much is out of our control.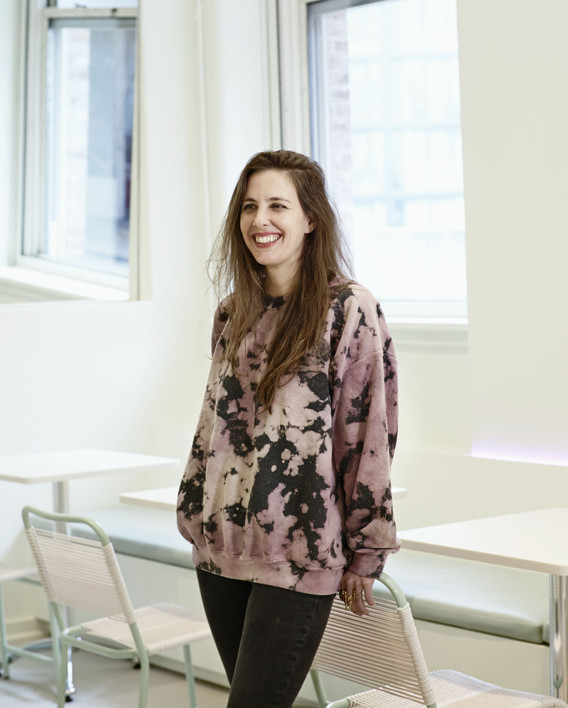 If Dara Friedman were to start a cult, I would be the first to join it. I wanted to interview Dara because she has a way of bringing you into her world while still relating and listening to yours. She is an artist and a teacher by nature—weaving together the "truth of feeling" seamlessly into her work. I hope you enjoy listening to what she has to say about cooking and art as much as I do.
Dara Friedman's "Perfectly Whatever" Chicken Soup
What I loved about Dara's approach to making her chicken soup is it represents her "struggle with impatience like you would not believe." I sent her a picture of how I cut the carrots to make sure it was in her same spirit and her response was: "Yes! Perfectly whatever."
This is a soup that has the spirit of quickly throwing everything into a pot—yet the transformation it undergoes in the cooking process is the opposite of anything impatient or thrown together. It is a complex and luscious chicken soup, extra sweet from the loads of carrots Dara likes to add. You can taste that this recipe has been passed down over three generations—nourishing and healing, simple yet complex. It is the ultimate balance of all things good: a savory and earthy broth, soft bites of sweet carrots, and yummy, fall-off-the-bone chicken.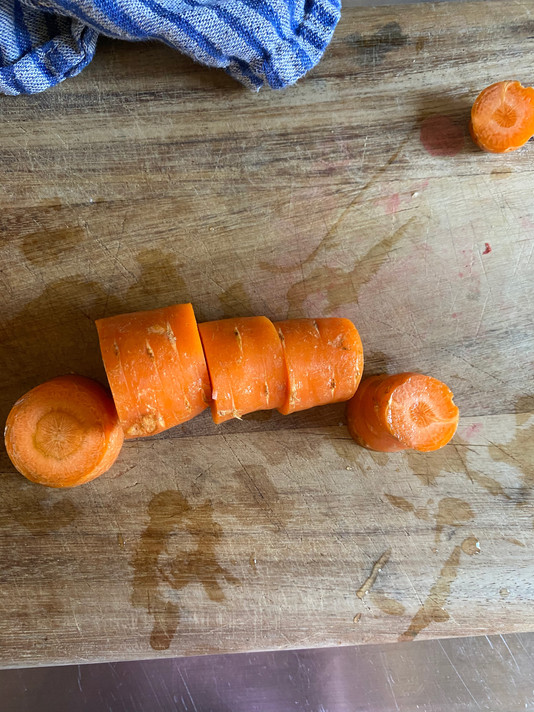 Serves 6–8
1 whole chicken, preferably organic (3–4 pounds)
2 bay leaves
2 onions, peeled and coarsely quartered
1 bunch of celery, trimmed and cut into 2" pieces
1 bunch of carrots (or more if you have them) washed and cut into 2" round pieces
1 bunch of curly or flat-leaf parsley, roughly chopped
Kosher salt
Place the chicken, bay leaves, onions, celery, and carrots in a large stockpot.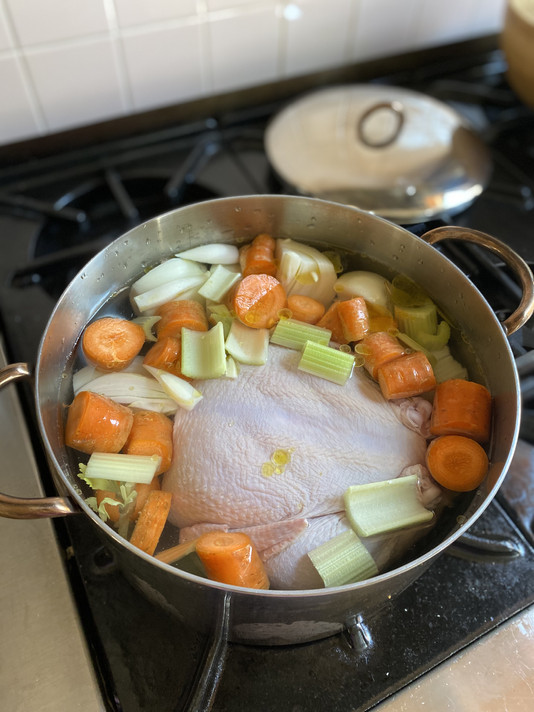 Cover with water by two inches and bring to a rolling boil. Add two large pinches of kosher salt and reduce the heat to a simmer. Cover with a tilted lid so steam can escape and cook the soup for about 90 minutes, until the chicken yields easily to a fork and starts to fall apart.
Note from Dara: If it falls apart as you pull it out of the pot, it's cooked long enough. If the chicken holds together, it's probably not cooked long enough.
Turn the heat off and cover the soup, allowing it to cool for about an hour. Remove the chicken and discard the skin. Remove the meat from the bones, leaving some large chunks.
Note from Dara: Don't use a knife here. Just pull the meat apart. This should be easy, with the meat falling off the bone with no resistance.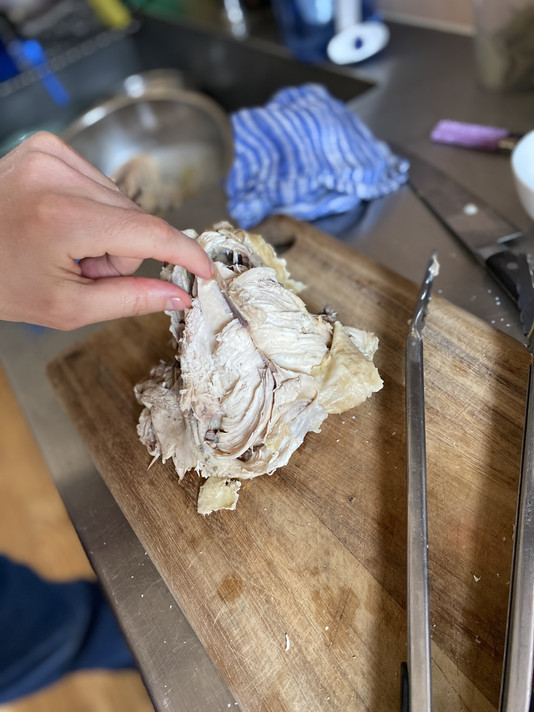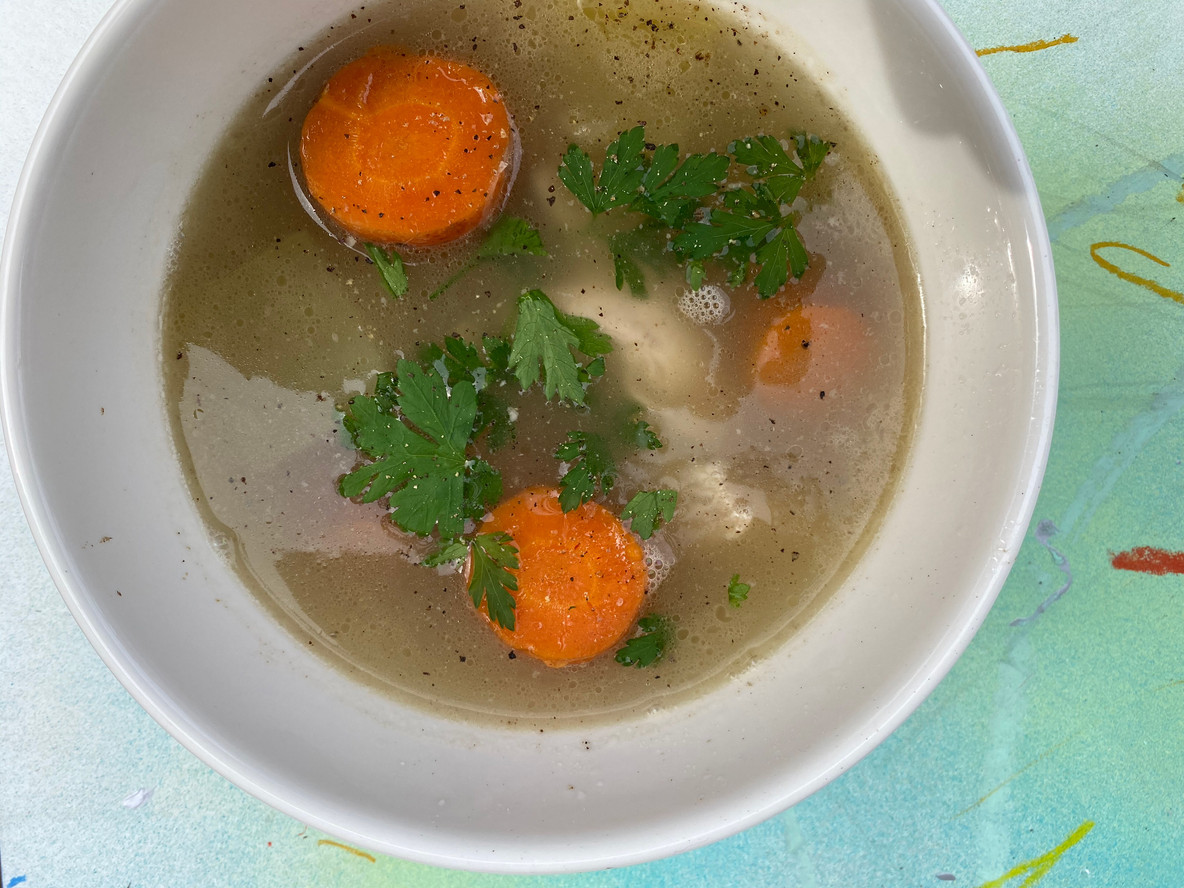 Place the chicken back in the soup pot and taste for seasoning, adding more salt as necessary.
Ladle the soup into serving bowls and sprinkle the parsley on top. Serve with additional salt on the side.
Notes from Dara: If you want to extend it, you can add rice to the soup, but don't reheat with the rice or the broth will cloud. Refrigerate what you don't eat in one go, and skim off the chicken fat before reheating. This can feed four people for two or three days, and can be eaten for breakfast, lunch, and dinner. Whatever broth is left in the pot can be saved, frozen, and used later as stock.