Artists and art institutions band together to assist medical first responders fighting COVID-19.
At hospitals in much of the world, doctors and nurses on the front lines of the COVID-19 pandemic are running out of protective equipment. Their most urgent need is for face masks, preferably those meeting the N95 standard, which block 95 percent of even the smallest particles. To make up for the shortage, medical first responders have been raiding hardware stores, reusing masks by soaking them in hand sanitizer, even sewing their own. The Centers for Disease Control and Prevention recently recommended tying a scarf or a bandanna around the nose and mouth as a last resort.
As I was making my rounds, I was receiving emails from our staff asking us to do this.
Tunji Adeniji
Help for these first responders has been coming from some unlikely places. On March 23 at MoMA, Tunji Adeniji, the Museum's chief facilities and safety officer, was making the rounds of the frame shop, carpentry shop, and building operations offices to look for N95 masks and nitrile gloves. Like other cultural institutions in New York, MoMA remained closed. Only 18 staff members—mainly building operations staff—occupied the quiet, nearly empty museum. By day's end, Adeniji had located 300 masks and 1,000 pairs of gloves. He drove the masks to Mount Sinai Hospital; another staff member drove the gloves to a drop-off center for the NYU Langone Medical Center. Across the river in Queens, MoMA PS1 was donating 50 boxes of gloves to New York Presbyterian and Montefiore Medical Center. "As I was making my rounds," Adenji said, "I was receiving emails from our staff asking us to do this."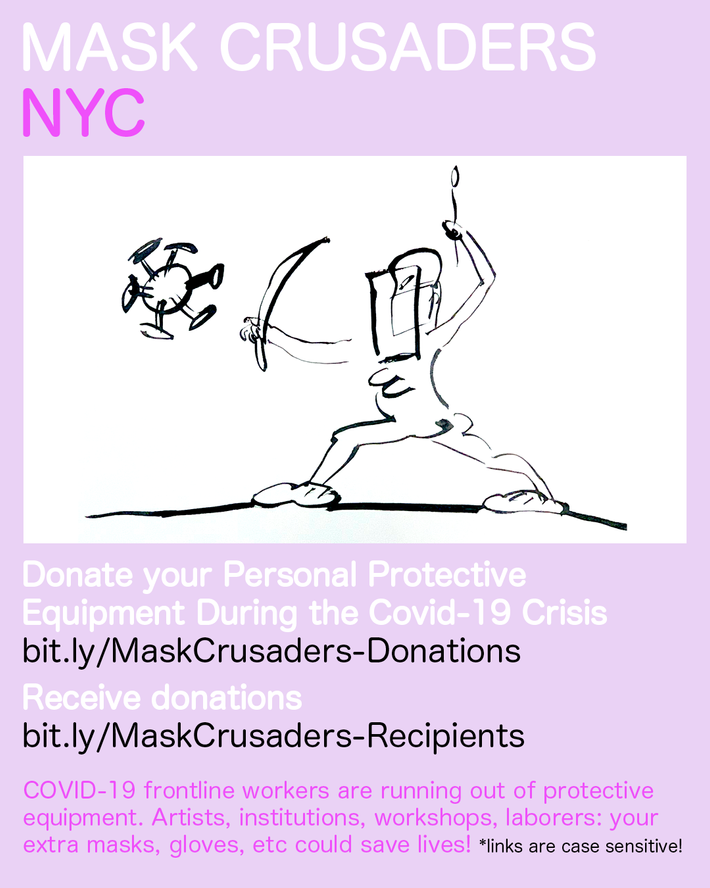 The donations were part of a worldwide response to the pandemic by museums, art schools, and individual artists. Museum workers use face masks when they treat or clean artworks that could contain toxic molds or which have been treated with hazardous substances, and to protect themselves from fumes and dust. They also wear gloves to avoid damaging artworks. This protective gear—which also includes Tyvek suits, goggles, and shoe covers—is badly needed by frontline medical responders. MoMA has joined institutions like the Rijksmuseum and the Stedeljik in Amsterdam, the Getty Center in Los Angeles, and the M Woods Museum in Beijing in donating and delivering these supplies to doctors, nurses, and paramedics treating the growing number of COVID-19 patients.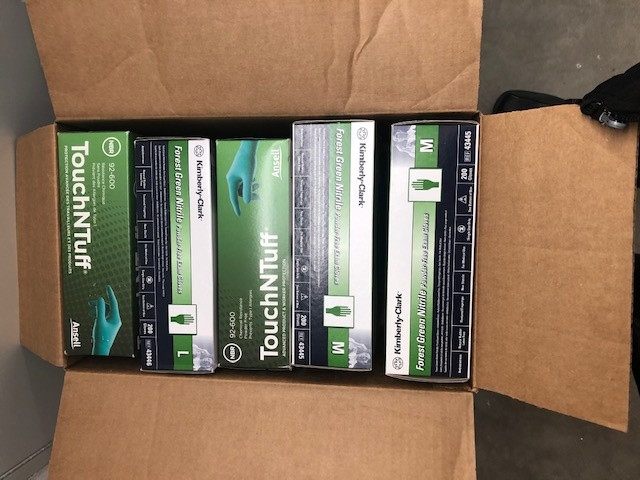 Boxes of nitrile gloves gathered from MoMA facilities
New York City has a third of the country's COVID-19 cases, and the state has seven percent of all reported cases worldwide. The availability of respirators and surgical masks was depleted because of the buying frenzy by the anxious general public, and the prolonged outbreak in China, where nearly half of the world's supply is manufactured. On March 21, the Whitney Museum's senior deputy director and chief curator, Scott Rothkopf, Instagrammed a photo showing packed boxes holding N95 respirators, gloves, and other gear. Other museums, like the Museum of Art and Design, have also sent protective equipment to local hospitals. And, responding to Governor Andrew Cuomo's call, staff at the Cooper Union—the art, architecture, and engineering school in lower Manhattan—rounded up their masks and gloves, which were delivered to the Jacob K. Javits Convention Center, which is being converted into a temporary hospital.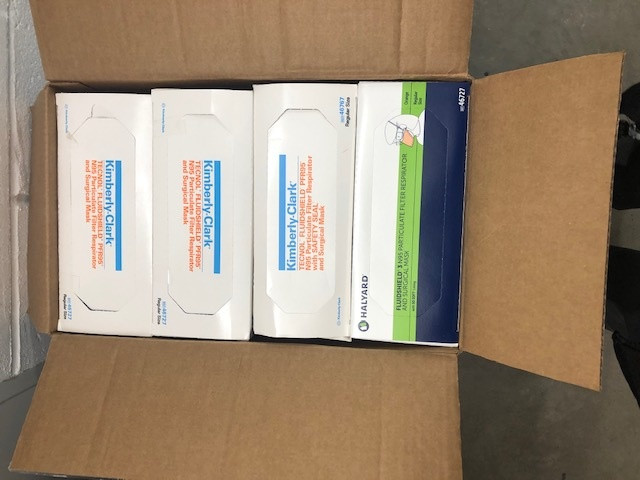 Boxes of N95 face masks gathered from MoMA facilities
We can't mutual-aid our way out of this entirely. At some point, the government is going to have to step up.
Shabd Simon-Alexander
Locally, the effort was galvanized by individual artists. On March 19, the textile artist and designer Shabd Simon-Alexander noticed postings on an art-world LISTSERV by artists wondering how to donate their protective equipment. There seemed to be no easy way to get it to the medical professionals who needed it. So Simon-Alexander set up a Google form where donors could list their inventories of equipment, and frontline medical workers could review and claim them. The ad hoc group quickly became known as "The Mask Crusaders." Soon, Simon-Alexander was being contacted by museum staff—who began to coordinate on another LISTSERV—and fellow artists, as well as dentists and tattoo artists who had protective equipment to donate. The Mask Crusaders now operate in eight cities. Other artists and fashion designers are making masks that they're donating online, and are posting mask-sewing tutorials on YouTube. But Simon-Alexander has pointed out that artists' supplies are finite and will eventually run out. "We can't mutual-aid our way out of this entirely," she told Vulture. "At some point, the government is going to have to step up."
"This moment reminds me of 2001, when the planes hit the World Trade Center," said MoMA's Adeniji, who grew up in Lagos, Nigeria, and moved to New York in the 1980s. "Everyone in the city came together then, not thinking about themselves, and now we're doing it again."