Learning Curve: Art Resources for Teaching and Learning from Home
We've gathered some of our best resources for hands-on activities and online learning.
Whether you are a classroom or homeschool teacher, a parent or caregiver now suddenly in the position of teaching at home, a student, or a lifelong learner, this is a challenging time. Art can be a powerful catalyst for building skills and understanding a range of subjects. Teaching and learning from home is something we can all explore together, so we wanted to share some resources from MoMA to get you started.
With thanks to Kelly Cannon, Sara Bodinson, and Julia Fiore for their input.
Five Top Tips Video
We created this short video to help you lead a conversation around a work of art. The strategies covered in this video can be applied to any artwork or object, not just works of art in a museum's collection. MoMA's YouTube channel has a trove of videos about MoMA's collection, exhibitions, conservation, and art making you can explore.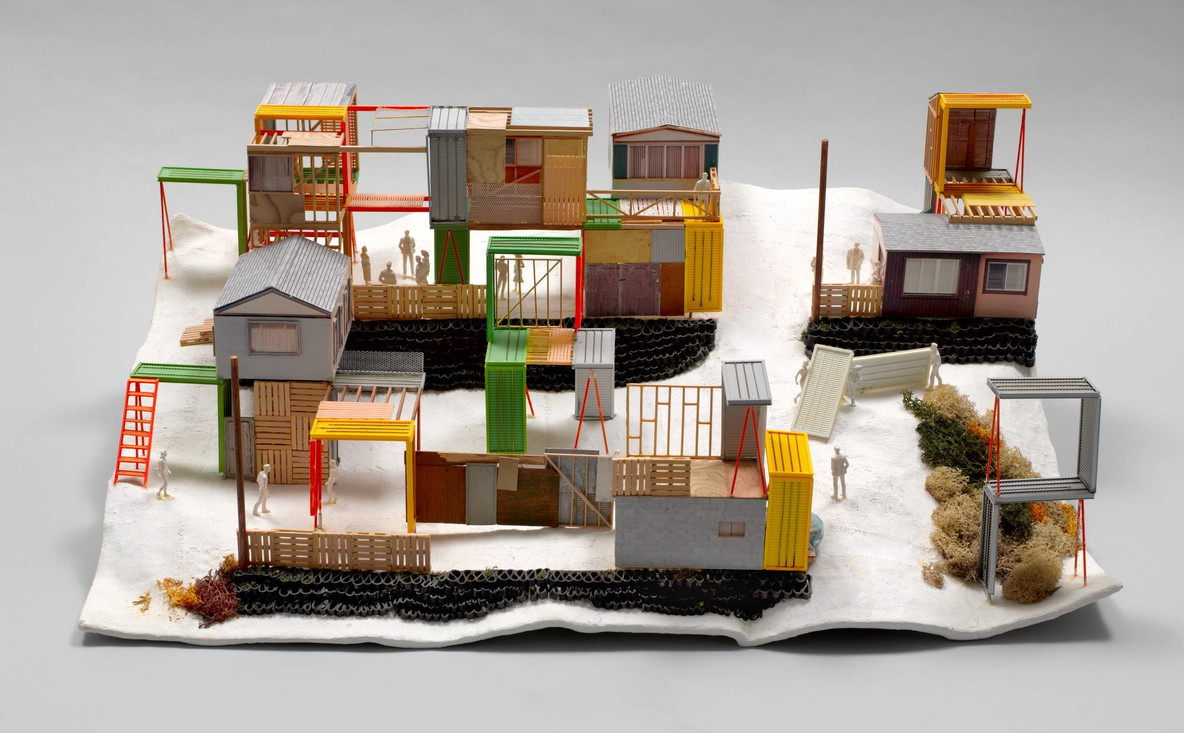 Teddy Cruz. Manufactured Sites: A Housing Urbanism Made of Waste/Maquiladora. Project (model, 2005). 2005–08
Helpful Art Terms
Our Art Terms glossary explains some of the techniques, mediums, art movements, and other terms you'll encounter when talking about modern and contemporary art, along with links to examples in the collection.
MoMA Learning Website
Once you get comfortable, you can dive into the MoMA Learning website, which brings together content produced by the Museum and links to great content from other sites, and encourages a thematic exploration of art. On the Tools and Tips page you'll find downloadable and customizable artwork slideshows, worksheets, and hands-on activities. You can also access videos and gain insights and inspiration from MoMA educators on teaching and engaging with modern and contemporary art. All of this content is customizable and can be easily integrated into a self-study project or unit of study.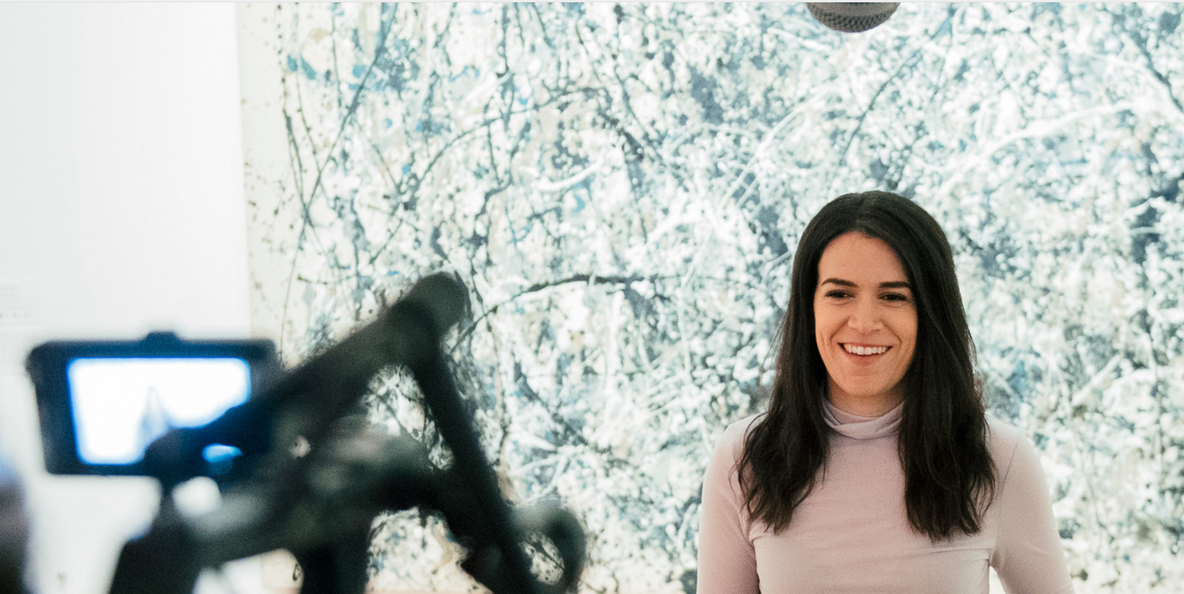 Abbi Jacobson recording A Piece of Work
MoMA Audio, A Piece of Work, and The Way I See It
In addition to accessing audio on MoMA Learning, you can listen to artists, curators, and MoMA staff speak about the Museum's collection and special exhibitions through MoMA Audio. All of the audio playlists include images of the artworks and transcripts. You can also click on the option to view the artwork in MoMA's online collection, where you will find additional content and resources about the work and the artist who made it.
You can also check out A Piece of Work, a podcast hosted by *Broad City*'s Abbi Jacobson that tackles everything you wanted to know about modern and contemporary art but were afraid to ask. Abbi looks for answers in lively conversations with curators, artists, and some friends, including Hannibal Buress, Tavi Gevinson, RuPaul, and Questlove. Additionally, The Way I See It, MoMA's podcast collaboration with the BBC, offers a look at how art inspires extraordinary creative thinkers. Learn how an astrophysicist sees Vincent van Gogh's The Starry Night or how a jazz pianist sees Piet Mondrian's Broadway Boogie Woogie.
Free Online Courses
Join a global community of learners engaging with modern and contemporary art and design in MoMA's free courses on Coursera. Each course features original videos, texts, and audio, including studio visits and conversations with artists, educators, curators, and other creative forces. In addition to general-audience courses about photography, modern and contemporary art, abstract painting, and fashion, three of MoMA's courses are intended for primary and secondary teachers of all disciplines who have an interest in using art in all instructional settings. Art & Inquiry: Museum Teaching Strategies For Your Classroom, Art & Activity: Interactive Strategies for Engaging with Art, and Art & Ideas: Teaching with Themes were designed to help build critical skills that support theme-based teaching practices and build confidence in incorporating modern and contemporary art into interdisciplinary lesson plans.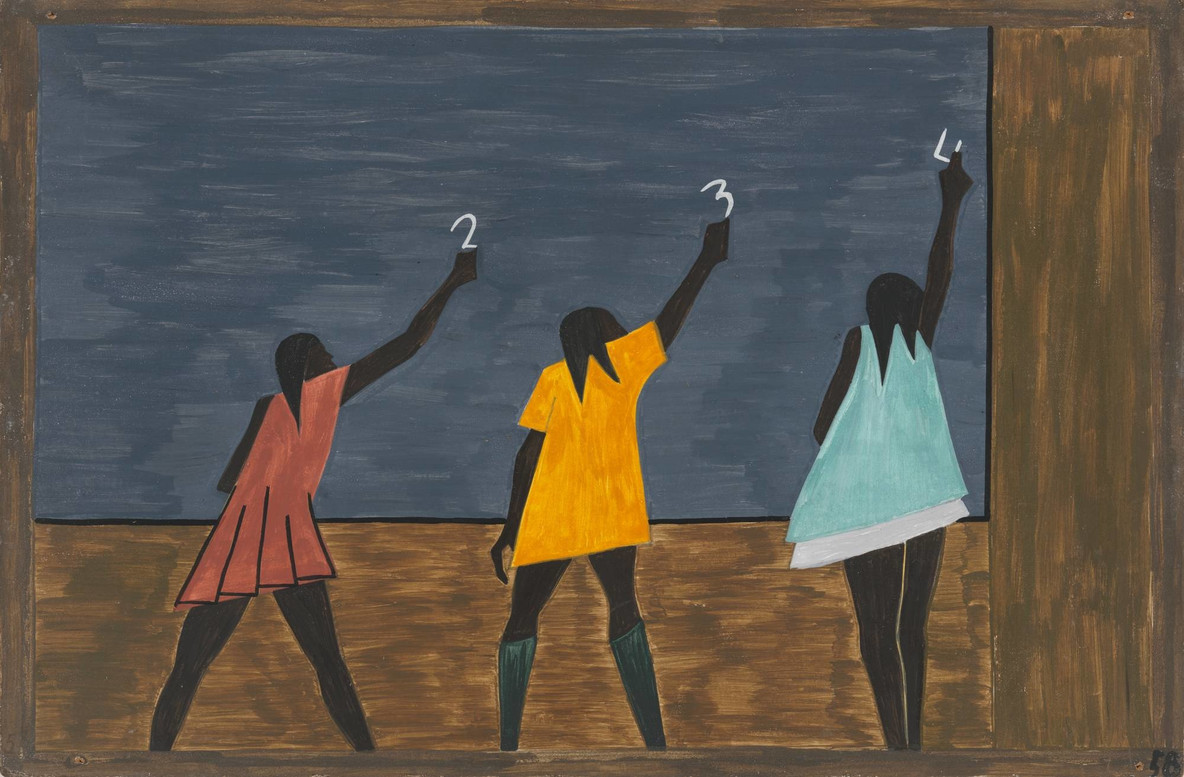 Jacob Lawrence. In the North the Negro had better educational facilities. 1940–41
Migration Series website
Jacob Lawrence's landmark 60-panel painting series tells the story of the Great Migration, the exodus of more than six million Black citizens from the American South in search of dignity, safety, and freedom. This site offers a rich range of resources—music, printed matter, biographies, and chronologies—to explore Lawrence's legacy and the impact of the Migration on American culture, politics, and society.
MoMA through Time
There's a lot to learn about the history of art in exploring the history of The Museum of Modern Art, one of the first institutions in this country dedicated to showing the art of the moment. The site brings together little-known audio, video, and other resources from the Museum's founding in 1929 to the present day.
There is no wrong way to approach a conversation about art, so don't be afraid to experiment. Let us know how you are engaging your students and children with art and stay connected by following us on @MoMALearning on Twitter and MoMA K-12 Teachers on Facebook. Share your experiences using the hashtag #TeachArtFromHome or email us at [email protected]. More ideas, resources, and tips will be coming over the next few weeks. Thank you for being part of the MoMA community, and we extend sincere wishes for health and well-being to each of you, your families, neighbors, and friends.