Dinosaurs aren't just at the Natural History Museum…they're also in a café at MoMA, thanks to Kerstin Brätsch.
If you never studied paleontology, marble may simply be the decorative stone you used to redo your bathroom countertops, or a dip-dying technique on the cell phone case you ordered. For artist Kerstin Brätsch, the stone's ability to act as a looking glass, giving clues to the past, was an inspiration for her new work Fossil Psychics for Christa, a special commission for MoMA's Terrace Café. Although made through a synthetic process, Brätsch's marble still manages to store pieces of time and history. Using a close-kept 17th-century Italian technique and pigments inspired by Renaissance masters, her marble work traps personal fossils of past paintings, previous creative processes, and even ghosts. Tara Keny, curatorial assistant, and I spoke with Brätsch about why marble is so evocative for her.
This interview has been edited for clarity and length.
Hanna Girma and Tara Keny: What fascinates you about marble?
Kerstin Brätsch: Marble stones store time and history in a unique way, their material shaped by seemingly unknowable natural forces that create the aesthetic character of the material and its beauty. I was interested in simulating the effects of the same aging process but using modest means. Stucco marmo is a process originating in the 17th century whereby plaster, pigment, and glue are used to imitate marble and other stones. I worked on the forms together with Valter Cipriani, a master artisan from Italy; the material transforms from the simple ingredients of water and powder into a solid that seems to store time in its materiality, the same way marble does.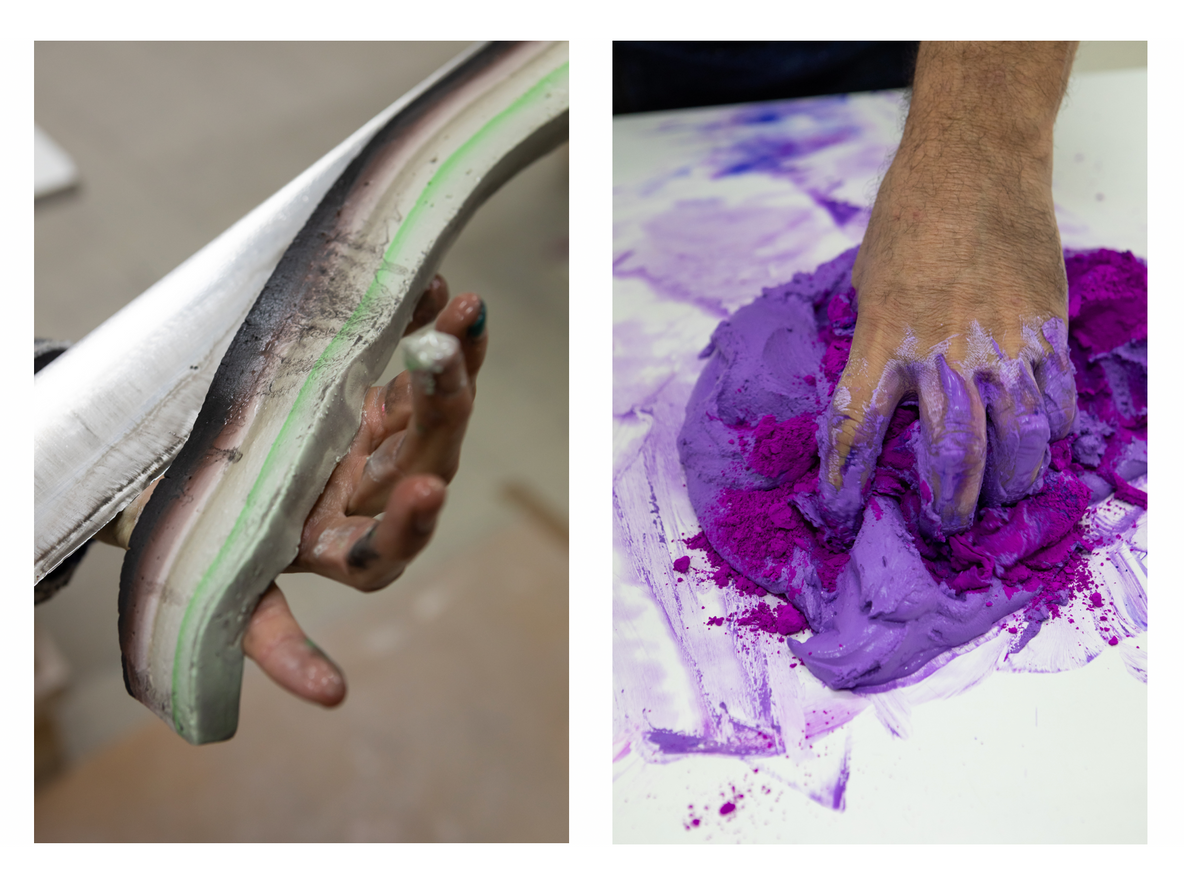 Kerstin Brätsch working on Fossil Psychics for Christa, 2019. Photo: Daniele Molajoli
Can you describe your process of making the stucco marmo pieces in the studio? How did you arrive at the final form?
Making stucco marmo pieces involves repeated processes of sanding, stuccatura (filling in air holes), polishing, and finally waxing, which creates a reflective surface that imitates stone. It feels akin to an alchemistic ritual: the measuring and mixing of pigments in exact proportions and the shaping and forming of the plaster-material with a knowledge almost lost to time.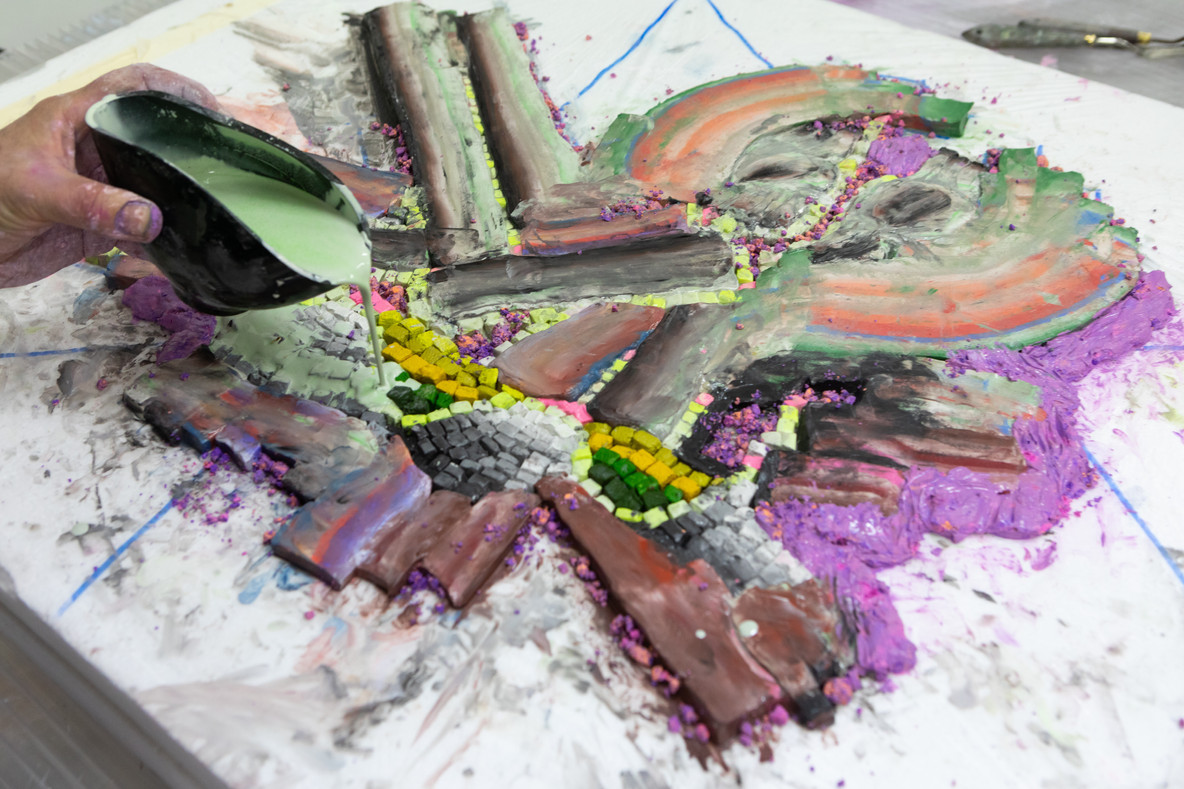 Kerstin Brätsch working on Fossil Psychics for Christa, 2019. Photo: Daniele Molajoli
In my Fossil Psychics, I create the works keeping in mind an image of a body or an image of a corpse ("image-corpus"). When finished, an energy seems to emerge from the work that creates the impression of a phantom material. As if something which didn't have a body has somehow found a way to mark the physical world, fossilized as a new form. They could be fossils of ghosts. I like to think of the plaster as breaking apart to form bones and body parts—ritualistic amulets that when placed together evoke an unknown language.
How does your work with stucco marmo fit into your larger practice?
Painting in my work comes in many forms. My exploration of multiple mediums is done to question painting from various standpoints. My work operates accumulatively: each iteration of it is informed by what has preceded it. I like to compare my practice to the reproduction of cells within a human body. With age, the body starts to produce cells with small errors, and these mutating cells create altered expressions of the same idea over time. Stucco marmo is the latest medium I have been drawn to, the most recent in the lineage of my work that started with oil paint on mylar, but has since transformed into stained glass, paper marbling, and mosaic.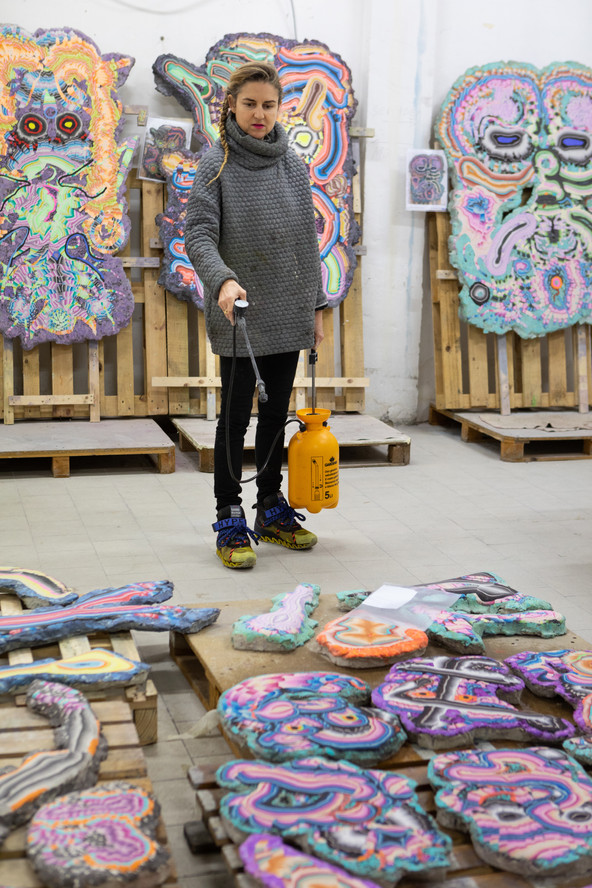 Kerstin Brätsch working on Fossil Psychics for Christa, 2019. Photo: Daniele Molajoli
I have dedicated the installation to my mother Christa, who passed away while I was working on this body of work. It is a monument to her life and the profound effect she had on me as a person.
How were you inspired by MoMA's marble?
Continuing my interest in stone mimicry, I wanted to create a trompe-l'œil effect with the black Tectonic Breccia (French Grand Antique Marble) that was used to build the bar in the Terrace Café. Above the bar are the Fossil Brushstrokes, a series of 3-D sculptures made in stucco marmo that are presented in lines. These works are supposed to read like language, resembling ancient runes and stenography, but also Internet vernacular and emojis. Underneath the bar is a wallpaper work, Dino Runes [Towards an Alphabet], that utilizes photographic images of the same black marble as a background onto which 3-D rendered dinosaurs and portions of my marbling work are placed. All the different processes I use become intertwined and the ability to decipher between the different mediums becomes difficult.
What is the color palette you draw from?
The color channels in the Terrace Café are made of tempera and are homages to the respective Renaissance masters: Ave Pontormo Muro (Pink), Ave Pontormo Solco (Pink), Ave Piero Solco (Red), Ave Duccio Solco (Yellow), Ave Giotto Solco (Blue), Ave Mantegna Solco (Green). The colors are used on the walls to delineate the different spaces that the stucco marmo works are embedded in.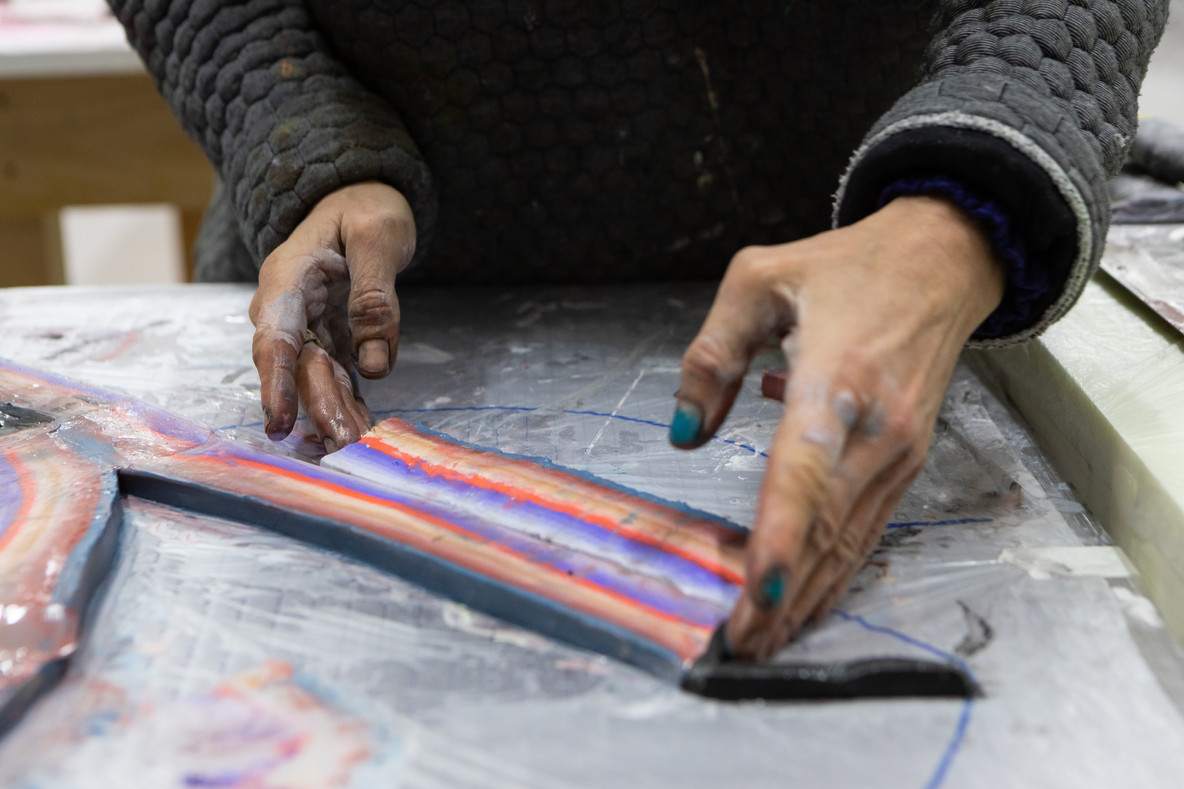 Kerstin Brätsch working on Fossil Psychics for Christa, 2019. Photo: Daniele Molajoli
Additionally, I manipulated the flow of light inside the space by covering the windows with an Oracle pink gel: Gaylen Gerber. Exhibition Scheme:Kerstin Brätsch: Pele's Curse, 2015/2019 is a plotter film applied to the windows. It's the same film that the artist Gaylen Gerber used when he served as the exhibition designer of my solo show Kerstin Brätsch: Pele's Curse at the Arts Club of Chicago in 2015. The exhibition design for that show, in turn, was a reference to my earlier solo show Unstable Talismanic Rendering at Gavin Brown's enterprise in New York in 2012, in which I had used several colored gels in the skylight to create different atmospheres of color. Here at MoMA, the work functions as a trace of my exhibition making. It also creates a caesura in the space, defining the outdoor terrace space against the indoor café.
Can you speak about your interest in alchemy and fossils? How is it incorporated into this installation?
The occult is engaged as I'm dealing with secret recipes—the temperature needed to create glass, or the chemical composition required to mix pigments, or the amount of time I must allot to set stucco. With this intervention, I test the limits of a traditional technique, pushing it into a corner so that it can emerge, ready to dialogue with contemporary painting. By showing these different mediums together in the same space, I try to bring together the universal forces required to create each set of works: heat for the glass, gravity for the marbling work, time for the stucco.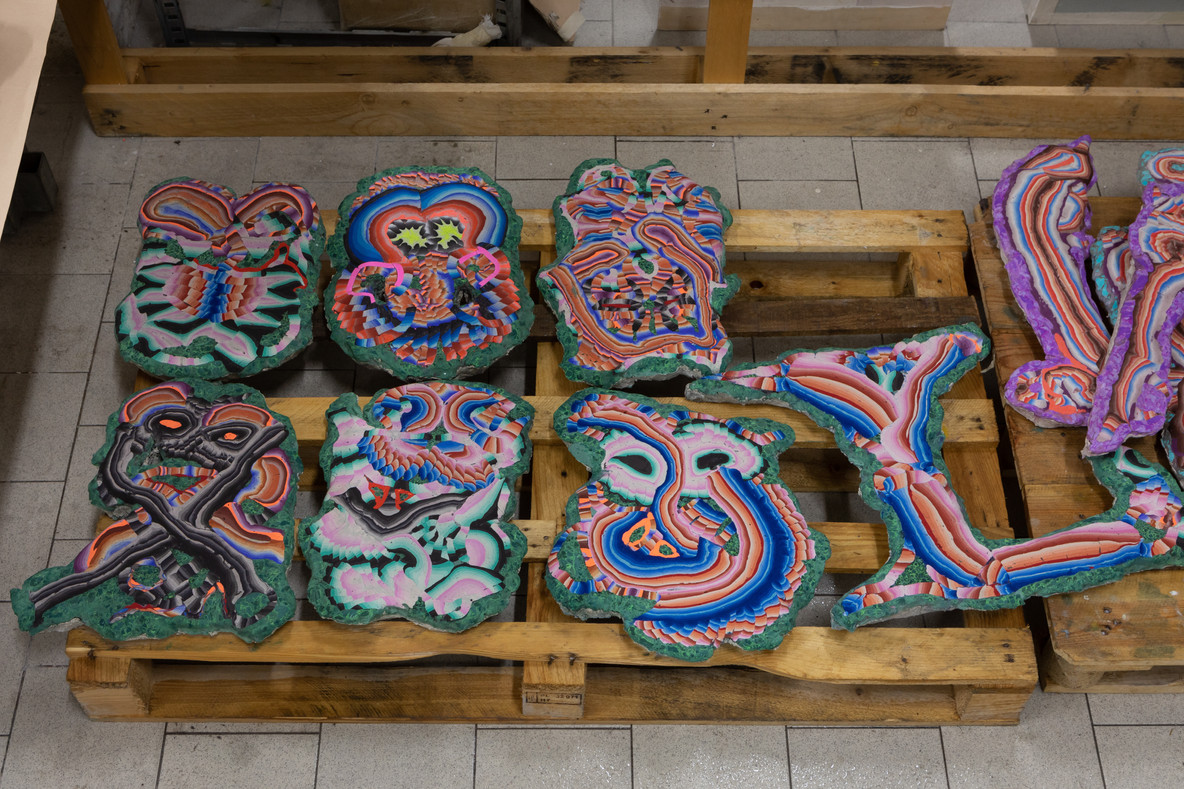 Kerstin Brätsch working on Fossil Psychics for Christa, 2019. Photo: Daniele Molajoli
Can you talk about the titles you gave to the individual glass brushstrokes: what inspired the forms? Are there any links to the marble?
The brushstroke can be considered the signature of a painter, an abstraction that speaks to a bodily movement recorded on canvas, or in my case transparent sheets. To explore the corporeality of painting, I started making glass brushstrokes as an attempt to solidify the brushstroke and turn it three-dimensional. I was interested in what would happen when this movement was frozen in time and seen in a different way, jumping off the page and into physical space. Once rendered in glass and enlarged to a human scale, the brushstrokes start to resemble animals or enlarged body parts. I titled them Single Brushstroke in Lead (Rat, Embryo, Elephant, Fin) from Glow Rod Tanning with...Series.
These works are made at a glass workshop in Switzerland, coincidentally the same place Sigmar Polke used to create his Grossmünster Church Windows. I was offered his leftover agate shards. I was fascinated by the idea of creating a painting made of stone, but also using the trash of a dead male artist such as Polke, like a cat licking a plate clean.
From the patterns on those Polke agate shards came the impulse to imitate the formations of the stone, mimicking the universe (miasmas, stone formations) via painting. The process of marbling is a technique that accomplishes just that. Marks in the marbling process are made by dropping inks into a water bath. I like to think of the transmutation of my work from glass to marbling as a shattering, where I had to drop the glass (like a little glass marble) to make way for my marbling works.
Did you work differently knowing these pieces were intended for a café? How do you hope people will experience them?
Every installation I create is site-specific. I didn't approach the creation of the work differently because it was intended for a café. Art has always existed outside of white cube spaces. I considered that people would be occupying the space differently from a gallery, sitting for a meal probably longer than looking at any one piece of art. I was also sensitive to the fact that people were probably in the café taking a break from looking at art, and the effect of being surrounded by more art.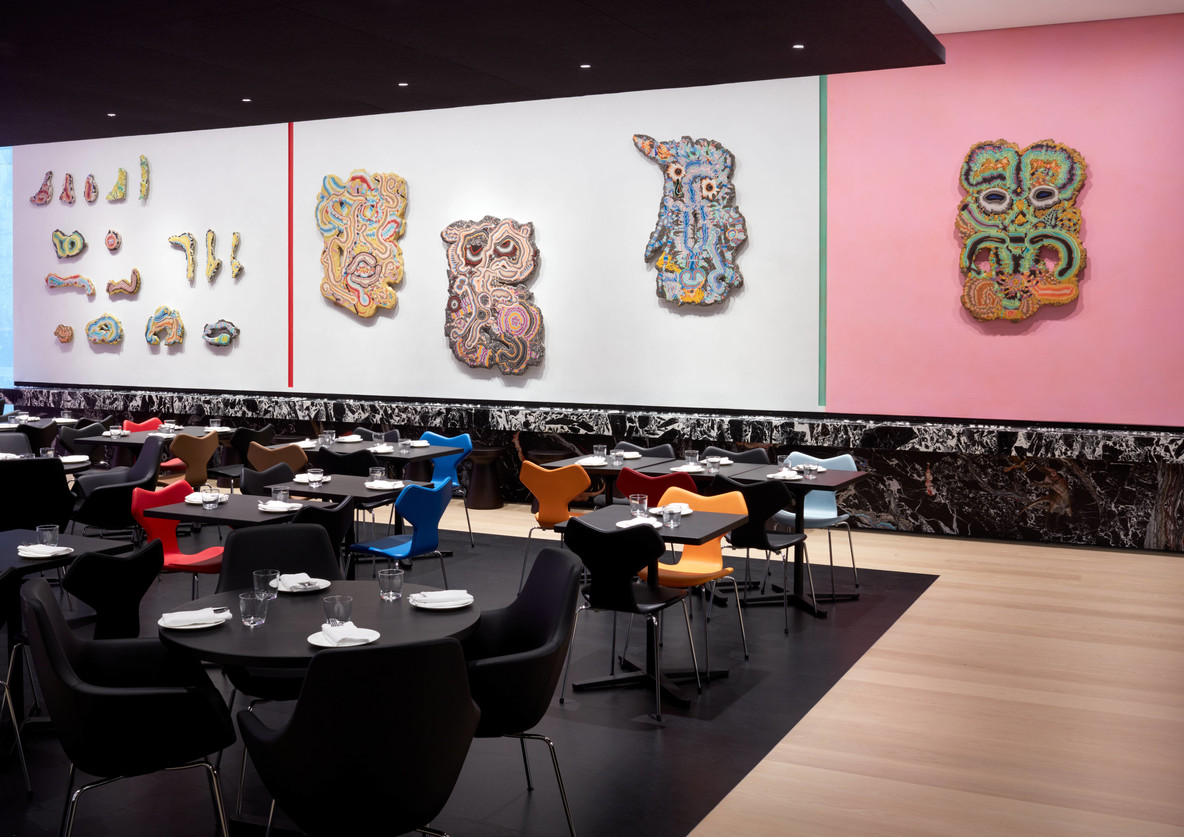 Installation view of Fossil Psychics for Christa (2019) by Kerstin Brätsch
To see my work installed in the Terrace Café allows for it to engage the body in a context outside of a gallery. It gives me an opportunity to explore my interest in painting in the extended field and offers me a chance to experiment with its effects. As the restaurant is inherently a meeting place, I hope that the installation can foster different forms of meeting, be it psychic, physical, social, or intellectual. I hope visitors leave saturated, refreshed, and inspired to look at more art.
There is a playful, tongue-in-cheek aspect to your wallpaper that seems to connect to this idea of enjoying the space.
With my marbling work, I was interested in tapping into the elemental forces of the world. Dropping ink into a water bath activated the forces of cohesion and adhesion to form the aesthetic character of the work. The inks swirl and combine in patterns that evoke galaxies, but also microscopic processes of the body, tapping into and rendering an energy that has been operating for millions of years. Dinosaurs seemed like a fitting detail to include in the works. Their history and ancient energy has made a mark on our time. I was also interested in how the dinosaurs have been rendered in 3-D, combining the ancient with the cutting edge to create a particular type of vision.
I placed the dinosaurs underneath the bar, knowing their presence will be passed over by many adults. Only readily accessible to the people encountering the work at eye level, the work operates like a secret message whispered between children.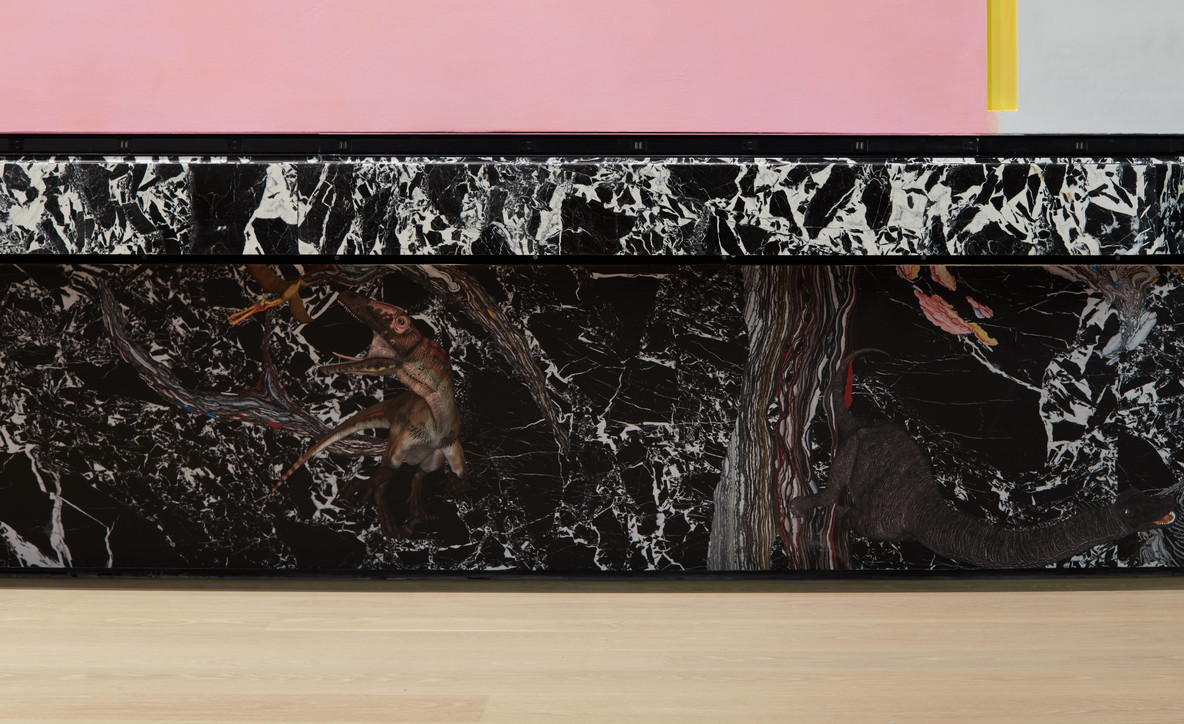 Installation view of Fossil Psychics for Christa (2019) by Kerstin Brätsch