Artist Michael Armitage explains how a Ugandan cloth changed everything.
Michael Armitage's paintings are hard to place. He works between London and Nairobi, and often strings together surreal scenes that contemplate contemporary, historical, and imagined narratives of both cities. But his paintings are always firmly rooted in East Africa, not only in the subjects he depicts but also in the materials he uses. After spending years looking for a different kind of painting support, one that would break with the history and associations of painting on canvas, Armitage came across the lubugo, a Ugandan material made from ficus tree bark. On the occasion of his MoMA exhibition Projects 110: Michael Armitage, we spoke with the artist about the significance of bark cloth in his work and how the material changed his artistic process.
A stretched bark cloth support before it is primed
Hanna Girma: What is bark cloth and how were you introduced to it?
Michael Armitage: Bark cloth is basically the outer layer of bark of a ficus tree called ficus natalensis. It's actually called lubugo bark, which translates to "funeral cloth" or "shroud." I came across it as I was looking for materials that would locate my work in East Africa from the very beginning of the process. In a way, it makes it so that I don't have to deal with a lot of the cultural issues and associations that come with making paintings on canvas. Paint on canvas has a very specific history which I didn't want to get into. I wanted something that would destabilize and subvert the fact that these were paintings from the beginning.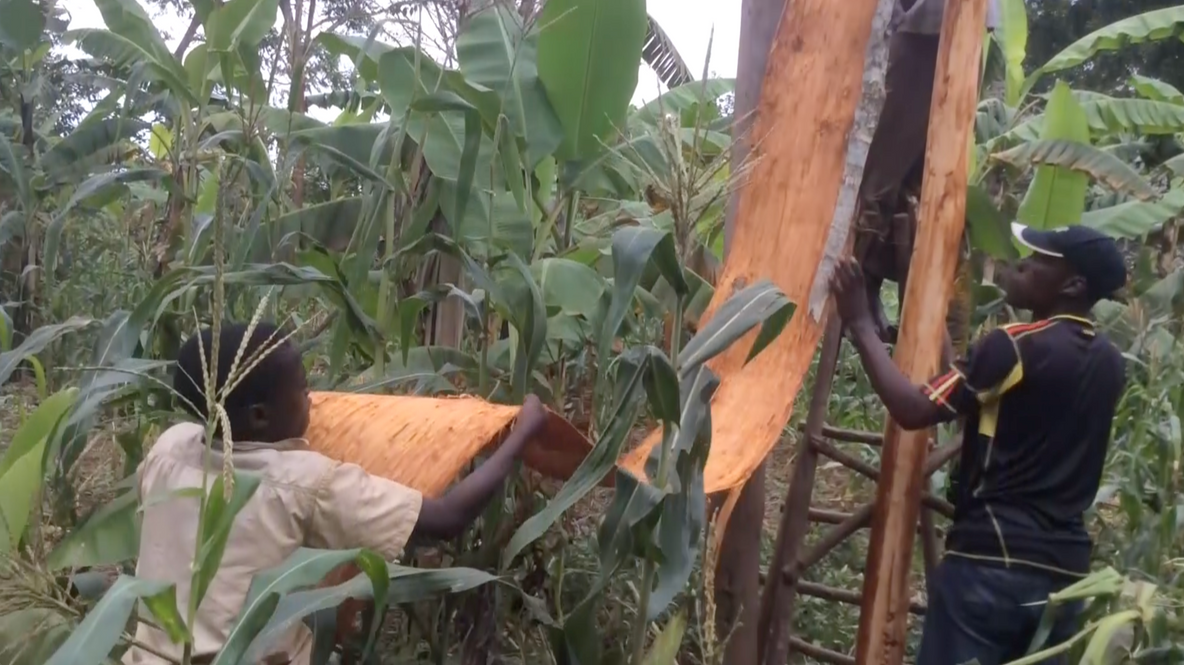 The process of peeling bark to create lubugo
Every time I set out to make a painting with this material, it feels different and provides different challenges.
I came across the cloth after looking for maybe three or five years and trying lots of different materials. I was painting on woven palm-leaf mats but it always looked like paint on a woven palm leaf, there was no kind of subtlety; the object itself almost fetishized the fact that it was something other than paint on canvas. I wanted the way the paintings worked and the subversion worked to be much more subtle, so I tried a series of different materials. When I was walking in Nairobi in a tourist market with a friend, I came across these coasters that were made out of lubugo cloth. I bought some and when I looked into the material I found out eventually, after quite a circuitous route, that the material was the main cultural product of the Buganda, the largest tribe in Uganda. It's their most significant cultural product and they use it not only for burying the dead but in ceremonies, as clothing, and in many other ways.
The way in which the material lost its original purpose and was turned from this very significant thing into a coaster used to soak up beers in the evening or whatever food you spilled was interesting to me because it also mimics a lot of ways that culture, as a result of tourism and development, has been changing and devaluing aspects of meaning, almost to the point of parodying former uses. The material itself had lots of innate and cultural issues with its use that were interesting to me.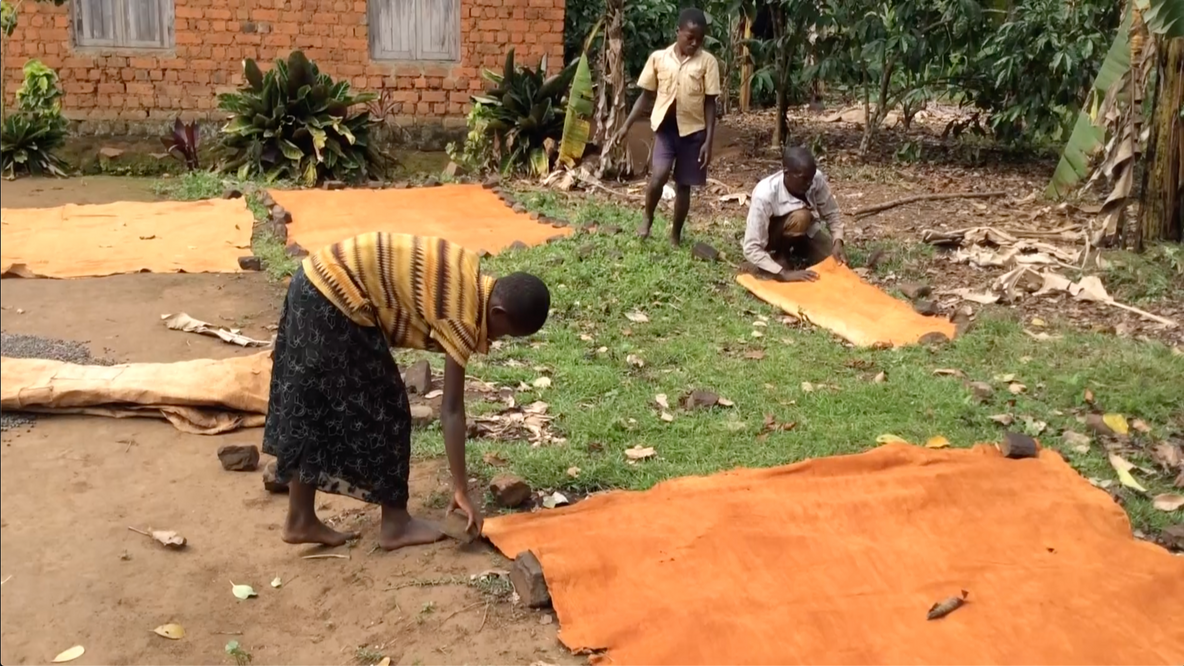 What were the challenges with working with this material and the natural imperfections that come with it? Does it change the way you map out your paintings?
To be honest, it changed pretty much everything that I was doing. It wasn't an easy process and it took me a couple of years to figure out how I wanted it to work. I needed to stretch it and prime it because, initially, I was just hanging it flat on the wall or using it unprimed on a stretcher. After several years of trial and error, I got to using it as I do now. The cloth itself has so many irregularities and holes and stitching, which meant that I couldn't paint how I was used to painting, using quite thick paint. Because of the surface I had to thin the paint down to get any kind of graphic clarity. I also wanted to bring the surface back into the painting so I started rubbing away a lot more than I used to.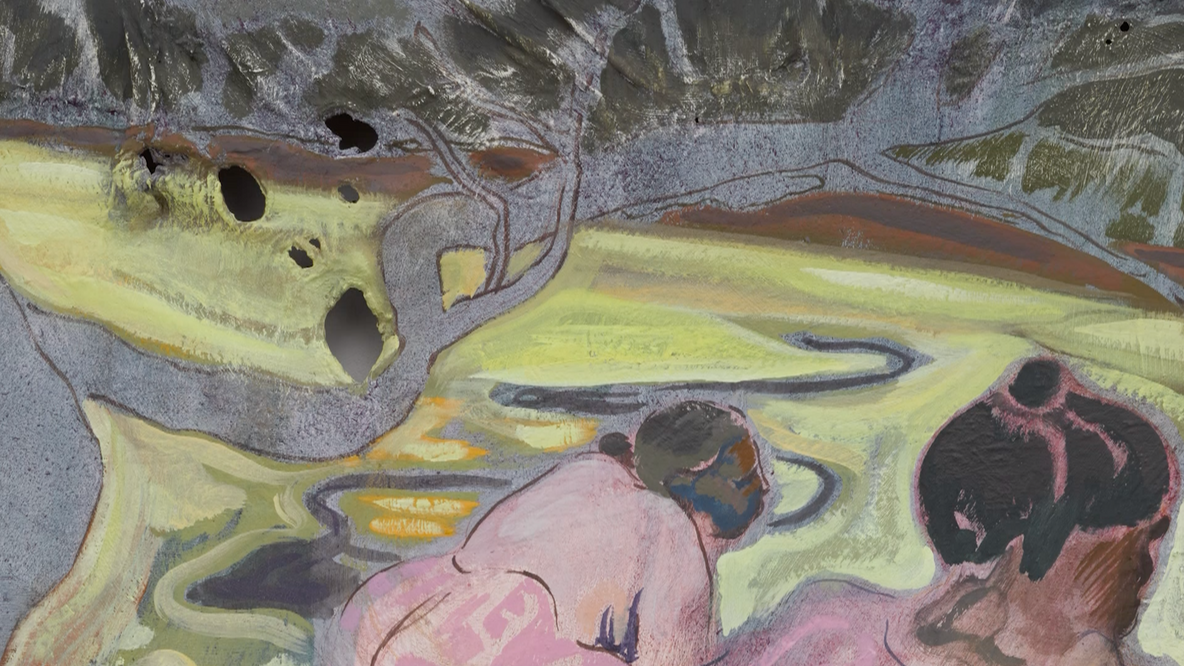 Natural imperfections in the bark cloth
Removing paint became as important as putting it on. Every time I set out to make a painting with this material, it feels different and provides different challenges. Now I'm starting to use thicker paint again. I like the way it interrupts the thin paint and gives a different set of marks. As long as I can keep using it in tandem with the graphic marks, it brings a greater diversity to the visual language.
In terms of the way that the compositions are then found, it totally depends on each cloth and each idea. Sometimes I find a cloth that fits a particular idea and other times I make a cloth to fit the idea that I have.
You talked about how you were interested in using different types of material to subvert the connotations of paintings on canvas. We also see in many of your paintings a subversion of the typical models of Western art history. What images and figures do you draw from to populate your paintings?
In terms of who's populating the paintings, my first audience as the artist is myself, in my own head. What I've always wanted to do is make work that, if somebody walks in off the street, particularly in Kenya, they would be able to have something that related to them. East Africa is the place I engage with and get a lot of my subjects from.
Most of the time, if there's a reference to other art in my work it will be from the story depicted in the painting or the story of the painting itself. It would be because I want to use that story to explore a narrative that I was looking at based in [East Africa]. So it's rare for me to look at things for formal reasons; it is more conceptually driven and the things I look at really do vary a lot.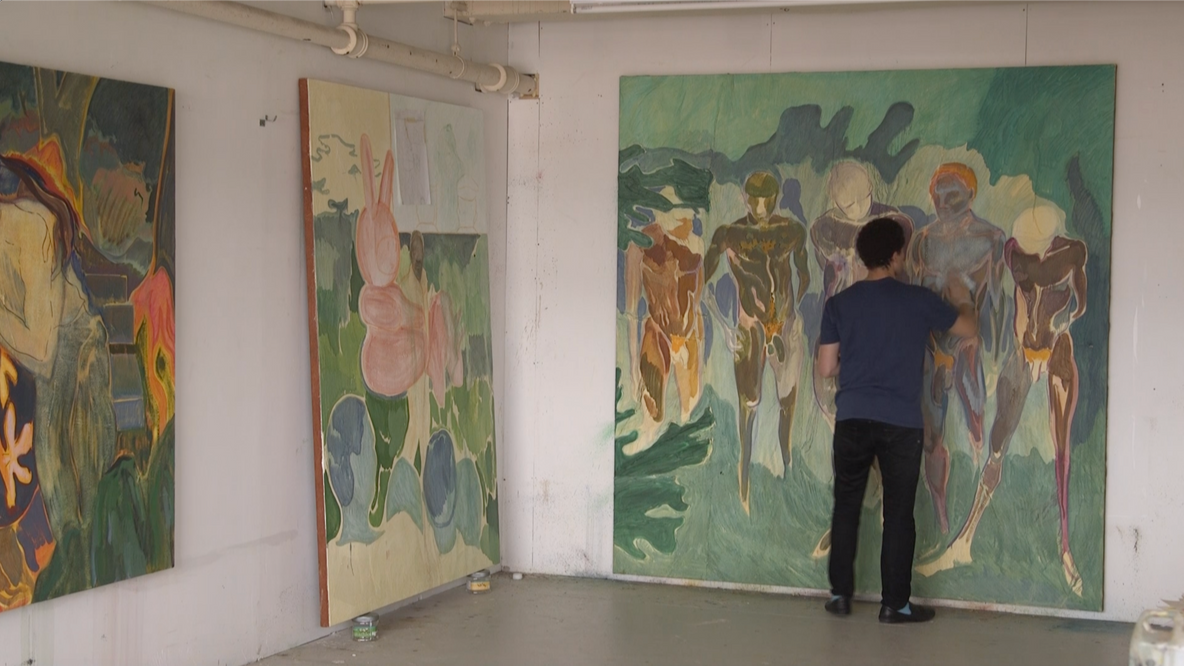 I really use anything and everything that I can in order to make a painting, and I don't feel like there's any hierarchy of where something comes from.
I know many of your works are inspired by news clippings. What are you looking for when you search through newspapers and other forms of media?
I look at everything really. I don't look at news more than I do anything else. I also draw from life and take my own photographs sometimes, but not that often. I use anything that makes it a little bit easier to make a painting, anything that helps. I couldn't say what I'm looking for. The only thing that I can say is, if something moves me I'll use it, and very rarely will I look at an image with a specific narrative in mind. The main exception to that was when I made a series of paintings between 2017 and 2019, which were based on images that came from a political rally that I went to—and then images from other rallies that I was sent to by photojournalists that I was with at that original rally.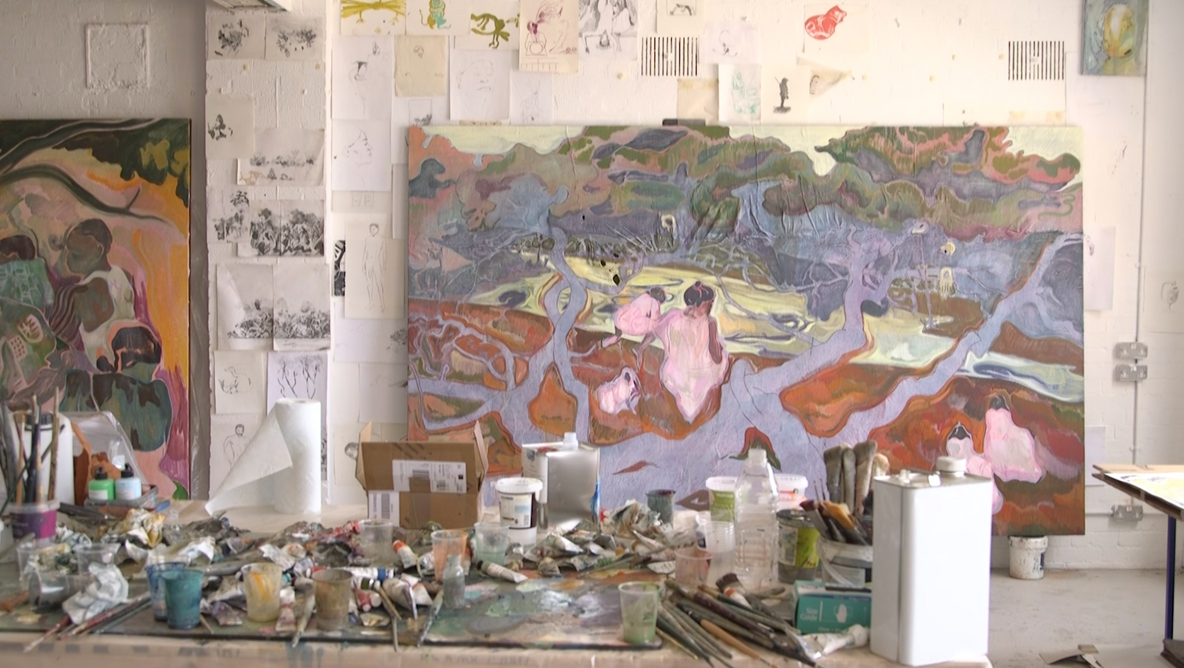 Michael Armitage's studio
That was quite a specific direction, which led to a couple of years' worth of work. But apart from that, I really use anything and everything that I can in order to make a painting, and I don't feel like there's any hierarchy of where something comes from. I think it's all legitimate and equally useful, whether it's a drawing from life, a drawing from somebody else's paintings, or a drawing from news clippings, social media, or just a normal search on Google, or anything else—it's all the same.
You work between the UK and Kenya. What is it like to make work while straddling those two different places? Do you research in one area and then make work in another?
Making paintings is slow. Certainly the way that I do it is a slow process and quite absorbing. So it doesn't really matter where you are. Once you have the idea, it's just about committing to a painting and figuring out what it needs really, and what it wants from you. So in terms of location having an impact—it doesn't really. The thing that is affected, I would say, is subject. If I'm looking for things to work on and I'm in the UK, I'm geographically disconnected from my subjects. Which means that when I'm in Kenya, as a result, I spend a lot of time just living day-to-day life and looking into things and looking for things that I find interesting to draw from and make work from.
Projects 110: Michael Armitage runs through January 20 and is free to the public.