Hervé Télémaque's The Ugly American
Curator Yasmil Raymond discusses what was so "ugly" about Télémaque's America.
Welcome to New to MoMA, a new series highlighting recent additions to MoMA's collection. In this inaugural post, we discuss Hervé Télémaque's No Title: (The Ugly American) with curator Yasmil Raymond, who explains why she thought it was important that this work find a home in the Museum's collection and how the acquisition was made. This interview was edited for length and flow.
Do you remember your first encounter with Télémaque's work or, more specifically, with this piece?
My first encounter with Hervé [Télémaque] was thanks to the great curator Okwui Enwezor, who mounted a terrific exhibition called Postwar at the Haus Der Kunst in Munich. The exhibition was co-curated with Katy Siegel, an art historian based here in New York who teaches at CUNY. Together they marched through the history of 20-something years of art production after World War II. It included a terrific work by Hervé Télémaque that is in the Pompidou collection. What struck me the most was how political Hervé Télémaque's work felt in relation to all the other artists in the room. It made me write down his name, and then I came back here and realized that the museum owned two prints that were a gift of the artist. It shows that Dorothy Miller [who was our pioneering and very prescient curator of contemporary art] knew him; one of them was a gift to her. But obviously we had not paid any attention to acquiring his work and so, from then on, I started looking for possibilities.
What motivates your acquisition process?
An acquisition is not just buying the work. For me, it's about identifying the right work but also creating a sense of collective interest within my peers. No curator makes an acquisition alone. Oftentimes it begins as a conversation. It begins as a desire that is articulated openly [that often comes], one could say, out of a lack. There's an awareness that the museum cannot tell a comprehensive story or that the museum continues to ignore the diversities of artists, other great, talented artists, because either they didn't live in this country or they did not speak English or they did not exhibit in this museum before. Therefore, they get excluded from the conversation. Acquisitions are opportunities to go back into the history and fill in the story with things that deserve attention.
Once we identify an artist that we think should be considered, it takes a long time. Most of the time, not everybody around the table is aware of the artist. It's very rare that there's a consensus. We all have very different interests, and we all come from very different backgrounds. Our attention, our ability to hear or to see something and be captured by it, is shaped by who we are. We are educating ourselves in the same time as we are learning about an artist. One curator's learning about an artist: they have to share that and bring along all their peers to this idea. It's the most successful way of acquiring a work, because then everybody around the table feels ownership about why this work deserves to enter the collection.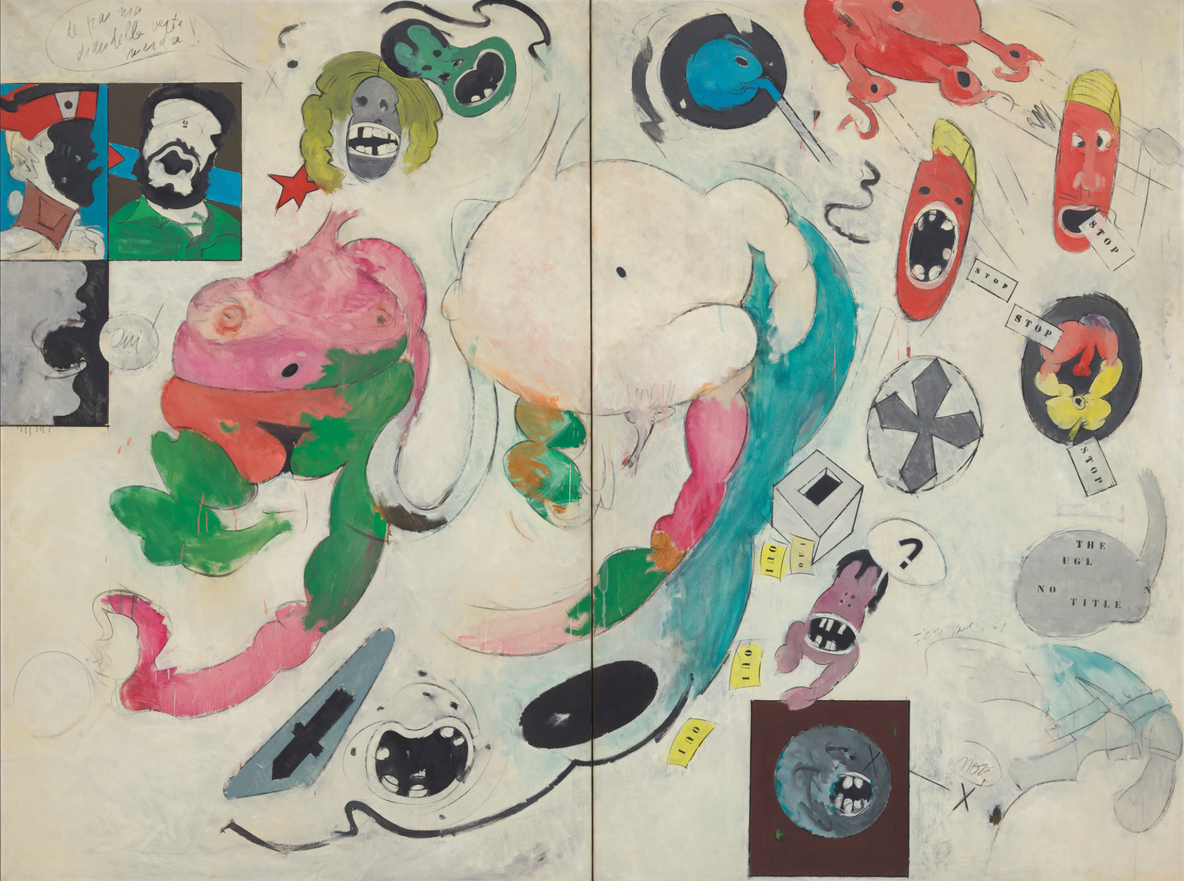 Hervé Télémaque. No Title (The Ugly American). 1962/64
For me, this painting is a reminder of the different ways in which you can fight for dignity and honor.
Yasmil Raymond
What gap does The Ugly American fill?
From my perspective, it fills a gap in the story of New York in the late 1950s. Télémaque came to New York from Haiti and thought to stay here at that time. It's around the same time Frank Stella comes to New York or Carl Andre comes to New York. Hollis Frampton, a whole generation of people who first arrived here in '57, '58. But unlike those names that I just mentioned, Hervé is a black man and his race was a problem even in New York in the late 1950s. There was great segregation, and he found himself unsafe living here. That's not very different than many black men today. For that reason, he moved to Paris [in 1961], the country that had colonized his place of birth and the language he spoke by default. That speaks to the context of the United States and its issues of race that remain important still today.
Then there's the topic of the painting. When we tell ourselves the history of art in the early '60s, the catastrophic event of the Bay of Pigs in Cuba is rarely mentioned. A nuclear showdown took place, and it marked the lives of many people, and it shifted history. This is beautifully captured in this painting. I'm interested in the historical dimension that Hervé brings to his work, just as one could argue that [Andy] Warhol's Marilyn [Monroe] is a historical painting. Now, those are two very different takes on what history is.
In Hervé's painting, you have the presence of portraits on the top. One is the profile of Toussaint L'Ouverture, the Haitian liberator and leader of the first black republic, who fought against France's Napoleon. There's Fidel Castro, the leader of the Cuban revolution. I think that Hervé was really responding to the moment in time, making a political painting that critiques the imperial appetite that the United States had and maybe still has. For me, this painting is a reminder of the different ways in which you can fight for dignity and honor.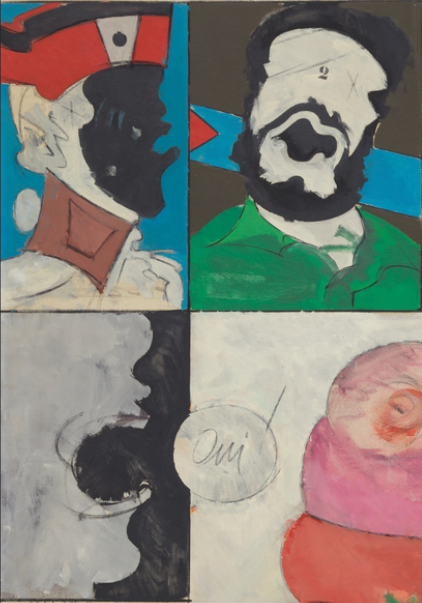 Hervé Télémaque. No Title (The Ugly American) (detail). 1962/64
Could you talk about the title?
I suspect that he was critiquing capitalism. The figures that are depicted with the blonde hair are sort of like inflated or obese male figures floating in the painting, the grotesque. I think that it's perhaps pointing to the representations of greed. It's about morals, morality, and ethics. That's my take on the word "ugly."
If a guest comes to see this in the museum, what do you hope that they take away from seeing it?
Art is many, many things to many people in different ways, and there's no one reading. You can get from this painting also a very formal impression of a way of painting that is very different; the caricatures that he's bringing in to the canvas.
We also have to take it into our context today. The question of propaganda is everywhere today. While we're living, we're suffocated by propaganda. Our sense of autonomy is constantly being challenged. Perhaps, if there's a bench in front of the painting, people can have a moment of reflection not only about what Hervé Télémaque managed to depict then, but to look at this painting as a mirror. Are we back in that moment? And are we showing our greed? Are we keeping our moral compass today? That's really what I hope the painting brings to our contemporary audiences.