Tarsila do Amaral's A Lua (The Moon)
A conversation about do Amaral's landmark work, newly added to the Museum's collection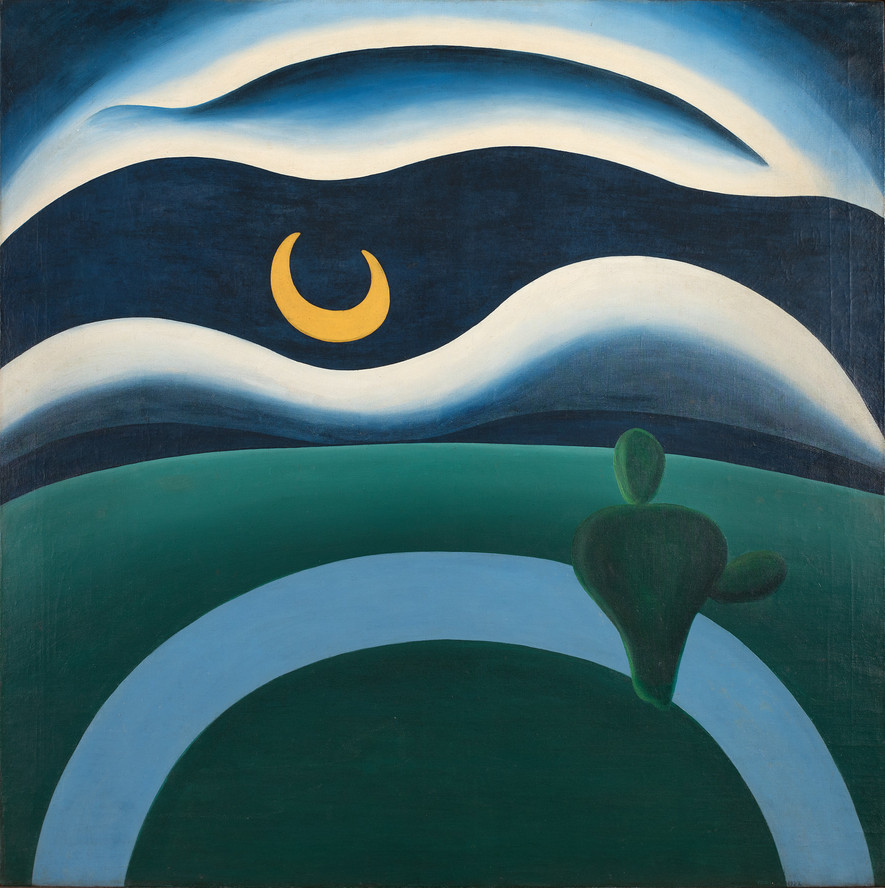 Tarsila do Amaral. A Lua (The Moon). 1928
In 1928, Brazilian artist Tarsila do Amaral premiered the painting A Lua (The Moon) in Paris. Combining aesthetic elements of the Parisian avant-garde art scene in which she was immersed and Brazilian sensibilities and style, the work exemplifies the inventive modernism of a pioneering transatlantic artist. MoMA recently acquired A Lua (The Moon), making it the first painting by Tarsila in the collection of a North American museum. In this month's New to MoMA, in which we explore a recent addition to the Museum's collection, Ann Temkin, The Marie-Josée and Henry Kravis Chief Curator of Painting and Sculpture, and Leah Dickerman, Director of Editorial and Content Strategy, discuss this landmark work, its journey to MoMA, and how it expands our understanding of history and its making.
This interview was edited for length and clarity.
Leah Dickerman: Could you tell me how you began thinking about Tarsila do Amaral and acquiring her work?
Ann Temkin: Last year, we had an exhibition at MoMA called Tarsila do Amaral: Inventing Modern Art in Brazil, curated by a former colleague here, Luis Pérez-Oramas, and Stephanie D'Alessandro from The Art Institute of Chicago. This was the first retrospective of Tarsila's work in the United States, even though, in Brazil, she is a renowned and much beloved figure—well-known there simply as "Tarsila."
The exhibition came as a revelation to our staff as well as to our public. We were convinced, to say the least, that Tarsila was, as the show argued, the inventor of modern art in Brazil. Given that we are interested in modernism around the world and think of ourselves as the place that you can come to find it, why didn't we have a painting by Tarsila?
What about her work seemed so significant to you in the history of modernism? What kind of voice does she provide?
Tarsila was really a border-crossing figure. She was born and raised in São Paulo, Brazil, but as a young woman, decided that she needed to go to Paris to really become an artist. There she became friends with and a student of Fernand Léger, and associated with people as varied as Erik Satie, Blaise Cendrars, the poet, Constantin Brâncuși. She became very much a part of that Parisian 1920s milieu, but went back and forth all the time to her home in São Paulo and became convinced that she was going to become "the painter of our country." But it wasn't one versus the other. It wasn't to be a modern Parisian artist or to be the painter of Brazil. It was really those things together. And the transatlantic nature of Tarsila's practice and the way in which she combined a vocabulary that spoke to a Brazilian countryside or that sort of cultural background at the same time that it 100% talked about Picasso or Brâncuși or Léger. Visually, stylistically, that feels so today to us.
How did The Moon catch your attention?
This picture, believe it or not, was not even in our exhibition. It had been requested for loan but had not been able to come last year. We were contacted by the owners of the work late last year after the exhibition had closed, saying the painting was now available to us and, in fact, not simply to borrow but to buy. We knew that this would make us the first museum in North America to have a painting by Tarsila, so we got on a plane and went down to São Paulo to look at it.
When you're thinking about this work in relationship to the full body of work she made across her career, how does it fit in?
The 1920s are the great decade of Tarsila's career. It's a little bit of a sad story in a way, because after all of this wonderful cultural exchange in the '20s, that all came crashing to a halt in 1929 when dictatorship in Brazil came on to the horizon, and when the global depression took away all of the economic power behind the thriving artistic community. Personally, Tarsila got divorced from her poet husband, Oswald Andrade, who was very much a partner with her in avant-garde vision. Her work of the next decades is very interesting, but it's not what speaks to the invention of modernism.
Will you tell us what you see when you look at this painting?
Like many of Tarsila's paintings, A Lua is a landscape that is very abstract in nature. Quite a few people have mentioned its parallels to Georgia O'Keeffe, who's working in the Southwest United States at that time. The three-quarters moon lies on its side. In between these rippling layers of blues, and whites, and greens that give you the generalized sense of a landscape under a night sky, there's a figure in the front, which can be read either as a cactus or a human. That's the sole presence, but one feels it almost as a stand-in for the artist looking out and up either at the sky or at us even. It's very, very rich in its ambiguity.
She created a theory of modernism with her poet husband: Will you tell us a little bit about what that theory entailed and how she thought about the project of modernism?
Her husband, Andrade, the poet, coined the phrase in English, anthropophagy. I don't think she represents this idea very directly in this painting, but it talked about how Brazilian art is both part of and sets itself as distinct from Western European modernism. It has to do with cannibalizing—not in a derogatory sense but in a positive way—culture from elsewhere and retaining your own sense of individual culture. It's about devouring influence from outside and making them part of yourself, rather than just becoming a derivative or influenced kind of artistic being.
It seems very prescient in certain ways. Do you see that as relevant for conversations that we have about culture and cultural appropriation now?
Yes, it is. We're always looking at the past with the eyes of the present. As we're talking about, for example, centers versus margins, the idea of a Parisian-Brazilian dialogue very much concentrated in the paintings of one woman resonates in a way that it wouldn't even have resonated 20 years ago. There are non-artistic reasons for the belated recognition of Tarsila here in the North, such as the political situation in Brazil over all those decades. Avant-garde work was not being shown or shared.
What does a painting like this do for the Museum and for the collection? What stories does it let you tell that we couldn't tell before?
When we imagine installing this on our fifth floor in the galleries, we're not seeing it as part of a South America room or part of a Brazil room. We're seeing it in a room that will have Picasso and Léger in it, for example, because this is the spirit in which it was invented. We like the idea of opening up the narrow histories we've all learned, about what happened in Paris in the 1920s. This is almost a sign for us of how incomplete what we learned was, because this is something that's actually historical fact. Here was this woman having successful shows, visiting studios, having these people see her art. We're not reinventing history; we're recovering a history that had been suppressed.
What would you like a visitor to see in this work?
Although Tarsila was not directly involved, Surrealism was also going on in Paris at the time she was there. I think the mood of artists like Salvador Dalí, Magritte, or Miró and the dreamscapes that they wanted in their paintings, comes through here. For me, there's something so important about what she leaves to the imagination and the places that the forms she paints allow your mind to wander. A lot of what I like about this painting is its invitation to the viewer's own imagination and its poetic approach, as opposed to, "Let me give you a painting that tells you what to think or what to see."